Banana Pudding with Vanilla Wafers THM-E / Fuel-Pull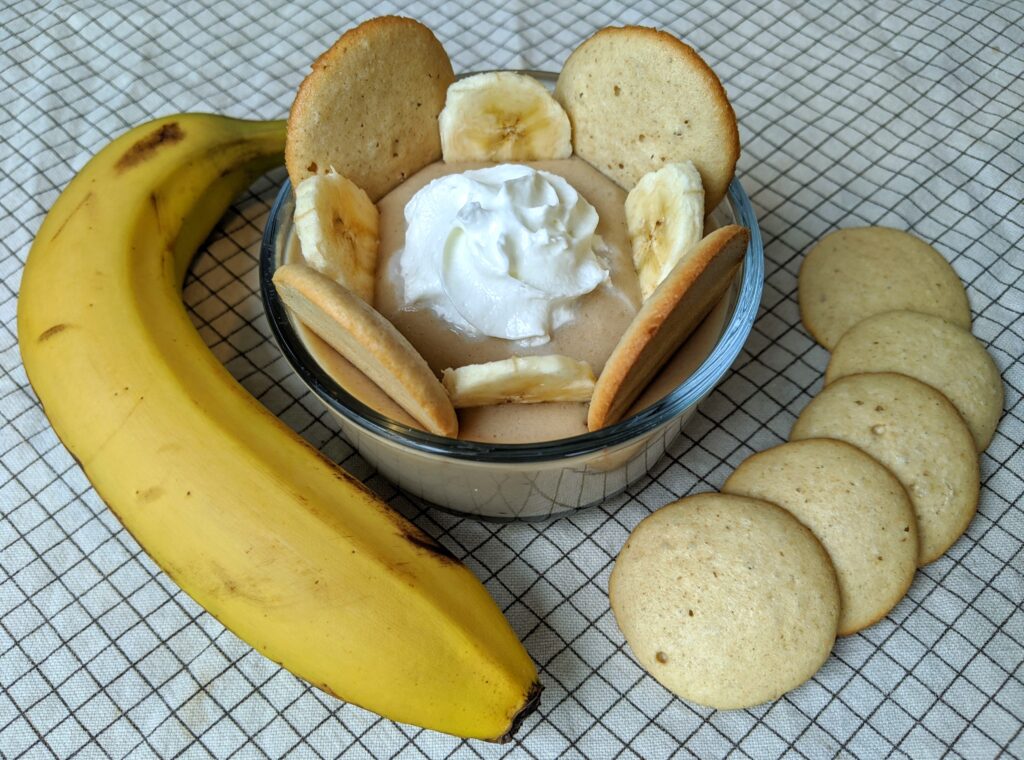 As an Amazon Associate, I earn from qualifying purchases. I am also an official THM Affiliate and am earning a percentage off of links used in the above content that may link directly to the THM online store. This is at no cost to you. Please see my Affiliate Disclosure for more information.
Jump to Recipe
Banana Pudding with Vanilla Wafers is the ultimate comfort food and makes an easy, delicious, and high-protein THM-E meal/snack!
I'm a Southerner, and we LOVE our banana pudding! 😋 Unfortunately, most banana pudding is both high-fat and high-carb and full of sugar. And it's usually served with "Nilla Wafers" (aka vanilla wafers), which aren't exactly the heathiest choice. BUT now it is possible to have rich and creamy Banana Pudding with Vanilla Wafers that is not only on-plan (THM), but has no-added sugar, is gluten-free, high-protein, and is a solid THM-E (NOT a crossover – XO)! 🙌
Bananas are actually healthy!
Bananas often get a bad rap because of the natural sugars and carbs in them. But, when combined with good sources of protein (which prevents spikes in blood sugar), bananas can actually be very healthy!
They are great sources for Potassium, Magnesium, B-6, Vitamin C, Manganese, Fiber, and more. They are also filling so they help keep you full for longer (which means less snacking between meals).
And, since bananas are a source of healthy carbs, they help speed up the metabolism, which is essential for maintaining a healthy weight.
To read more on the health benefits of bananas, read this.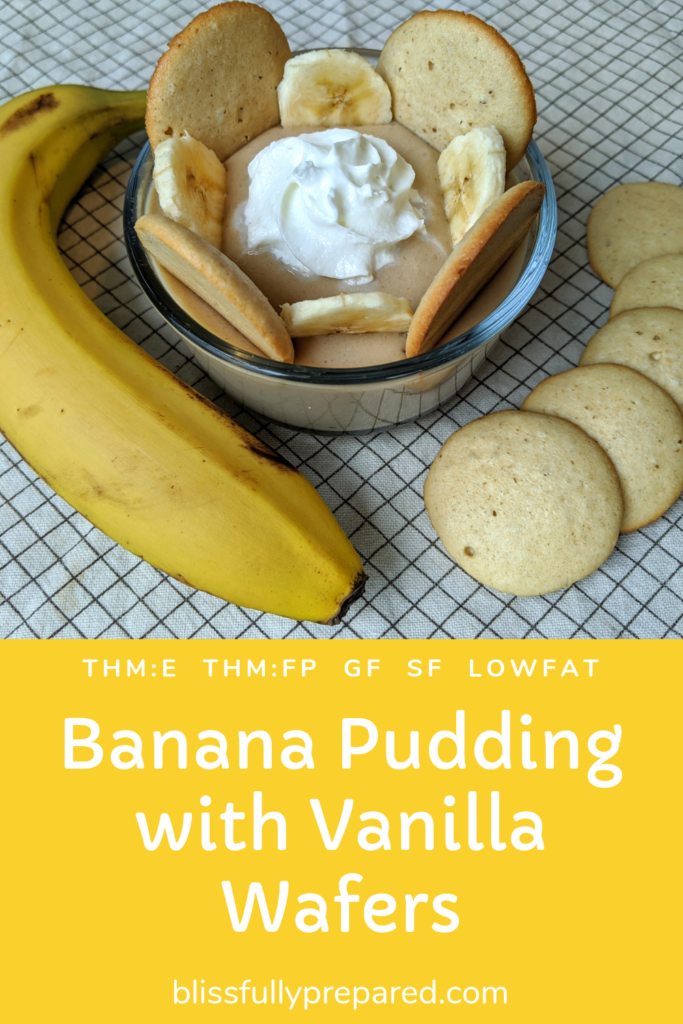 How to make Banana Pudding with Vanilla Wafers
Making the THM-E Banana Pudding:
The pudding is quick and easy to make. Just throw all the ingredients in a blender and blend until smooth. Then pour into a sauce pan and heat and whisk until it reaches your preferred thickness. You can either eat it warm right away or put in the fridge to eat cold later. Makes one serving (but can easily be scaled to make more servings). Serve with Vanilla Wafers (recipe below), a few banana slices, and dollop of nonfat Greek yogurt or nonfat whipped cream. And, if want to get real fancy, you could even make a meringue for it! 😋
I now have a recipe link for making meringue and Fat-Free Whipped Topping, which is delicious with this pudding!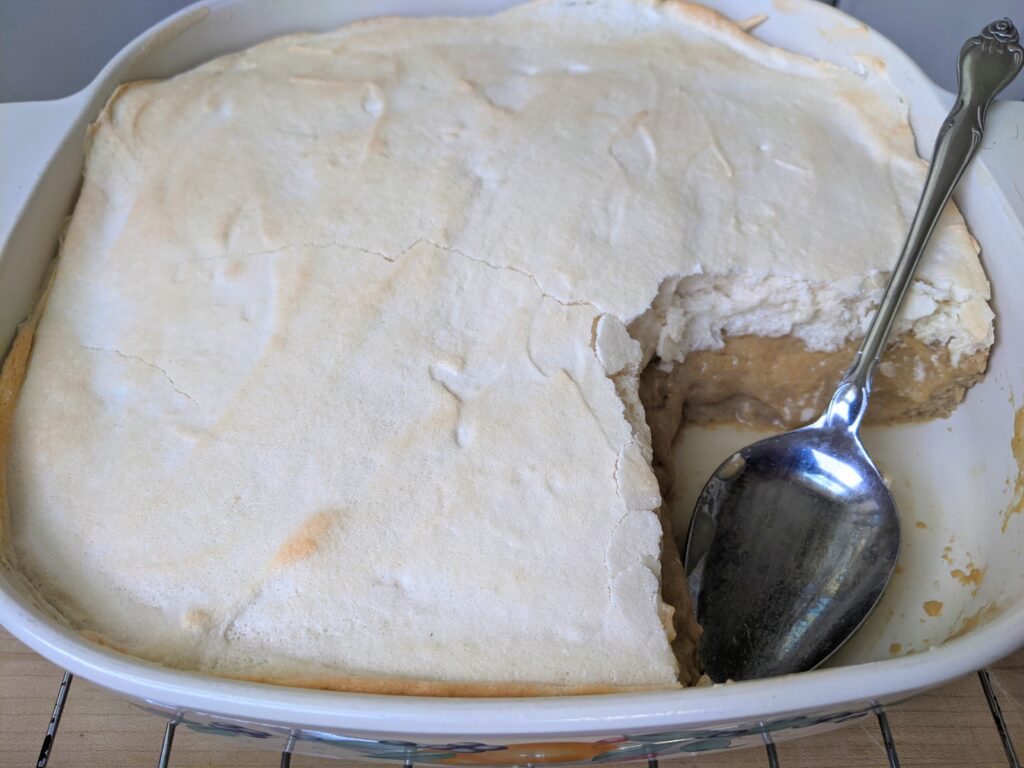 Print
Ingredients
1/2 of a medium banana

1/4 cup unsweetened almond milk (or preferred milk)

2 TBS cottage cheese (I use Daisy 2%)

2 TBS nonfat Greek yogurt

2 TBS egg whites

1 – 2 TBS defatted peanut powder (optional but gives richness and
more protein)

1 TBS whey protein isolate, optional (for more creaminess and protein)

1 – 2 TBS sugar-free maple syrup (optional but gives better
flavor – I make my own with this or you could also add more sweetener
along with maple extract)

1 – 2 tsp sweetener* (I use Lakanto Golden), or to taste

1/2 tsp vanilla extract

1/8 – 1/4 tsp sea salt (to taste)

1/4 tsp glucomannan (whisk in while heating pudding so it doesn't clump),
or more until reach desired thickness (especially if baking with meringue)

Other optional extracts – butter, maple, banana, caramel, to taste
One serving of this Banana Pudding (including the peanut powder but not the optional whey protein or meringue) is approximately 152 calories, 15.6g net carbs, 2.4g fat, and 13.9g protein. You can have up to 4 Vanilla Wafers with one serving of Banana Pudding. One serving of the Banana Pudding with 4 Vanilla Wafers is a total of roughly 204 calories, 17.8g net carbs, 4.7g fat, and 18.6g protein.
Making the THM Fuel-Pull Vanilla Wafers:
While the Banana Pudding is THM-E, the Vanilla Wafers are actually both low-carb AND low-fat, making them THM Fuel-Pull. Therefore, they can accompany all the THM fuel settings, with the exception of Deep-S. They make a great all-purpose Fuel-Pull vanilla cookie. In fact, there's even a way to make cut-out and snickerdoodle cookies with this recipe! (More on that later!) And they're the closest thing I've had to the bad-for-you "Nilla Wafers".
They are also easy to make. Like my other cookie recipes, you start with room temperature ingredients. Then you cream the powdered sweetener with 1 TBS of butter, add your wet ingredients, and finally mix in your dry ingredients. No need to chill this dough; just whip up the dough and it's ready to bake!
I like to put my dough in a ziplock bag and pipe it onto my cookie sheet.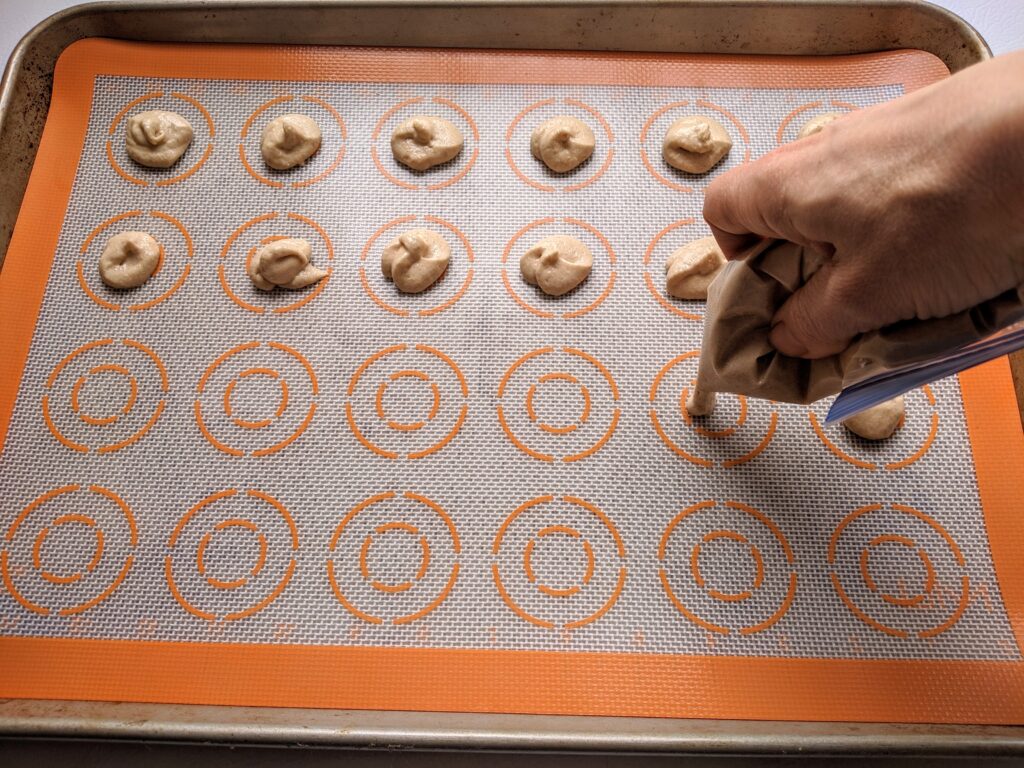 I bake them for about 10 minutes, or until the bottom edges are golden (this will vary so keep an eye on your first batch!).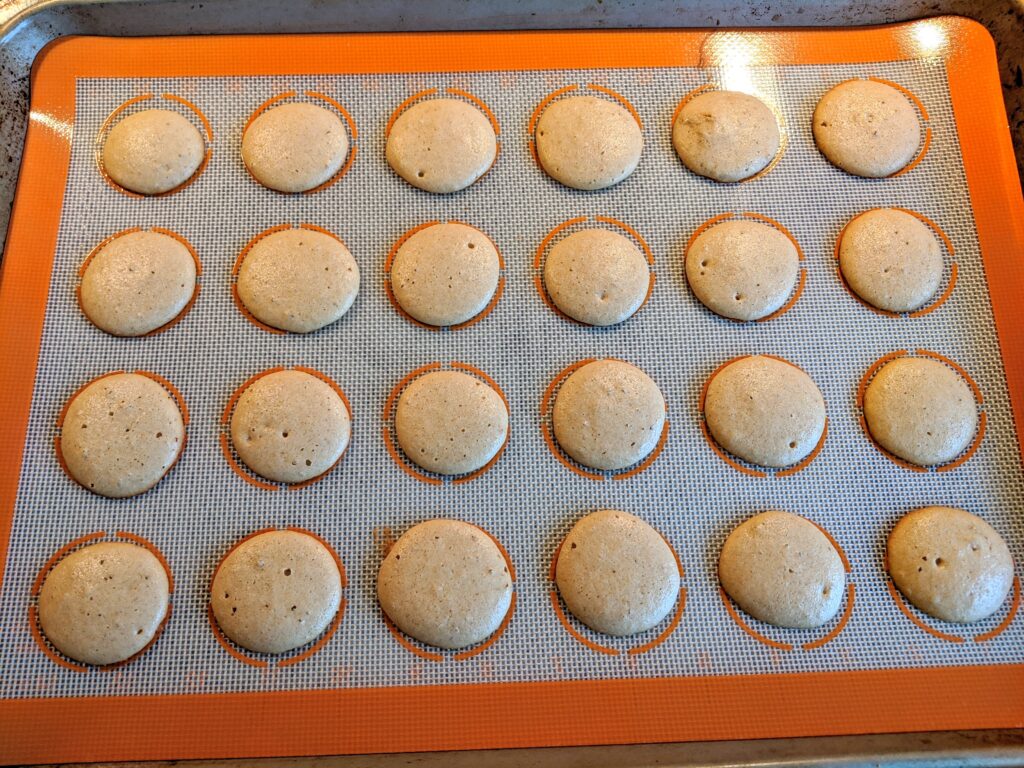 However, they will not be crispy right out of the oven. But there are ways to get them crispy after they bake:
I have a food dehydrator, so I put them in there after baking. They are nice and crispy after about 30 minutes.
If you don't have a dehydrator, you could put them in the freezer. This may sound a little strange, but freezing them actually makes them taste crispy.
You could also try drying them out in the oven on low. I haven't tried this yet, so you might want to check on them often to make sure they don't burn.
Make sure to also check out my Fuel-Pull Graham Crackers (2 flavors – Original or Chocolate!)
Vanilla Wafers THM-FP
Recipe by blissfullyprepared
Course: Dessert, Snack, THM-Fuel-Pull
Cuisine: Southern
Difficulty: Easy
These Vanilla Wafers taste like the real deal, and they're sugar-free, gluten-free, nut-free, low-carb, low-fat and THM Fuel-Pull!
Ingredients
Cream together:

1/4 cup powdered sweetener* (I grind Lakanto Golden into a fine powder in my coffee/spice mill before measuring)

1 TBS softened, room temperature butter or dairy-free fat

Wet ingredients:

2 TBS egg whites, room temperature

4 tsp unsweetened almond milk or preferred milk

1.5 tsp vanilla extract

1/4 tsp butter extract

Dry ingredients:

1/4 cup or 24g whey protein isolate

3 TBS oat FLOUR (or make your own by grinding rolled oats into a fine powder before measuring)

4 tsp oat FIBER

1/4 tsp sea salt

1/8 tsp baking powder

1/8 tsp xanthan gum
Directions
Pre-heat oven to 350* and line a cookie sheet with parchment paper.
Bring butter/fat and egg whites to room temperature before starting. I warm my egg whites by measuring them into a ramekin and submerging ramekin in hot tap water while I gather my other ingredients.
Measure and mix dry ingredients and set aside.
Cream together the sweetener and butter until it becomes a thick dough.
Then whip in the wet ingredients.
Next, stir in the dry ingredients and mix well.
This dough is rather wet and sticky so I recommend piping it onto the cookie sheet. To do this, put the dough into a ziplock bag and cut out one of the corners so the dough can be squeezed out onto the cookie sheet. Makes 24-30 wafers.
Bake for about 10 minutes (this will vary so keep an eye on your first batch) or until the bottom edges are golden.
To make crispy, either put in a dehydrator or back in the oven at a low temperature (but make sure they don't burn!), or put them in the freezer until they are frozen solid. Once crisp, store in an air-tight container, preferably in the freezer to keep fresh and crisp.
Enjoy with banana pudding or any way you would use "Nilla Wafers".
Notes
If any ingredients appear to have a line through them, just click to side of ingredient (or on another ingredient) and the line should disappear. It's a feature of the recipe plugin that allows people to cross off ingredients as they add them to a recipe. Also, the print feature of this plugin is a little wonky so always check over recipe print-outs to make sure all ingredients are included and correct. Another option is to copy and paste the recipe text and print through a different program.
Based on making 24 wafers, each wafer is approximately 13 calories, 0.6g net carbs, 0.6g fat, and 1.2g protein. You can have up to 4 Vanilla Wafers with one serving of my THM-E Banana Pudding. Or bake them smaller to be able to have more wafers in a E/FP setting.
While collagen could likely be substituted for the whey protein, I don't think the wafers would get as crispy. And I haven't tried any possible substitutes for the oat flour or oat fiber. But please let me know if you find a substitute that works so I can make a note on the recipe for others.
If using a different sweetener, check out this sweetener conversion chart.
Nutrition Facts
24 servings per container
---
Amount Per ServingCalories13
% Daily Value *
Total Fat 0.6g

1

%
Total Carbohydrate 0.8g

1

%
Protein 1.2g

3

%
---
* The % Daily Value tells you how much a nutrient in a serving of food contributes to a daily diet. 2,000 calories a day is used for general nutrition advice.
You might also like:
Amazon and the Amazon logo are trademarks of Amazon.com, Inc, or its affiliates.
Tags:
banana
,
banana pudding
,
cookies
,
crispy
,
dessert
,
diet friendly
,
Fuel Pull
,
fuel pull cookies
,
gluten free
,
healthy carbs
,
high protein
,
keto vanilla wafers
,
low calorie
,
low carb
,
low fat
,
macro friendly
,
Nilla wafers
,
no nut flour
,
no sugar added
,
nut free
,
oat cookies
,
oat fiber
,
oat fiber cookies
,
protein pudding
,
pudding
,
slow carbs
,
snack
,
southern
,
sugar free
,
THM
,
THM E
,
thm fuel pull
,
Trim Healthy Mama
,
vanilla
,
vanilla cookies
,
vanilla wafers
,
wafers
,
warm pudding
,
whey protein
---