Egg Drop Soup THM-Deep-S Keto Paleo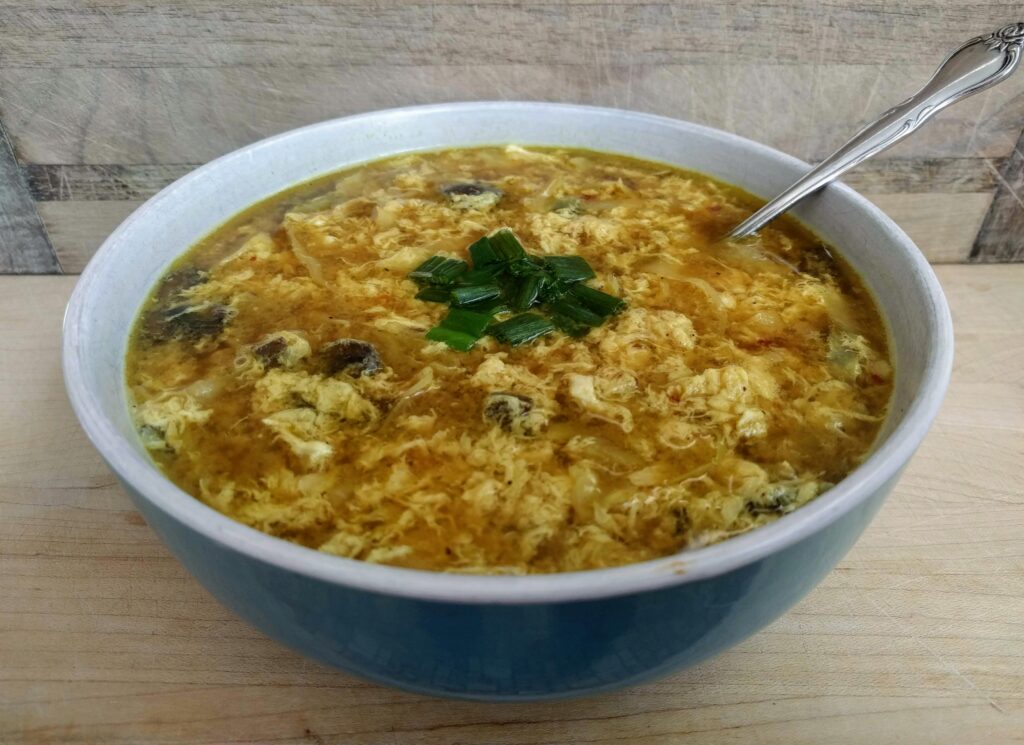 As an Amazon Associate, I earn from qualifying purchases. I am also an official THM Affiliate and am earning a percentage off of links used in the above content that may link directly to the THM online store. This is at no cost to you. Please see my Affiliate Disclosure for more information.
It's Soup Season! 🍜 And Egg Drop Soup is an easy, delicious, and nourishing way to celebrate! It's even THM-Deep-S, Keto, and Paleo!
Honestly, it's been awhile since I last ate at a Chinese restaurant, but Egg Drop Soup was always one of my favorite things to order. It's so warm, comforting, and satisfying. And, while it's a very simple and nourishing soup, it is doubtful that I would be able to find any locally that doesn't contain off-plan ingredients (based on following the Trim Healthy Mama plan). But, luckily, I can now make the most delicious and nourishing Egg Drop Soup myself with nutrient-dense, on-plan ingredients, and it only takes a few minutes from start to finish!
What's in Egg Drop Soup?
Egg Drop Soup is basically a thickened broth soup with "ribbons" of eggs in it. It also sometimes has a few veggies and scallions/green onions in it, too. It's also known as "Egg Flower Soup". If you've never had it before, it may sound a little weird. But, trust me, it's amazing! 😋
Really, I think it's one of the most underrated soups and that it deserves more credit and attention. And, with it mostly being just broth and eggs (which have no carbs but lots of protein), it makes the perfect soup/meal for THM-Deep-S!
I am not Chinese myself and am not claiming that this recipe is "authentic" but I do promise that it tastes good, and is very good for you!
I make mine with:
Bone Broth (I make my own in the Instant Pot)
Pasture-raised chicken eggs
Non-starchy veggies (usually about 1 cup thinly chopped cabbage and 2 chopped mushrooms) – the cabbage, along with the egg "ribbons", almost makes the soup taste like it has noodles in it, like a healthy version of ramen noodles. 😋
Coconut oil for sautéing veggies
About 1 TBS of chopped green onions (this is a THM-Deep-S recipe so only a "garnish amount" is allowed)
Seasonings
Glucomannan for thickening the broth and helping keep the eggs silky and tender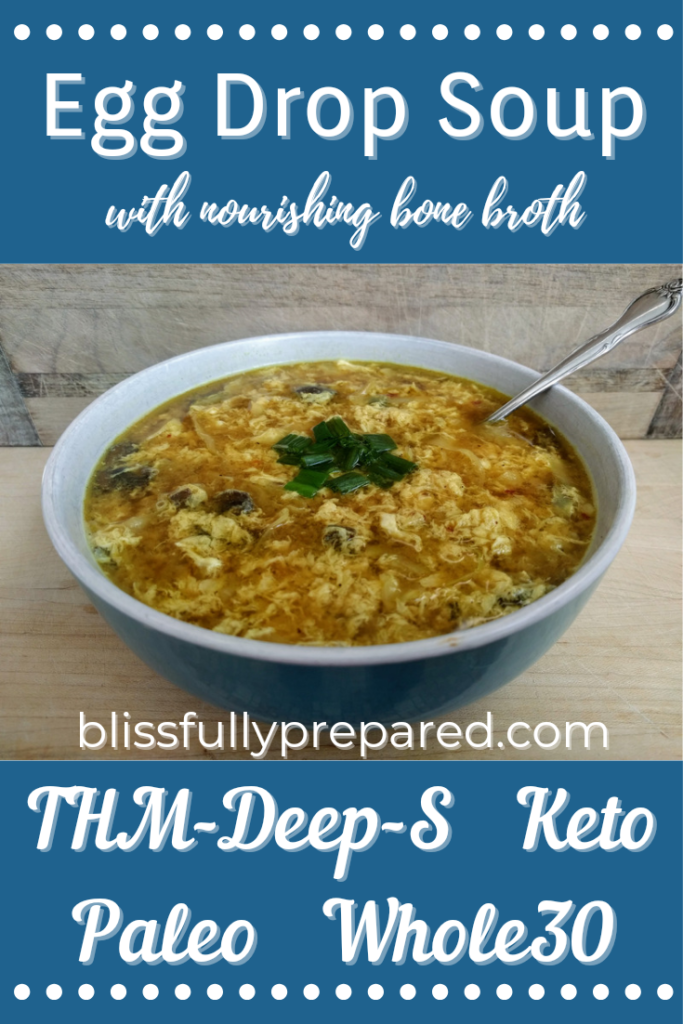 Why I love soup, especially during a THM Fuel-Cycle
I won't lie. I.LOVE.SOUP. And I especially love incorporating soups into my THM Fuel-Cycles.
I did an experiment with my last FC where I had soups for every dinner during my week-long FC. For one, this made the FC so much easier because, most soups (probably including this one, though I've always made this one fresh since it's so quick and easy), can be prepared ahead (some can even be frozen) and reheated. That way I could focus on cooking dinner for my family and just reheat soup for myself.
But also soup is surprisingly filling (even though it's mostly broth and veggies) but usually lighter on the macros than other foods. I've always found that I have the most success (with weight-loss or maintaining a healthy weight) when I have soup for my last meal of the day. And my FC experiment proved that theory to be true, at least for me anyway!
And we all need more broth, especially Bone Broth, in our lives, and soups are an easy and delicious way to do that! And, as a bonus, Egg Drop Soup is a great way to make boring eggs a little more exciting (and tasty)!
Why I love bone broth
In this soup, Bone Broth is the star of the show. And, in my opinion, Bone Broth is one of the greatest superfoods ever. It's basically just a broth that's had bones simmered in it but…
It's:
Rich in protein, collagen, gelatin, and various vitamins and minerals.
Very healing for the gut.
Immune-boosting (which is especially important right now with COVID-19).
Great for detoxing and healing.
Good for joints and inflammation.
Helpful for weight-loss and/or maintaining a healthy weight and metabolism.
Allowed in all THM fuel-settings (as long as low-fat), Keto, Low-carb, Paleo and allergen-friendly.
To read more on the benefits of Bone Broth, check this out.
How I make my bone broth
I make my own Bone Broth in my Instant Pot, and it's the easiest thing ever. I fill my IP until nearly full with bones, then top with spring water, throw in about 1/4 cup apple cider vinegar (to help break down the bones), and then set to 240 minutes on High with the Soup function. I don't even bother with adding veggies or seasonings. I just season/add veggies into whatever I'm cooking with the broth later.
When the 240 minutes are up, I let the pressure naturally release for about an hour. Then I smash the bones with a potato smasher (to help release more nutrients), give it a stir, and then stain out the bones. It's then ready to use fresh, or I let it cool and put it in freezer-safe containers (don't use quart or half gallon mason jars!) and store it in the freezer until I'm ready to use it.
If you want to see how gelatinous my finished homemade Bone Broth is, check out the video below! It's beautiful stuff! 😍
While Bone Broth is preferable, any broth will do!
If you don't have access to Bone Broth and aren't able to make your own, you can use any broth/stock of your choosing in this soup! It'll still be very tasty, nourishing and healing!
And make sure to adjust your seasonings! Since I make my own Bone Broth and do not pre-season it, I am starting with a very bland tasting broth. Therefore, I have to add Gluten-Free Tamari, sea salt, nutritional yeast, etc. But, depending on which broth you use and your taste preferences, you may not need as much seasonings.
Egg Drop Soup is so easy to make!
One of the best parts about Egg Drop Soup is how quick and easy it is to make! I would even dare to say that it's as easy as making bad-for-you ramen noodles! Seriously, it just takes a few minutes from start to yum!
First I get my ingredients ready. Since I usually start with frozen, homemade Bone Broth, I heat/thaw 2 cups worth and set it aside. I then chop my veggies. It's just one bowl of soup so you don't need to chop a ton. I usually just use about 1 cup of cabbage and 2 mushrooms. But feel free to experiment with other veggies, too (don't forget your greens like spinach and kale!).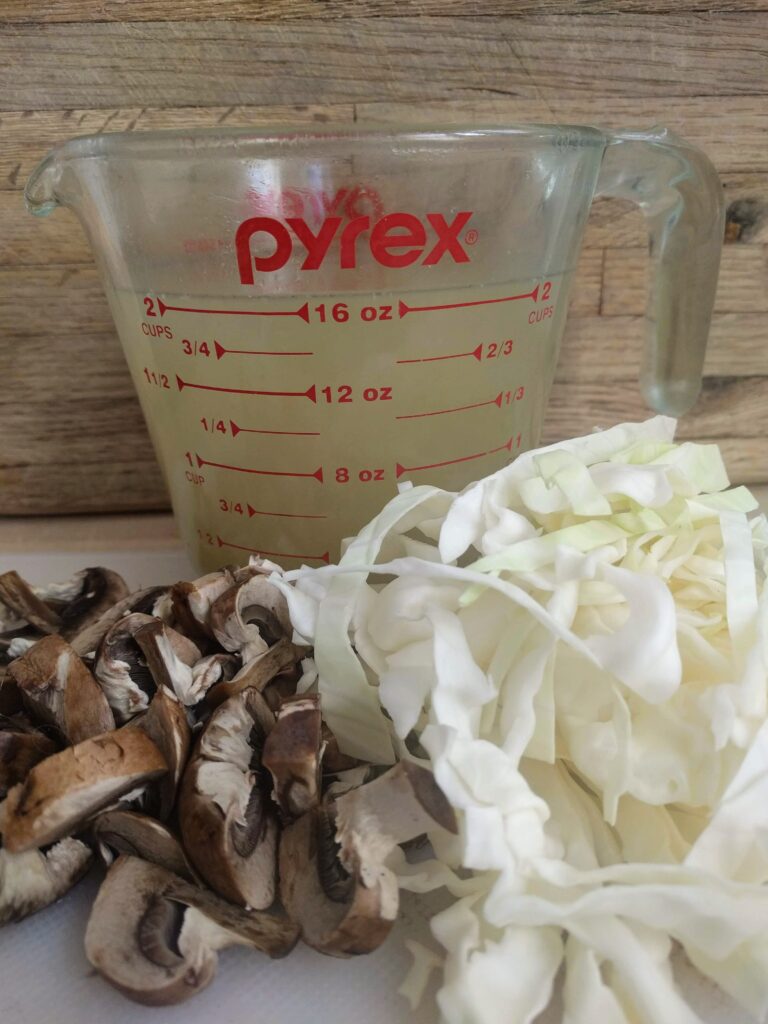 I then sauté my veggies (and about 1/2 TBS of the white part of green onions) for a minute or two in coconut oil in a small sauce pan. Then I add my broth and seasonings. I bring everything to a simmer and taste and adjust seasonings, if needed.
Since I like my soup thickened, I then stir in 1/4 tsp of glucomannan. I then stir the other 1/8 tsp of glucomannan into my beaten eggs. Usually cornstarch is used in traditional Egg Drop Soup to both slightly thicken the broth but also to inhibit the protein bonds in the eggs from making the eggs rubbery. The glucomannan works just as well to help keep the eggs silky and tender, and without the carbs!
Now we're ready to add the eggs!
I then slowly stir the soup while drizzling the beaten egg mixture into the soup (should be at a low-simmer). I prefer using a wide wooden spoon to help make longer egg "ribbons". A whisk seems to break the "ribbons" up too much, leaving them more like scrambled eggs floating in broth. But, even if you don't get the technique down on the first try, it'll still taste yummy nonetheless!
Once you've added the eggs, the soup is ready! Just remove from heat and pour into your bowl. I like to garnish with 1/2 TBS of the green parts of green onions. And, once it's cooled down a little, I like to add a scoop or two of raw kimchi (for probiotics and a little extra spice and tang), as well. 😋 Again, probably not "authentic" but tastes good, and good for me (and you, too)! 😉
Egg Drop Soup THM-Deep-S Keto
Course: THM-Deep-S, Lunch, Dinner, Soup
Cuisine: Chinese
Difficulty: Easy
It's Soup Season! And Egg Drop Soup is an easy, delicious, and nourishing way to celebrate! It's even THM-Deep-S, Keto, and Paleo!
Ingredients
Coconut oil for sautéing veggies

Veggies (I use about 1 cup thinly chopped cabbage and 2 chopped mushrooms)

1 TBS chopped green onions, optional (I use about 1/2 TBS of white parts while sautéing veggies and other 1/2 TBS of green parts as garnish)

2 cups broth (preferably bone broth – I make my own)

2 eggs

Gluten-Free Tamari, Coconut Aminos, Bragg's Liquid Aminos, and/or sea salt, to taste (I use 2 tsp GF Tamari and 1/2 tsp sea salt)

1 tsp nutritional yeast, optional

1 tsp sweetener* (I use Lakanto Golden), optional or to taste

1/2 tsp ground ginger, or to taste

1/4 + 1/8 tsp glucomannan (stir-in 1/4 tsp into soup when veggies are tender and stir other 1/8 tsp into beaten eggs), optional for thickened soup

1/4 tsp each of onion powder, garlic powder, and white or black pepper

1/4 tsp red pepper flakes, optional or to taste

1/8 tsp ground turmeric, optional (for yellow color)

Splash of rice vinegar, fish sauce, and/or sesame oil, optional

Serve with a scoop of raw kimchi (for probiotics and a little extra spice and tang!)
Directions
Sauté veggies and 1/2 TBS green onions (white parts) in coconut oil in small sauce pan for a couple of minutes.
Add broth and seasonings (hold off on adding glucomannan just yet). Adjust flavorings, if needed.
Bring to a simmer, stirring occasionally.
Let simmer until veggies are tender (couple or few minutes).
Slowly stir-in 1/4 tsp glucomannan.
Beat eggs with the other 1/8 tsp glucomannan (Pyrex measuring cup works best since it has good spout for pouring eggs into soup)
Slowly stir simmering soup with a wide spoon (I use a wooden spoon) and slowly pour beaten egg mixture into soup.
Then remove from heat and serve. Garnish will 1/2 TBS of the greens parts of green onion and optional kimchi. Enjoy!
Notes
If any ingredients appear to have a line through them, just click to side of ingredient (or on another ingredient) and the line should disappear. It's a feature of the recipe plugin that allows people to cross off ingredients as they add them to a recipe. Also, the print feature of this plugin is a little wonky so always check over recipe print-outs to make sure all ingredients are included and correct. Another option is to copy and paste the recipe text and print through a different program.
Makes one large bowl of soup which (based on eggs, broth and glucomannan) is roughly 232 calories, 0.0g net carbs, 11g fat, and 29.7g protein.
If using a different sweetener, check out this sweetener conversion chart.
Nutrition Facts
1 servings per container
---
Amount Per ServingCalories232
% Daily Value *
Total Fat 11g

17

%
Total Carbohydrate 1.5g

1

%
Protein 29.7g

60

%
---
* The % Daily Value tells you how much a nutrient in a serving of food contributes to a daily diet. 2,000 calories a day is used for general nutrition advice.
Amazon and the Amazon logo are trademarks of Amazon.com, Inc, or its affiliates.
---