Copycat Lily's Chocolate Chips – THM Keto Sugar-free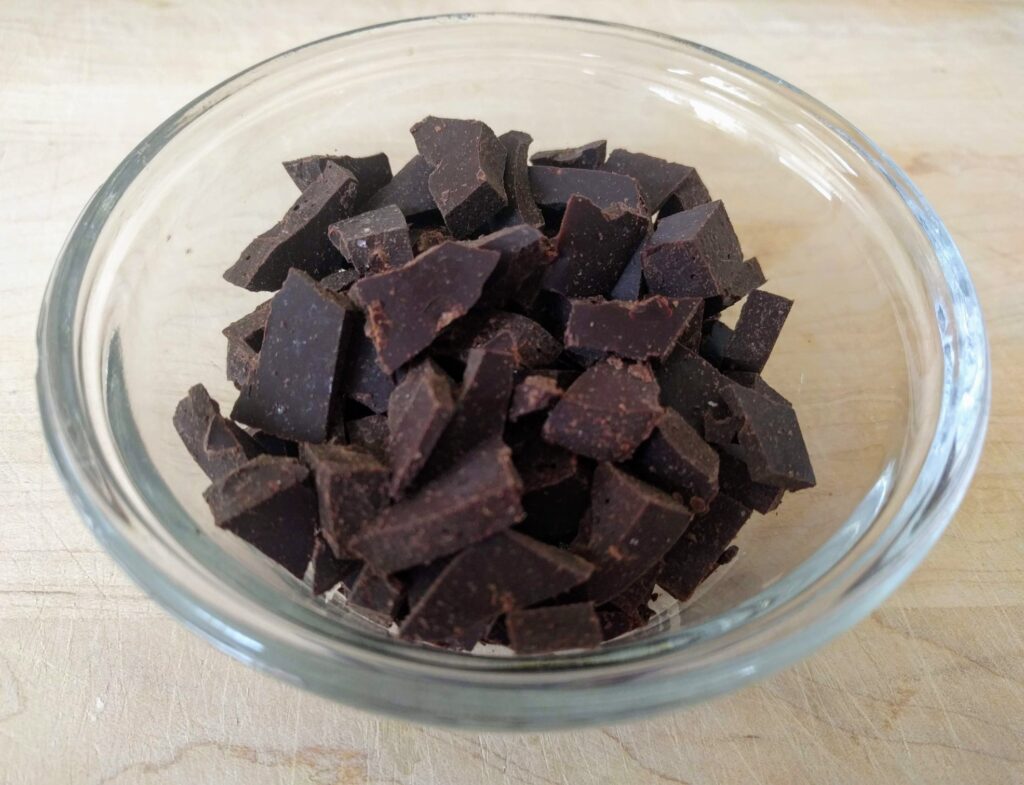 As an Amazon Associate, I earn from qualifying purchases. I am also an official THM Affiliate and am earning a percentage off of links used in the above content that may link directly to the THM online store. This is at no cost to you. Please see my Affiliate Disclosure for more information.
Jump to Recipe
I LOVE Lily's Sugar-free Chocolate Chips but they can get a little pricey at the rate that I go through chocolate chips at my house lol. I discovered a way to make my own THM, keto, sugar-free chocolate chips (though mine are technically "chunks") and it's sooo much cheaper.
Easy to Make Yourself!
They're actually really easy to make, too. I buy the Baker's Baking Chocolate unsweetened 100% cacao bars at Walmart for $1.98 each. Two bars makes about the equivalent (though slightly less) in chocolate chunks as one bag 9oz of Lily's chocolate chips. My other ingredients probably cost just a few pennies per batch so, considering that Lily's is usually around $7 per bag, making your own is a cheaper option.
For me, each bar (along with my other ingredients) yields about 120 grams of finished chocolate chunks. I just melt them in the microwave, stir in the other ingredients, pour onto/into a parchment-lined pan or dish, chill until hardened, and then break up into chocolate chunks with a knife. I store them in a baggy in the freezer to use for all my chocolate chip needs.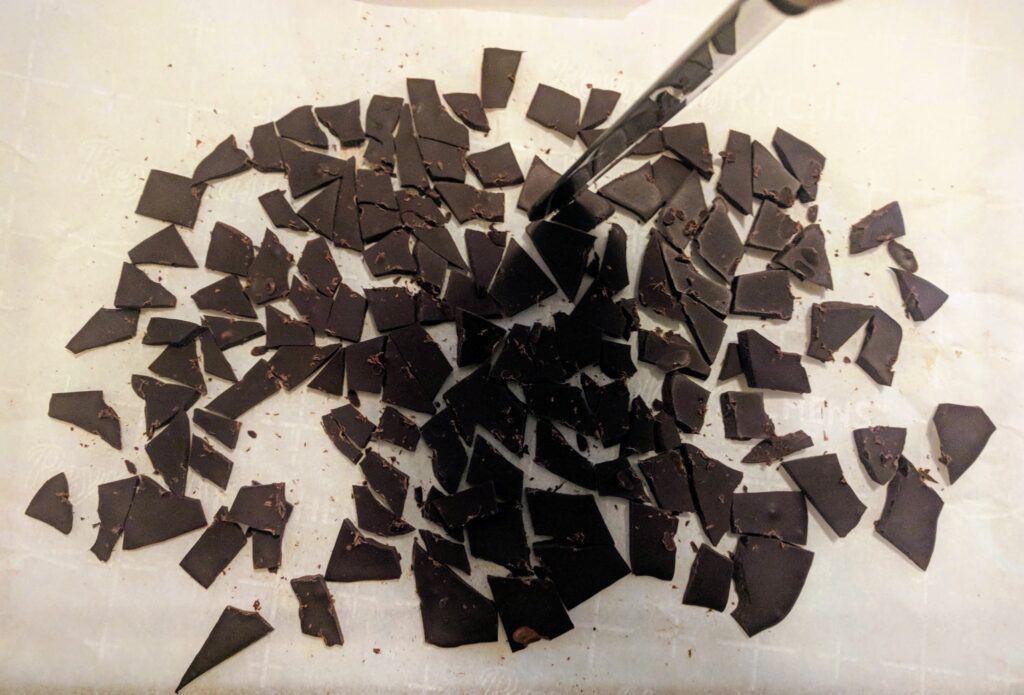 These can be made into actual chocolate chips, if you prefer, but I'm lazy and find the chunks sufficient for all my chocolate needs. For perfect chocolate chunks, I recommend freezing the melted chocolate mixture until frozen-hard, especially if it's summer and/or it's warm in your house. These thaw quickly and the chunks break more cleanly the harder/colder the chocolate is. You may have to put them back in the freezer one or two times while you're working if they start thawing too much.
I use the tip of a knife (like in the picture above) and apply a little pressure where I want the chocolate to break and it will smoothly break along that line. This reduces the amount of chocolate dust/crumbs so you will yield more chocolate chunks.
Using Chocolate Chunks in THM-E and THM-FP Recipes
Since chocolate is technically a THM-S food because of its relatively high fat content, the amount used in THM-FP and THM-E recipes must be limited to keep fat under the 5 gram limit. I've figured out that 5 grams of these chocolate chunks is equivalent to about 16 Lily's chocolate chips. For example, a recipe of my THM-Fuel-Pull Chocolate Chip Cookies calls for either 72 Lily's chocolate chips (42 grams) or 30 grams of these chocolate chunks. Of course you don't have to measure and could add as much as you like if you don't mind the recipe being THM-S or a slight cross-over. Admittedly, they are pretty addictive. 😉 But these do have an intense and rich chocolate flavor and a little can go a long way!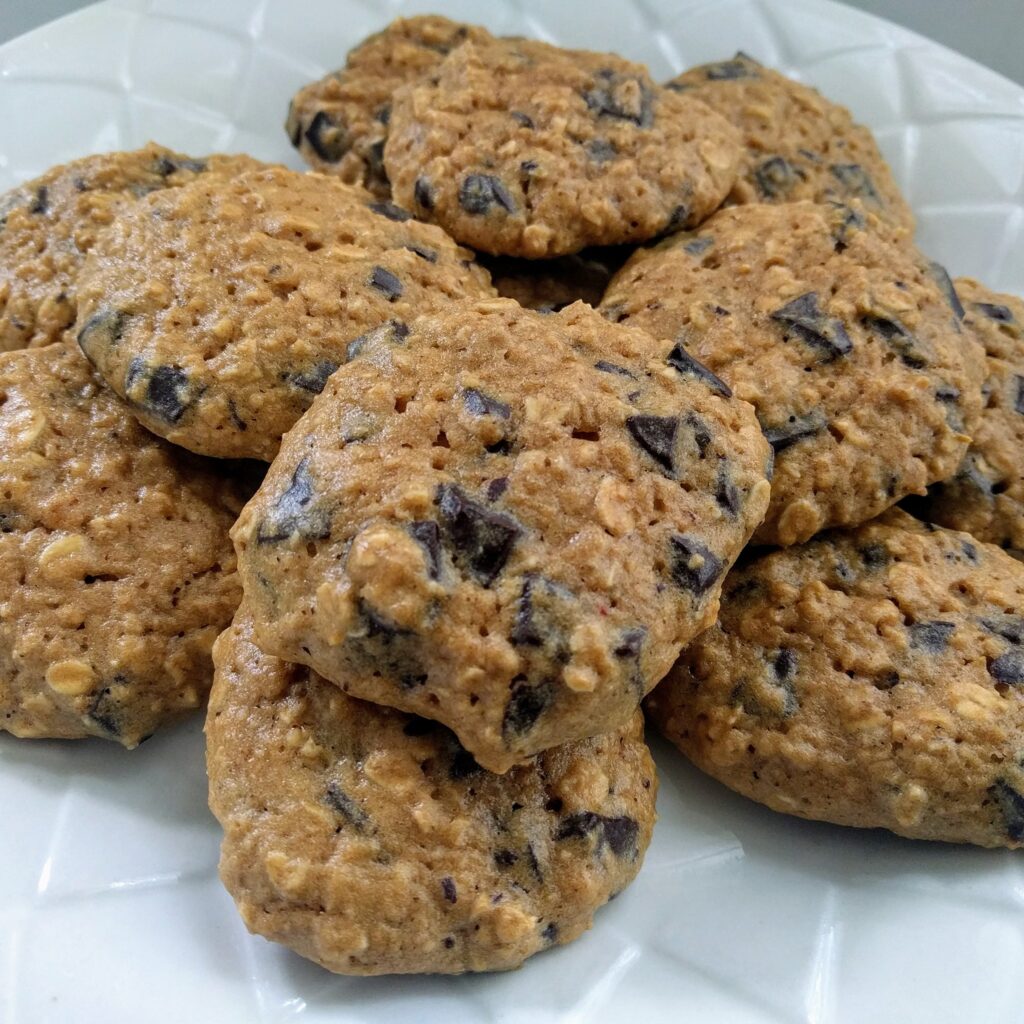 Copycat Lily's Chocolate Chips – THM Keto Sugar-free
Course: Staples, Dessert, Ingredient, Snack
Cuisine: American
Difficulty: Easy
Cheap and easy homemade DIY copycat Lily's chocolate chips that are THM, keto, low-carb, and sugar-free.
Ingredients
1 tsp powdered sweetener* (I grind Lakanto Golden into a powder in my spice/coffee mill)

1/4 tsp sea salt

1/4 tsp vanilla extract

About 25 drops of liquid stevia or to taste
Directions
Break up the baking chocolate bar into 16 squares.
Put the squares in a microwave safe dish and microwave in 30 second increments until fully melted. This could also be done on the stove but you will need a double boiler setup to keep the chocolate from scorching. In the microwave, it usually takes 90-120 seconds total for me.
When the chocolate is warm and melted, stir in one ingredient at a time (to keep the chocolate from seizing) until well-mixed and chocolate is smooth.
Pour chocolate mixture onto a parchment-lined even/flat/level surface (cookie sheet/pan/etc – something that will fit in your freezer) and spread to an even thickness that you prefer.
Set in freezer until frozen hard (I usually freeze mine for an hour or more). To tell if it's hard enough, take the point of a knife and pierce the chocolate. If it makes a smooth break across the chocolate, then it's ready to cut.
Start cutting the chocolate, first into fourths, then into eighths, etc, until you finally reach your desired size chunks. Depending on the time of year or how warm your house is, the chocolate may thaw too much may need to be returned to the freezer for a bit.
When chocolate is cut to your liking, put back in the freezer for a few minutes to harden up before putting into a bag to store chocolate chunks (so they don't stick together).
Store in freezer and add to all your favorite chocolate chip recipes/snacks. Enjoy!
Notes
If any ingredients appear to have a line through them, just click to side of ingredient (or on another ingredient) and the line should disappear. It's a feature of the recipe plugin that allows people to cross off ingredients as they add them to a recipe. Also, the print feature of this plugin is a little wonky so always check over recipe print-outs to make sure all ingredients are included and correct. Another option is to copy and paste the recipe text and print through a different program.
One serving equals 2.4 grams of chocolate chunks, which is 14 calories, 1g carbohydrate, and 1g fat. I have entered these chocolate chunks as a Food on the My Fitness Pal app as "Blissfully Prepared THM/Keto Chocolate Chips" (should come up in ingredient search) so they can be calculated into recipes to figure out how much can be added per serving to stay within the 5g fat limit for THM-E and THM-FP.
If using a different sweetener, check out this sweetener conversion chart.
Can easily be doubled (that's what I usually do).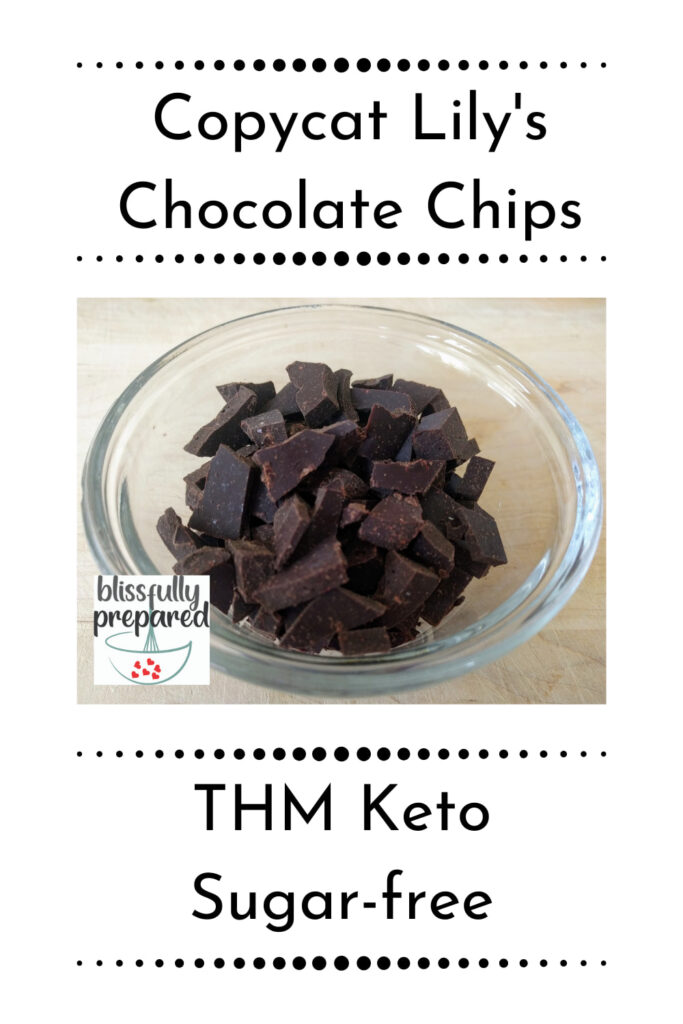 You might also like:
Amazon and the Amazon logo are trademarks of Amazon.com, Inc, or its affiliates.
---