Fat-Free Whipped Topping: Keto THM All-Fuels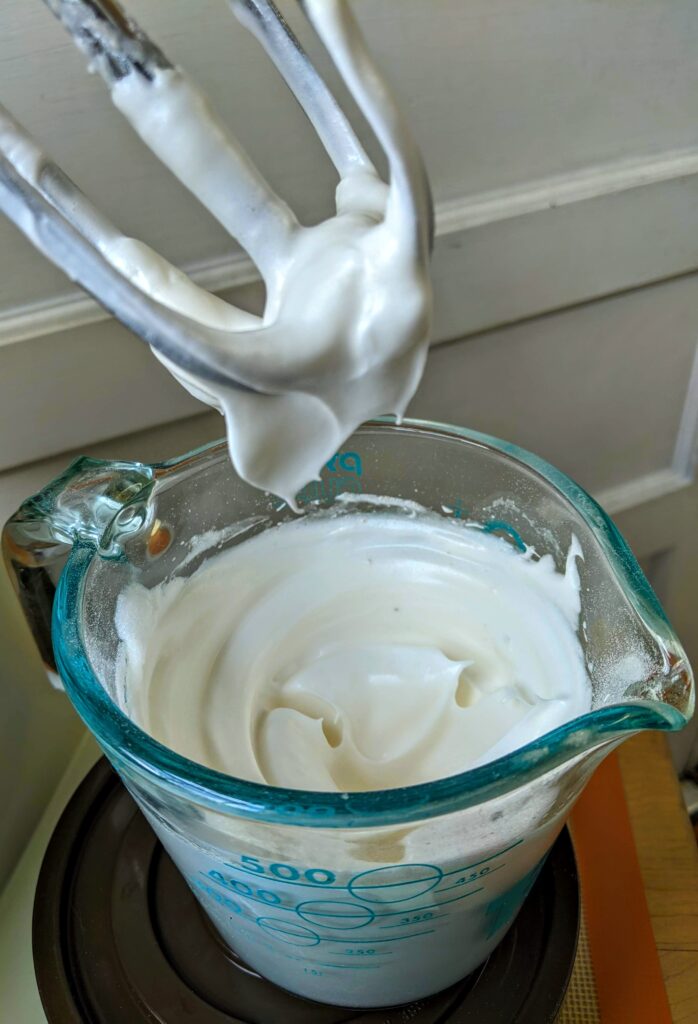 As an Amazon Associate, I earn from qualifying purchases. I am also an official THM Affiliate and am earning a percentage off of links used in the above content that may link directly to the THM online store. This is at no cost to you. Please see my Affiliate Disclosure for more information.
Jump to Recipe
Fat-Free Whipped Topping that's High-Protein, Sugar-free, Coconut-free and Dairy-Free, and that can be whipped up in just a couple of minutes! And it's Keto, Paleo and THM All-Fuels!
What the what??? Yes, you read that right. Fat-Free Whipped Topping that's High-Protein, Sugar-Free AND Dairy-Free! And it's sooo light, fluffy and creamy! 😋 Sounds like quite the unicorn but it's FOR REALZ! The secret? Pasteurized liquid egg whites!!!
You know, the carton egg whites from the grocery store! Most are pasteurized (though check label), meaning they are cooked just enough to be safe to consume right from the carton. No cooking needed! For the longest time, I never thought to try whipping carton egg whites because most have warnings on the side that says they cannot be whipped or used for meringues and such. But I just tried it one day and they actually whipped up beautifully!
And it only takes a few ingredients to make it! So much healthier than the frankenfood low-fat whipped topping choices in the store!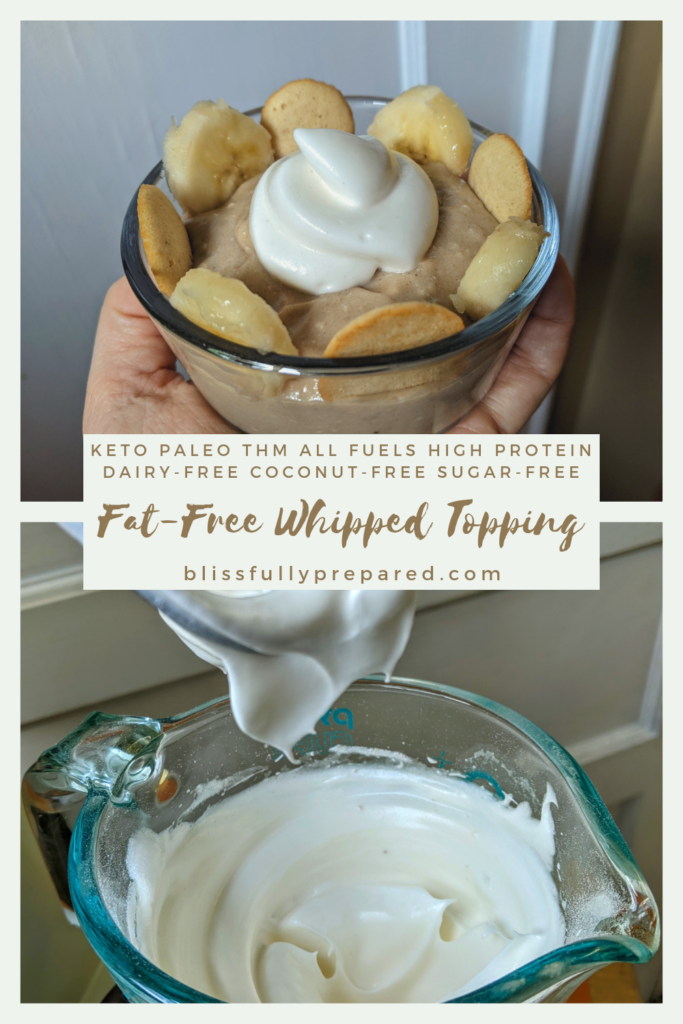 But not all Pasteurized Egg Whites are created equal…
Not every brand of pasteurized egg whites can be whipped and used for this recipe. I have just tried two brands myself. The Kirkland/Costco brand works beautifully! However, the Member's Mark/Sam's brand does NOT work. If trying other brands, I recommend testing it first with just 1/4 cup egg whites (the single serving amount). Try whipping it plain for at least one minute before adding the cream of tartar and other ingredients. If it's going to whip, it should start becoming foamy and expanding some, even without adding other ingredients. If it remains mostly liquid, then it probably won't whip and a different brand should be tried instead. But no need to waste that 1/4 cup – just pour back into the carton and use for something else later!
***ETA: I finally found the secret to getting the Member's Mark/Sam's brand to whip into stiff peaks, and I would think this would work for just about ANY brand of liquid egg whites. It seems to really help to whip them in something smaller/taller/narrower (like a Pyrex measuring cup) than a mixing bowl. This is especially important when making a single serve amount since there is only 1/4 cup egg whites. The more spread out the egg whites are the harder it will be to whip enough air into them.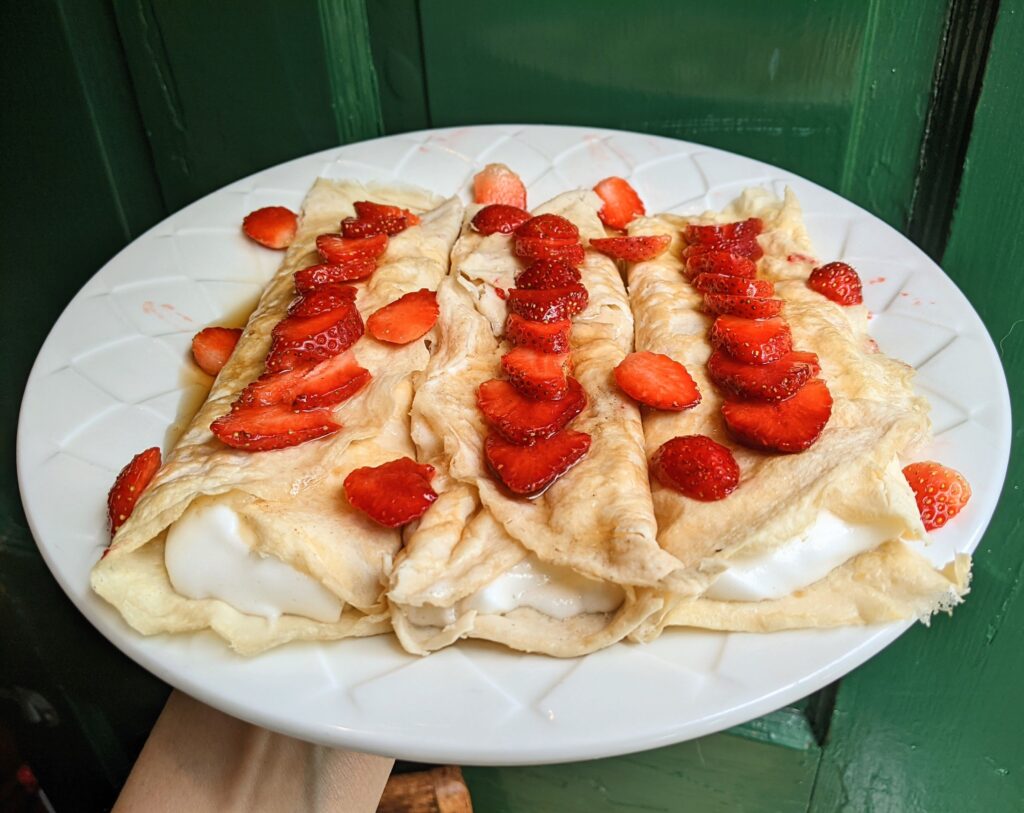 What about fresh/raw egg whites?
While fresh/raw egg whites whip up the best, it is best to not consume them without cooking first (make meringue instead!). Why? Well, of course there's the risk of pathogens (like Salmonella) in raw egg whites, but there's also something called Avidin that's naturally found in raw egg whites. Avidin blocks the uptake of Vitamin B6 (Biotin) and can lead to a vitamin deficiency. But, lightly cooking the egg white neutralizes the Avidin. Since the pasteurization process lightly cooks the egg whites and neutralizes the Avidin, pasteurized egg whites are safe to consume straight from the carton without cooking. (source) Therefore, you can even use them to add protein and creaminess to smoothies/shakes/etc. I even include them in my Blizzard recipes!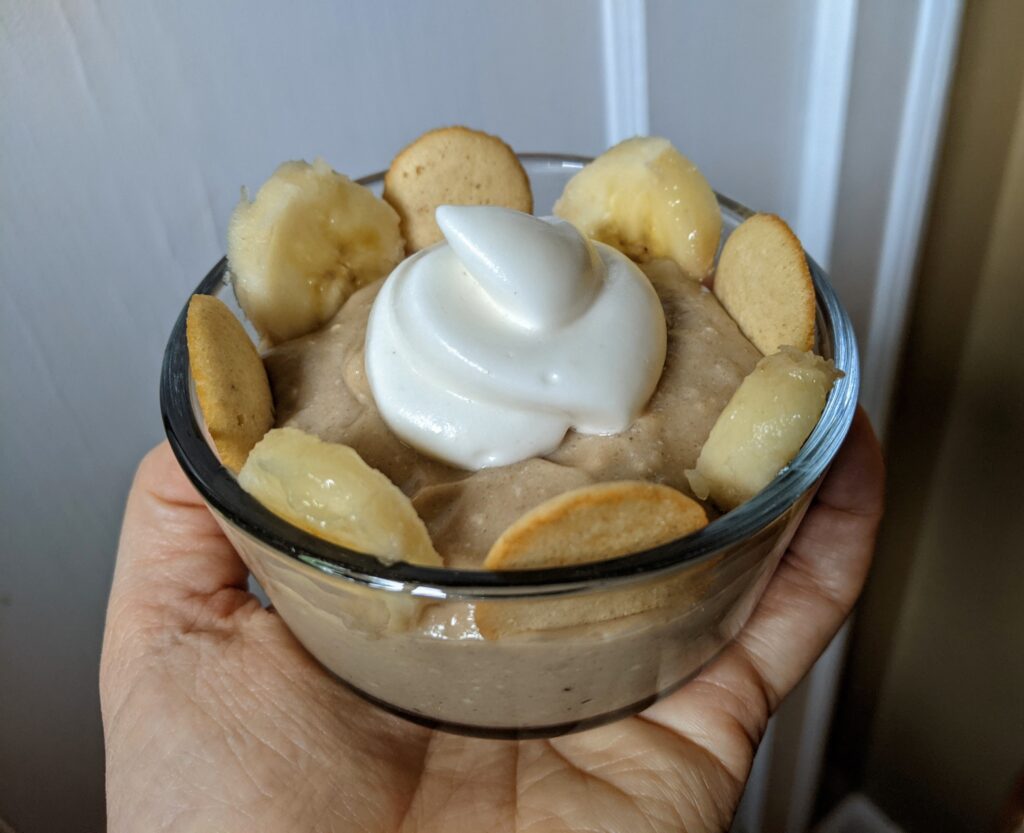 Making Fat-Free Whipped Topping
This may be my simplest recipe yet! It's just a few ingredients and takes less than 5 minutes to make from start to finish! It is best to make this just before you wish to use/eat it. As it sits in the fridge, it will start to soften and deflate after a little while. But, the good news is that it can be re-whipped! I've even re-whipped the same batch multiple times before! Even after being frozen!
If you cannot use it right away, it's best to store it in the freezer (like a healthy Cool Whip 😉). It will eventually freeze solid (if left in freezer overnight) but that takes a while. But storing it in the freezer helps it to hold its whip longer. And if it does freeze solid, it thaws pretty quickly. And, as mentioned above, it can even be re-whipped after it thaws!
The recipe is written as a single serving amount (though it makes around 1 cup of whipped topping so could easily be a multi-serve amount) but can be scaled up, if needed. Though, if scaling up, you may want to bring the egg whites to room temperature first so they will whip more quickly. The single serving amount is such a small amount (1/4 cup) that it comes to room temperature pretty quickly on its own while being whipped.
I have an antique stand mixer that I use for making mine and prefer to whip mine directly in a glass Pyrex measuring cup (for single serving amount). First, I whip it for about a minute before adding the other ingredients. It should start foaming and expanding. Then I add the cream of tartar and glucomannan (with the mixer on). The cream of tartar helps stabilize the egg whites while the glucomannan will keep them from "weeping"/separating. Then I add my other ingredients. No need to whip it into oblivion – just enough until glossy and stiff peaks form! Then it's ready to eat! 😋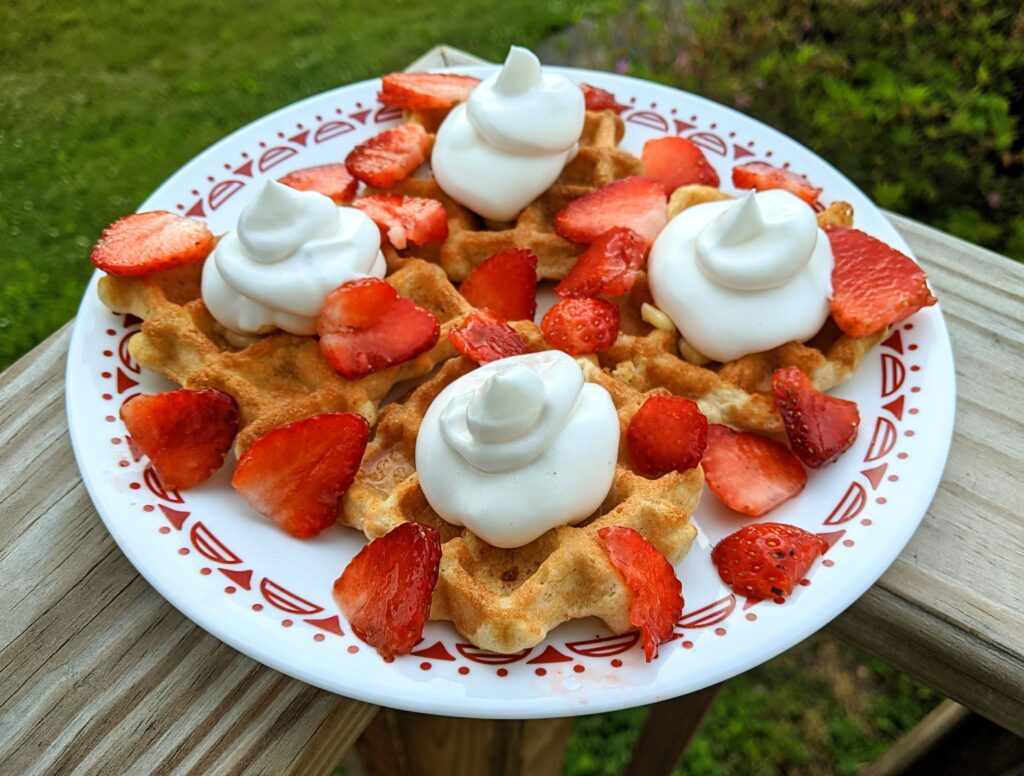 Use as a dairy-free/sugar-free/coconut-free/fat-free topping for all your Keto/Paleo/THM desserts!
Since this whipped topping is dairy-free, sugar-free, coconut-free and fat-free, it can literally be used with ANY Keto, Paleo or THM dessert! ANY THM FUEL SETTING!!! 🙌 After all, it's mostly just egg whites and is basically pure protein with no fat or net carbs! Think of all the things you could use it on – berries/fruit, pies, puddings, shakes, parfaits, sundaes, etc! You could even use it as a dairy-free frosting on cupcakes! However, since it doesn't hold its shape for long periods (without freezing), it may not work well as a sub for whipped cream in desserts that aren't eaten right away. But it works great for when you want to add a light, fluffy, creamy protein-source on top of your favorite dessert! 🍨😋 And it's GUILT-FREE!!!
Or use for meringue on pies/puddings/etc!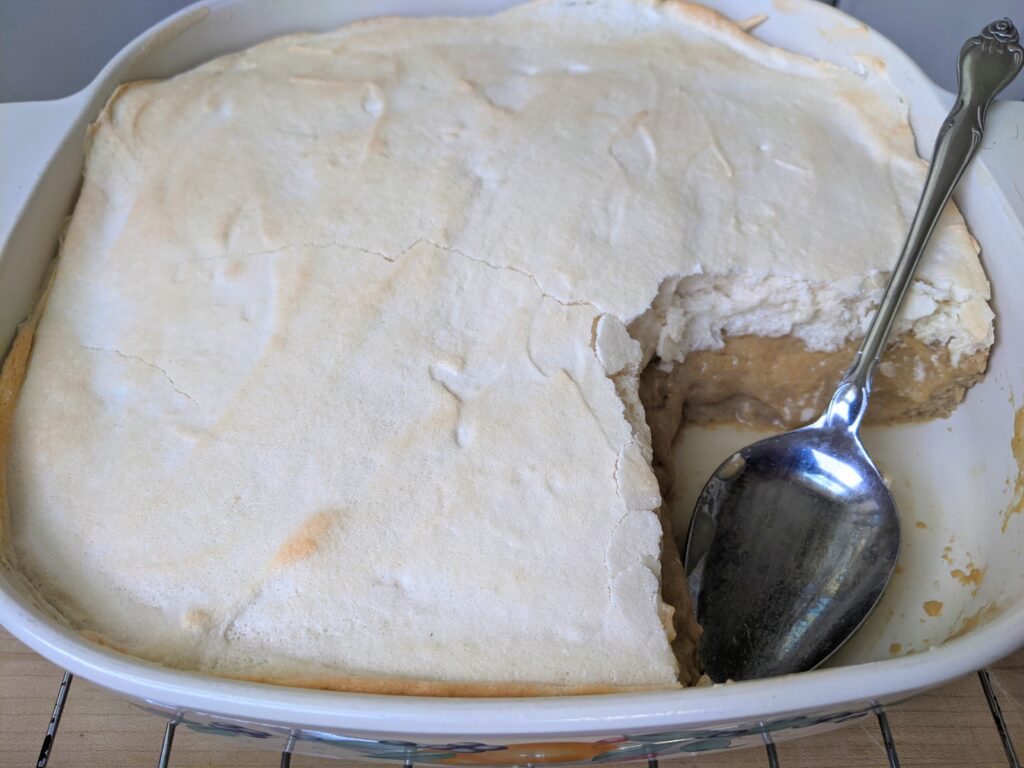 This basic recipe can also be used for making meringue for pies/puddings/etc! In the photo above, I made a double batch (1/2 cup egg whites) and put it on my E Banana Pudding. I baked it at 350* for about 15 minutes (or until firm and top starts to brown slightly). I have used the pasteurized/carton egg whites successfully for meringues but do think the fresh/raw egg whites generally turn out better in baking.
Fat-Free Whipped Topping: Keto THM All-Fuels
Course: Staples, THM-Deep-S, THM-E, THM-Fuel-Pull
Cuisine: Dessert, Snack
Difficulty: Easy
Fat-Free Whipped Topping that's High-Protein and Dairy-Free, and that can be whipped up in just a couple of minutes! And it's Keto and THM All-Fuels!
Ingredients
1/4 cup pasteurized liquid egg whites* (Kirkland/Costco brand works best for me)

1/4 tsp cream of tartar

1/4 tsp glucomannan (xanthan gum may work as sub)

1.5 TBS powdered sweetener (like Swerve, or preferred sweetener), to taste

1/4 tsp vanilla extract

Dash of sea salt to taste
Directions
Pour egg whites into Pyrex measuring cup or small mixing bowl. If the container is too big and the egg whites are too shallow, it will be difficult to whip enough air into them.
Using mixer or beaters, whip egg whites on high for a minute or so.
Then add cream of tartar and glucomannan.
Whip until starts to become glossy and stiff peaks form.
Then, with mixer still on, gradually add powdered sweetener, vanilla, and sea salt and whip a few more seconds.
Transfer (careful to not deflate) to air-tight container to store in fridge or freezer. Holds its shape better when frozen (no need to thaw before eating unless frozen solid). Will soften/deflate some if stored in fridge but can be re-whipped.
Notes
If any ingredients appear to have a line through them, just click to side of ingredient (or on another ingredient) and the line should disappear. It's a feature of the recipe plugin that allows people to cross off ingredients as they add them to a recipe. Also, the print feature of this plugin is a little wonky so always check over recipe print-outs to make sure all ingredients are included and correct. Another option is to copy and paste the recipe text and print through a different program.
Based on making one serving, it has roughly 36 calories, 0g fat, 0g net carbs, and 6.7g protein.
Makes about 1 cup of whipped topping. Can be scaled up. Though may help to bring multi-serve amounts of egg whites to room temperature first.
I do not recommend using raw egg whites; only use pasteurized liquid egg whites. Most liquid egg whites sold in stores are pasteurized (but check the label – I use the Costco/Kirkland brand and they whip well for me. Sam's/Member's Mark brand will NOT whip). Raw egg whites can contain pathogens and also contain something called Avidin (which can lead to biotin deficiency). But pasteurized egg whites are safe to use right out of the carton. For more info, read this.
As far as I know, only a mixer/beaters will work for whipping egg whites. So I wouldn't recommend trying it with a blender or immersion/hand blender.
If using a different sweetener, check out this sweetener conversion chart.
Nutrition Facts
1 servings per container
---
Amount Per ServingCalories36
% Daily Value *
Total Carbohydrate 1g

1

%
Protein 6.7g

14

%
---
* The % Daily Value tells you how much a nutrient in a serving of food contributes to a daily diet. 2,000 calories a day is used for general nutrition advice.
You might also like:
Amazon and the Amazon logo are trademarks of Amazon.com, Inc, or its affiliates.
---
---