Keto Dinner Rolls – NO CHEESE – THM-Deep-S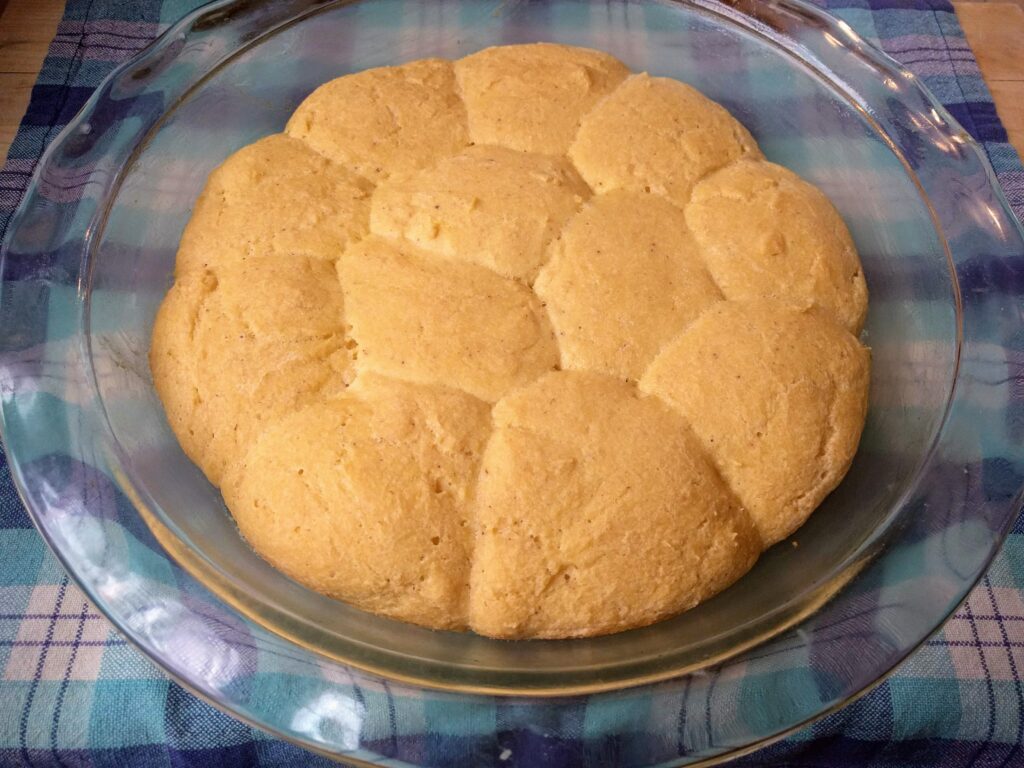 As an Amazon Associate, I earn from qualifying purchases. I am also an official THM Affiliate and am earning a percentage off of links used in the above content that may link directly to the THM online store. This is at no cost to you. Please see my Affiliate Disclosure for more information.
Jump to Recipe
Pillowy-soft Keto Dinner Rolls that are made without cheese or nut flours! And they are easy to make, THM-Deep-S, Keto, and Gluten-Free!
'Twas the day before Thanksgiving and this mama was busy in the kitchen, prepping for the big meal, when it hit me. What keto dinner rolls was I going to have with MY meal?
My family is gluten-free and I have yummy gluten-free bread recipes for them, but not for myself! Their gluten-free breads have too many carbs and off-plan ingredients!
I try to follow Trim Healthy Mama, while also trying to limit how many THM-S meals I consume (since they're often heavy/high-calorie and can lead to weight-gain for me). I try to work in as many THM-Fuel-Pulls and THM-Deep-S meals as I can (hence that's why most of my recipes are those fuel types!).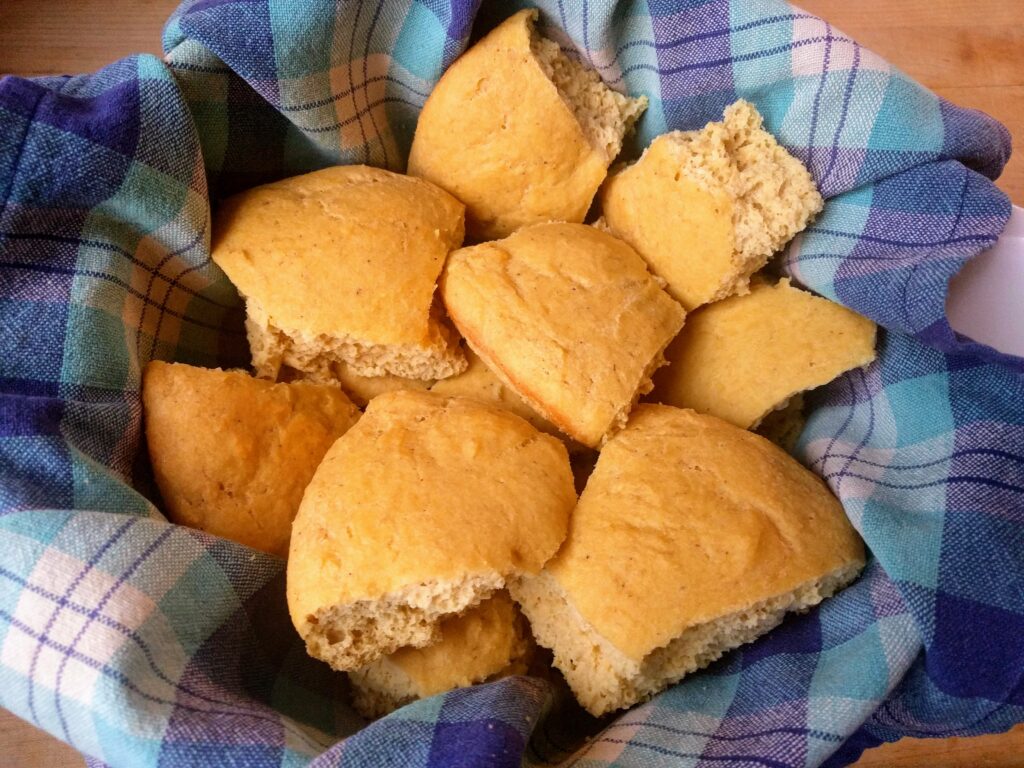 Most Keto Roll Recipes are made with cheese and/or nut flours, but not this one!
While there's a million "keto rolls" recipes out there, most are heavy on nut flours and are often made with cheeses like cream cheese and/or mozzarella (aka "Fathead").
Now, I'll admit, Fathead dough recipes are pretty good. But they're also usually high-fat/high-calorie. Don't worry, I'll still get plenty of fats and calories with my Thanksgiving meal, but there's no need to overdo it!
These bad boys are only about 69 calories and 0.4 grams net carbs each (but are 4.5 grams protein!). So you don't have to feel guilty spreading butter on them! 🧈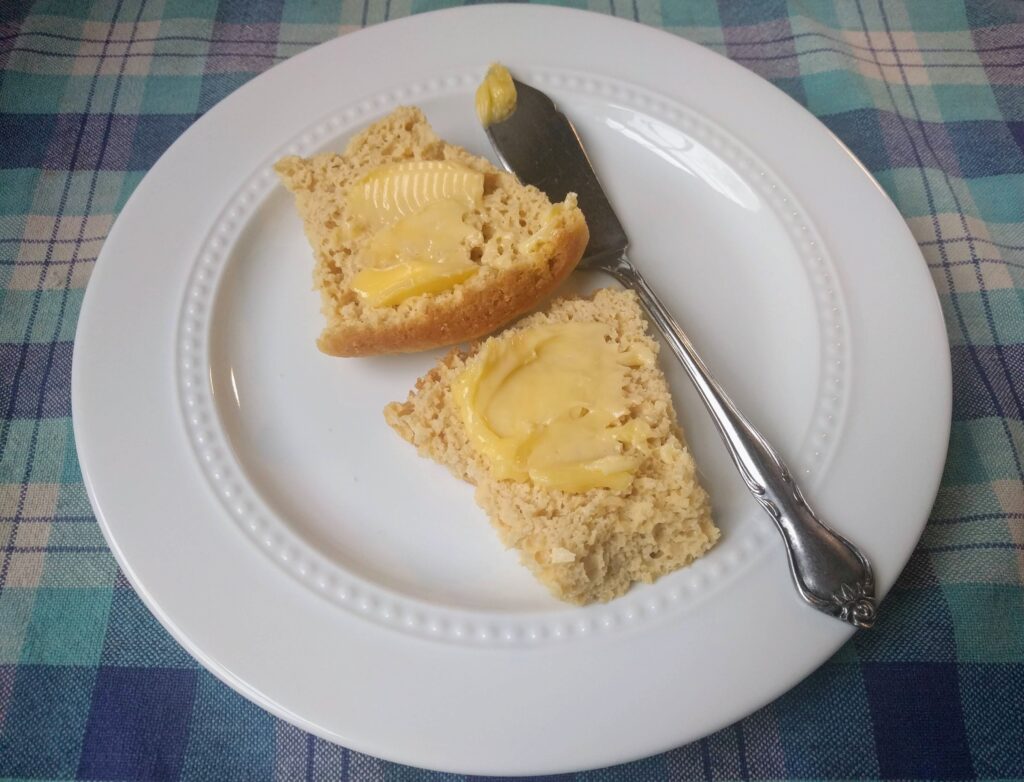 These Keto Dinner Rolls are made with oat fiber, psyllium husk, and whey protein isolate!
Since I didn't want to just settle for a THM-S/keto roll recipe with cheeses and nut flours, I started experimenting!
Instead of using cheeses and nut flours, I used oat fiber, psyllium husks, and whey protein isolate (along with a few other ingredients), and I think I nailed it!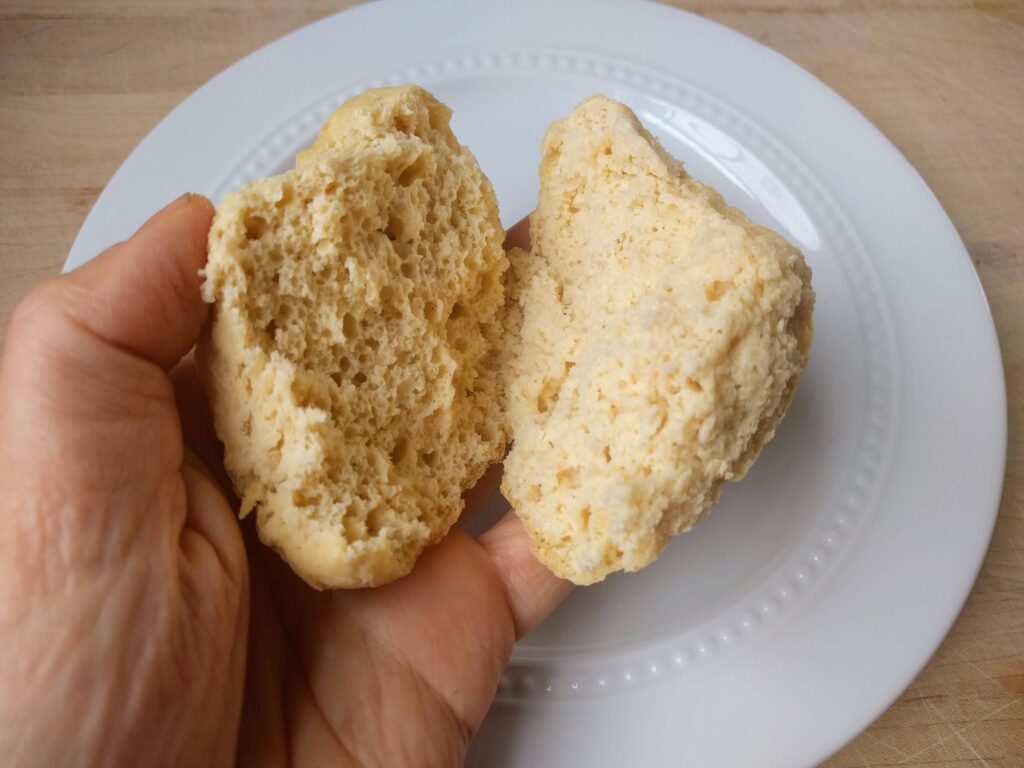 How to make them
These are super easy to make, y'all! First, pre-heat your oven and make sure you have room temperature eggs. Since I keep mine in the fridge, I quickly warm them up by putting them in hot tap water for a few minutes. Room temperature eggs are important for making baked goods light and fluffy!
Next, I gather my dry ingredients into a medium bowl. I use NOW Whole Psyllium Husks so I pour some into my coffee/spice grinder and grind into a fine powder before measuring. When you have everything in your bowl, give it a stir and set aside.
My eggs should now be room temperature. I crack them and mix with 1/4 cup of water/almond milk and ACV. Then I melt my butter and stir into my wet ingredient mixture until smooth.
Next I add my wet ingredients to my bowl of dry ingredients and mix as well as I can (it will be thick!).
Then I take the rest of the water (3/4 cup or 1 cup) and bring it to a boil and stir it into my wet/dry ingredient mixture. The boiling water will help activate the psyllium husks in the recipe.
Now let the dough rest for 10 minutes.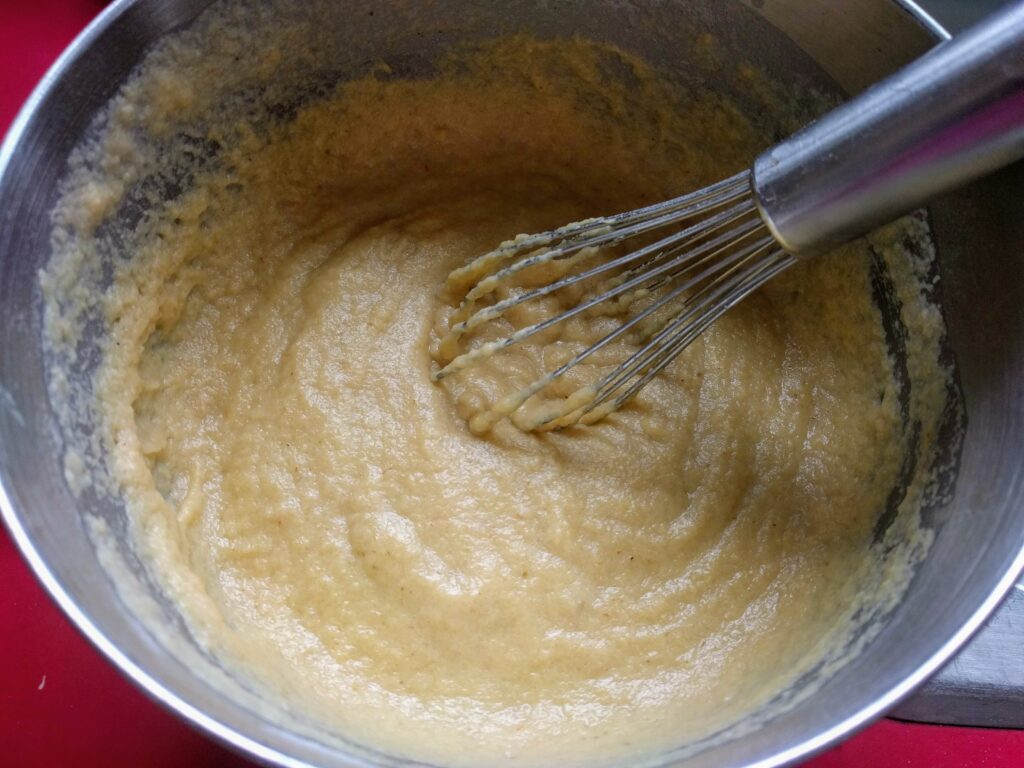 Now it's time to put them in the pan!
The dough will be sticky/wet so work near a sink and wet your hands in between as you go! Try your best to form 12 equal balls. I just shift the balls back and forth from one hand to the other to shape them.
A few readers have been concerned that their dough is too wet to form into balls, but – don't worry – it'll work out! This dough is wetter than typical roll dough but that's what makes these rolls so soft and pillowy. One reader told me she used an ice cream scoop to form her rolls and that it worked great!
(Edited to add: I have adjusted the water amounts for this recipe from 1.25 cups total to just 1 cup total. It seems that some ingredient brands are less absorbent than the ones I use, making the dough wetter and harder to work with. So hopefully the 1 cup amount will work better for most people. However, I still personally use 1.25 cups total water when I make these. They are a little trickier to shape into roll balls but make a moister/fluffier roll, in my opinion. You could also try 1 cup + 2 TBS, too. But they're still amazing with just the 1 cup water, too.)
Now start putting them into your greased pan. I find a pie pan works great. They should touch a little. And they will spread into each other as they expand during baking. But you'll still be able to pull them apart into separate rolls after baking.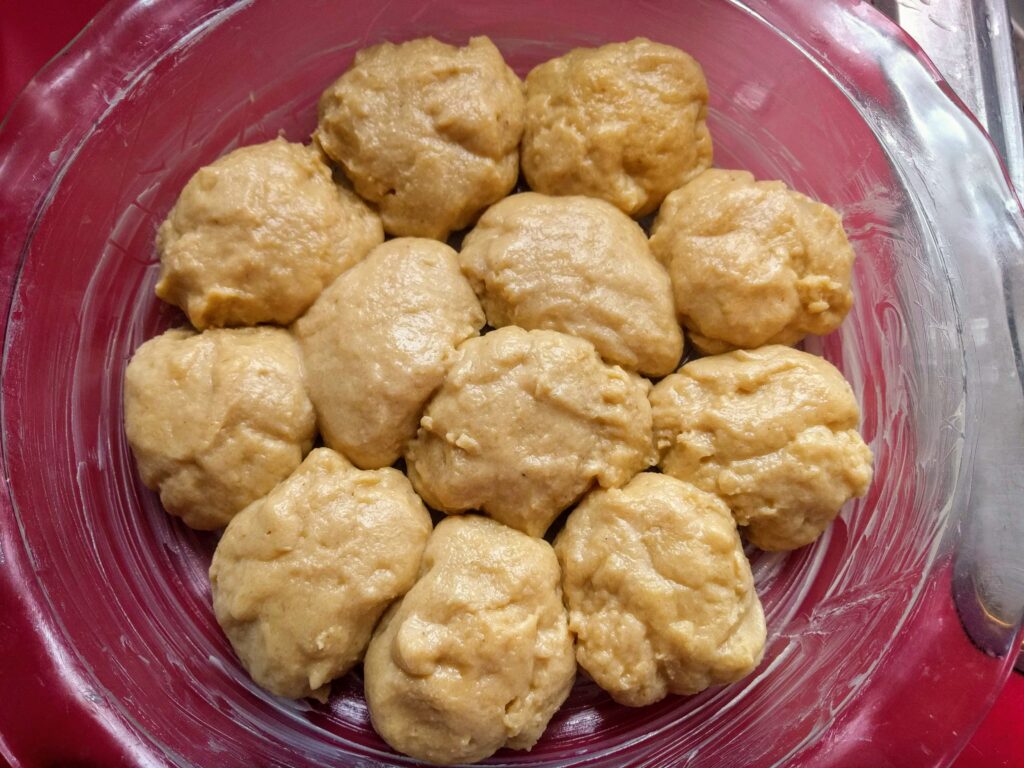 You may want to cover them with foil after about 10 minutes of baking, especially if only added the 1 cup total water instead of 1.25 cups (to keep them moist). At about the 20 minute mark, brush some melted butter on top, if you like, and then let bake for another 5ish. These don't really brown much on their own. You can brown them (remove foil) at the end of baking on broil for a couple minutes, but watch them carefully!
While it's hard to wait, it's best to let them cool for a little while before taking them out of the pan and serving. They will continue to cook a little as they cool. But I have also used them immediately, too, and they were fine. Enjoy! 😊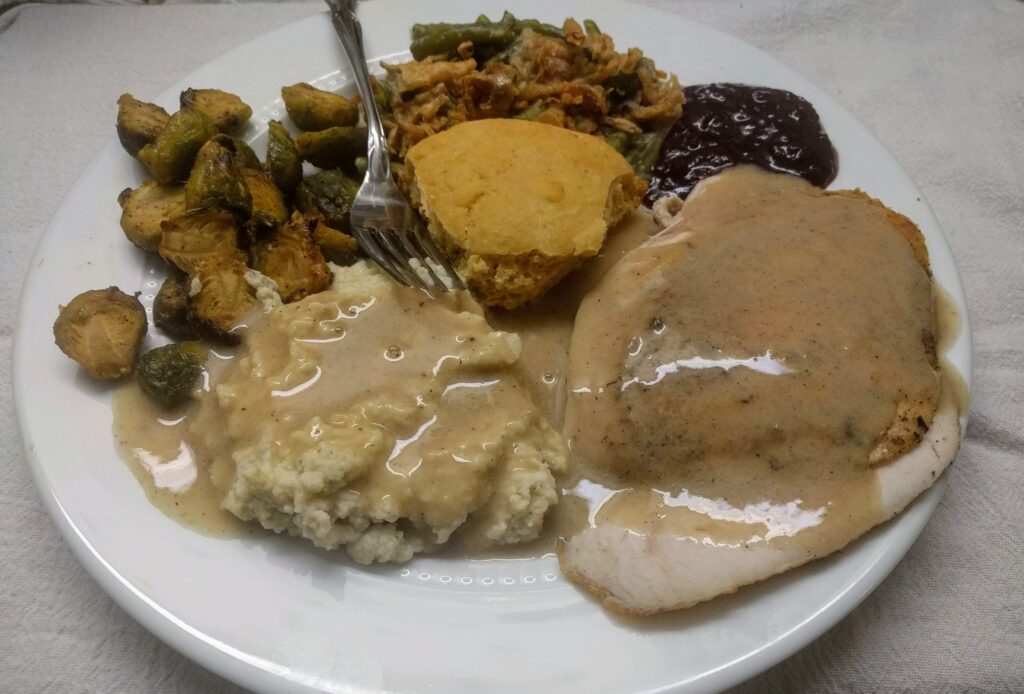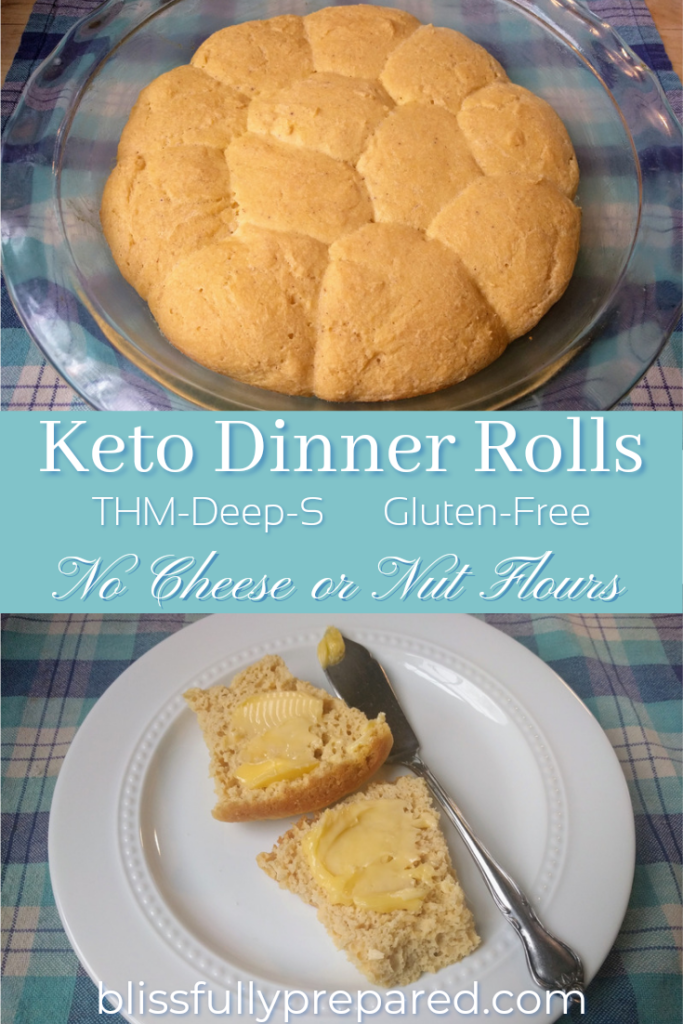 This recipe also makes great buns/sandwich rolls!
Since posting this recipe, I've discovered these make tasty keto buns or sandwich rolls, too! Just divide the dough into 8 equal portions and bake the dough balls inside greased canning jar rings (just the rings, not the lids!) on a parchment-lined cookie sheet for about 18 minutes. Or, better yet, bake in a muffin-top pan. Then slice in half and enjoy with your favorite sandwich or hamburger! Finally a way to have a hamburger or breakfast/lunch sandwich, Deep-S style! Here's a pic of my Deep-S hamburger! 🍔😋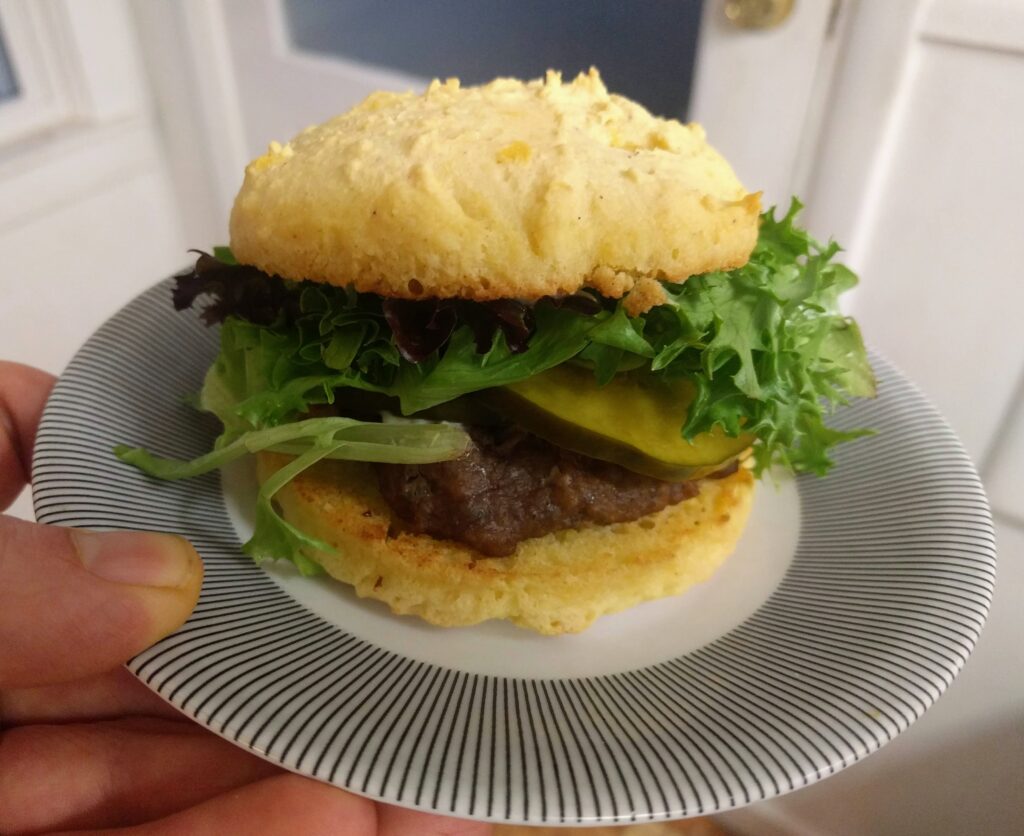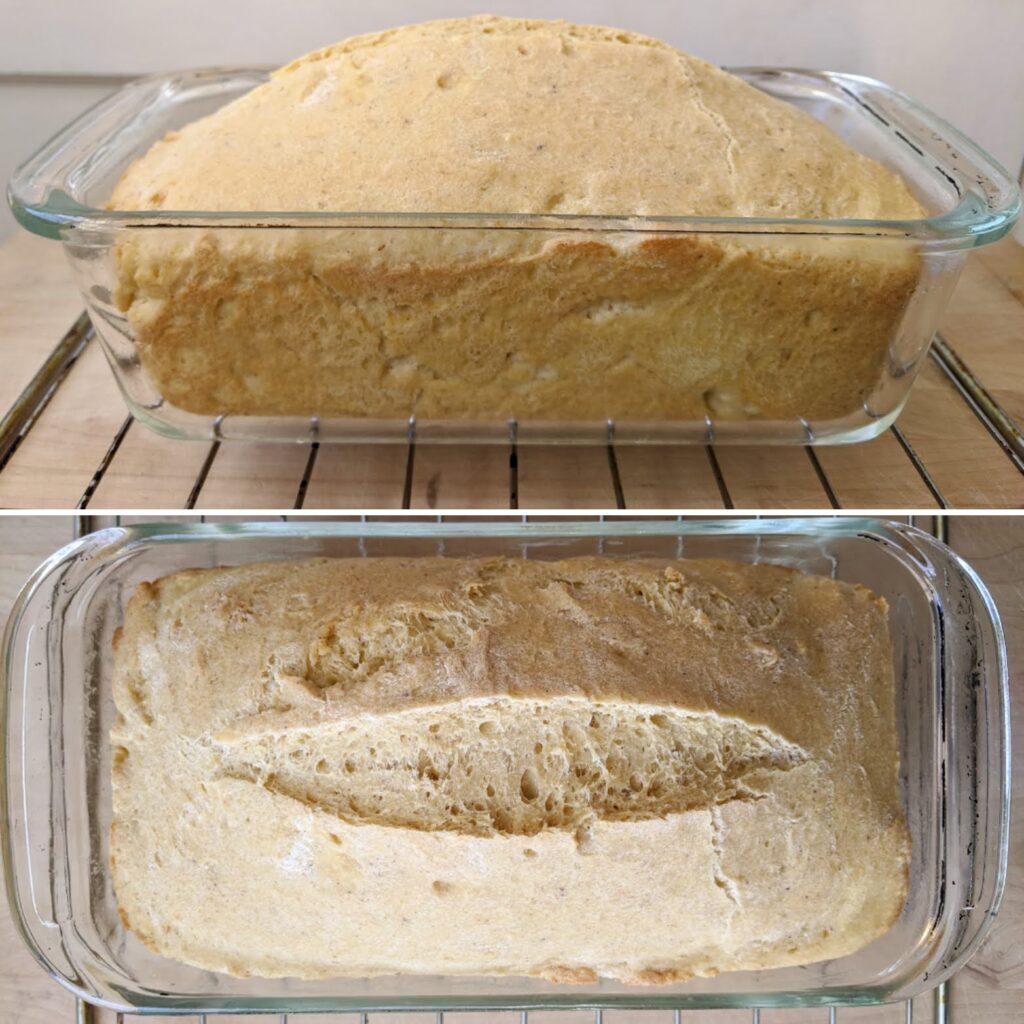 Alternatively, you can also bake the dough in a bread loaf pan for Deep-S sandwich bread. For a full sized loaf, I like to do a 1.5x recipe. It takes about 48 minutes of baking for me. And it makes GREAT Deep-S French toast! 😋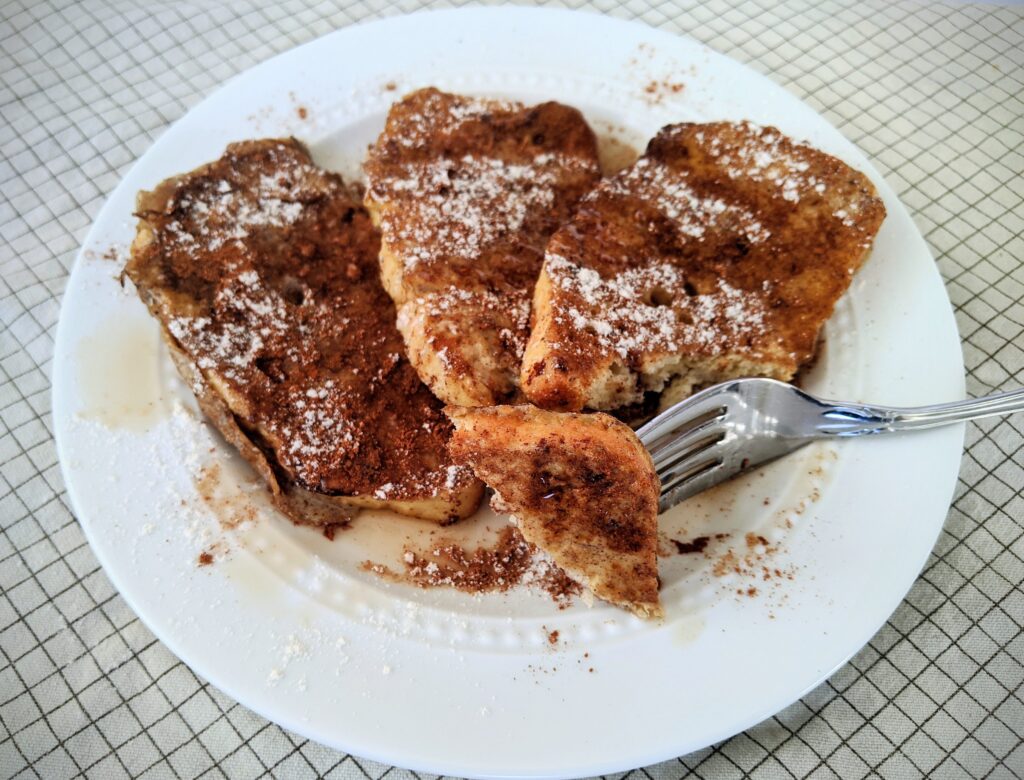 Oat-free version:
Coconut flour can be substituted for oat fiber to make this recipe grain-free, oat-free, and paleo (if also follow dairy-free instructions). However, it will no longer be a THM-Deep-S recipe; it will be THM-S, instead.
In place of the 1 cup oat fiber, substitute 3/4 cup coconut flour. But, keep in mind that coconut flour is more dense so the rolls will also be more dense. However, they are still soft, taste delicious, and hold together well.
Dairy-free version:
To make these rolls completely dairy-free, just substitute collagen peptides for the whey protein isolate and a dairy-free fat for the butter. But, you'll need a little more collagen than WPI since collagen is not as absorbent as WPI. Therefore, you'll need to add 10 TBS or 70g collagen instead of just 1/2 cup like the recipe dictates.
When I tested this version, I used homemade lard (from pastured pork) as my dairy-free fat. Butter-flavored or refined coconut oil would also be a good choice. But, since I just have unrefined coconut oil (which gives foods a coconut flavor), I wanted something with a more neutral flavor like lard.
If just making this recipe dairy-free but still using oat fiber, you may want to add extra oat fiber if the dough seems too "wet". An extra 1-2 TBS should work!
These are still soft, tasty, and hold together well, but they are much more dense (especially when also making with coconut flour) than the original recipe.
Egg-free version:
This recipe can even be made egg-free! To do this, you will need to add extra ground psyllium and water (to basically make "psyllium eggs"). Instead of directly mixing the psyllium and water together (which gets "clumpy"), we'll just add extra ground psyllium to our dry ingredients and extra water to our wet ingredients and boiled water amount.
Therefore, instead of just adding 1 TBS or 10g of ground psyllium, you will add 2 TBS or 20g psyllium instead. You will still just add 1/4 cup water to the wet ingredients. But, instead of boiling 3/4 cup water, you will boil 1 cup of water.
Otherwise the recipe is the same. This version does rise better than the oat-free and dairy-free versions, but the texture is a little different. Kind of like the difference between recipes made with whole wheat flour verses all-purpose flour. Just a little more chewy, but still very good!
How much water to use may depend on your ingredient brands
A few people have contacted me and said their dough was too wet/sticky to work with. I adjusted the recipe to give an option of decreasing the water to hopefully remedy this issue. It seems that ingredient brands can vary a lot and that some are less absorbent than others. I have linked the specific brands that I use in the recipe card. I prefer the 1.25 cup water amount with my specific ingredients. If you use different brands, you may want to use the 1 cup amount of water instead of 1.25 cups. It seems that THM brand Pristine Whey Protein may be less absorbent than the brand I use since several people who use it have contacted me about wet/sticky dough. Also brands of oat fiber seem to vary a lot, too. I highly recommend Lifesource brand oat fiber.
Also, gluten-free baking is most successful when ingredients are weighed by grams.
If your dough ends up too wet/sticky, try putting it in the freezer for a bit. Also, work near the sink and wet your hands often when handling the dough.
Helpful Tools for making Keto Dinner Rolls:
Keto Dinner Rolls – NO CHEESE – THM-Deep-S
Course: THM-Deep-S, Bread, Side
Cuisine: American
Difficulty: Easy
Pillowy-soft Keto Dinner Rolls that are made without cheese or nut flours! And they are easy to make, THM-Deep-S, and Gluten-Free!
Ingredients
Wet Ingredients:

1 cup (235ml) water (or more, see recipe notes), divided (if egg-free, 1.25 cups, divided, instead)

2 eggs (or omit if egg-free)

1/4 cup (56g) melted butter (or lard, refined/butter-flavored coconut oil, etc) into dough PLUS optional 1 TBS melted butter later to brush on top near the end of baking

1 tsp apple cider vinegar

Dry Ingredients:

1 cup or 75g oat fiber (or 3/4 cup / 112g coconut flour) – add an extra 1-2 TBS of oat fiber if making dairy-free (but not subbing coconut flour)

1/2 cup or 48g whey protein isolate (or 10 TBS / 70g collagen)

1 TBS or 10g ground psyllium husks (I use NOW Whole Psyllium Husks and grind into a fine powder in my coffee/spice mill before measuring) – if making egg-free, add total of 2 TBS or 20g ground psyllium husks

1 TBS baking powder

2 tsp sweetener* (I use Lakanto Golden)

2 tsp instant/fast-rising yeast or 1 tsp nutritional yeast, optional

3/4 tsp sea salt

1/2 tsp xanthan gum or glucomannan (for paleo version)
Directions
Pre-heat oven to 350*F and grease pan (I use a glass pie pan).
Make sure eggs are room temperature. Since I keep my eggs in the fridge, I submerge them in hot tap water for a few minutes while I prep my other ingredients.
Measure dry ingredients into medium sized mixing bowl and stir until well mixed. Set aside.
Melt butter/fat and set aside.
Eggs should be room temperature now. Mix them well with 1/4 cup (60ml) water (or almond milk), ACV, and melted butter/fat.
Add wet ingredients into dry ingredients and mix as well as you can. It will be thick!
Boil the rest of the water (3/4 cup/175ml or more – or 1 cup if egg-free) and stir it into the wet/dry ingredient mixture until smooth.
Let dough sit for 10 minutes.
Working near sink so that you can wet your hands as you go (dough is wet and sticky!), divide dough into 12 balls (or use an ice cream scoop!). Place them in greased pan. They should touch a little and will spread into each other as they bake. Bake for about 20-30 minutes (will vary depending on oven and pan used). You may want to cover with foil half way through baking to keep the rolls moist. If you like, you can brush melted butter/fat on top a few minutes before they're done. To brown rolls, broil for couple minutes at end of baking (but keep an eye on them!).
Allow to cool for about 10 minutes before removing from pan, but they can be eaten right away, too, if you can't wait. 😉 Enjoy!
Notes
If any ingredients appear to have a line through them, just click to side of ingredient (or on another ingredient) and the line should disappear. It's a feature of the recipe plugin that allows people to cross off ingredients as they add them to a recipe. Also, the print feature of this plugin is a little wonky so always check over recipe print-outs to make sure all ingredients are included and correct. Another option is to copy and paste the recipe text and print through a different program.
Based on making 12 rolls with the original recipe (oat fiber, eggs, WPI, and butter), each roll (not counting optional melted butter brushed on top) is approximately 69 calories, 0.4g net carbs, 4.6g fat, and 4.5g protein.
I add 1.25 cups water total to mine when I make them but the dough can be a little more messy/sticky, depending on the brands of ingredients used. For more "pillowy soft" rolls, I recommend adding the 1.25 cups total water (you could also try 1 cup + 2 TBS instead). They are a little more biscuit-like in texture with the 1 cup amount, but still really good! Also, you may want to cover the roll pan with foil half way through baking to keep the rolls moist and "pillowy soft". You can broil/brown them at the end of baking.
If using a different sweetener, check out this sweetener conversion chart.
LifeSource Foods Oat Fiber 500
Nutrition Facts
12 servings per container
---
Amount Per ServingCalories69
% Daily Value *
Total Fat 4.6g

8

%
Total Carbohydrate 4.8g

2

%
Protein 4.5g

9

%
---
* The % Daily Value tells you how much a nutrient in a serving of food contributes to a daily diet. 2,000 calories a day is used for general nutrition advice.
You might also like:
Amazon and the Amazon logo are trademarks of Amazon.com, Inc, or its affiliates.
---