Keto Pizza THM-Fuel-Pull Gluten-Free Low-Fat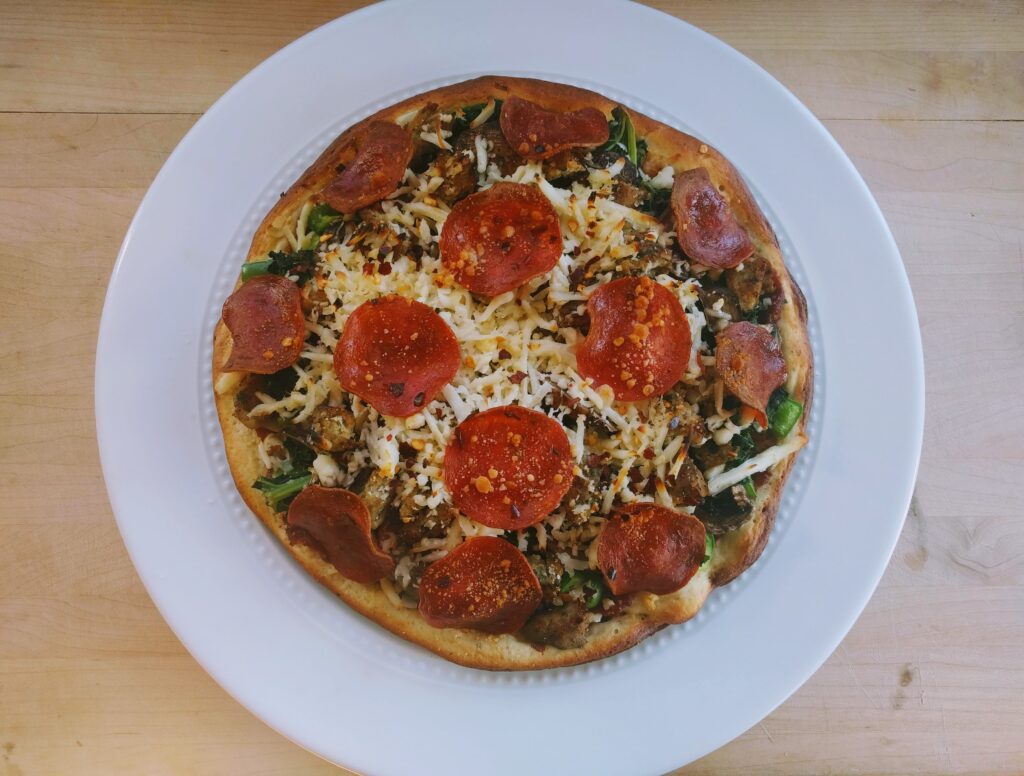 As an Amazon Associate, I earn from qualifying purchases. I am also an official THM Affiliate and am earning a percentage off of links used in the above content that may link directly to the THM online store. This is at no cost to you. Please see my Affiliate Disclosure for more information.
Jump to Recipe
What?! Keto Pizza that you can eat in THM-Fuel-Pull?! Yep! And it's high-protein, low-carb, gluten-free, nut-free, sugar-free, and low-fat!
Pizza is a major food group in our house. I make a yeast-risen gluten-free pizza often for my family and it's hands-down their favorite dinner. But, because it contains ingredients that are off-plan for THM, I always make a separate personal pan keto pizza for myself. I usually make a variation of the Personal Pan Pizza recipe that's on page 310 in the Trim Healthy Table Cookbook.
Normally keto pizzas are a THM-S food because of it's often covered with cheese and various meats. Even the crusts often contain cheese (like Fathead crusts), whole eggs, and/or are at least made with nut flours like almond and/or coconut.
But I recently discovered a way to make a completely nut-free Keto Pizza that's not only low-carb but is low-fat, too. And it's delicious! It's even low-fat enough that it can be enjoyed in THM-Fuel-Pull mode! 🙌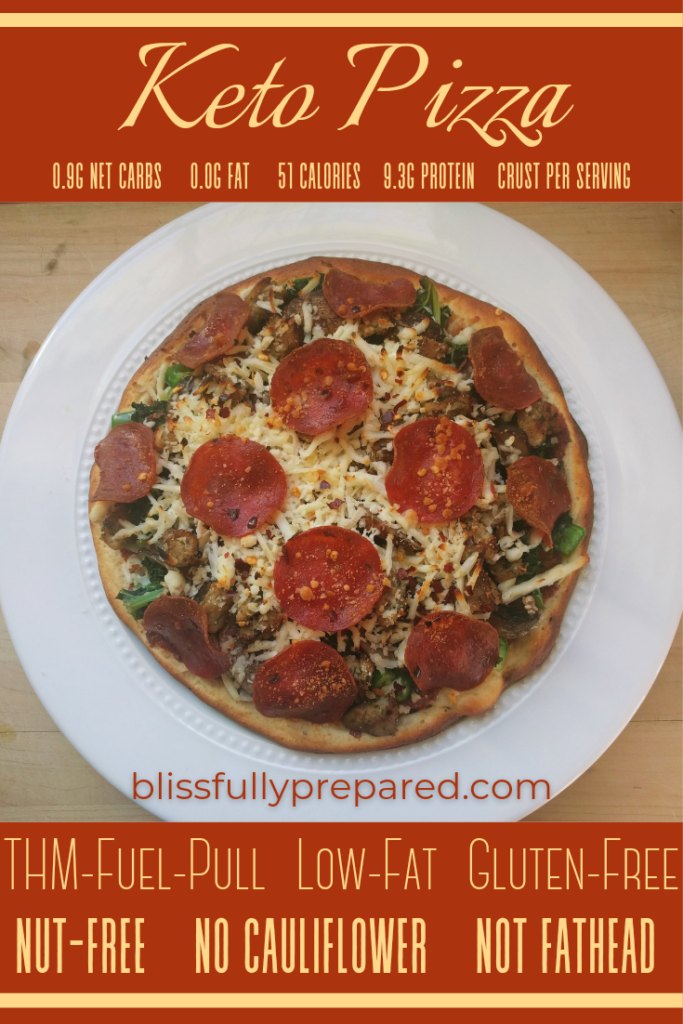 Why Fuel-Pull Keto Pizza?
THM-Fuel-Pull is a Trim Health Mama fuel-setting that is both low-carb AND low-fat (but high-protein). This helps your body to "pull" from its reserves, therefore aiding in weight-loss. In numbers, this means a FP meal should less than 10 grams net carbs and 5 grams fat. I have designed this Keto Pizza to make 2 servings that – with crust, low-fat meats and cheese (I didn't calculate the veggies) – each serving is only 2.3 grams net carbs and 4.8 grams fat (and over 27g protein!)
But why have a Fuel-Pull pizza? Well, for one, it's easy to over-do THM-S meals and pizza is often a THM-S food. It's nice to be able to have pizza in other fuel settings. And it's important to rotate/balance fuels for a healthy weight and metabolism.
Another great time for FP pizza is during a THM Fuel Cycle. The Fuel Cycle has 2 consecutive days of THM-FP. Sometimes our families and/or co-workers are having pizza around us on our FP days. And now we have a way to enjoy pizza with them!
How I make Fuel-Pull Keto Pizza
Crust:
I use oat fiber instead of THM Baking Blend (or nut flours) in my crust. I also add ground psyllium husks. These "flours" are fat-free, unlike the THMBB and nut flours.
While I haven't tried it yet myself, this crust should be easy to make ahead of time, too, and store in the freezer for a quick and healthy frozen pizza!
Cheese:
Instead of using my usual shredded part-skim mozzarella (6g fat per 28g serving), I use low-fat string cheese (3g fat per 28g serving) instead. I shred 2 string cheese sticks (with an electric grater) for a 2 serving personal pan pizza. This makes just under 1/2 cup of shredded cheese.
While there are pre-shredded low-fat cheeses out there, they all seem to contain off-plan ingredients (like potato starch). However, the light string cheeses seem to have clean ingredients and can be found at about any grocery store.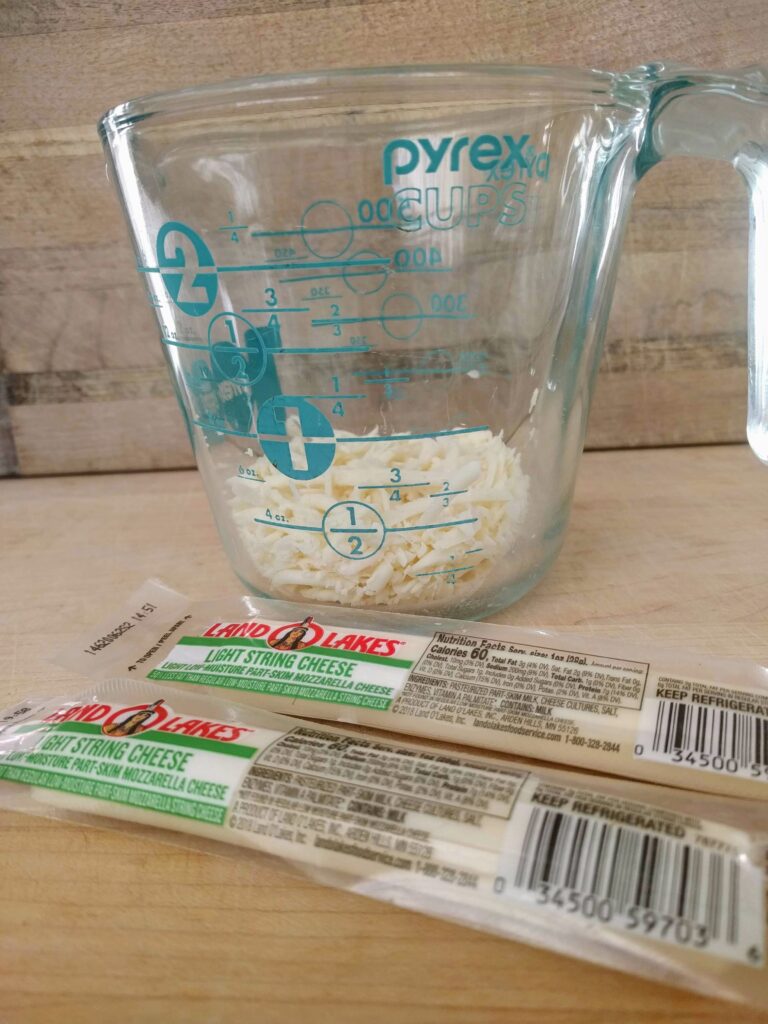 In a pinch, Laughing Cow Light cheese wedges work, too, but the wedges need to be pre-frozen before grating. And, since they're such a soft cheese, they thaw quickly (and can get messy lol). So it's best to use an electric grater. You can use 4 LCLC wedges for one personal pan pizza.
While I prefer the taste of the string cheese over the LCLC on my FP pizza, it should be noted that neither melts very well. They just don't have enough fat to melt like that of typical pizza cheese. But it's delicious all the same. And, since the cheese doesn't hold the toppings on very well, it's best to eat this pizza with a fork lol.
You can also add a little parmesan cheese, too. I sprinkle a teaspoon (mine's 1g fat per 2 tsp) or so on top of the pepperonis before baking.
Sauce:
While there may be some fat-free pizza sauces that you can buy (but make sure it doesn't have sugar in it!), I just make my own. And it is super quick and easy (and probably cheaper than store-bought). I use this recipe. I do tweak the seasonings a little but overall it's a winner.
Pepperoni:
I use low-fat turkey pepperoni from Aldi's. It's 3.5g fat per 16 pepperonis. I use about 12 pepperonis on my personal pan pizza (which is 6 pepperonis per serving).
Sausage:
I love sausage on my pizza. I make my own turkey sausage with 99% fat free ground turkey (also from Aldi's) and mix in riced cauliflower (keeps sausage from drying out since it's low-fat). Here's the recipe I use.
Veggies:
Of course I add a ton of non-starchy veggies, too! After all, veggies always taste better on pizza! 😋 I love onion, bell pepper, kale/spinach, and mushrooms on mine! And you don't have to worry about fat counts with veggies so load 'em on there! 😉
I usually love black olives on my pizza, too, but not for this pizza because of their high fat content.
How I make the crust
The Personal Pan Pizza recipe in Trim Healthy Table is basically a stove-top version of the WWBB for One recipe (WWBB = Wonderful White Blender Bread). While my version was inspired by the THT recipe, I've made a few changes.
I whip the egg whites with xanthan gum with a hand blender like in the original recipe. But, instead of adding THM Baking Blend, I use oat fiber. It works just as well and is nut-free and fat-free.
I still add the Greek yogurt and whey protein, but I also add ground psyllium husk for a more authentic, chewier crust. I add a little fast rising yeast, too, for a better rise and more authentic flavor. Oh, and a little apple cider vinegar, too, also for better rise.
The pizza batter will resemble a thick pancake batter. I pour/scoop mine into a hot cast iron skillet (lightly sprayed with coconut oil spray) and gently spread the batter in the pan with the back of a spoon. I then put the pan into my preheated 450* oven (on the lower rack) for 2-3 minutes until the top of the crust is firm.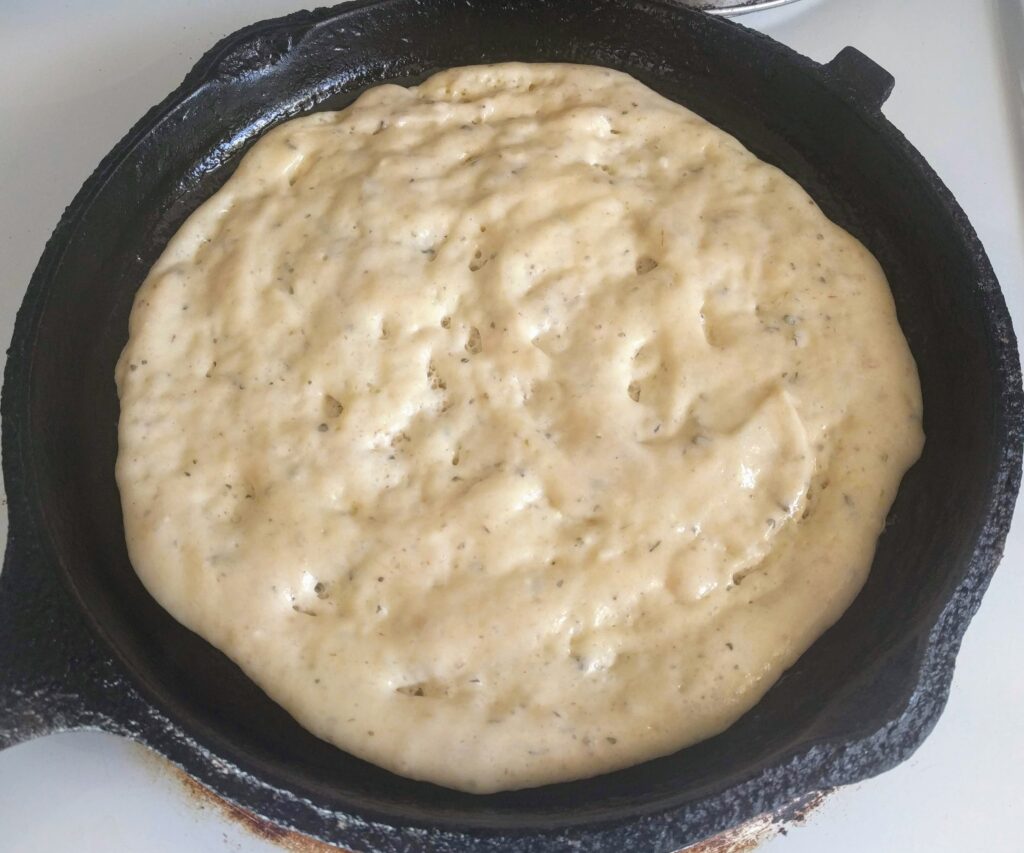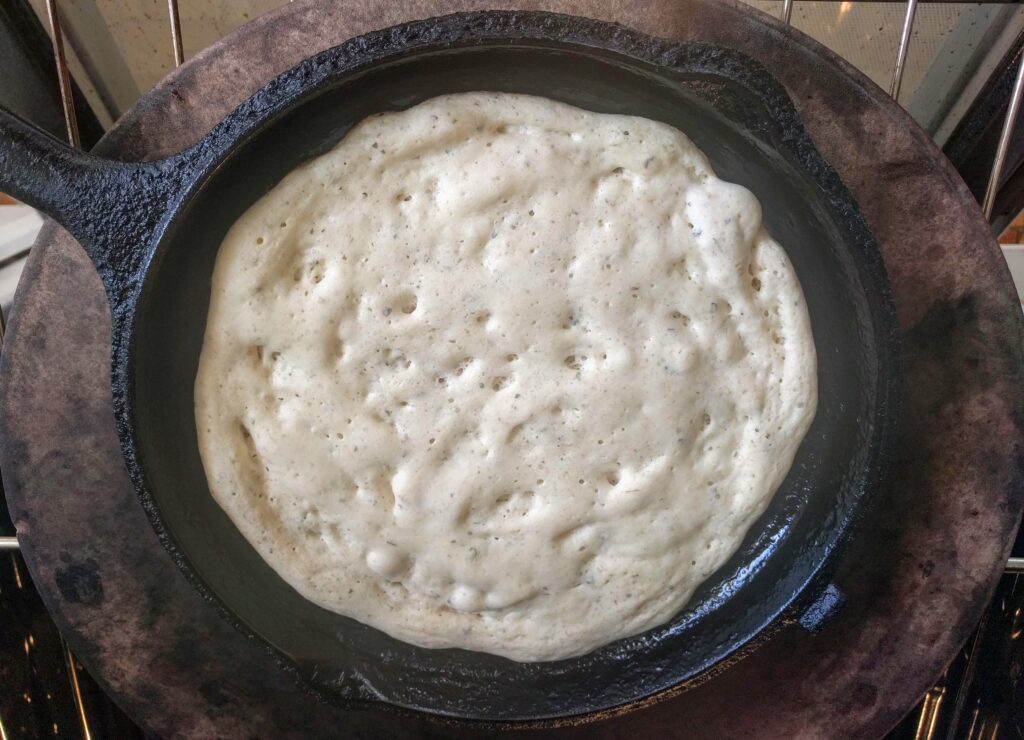 Now it's ready for sauce and toppings!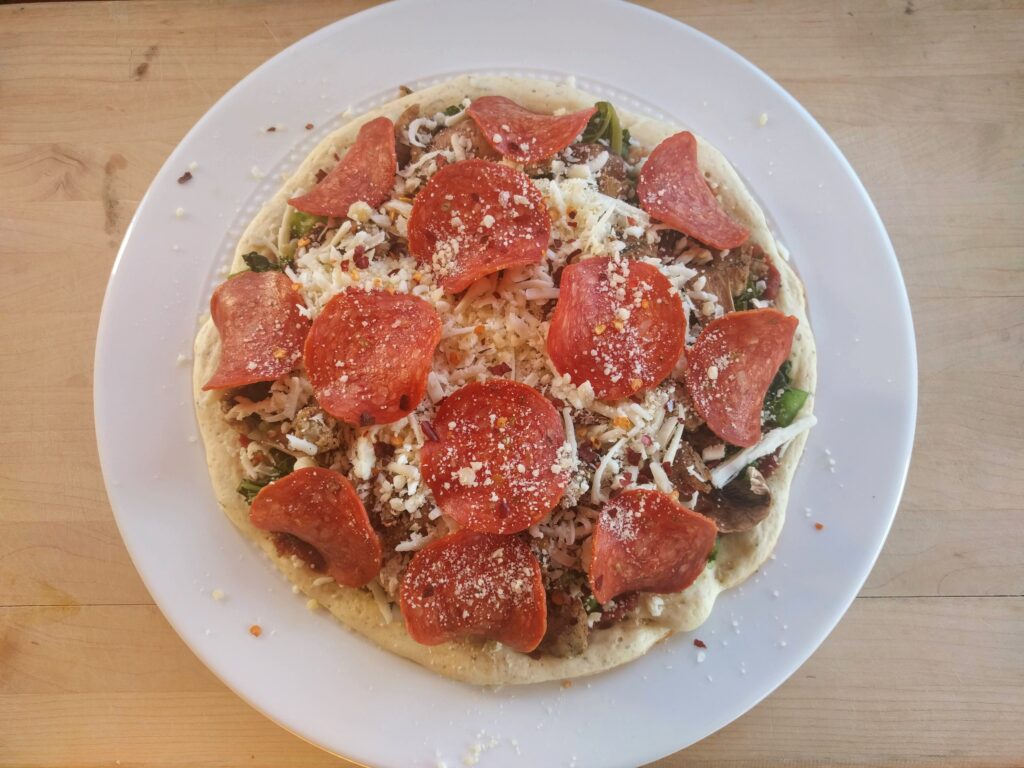 Then back into the oven (on top rack) for another 8-9 minutes! Then it's PIZZA TIME! 🍕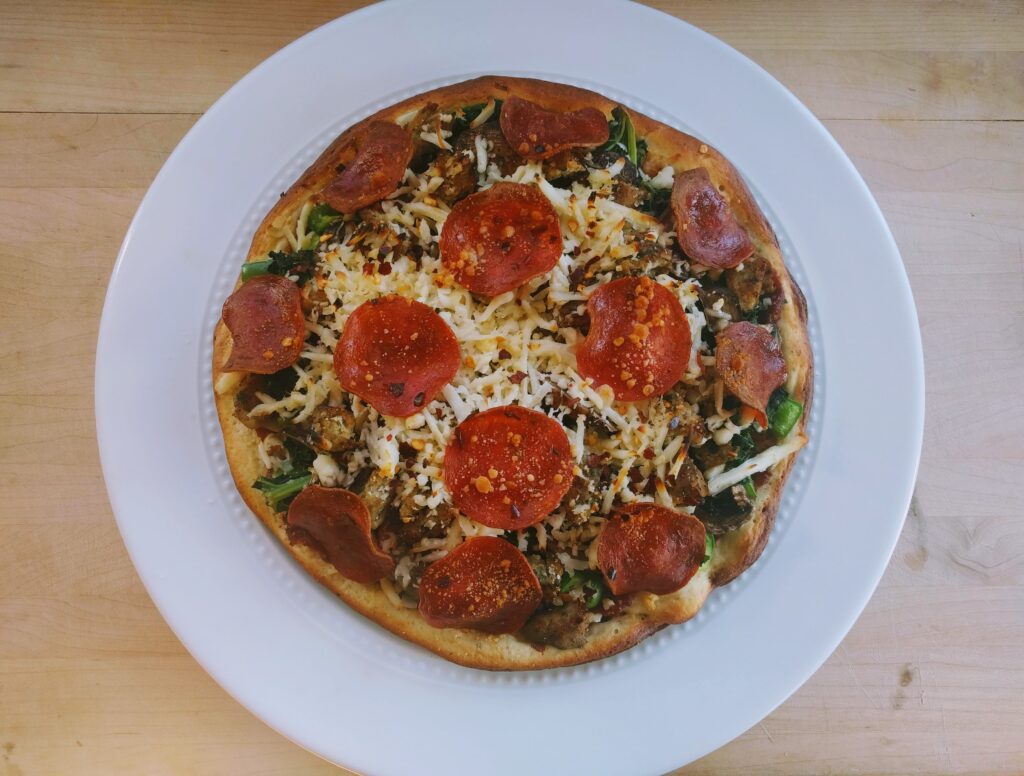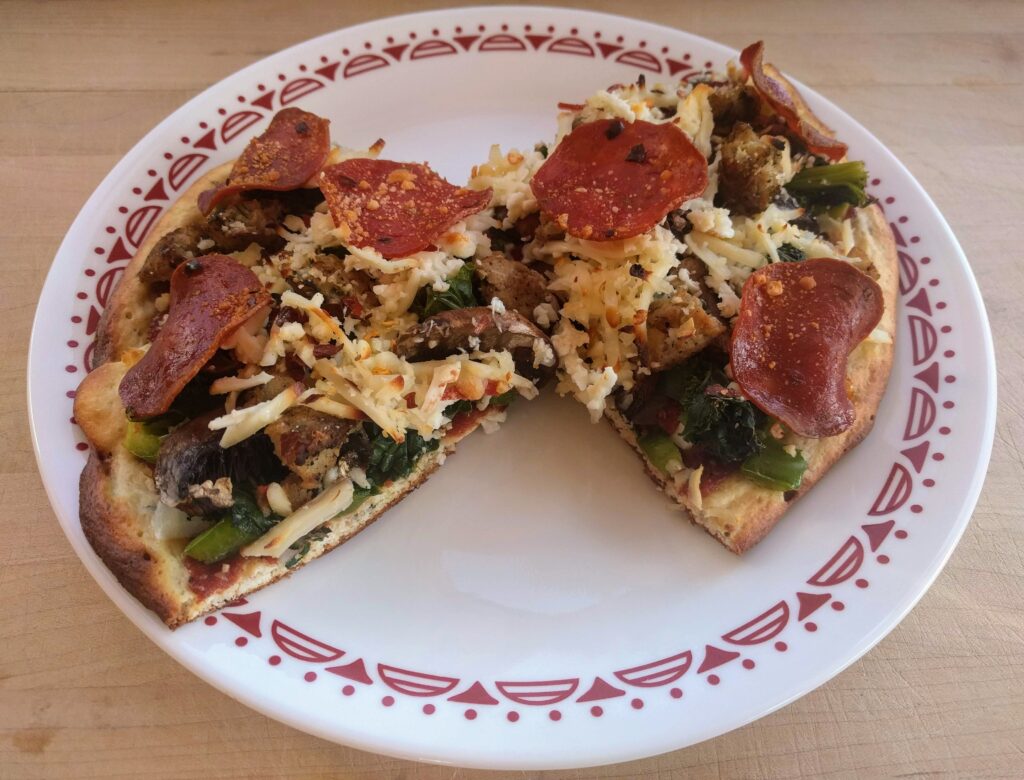 Keto Pizza THM-Fuel-Pull Gluten-Free Low-Fat
Course: THM-Fuel-Pull, Lunch, Dinner
Cuisine: Italian
Difficulty: Easy
What?! Keto Pizza that you can eat in THM-Fuel-Pull?! Yep! And it's high-protein, low-carb, gluten-free, nut-free, sugar-free, and low-fat!
Ingredients
Whip together:

1/4 cup egg whites

1/8 tsp xanthan gum

Then add:

1.5 TBS whey protein isolate

2 TBS oat fiber

2 TBS nonfat Greek yogurt

1 tsp sweetener (I use Lakanto Golden), optional or to taste

1/2 tsp baking powder

1/2 tsp apple cider vinegar, optional for better rise

1/2 tsp ground psyllium husk (I buy NOW whole psyllium husks and grind into fine powder in my coffee/spice mill and then measure), optional for chewier texture

1/2 tsp fast rising/instant yeast, optional for more authentic flavor

3 pinches sea salt

Other seasonings like garlic powder, nutritional yeast and/or Italian seasoning, to taste

Fat-free pizza sauce (make sure it doesn't have sugar in it!). I make my own with this.

2 low-fat string cheese sticks (3g fat per 28oz) or 4 frozen Laughing Cow Light cheese wedges, shredded (electric grater works best). Can also add a little low-fat parmesan cheese (I add about 1 tsp), if you like.

Low-fat meats such as turkey pepperoni (about 3.5g fat for 16 slices – I use 12 slices) and/or cooked 99% fat-free turkey sausage (I use 2 patties-worth, about 2-3oz before cooking – see link above about how I make my sausage)

Non-starchy veggies (I like adding mushrooms, onions, bell pepper, and kale/spinach)
Directions
Preheat oven to 450*. Set top rack to highest setting.
Whip the egg whites and xanthan gum with a hand blender (or in a blender/mixer) for about 1 minute until thick and fluffy.
Measure other ingredients into the egg white mixture. Stir by hand at first until ingredients start coming together and then blend/mix again for few seconds until smooth.
Pour/scoop batter into hot, lightly sprayed (I use coconut oil cooking spray) cast iron skillet (mine's about 9″ inside diameter). You can use a regular nonstick pan, too, but will need to transfer to a baking pan to put in oven. Gently spread the batter with the back of a spoon until it's as even as you can get it.
Transfer to the oven (either in the cast iron skillet or put on oven-safe pan or pizza stone) and let bake for 2-3 minutes until top of crust is firm (I use lower rack for this part). Then remove from oven.
Add sauce and toppings.
Bake on top rack of oven for 8-9 minutes or until crust and toppings are lightly browned. The cheese will not melt as much as pizza cheeses because it's low-fat.
Let cool for few minutes before slicing. Since the cheese doesn't melt much (which means there's not much to help hold on the toppings), this pizza is best eaten with a fork.
Eat half the pizza and have yummy leftovers for another meal/day! (Or eat whole pizza if having a THM-S meal)
Notes
Makes 2 servings. Each serving of crust is 51 calories, 0.9g net carbs, 0.0g fat, and 9.3g protein. With added meats and cheese (I didn't calculate the veggies), my pizza came to 168 calories, 2.3g net carbs, 4.8g fat, and 27g protein per serving.
Nutrition Facts
2 servings per container
---
Amount Per ServingCalories51
% Daily Value *
Total Carbohydrate 4.4g

2

%
Protein 9.3g

19

%
---
* The % Daily Value tells you how much a nutrient in a serving of food contributes to a daily diet. 2,000 calories a day is used for general nutrition advice.
You might also like:
Amazon and the Amazon logo are trademarks of Amazon.com, Inc, or its affiliates.
---