Keto Protein Waffles – THM-Fuel-Pull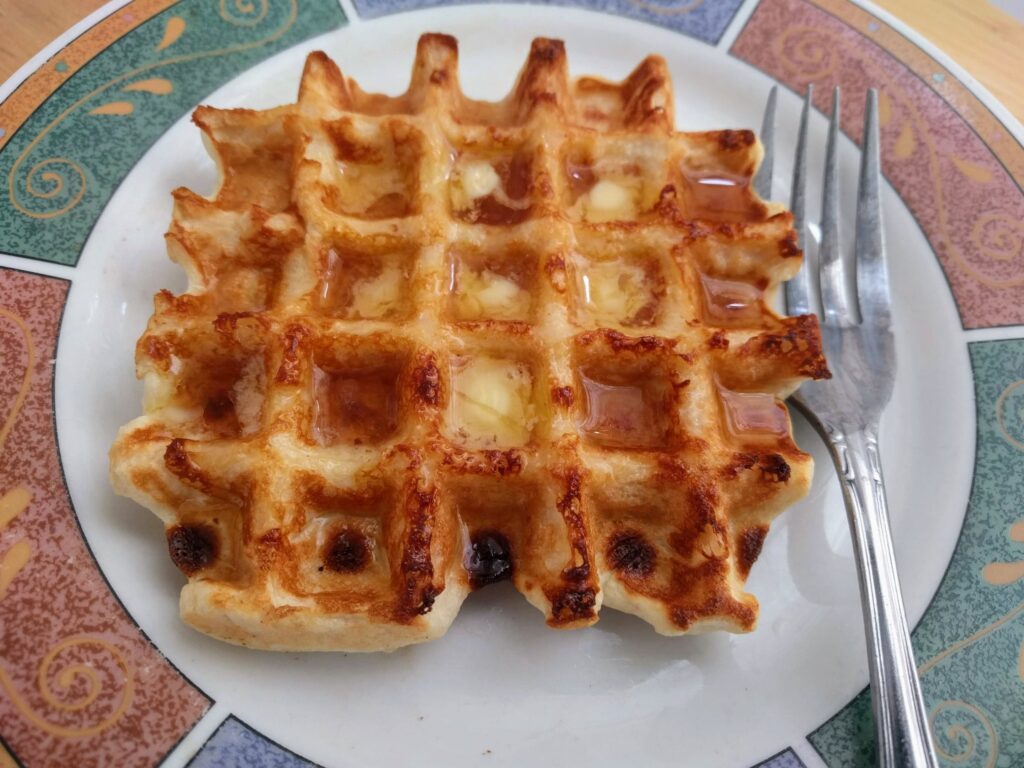 As an Amazon Associate, I earn from qualifying purchases. I am also an official THM Affiliate and am earning a percentage off of links used in the above content that may link directly to the THM online store. This is at no cost to you. Please see my Affiliate Disclosure for more information.
Jump to Recipe
Keto Protein Waffles that are light and crispy!
I'm a real sucker for crisp, golden, Belgian waffles. But usually they contain gluten (we're gluten-free), milk, butter, sugar and whole eggs. Even most of the keto/low-carb/sugar-free ones are very high-calorie and often contain cheese/cream cheese/heavy whipping cream, whole eggs, butter, and use large amounts of almond/coconut flours. And, honestly, I never found one that was actually light and crispy and didn't taste "eggy" to me, until I created these Keto Protein Waffles!
I also like to top my waffles with butter and/or almond butter (when having in THM-S) and don't want to max out my daily calories/macros on a 1,000 calorie waffle breakfast. And I want to be able to eat more than just one waffle. I'm a 2-3 waffle kinda gal. 😋
Also, waffles usually are more carbs and fat than protein. With Trim Healthy Mama, I try to get at least 20g protein with every meal/snack. I've tried a few "protein" keto waffle recipes and they were all super dry, crumbly, and tasted like cardboard to me.
But I think I may have cracked the code on the perfect waffle that's golden, light, and crispy, but also keto, low-carb, sugar-free, high-protein, gluten-free, and even low-fat and THM-Fuel-Pull! 🙌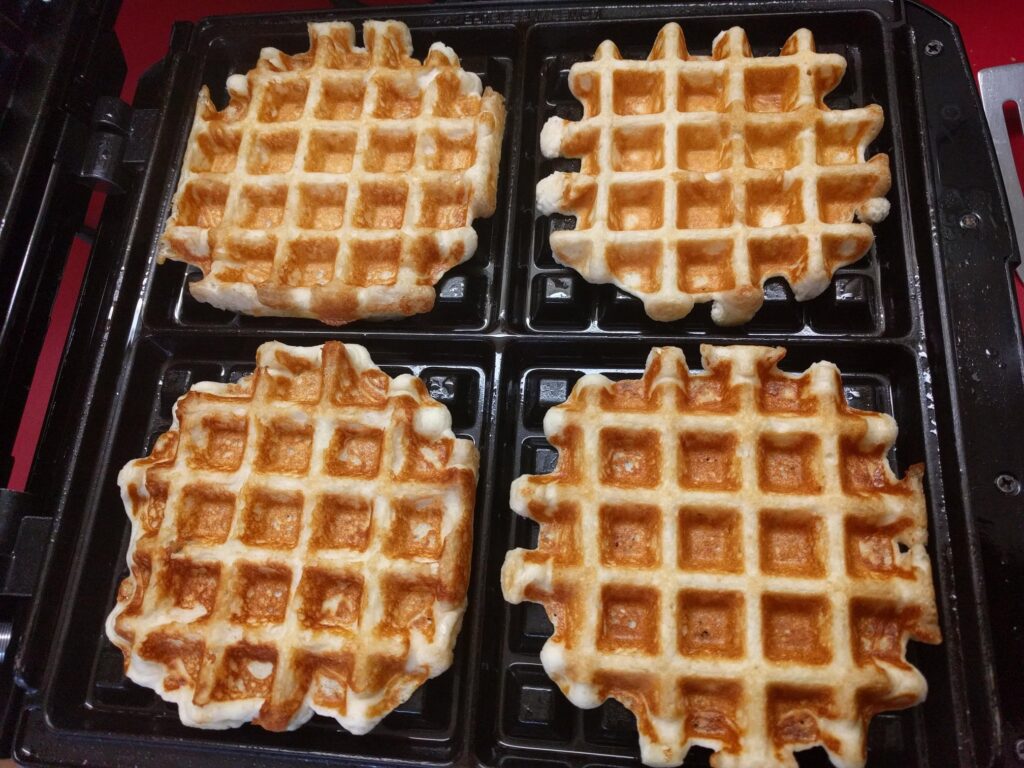 So what's in them?
To make these waffles high-protein, I add whey protein isolate to them (collagen peptides could probably to substituted but waffles may be a bit lower in protein). The egg whites and Greek yogurt also help give these their powerful protein punch.
Even though I like my waffles crispy on the outside, I like them soft and fluffy on the inside. To do this, I add THM Baking Blend (I make my own with this) to this recipe, along with a little extra coconut and almond flour. While normally coconut and almond flours are not THM-Fuel-Pull, small enough amounts are used in this recipe that the waffles (if eat serving of 2 waffles) stay under the 5g fat limit.
If you don't have THM Baking Blend, oat fiber can be substituted
If you don't have THMBB, you can substitute oat fiber instead (not the same as oat flour or oat bran). They actually come out a little fluffier but are still light and crispy. Based on making the same number of waffles (6) as with using THMBB, the oat fiber waffles come out to 48 calories, 1.1g net carbs, 1.5g fat, and 6.5g protein per waffle. So, since these are a little lower in fat, you could actually eat 3 of these waffles in THM-FP mode (compared to just 2 of those made with THMBB).
Now how do I make them?
These are actually super quick and easy to make, as the batter is primarily made in the blender. I quickly bring my egg whites up to room temperature (the waffles are fluffier and less "eggy" this way) by placing my Pyrex measuring cup of egg whites in a basin of hot tap water while I get my other ingredients together.
I add my other wet ingredients (almond milk, yogurt, ACV, and extract(s)) to the blender first, then my dry ingredients (except for the baking powder – we'll add this just before cooking).
Finally, I add the room temperature egg whites and start blending. The batter will be thick, so don't be afraid to get in there and scrape down the sides to get everything thoroughly mixed.
Next I pour/scrape out my batter into a mixing bowl. While I'm normally a minimalist when it comes to getting extra dishes dirty, I find it much easier to scoop the thick batter from a mixing bowl than it is from a blender, especially when making those last one or two waffles (it's always tricky to scoop around the blender blades).
Once the batter is in the mixing bowl, I add my baking powder and stir until just mixed. Then let sit while you heat your waffle iron.
I find these cook best on med-high heat, and don't forget to grease/spray your waffle maker well to prevent sticking! I use scant 1/4 cup scoop amounts per waffle. The batter is thick so use the back of a spoon to spread it out some. This will also help make them lighter and crispier. These tend to cook quickly so keep an eye on them.
When they're all cooked, they're ready to enjoy or freeze for later! Pop in the toaster to get them even crispier. I like to make a double batch and freeze them for quick and easy THM-FP meals/snacks. To reheat, I first put my frozen waffles in the microwave for about 30 seconds and then transfer to the toaster or air fryer to get perfectly crispy.
Not just for breakfast or THM-FP
And these aren't just for THM-FP meals/snacks; I love having them in THM-E and THM-S, as well! I like to top them with my homemade sugar-free maple syrup, almond butter, reconstituted defatted peanut butter, fresh fruits, Greek yogurt, sugar-free jams, homemade whipped cream, sugar-free chocolate sauce, etc. They could even be used as "bread" for low-carb breakfast sandwiches (just leave out the extracts for a savory sandwich/chaffle). Enjoy!
Keto Protein Waffles – THM-FP
Course: Breakfast
Cuisine: American
Difficulty: Easy
These waffles have it all – light, fluffy, crispy, keto, low-carb, sugar-free, high-fiber, high-protein, gluten-free – but are also low-fat enough to be enjoyed as a yummy THM-Fuel-Pull breakfast!
Ingredients
Bring to room temperature while getting other ingredients ready:

1/3 cup egg whites

Wet ingredients

1/2 cup nonfat Greek yogurt

2 TBS unsweetened almond milk or water

1/2 tsp apple cider vinegar

1/2 tsp vanilla extract

1/2 tsp maple extract (optional)

Dry ingredients

15 grams whey protein isolate (about 2 TBS)

1/4 cup THM Baking Blend (or make your own with this) or oat fiber

2 TBS almond flour

1 TBS coconut flour

1 TBS sweetener* (I use Lakanto Golden)

1/4 + 1/8 tsp xanthan gum or glucomannan

1/4 tsp sea salt

Add at end after blending above ingredients:

1 tsp baking powder
Directions
Quickly bring egg whites to room temperature by placing in saucer/measuring cup and setting in basin of hot tap water, stirring occasionally, while getting other ingredients together.
Add other ingredients to blender, starting with rest of the wet ingredients and then adding the dry ingredients. Then add the room temperature egg whites and blend. Scrape sides (it will be thick) and blend until smooth.
Pour blended batter into a mixing bowl and add the baking powder, mixing by hand until just mixed. Allow to sit for few minutes to let ingredients absorb/expand while heating waffle maker.
When waffle maker is ready at med-high heat, add scant 1/4 cup scoops of batter to well-greased (I use Trader Joe's coconut oil spray) waffle iron. Batter is thick so spread a little with back of spoon (they are crispier when thinner, too). These can cook quickly so keep an eye on them. I usually flip mine half way through cooking to brown the sides evenly.
For crispier waffles, finish off in toaster or air fryer for a minute or two (but don't let them burn!). These freeze well, too, and are easy to make as a double batch (that's what I do). To reheat, I just pop in microwave for about 30 seconds to thaw and then transfer to toaster to get crispy. Enjoy!
Notes
If any ingredients appear to have a line through them, just click to side of ingredient (or on another ingredient) and the line should disappear. It's a feature of the recipe plugin that allows people to cross off ingredients as they add them to a recipe. Also, the print feature of this plugin is a little wonky so always check over recipe print-outs to make sure all ingredients are included and correct. Another option is to copy and paste the recipe text and print through a different program.
Makes about 6 waffles. Each waffle is 59 calories, 1.2g net carbs, 2.1g fat, and 7.3g protein. A serving of 2 waffles could be eaten in THM-FP.
If oat fiber is substituted for THMBB, each waffle (based on making 6 waffles) comes out to 48 calories, 1.1g net carbs, 1.5g fat, and 6.5g protein per waffle. So, since these are a little lower in fat, you could actually eat 3 of these waffles in THM-FP mode (compared to just 2 of those made with THMBB).
Collagen peptides could probably be substituted for the whey protein isolate.
If using a different sweetener, check out this sweetener conversion chart.
Nutrition Facts
6 servings per container
---
Amount Per ServingCalories59
% Daily Value *
Total Fat 2.1g

4

%
Total Carbohydrate 4g

2

%
Protein 7.3g

15

%
---
* The % Daily Value tells you how much a nutrient in a serving of food contributes to a daily diet. 2,000 calories a day is used for general nutrition advice.
You may also like:
Amazon and the Amazon logo are trademarks of Amazon.com, Inc, or its affiliates.
---