Lemon Blueberry Protein Muffins Keto THM-Fuel-Pull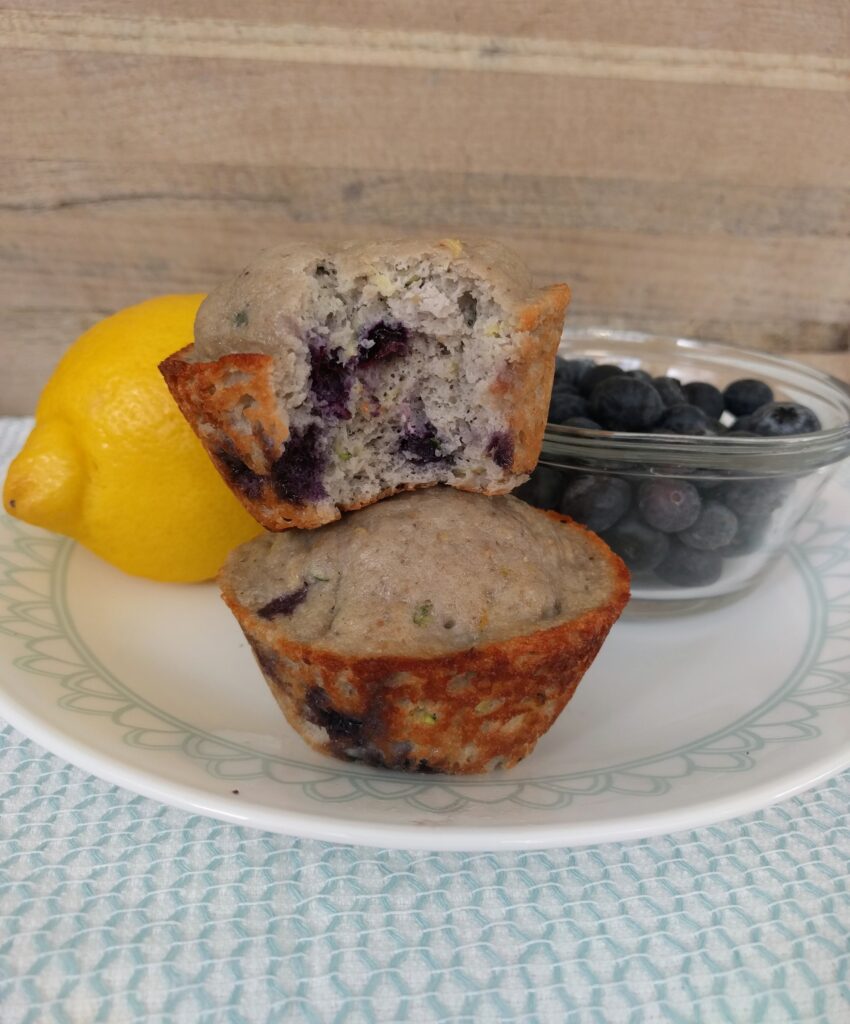 As an Amazon Associate, I earn from qualifying purchases. I am also an official THM Affiliate and am earning a percentage off of links used in the above content that may link directly to the THM online store. This is at no cost to you. Please see my Affiliate Disclosure for more information.
Jump to Recipe
These Lemon Blueberry Protein Muffins are not only moist, light, fluffy, and oh so yummy, but that are also sugar-free, high-protein, keto and THM:FP!
I LOVE muffins, and I make tons of different gluten-free and/or Paleo muffins for my family. But I rarely eat muffins myself since about all the keto/low-carb recipes out there are typically high fat/calorie and heavy on the nut flours (like almond or coconut). While there's nothing "wrong" with fat (I eat a ton of it, but usually in THM-Deep-S mode which is nut-free), I do try to limit THM-S meals/snacks and nut flours as they often lead to weight-gain for me. While these Lemon Blueberry Protein Muffins do contain a small amount of nut flours in the THM Baking Blend (I make my own with this, though I also have a nut-free option below), they are mostly made of whey protein isolate and oat fiber, which are basically pure protein and fiber and zero net carbs. They're even low-fat enough to be THM-Fuel-Pull! 🙌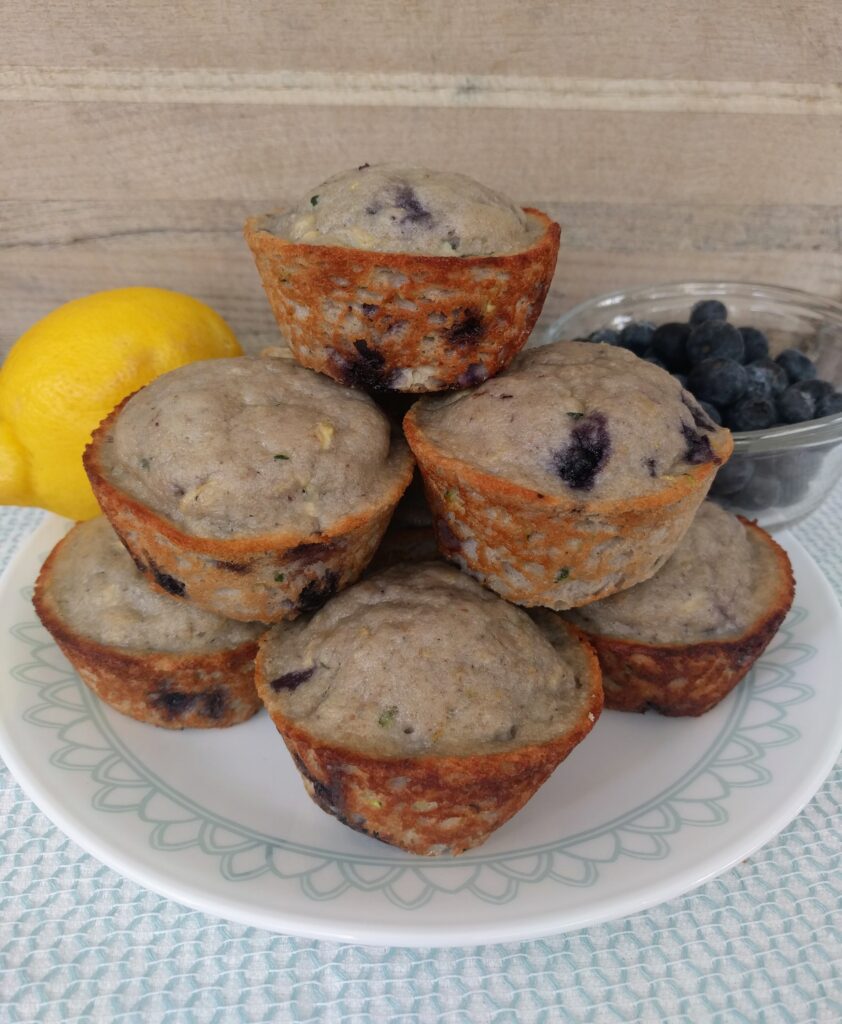 These are a game-changer for eating THM and keto/low-carb
Y'all I'm so excited to have muffins back in my life again! These really are a game-changer! They're the ultimate healthy convenience food!
They:
Are easy to make!
Freeze and reheat well!
Can be eaten in any of the fuel settings (with the exception of THM-Deep-S)!
Make an easy protein-rich breakfast, snack, or dessert!
Pack well and can be eaten on the go!
Are loved by the whole family, even the picky little ones! (and it's a good way to get more veggies into them! 😉 )
Are macro-friendly (low calorie/fat AND low carb)!
And are high-protein and filling!
They are also the ultimate comfort food, especially when they're warm out of the oven. 😋 They're even yummy cold, right out of the fridge! And you can have up to 3 muffins (made with THMBB) in a THM-FP setting, and that's over 23g of protein!
Oh and these Lemon Blueberry Muffins even have veggies in them – ZUCCHINI! The zucchini helps the muffins to be moist and soft while also providing all the amazing fiber and nutrients (while being low-carb) that zucchini has to offer.
Lemon Blueberry Protein Muffins can also be made completely nut-free
If you can't have nuts or don't have THM Baking Blend or have no desire to make your own, there's good news – you can sub oat fiber! Oat fiber is made from the hulls of oats but is just fiber and is zero calorie and zero net carbs. Just sub 1 cup of oat fiber for the 1 cup of THMBB in this recipe. And, of course, the unsweetened almond milk can be subbed for a nut-free milk of your choice (though the macro numbers will be slightly different).
Based on subbing oat fiber and making 18 muffins, each muffin is 42 calories, 1.8g net carbs, 0.7g fat, and 6.3g protein.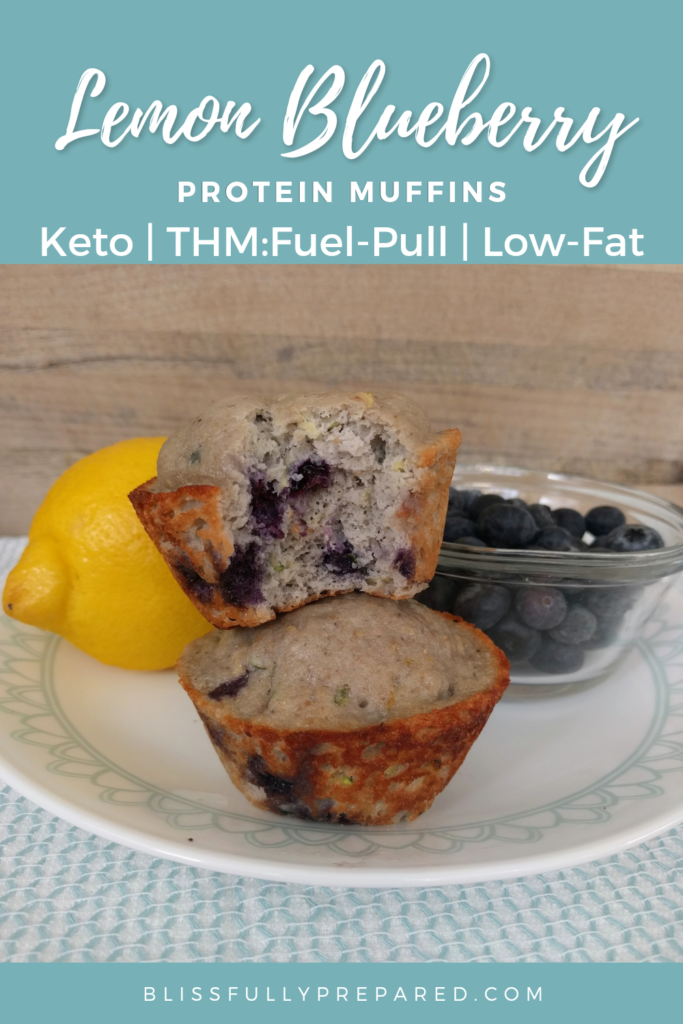 Lemon Blueberry Protein Muffins Keto THM-Fuel-Pull
Course: THM-Fuel-Pull, Breakfast, Snack
Cuisine: American
Difficulty: Easy
These Lemon Blueberry Muffins are not only moist, light, fluffy, and oh so yummy, but they are also sugar-free, high-protein, keto and THM:FP!
Ingredients
Wet Ingredients (room temperature):

184g or 3/4 cup egg whites

170g or 3/4 cup nonfat Greek yogurt

1/4 cup unsweetened almond milk (or preferred nut-free milk)

1 TBS butter (softened or melted) or coconut/MCT oil, optional

2 TBS fresh lemon juice

1 tsp apple cider vinegar

1 tsp vanilla extract

20 drops of liquid stevia (optional or to taste)

Dry Ingredients:

117g or 1 cup THM Baking Blend or oat fiber (75g)

84g or 3/4 cup whey protein isolate

3/4 cup sweetener* (I use Lakanto Golden)

1 TBS ground psyllium husk (I grind mine in coffee/spice mill before measuring)

1 tsp baking powder

1/2 tsp baking soda

1/2 tsp sea salt

1/4 tsp xanthan gum

Fold in:

1 cup fresh or frozen blueberries (I use frozen)

3/4 cup shredded zucchini (no need to squeeze moisture out)

2 tsp lemon zest
Directions
Preheat oven to 350* and prepare muffin pan by greasing or spraying with coconut oil cooking spray.
Measure wet ingredients into small bowl and submerge bowl into hot tap water to quickly bring to room temperature (stir here and there).
While warming up the wet ingredients, start measuring dry ingredients into medium sized mixing bowl. Mix and set aside.
Shred zucchini and grate lemon zest and set aside.
When wet ingredients are room temperature, add them to dry ingredients and mix well.
Fold in shredded zucchini, lemon zest and blueberries.
Scoop batter into muffin pan. Makes 18 medium sized muffins. Bake for about 23 minutes or until tops are firm, sides start to brown, and toothpick comes out clean.
Enjoy warm out of the oven or store in fridge or freezer (pop in microwave to reheat).
Notes
If any ingredients appear to have a line through them, just click to side of ingredient (or on another ingredient) and the line should disappear. It's a feature of the recipe plugin that allows people to cross off ingredients as they add them to a recipe. Also, the print feature of this plugin is a little wonky so always check over recipe print-outs to make sure all ingredients are included and correct. Another option is to copy and paste the recipe text and print through a different program.
Based on making 18 muffins (and using THMBB and 1 TBS butter), each muffin is 56 calories, 2g net carbs, 1.4g fat, and 7.7g protein. You could eat up to 3 muffins in a THM-FP setting.
Collagen could be substituted for whey protein isolate but I haven't yet tested it. I would try adding an extra 3 TBS per full recipe (so 15 TBS total).
If you need help figuring out how much zucchini you need, this is a great source.
If using a different sweetener, check out this sweetener conversion chart.
LifeSource Foods Oat Fiber 500
Nutrition Facts
18 servings per container
---
Amount Per ServingCalories56
% Daily Value *
Total Fat 1.4g

3

%
Total Carbohydrate 5.8g

2

%
Protein 7.7g

16

%
---
* The % Daily Value tells you how much a nutrient in a serving of food contributes to a daily diet. 2,000 calories a day is used for general nutrition advice.
You might also like:
Amazon and the Amazon logo are trademarks of Amazon.com, Inc, or its affiliates.
---