Mocha Chip Blizzard THM-Fuel-Pull Keto Low-Carb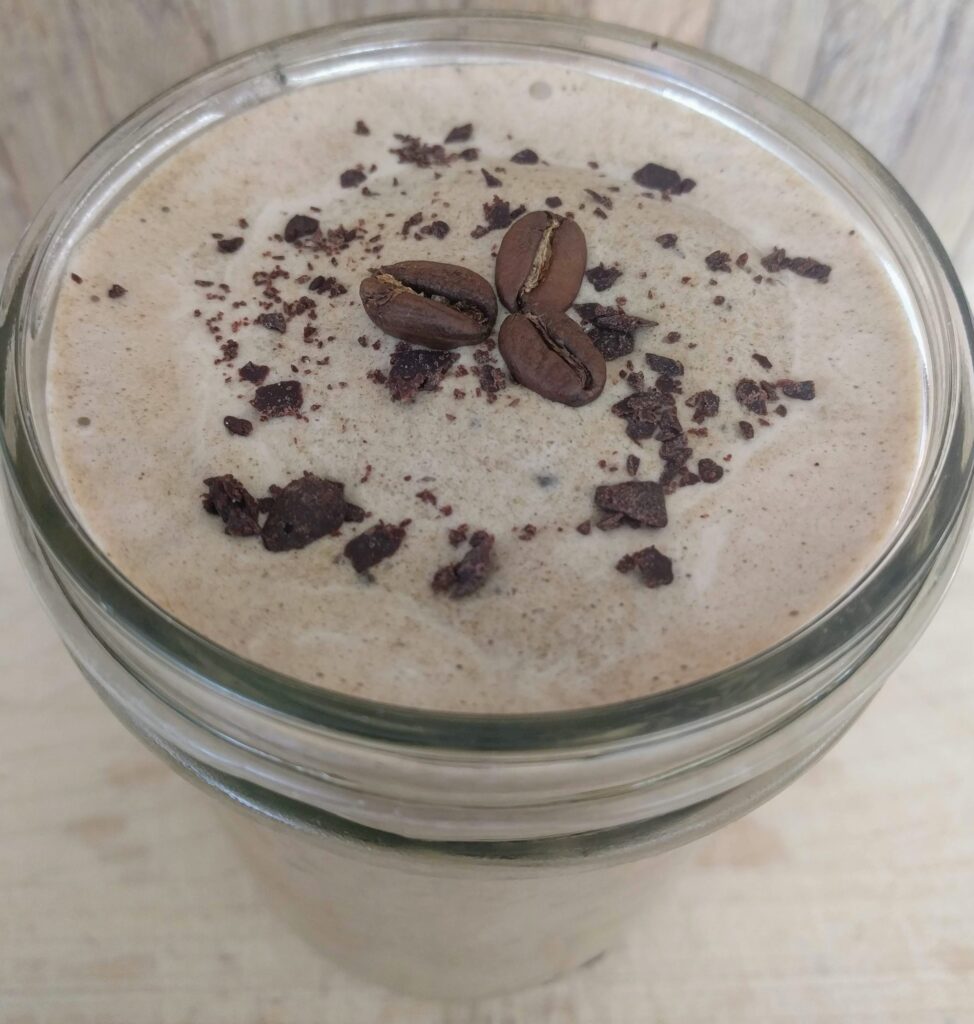 As an Amazon Associate, I earn from qualifying purchases. I am also an official THM Affiliate and am earning a percentage off of links used in the above content that may link directly to the THM online store. This is at no cost to you. Please see my Affiliate Disclosure for more information.
Jump to Recipe
The Mocha Chip Blizzard is two of my favorite things – coffee and chocolate – in the form of one of my other favorite things – ice cream!
But this isn't an ice cream you have to churn for an hour in an ice cream maker. The Mocha Chip Blizzard is made right in your blender and is instant gratification (and caffeine buzz)! It's also keto, low-carb, high-protein, sugar-free, low-fat, and even THM-Fuel-Pull!
WHAT'S A BLIZZARD?
This recipe is basically an instant ice cream/soft-serve that you make in your blender! I have several other flavors, too – like Cookies and Cream, Strawberry Cheesecake, Pumpkin Spice Latte Chip, PB Cup and Mint Chip! It reminds me of the DQ Blizzards I loved as a kid, but is actually healthy and can be enjoyed in any THM fuel type (except Deep S). It's amazingly thick, creamy and satisfying, but without the sugar, fat or carbs. And high-protein, to boot!
It's filling, too! Personally, I usually just make a half recipe at a time, and have alongside a veggie-filled/lean protein salad, and that's plenty for me!
The Mocha Chip Blizzard even has kale it (but you wouldn't know it)!
While it's an optional ingredient, I love throwing come cooked kale into my Mocha Chip Blizzard, because you can never have enough veggies, especially greens and non-starchy veggies! And you can't tell it's in there!
Why cooked kale instead of raw? For one, you can pack a lot more cooked kale into 1/4 – 1/2 cup than you can raw kale but I also only use cooked kale in all my kale recipes. I do this because raw kale (along with a few other greens like spinach, chard, etc) contains oxalic acid (which can cause a variety of health issues) and lightly cooking it helps neutralize that acid. This also helps it to taste sweeter and to blend up better into the blizzards and other recipes.
HOW DO I COOK MY KALE?
I make mine in the Instant Pot. I buy those big bags of cleaned/chopped kale (organic is best) from the store and just dump it into my IP (into a steaming basket and with 1 cup of water). Then I set it to manual for 3 minutes, then do quick-release. I then store in my fridge and use throughout the week for various meals/recipes. It's always perfectly tender (and a little sweet). I also do this with frozen spinach. This really helps make "eating my greens" so much easier. Not only do I add kale to this recipe, I also add it to shakes, scrambles, soups, stir-fries/sautés, and even chocolate pudding!
Other veggie ideas…
If kale isn't your thing, you could also try spinach (I recommend using pre-cooked like the kale – I cook frozen spinach for 1 min in my IP and then quick release) or frozen okra. Okra is fine to use raw.
BUT AREN'T CHOCOLATE CHIPS A THM-S FOOD?
To make this Mocha CHIP, sugar-free chocolate chips are added, which is normally a THM-S ingredient because of it's relatively high fat content. However, a limited amount is used in this recipe, keeping the fat grams of the Mocha Chip Blizzard low enough that it can be enjoyed in either THM-FP or THM-E settings. Of course, you can also enjoy them in THM-S, as well – and, in that fuel setting, you don't have to worry as much about the fat grams and can add as many sugar-free chocolate chips as you wish. Or, just make a half recipe but add the full amount of chocolate chips/chunks!
I make my own sugar-free chocolate chunks but Lily's chocolate chips work great, too.
Another yummy, crunchy topping/stir-in option: Fuel-Pull Graham Cracker crumbs! 😋
If you want more crunchy bits (and more caffeine) in your Mocha Chip Blizzard, try adding some coffee beans!
Of course it's super yummy with just chocolate chips/chunks, too, but I personally like to throw in a few whole coffee beans, as well! This gives it a bolder coffee flavor (and more caffeine!) and also adds additional little bits of crunch to the blizzard to accompany the crunchy bits of chocolate chips/chunks. It reminds me of those addictive chocolate covered espresso beans! 😋
Another option…
When I first published this recipe, I was using homemade cold brewed coffee that I froze in ice cube trays for my Mocha Blizzard. But I just discovered this product at Trader Joe's. Normally I'm not a fan of instant coffee (I'm a bit of a coffee snob lol) but this is actually pretty good! I like adding 2 tsp to a half recipe instead of the cold brew ice cubes. If you don't live near a TJ's, there may be similar products in other stores or online.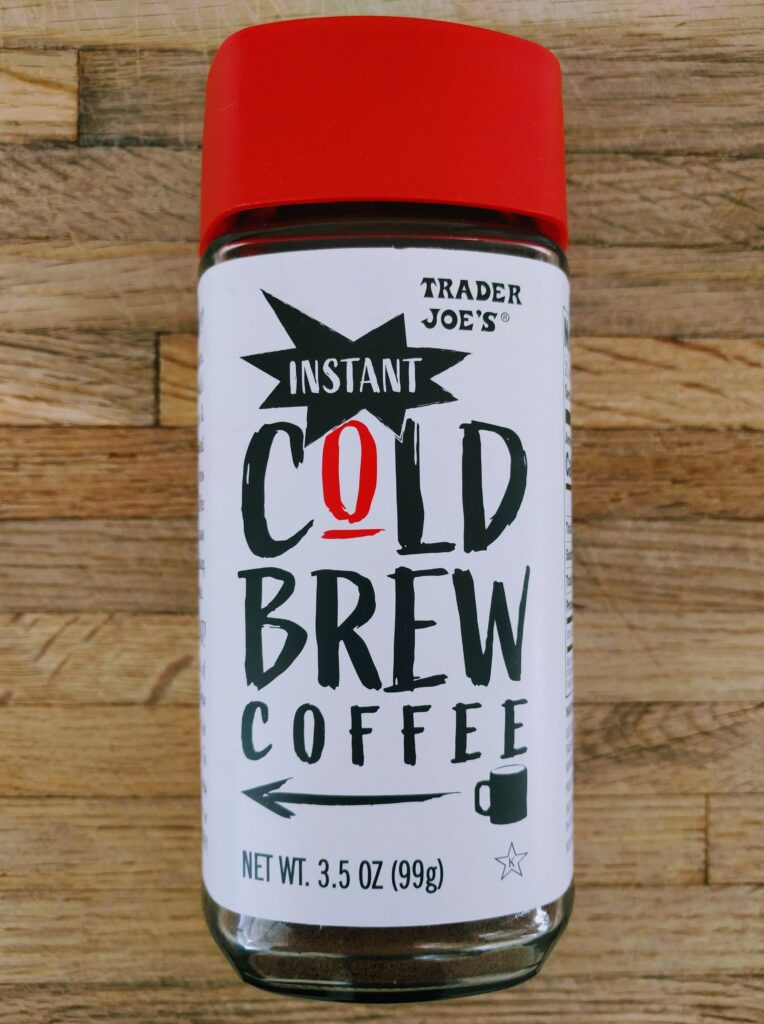 For an even creamier blizzard, add gelatin!
I recently discovered that gelatin makes these blizzards even creamier (and doesn't add any fat or carbs)! To prepare the gelatin, take a small ramekin or cup and pour-in 2 TBS of unsweetened almond milk. Slowly whisk-in 1-2 tsp of powdered gelatin (I use 1 heaping tsp Great Lakes gelatin for a half-recipe). Allow to "bloom" for a few minutes. Then take another ramekin/cup and put the other 2 TBS of unsweetened almond milk in it and put in the microwave for about 30 seconds. Then pour hot almond milk into the gelatin mixture to "melt" it. Stir until there are no lumps.
To add to the blizzard, first blend the other ingredients (except ice and glucomannan) and then, with blender on, pour in the gelatin mixture. Then add glucomannan and then ice and so on, as recipe dictates.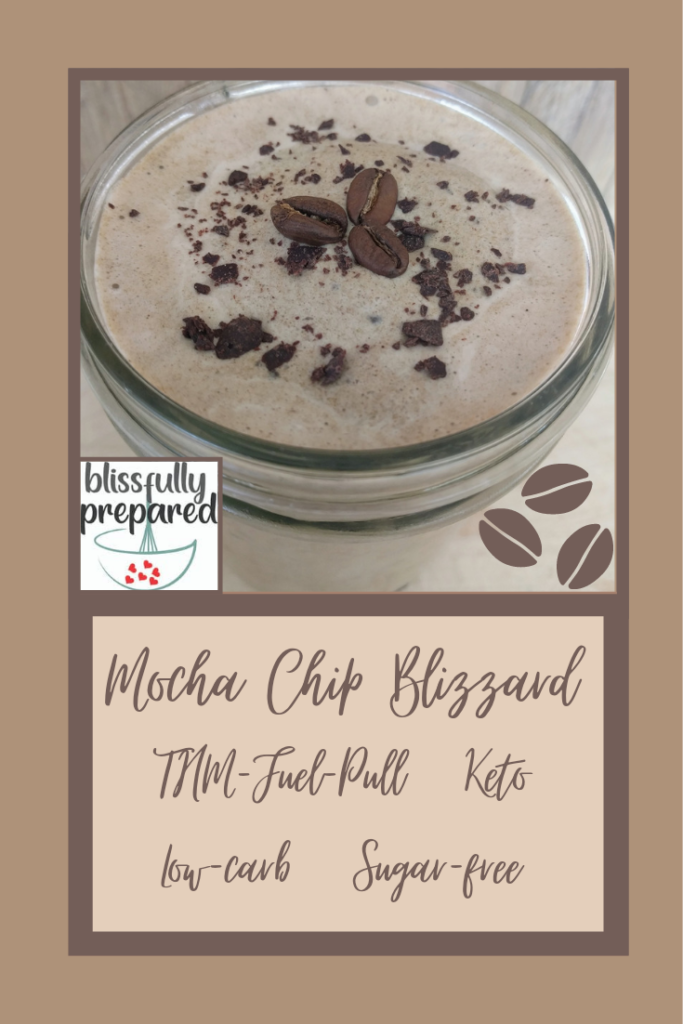 Mocha Chip Blizzard THM-Fuel-Pull Keto Low-Carb
Course: THM-Fuel-Pull, Snack, Dessert
Cuisine: American
Difficulty: Easy
The Mocha Chip Blizzard is a rich and creamy instant caffeine buzz! It's also keto, low-carb, high-protein, sugar-free and even THM-Fuel-Pull!
Ingredients
Optional gelatin (see instructions just above recipe card)

1/4 cup cottage cheese (I use 2% Daisy)

1/4 cup pasteurized egg whites* (I use Kirkland or Member's Mark)

1/4 cup unsweetened almond milk (or use the "milk" for prepared gelatin – see above)

1/4 – 1/2 cup kale, packed (I pre-cook mine in the IP – see above, okra or spinach would probably work, too!), optional

2-3 TBS preferred sweetener* or to taste (I use Lakanto Golden)

1 TBS whey protein isolate (or collagen), or more

8 – 12 drops liquid stevia (optional or other sweetener to taste)

1/2 tsp vanilla extract

1/4 tsp butter extract or caramel extract, optional or to taste

Other extracts such as almond

1/2 tsp glucomannan (or more)

Sea salt to taste

6 – 12 oz frozen coffee (I usually use 6oz of homemade cold brewed coffee that I freeze in an ice cube tray) or 2 – 4 tsp Trader Joe's Instant Cold Brewed Coffee (see above)

Ice to preferred thickness

A few whole coffee beans, optional

28 Lily's chocolate chips or 8 grams of my homemade chocolate chunks
Directions
Add all the blizzard ingredients – except the glucomannan, frozen coffee, ice, coffee beans, and chocolate chips/chunks – to a blender. Blend until smooth and you can no longer see specks of kale/veggies (if you added them).
With blender on high, add the glucomannan and blend until creamy.
Add coffee ice cubes, then ice. This will be very thick so you may have to stir around a little to help break down all the ice.
Next add optional coffee beans and blend some more.
When it's your preferred consistency, taste test and adjust flavors if needed.
Then add your chocolate chips/chunks and blend to liking. For THM-FP, you can 28 Lily's chocolate chips or 8 grams of my homemade chocolate chunks.
Then pour and enjoy! Since this is mostly made of ice, it's best eaten right away.
Notes
If any ingredients appear to have a line through them, just click to side of ingredient (or on another ingredient) and the line should disappear. It's a feature of the recipe plugin that allows people to cross off ingredients as they add them to a recipe. Also, the print feature of this plugin is a little wonky so always check over recipe print-outs to make sure all ingredients are included and correct. Another option is to copy and paste the recipe text and print through a different program.
The macro breakdown is roughly 187 calories, 6.1g net carbs, 5g fat, and 22g protein. It includes the sugar-free chocolate chips but does not include optional kale/veggies.
I do not recommend using raw egg whites; only use pasteurized liquid egg whites. Most liquid egg whites sold in stores is pasteurized (but check the label). Raw egg whites can contain pathogens and also contain something called Avidin (which can lead to biotin deficiency). But pasteurized egg whites are safe to use right out of the carton and help make this Blizzard thick and creamy (and high protein). For more info, read this.
For dairy-free, sub collagen (can use 2 TBS for more creaminess), add the optional gelatin, and omit the cottage cheese. Could possibly be made egg-free, as well (just sub more almond milk).
If using a different sweetener, check out this sweetener conversion chart.
Nutrition Facts
1 servings per container
---
Amount Per ServingCalories187
% Daily Value *
Total Fat 5g

8

%
Total Carbohydrate 13g

5

%
Protein 22g

44

%
---
* The % Daily Value tells you how much a nutrient in a serving of food contributes to a daily diet. 2,000 calories a day is used for general nutrition advice.
You might also like:
Amazon and the Amazon logo are trademarks of Amazon.com, Inc, or its affiliates.
---