Protein Chocolate Chip Cookies Keto THM-Deep-S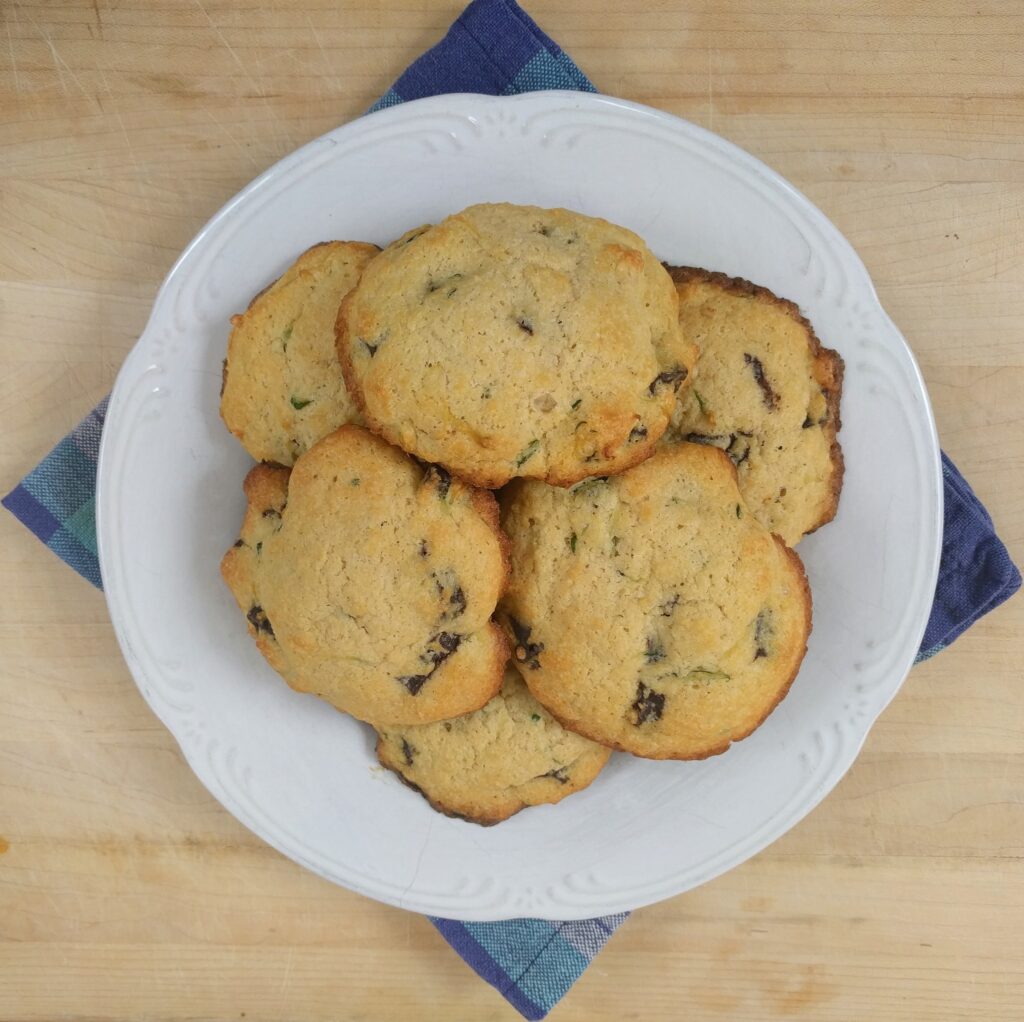 As an Amazon Associate, I earn from qualifying purchases. I am also an official THM Affiliate and am earning a percentage off of links used in the above content that may link directly to the THM online store. This is at no cost to you. Please see my Affiliate Disclosure for more information.
Jump to Recipe
These Protein Chocolate Chip Cookies have all the buttery yumminess of Grandma's cookies but are keto, low-carb, and even THM-Deep-S!
Why should you have to give up yummy buttery chocolate chip cookies in THM-Deep-S? Well not anymore! These Protein Chocolate Chip Cookies really satisfy your cookie-cravings while also being high-protein, keto, low-carb, sugar-free, gluten-free, and they even have ZUCCHINI in them (gotta have your veggies 😉) !
What makes these Protein Chocolate Chip Cookies so special?
Oat Fiber, Whey Protein Isolate, and Zucchini!
THM-Deep-S is one of the more restrictive fuel settings. It emphasizes pure fats, non-starchy veggies, and high-protein. You can't have most flours, even almond and coconut flour, because the THM-DS fuel setting is extremely low-carb. However, you can have oat fiber in THM-DS since it's pure fiber and zero net carb!
These keto chocolate cookies use a combination of oat fiber and whey protein isolate to give them that classic cookie texture. They are soft on the inside but crispy on the outside. But, since these are also very thirsty "flours", shredded zucchini (a great non-starchy veggie for THM-DS) is added to give them just the right amount of moisture to keep them from being too dry, while also providing some veggie-goodness!
Protein Chocolate Chip Cookies are easy to make, too!
To make them, just cream your softened butter and sweetener together, mix in your room temperature egg and vanilla extract, and then mix in your dry ingredients. Finally, fold-in your shredded zucchini (you don't need to squeeze out excess moisture) and chocolate chips (I add my homemade sugar-free chocolate chunks) and you're ready to bake!
These tend to want to be more of a cakey cookie, so press the portioned cookie dough down a little to help them spread more (so they're crispier). And make sure to give them enough space to spread on your cookie sheet!
While these are yummy right out of the oven, I prefer to chill these in the fridge first so the butter in them hardens and give them a crispier cookie texture. They really make the perfect treat, and you don't have to feel guilty for eating them!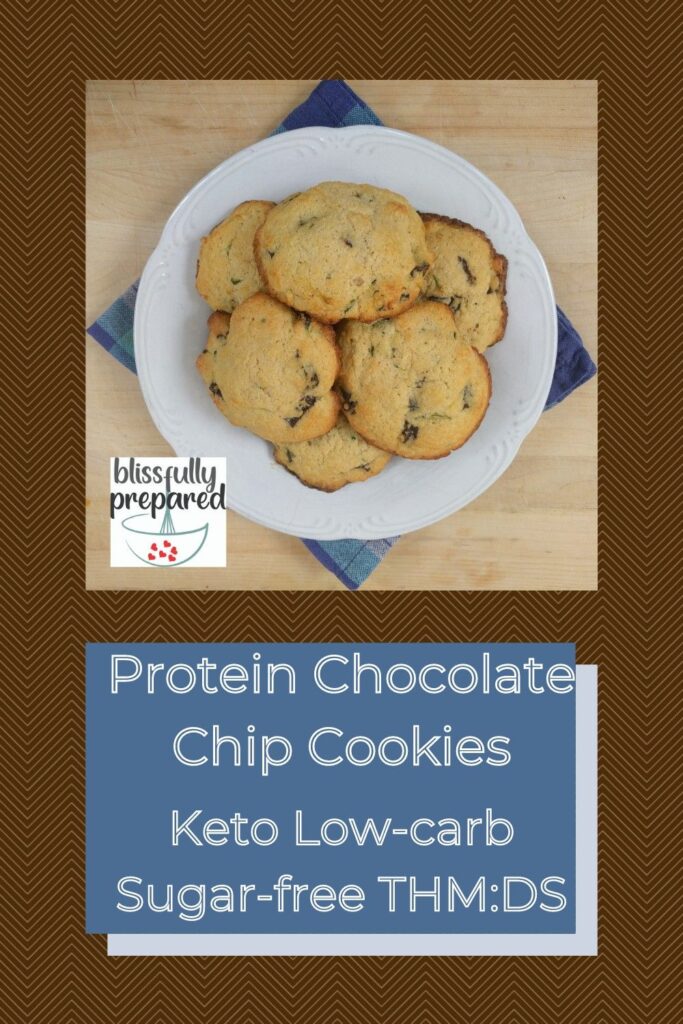 Since posting this recipe…
It's been brought to my attention that most sugar-free chocolate chips are not technically allowed in THM-DS but homemade sugar-free chocolate chunks (made with Baker's 100% cacao unsweetened baking chocolate, like my recipe) are allowed in small quantities. A THM Facebook group admin did some research for me and found this:
"Here is what we have talked about regarding Baker's Chocolate (Cocoa Butter), Pearl really doesn't want ladies to eat something store bought that's going to take them away from making something homemade. She'd like the people on to get into the practice of making Skinny Chocolate so that coconut oil is incorporated into their regular routine.-especially when thinking about and preparing Deep S meals. She let the cocoa butter be approved because it was adding to a recipe using coconut oil. The base of the recipe was still coconut oil and not primarily made up of coconut butter, like lily's or even the butterfly bars. The difference is that cocoa butter can be used *as an ingredient* in a Deep S recipe, but shouldn't be the base of the recipe (replacing coconut oil)."
So I now recommend making your own chocolate chunks for this recipe instead of using Lily's/store-bought, unless you are fine with it technically being a THM-S recipe.
I crunched the macro numbers and figured out that, based on adding 75 grams of my homemade chocolate chunks to a batch of these cookies, it adds only 0.46g net carbs to each cookie. This makes each cookie have a grand total of less than 0.7g net carbs, which is probably about the lowest net carbs of any keto cookie recipe in existence (except for my Fudgy Protein and Lemon Protein cookies). So I personally feel good about eating these cookies in moderation in THM-DS, but everyone can decide for themselves.
Other ideas:
Of course these cookies can also be enjoyed without chocolate chips/chunks, more like a buttery sugar cookie. Or they could be dipped in Skinny Chocolate (or could drizzle on top) and put in the freezer to harden the chocolate. I do not recommend using chopped Skinny Chocolate as chocolate chips in these – it makes a big mess! Here I dipped them in a Skinny Chocolate that is 1.5 parts cocoa to 2 parts coconut oil (along with sea salt, vanilla extract, and stevia/sweetener). A thicker Skinny Chocolate works best to get a good coating, but you could also double-dip, as well.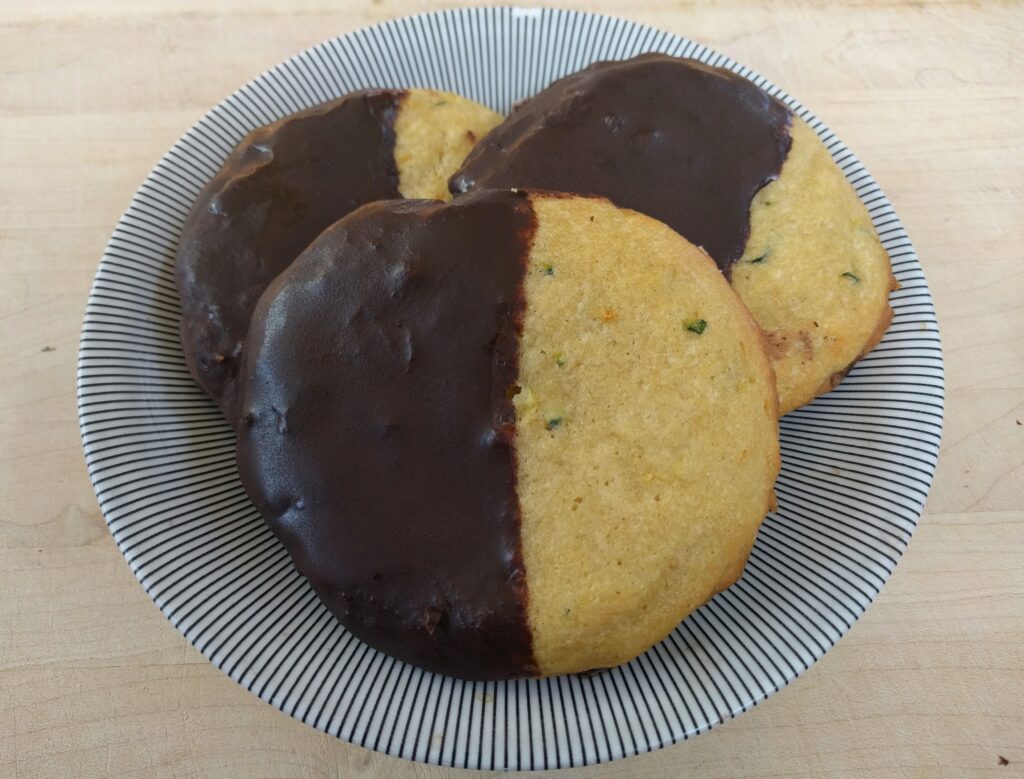 I also have a chocolate version of this recipe now! Find it here!
Protein Chocolate Chip Cookies Keto THM-Deep-S
Recipe by blissfullyprepared
Course: Dessert
Cuisine: American
Difficulty: Easy
These Protein Chocolate Chip Cookies have all the buttery yumminess of Grandma's cookies but are keto, low-carb, and even THM-Deep-S.
Directions
Preheat oven at 350* and grease or line cookie sheet with parchment paper.
Make sure your egg and butter are room temperature before you start. You can quickly warm up the egg by placing it in hot tap water for a few minutes. The butter can be slightly melted and then allowed to cool.
Cream the softened butter and sweetener together by hand or with mixer.
Add the room temperature egg and vanilla extract.
Next add the dry ingredients until thoroughly mixed.
Fold in the shredded zucchini and chocolate chips.
Scoop/portion cookie dough into 16 cookies. Press down a little for a crispier/less-cakey cookie. Give space for them to expand.
Bake at 350* for about 12 – 14 minutes or until the tops become firm and the edges start to brown.
For a crispier cookie, eat after chilling in fridge. Keep stored in fridge to prevent spoilage.
Notes
If any ingredients appear to have a line through them, just click to side of ingredient (or on another ingredient) and the line should disappear. It's a feature of the recipe plugin that allows people to cross off ingredients as they add them to a recipe. Also, the print feature of this plugin is a little wonky so always check over recipe print-outs to make sure all ingredients are included and correct. Another option is to copy and paste the recipe text and print through a different program.
Each cookie (not including the sugar-free chocolate chips) is 70 calories, 0.2g net carbs, 6.1g fat, and 3.6g protein.
Softened coconut oil (butter-flavored or refined to reduce coconut flavor) could be substituted for the butter and collagen peptides could be substituted for the whey protein isolate to make completely dairy-free. I have tested these with collagen peptides and find it helps to add an extra 2 TBS (so total of 10 TBS) of collagen to the recipe since collagen is not as thirsty as whey protein isolate. They will still naturally be a softer cookie and will want to spread more. Harden the dough in the freezer before baking and put dough in little balls (don't flatten) on cookie sheet to reduce spreading/flattening too much.
If using a different sweetener, check out this sweetener conversion chart.
Nutrition Facts
16 servings per container
---
Amount Per ServingCalories70
% Daily Value *
Total Fat 6.1g

10

%
Total Carbohydrate 3.1g

2

%
Protein 3.6g

8

%
---
* The % Daily Value tells you how much a nutrient in a serving of food contributes to a daily diet. 2,000 calories a day is used for general nutrition advice.
You may also like:
Amazon and the Amazon logo are trademarks of Amazon.com, Inc, or its affiliates.
Tags:
buttery
,
Chocolate
,
chocolate chip
,
chocolate chip cookie recipe
,
chocolate chip cookies
,
cookies
,
crispy
,
deep s
,
deep s chocolate chip cookies
,
deep s cookies
,
dessert
,
high fiber
,
high protein
,
keto
,
low carb
,
oat fiber
,
protein chocolate chip cookies
,
protein cookies
,
snack
,
sugar free
,
THM
,
thm chocolate chip cookies
,
thm cookies
,
thm deep s chocolate chip cookies
,
Trim Healthy Mama
,
whey protein isolate
,
zucchini
---