Protein Pumpkin Chocolate Chip Cookies THM-FP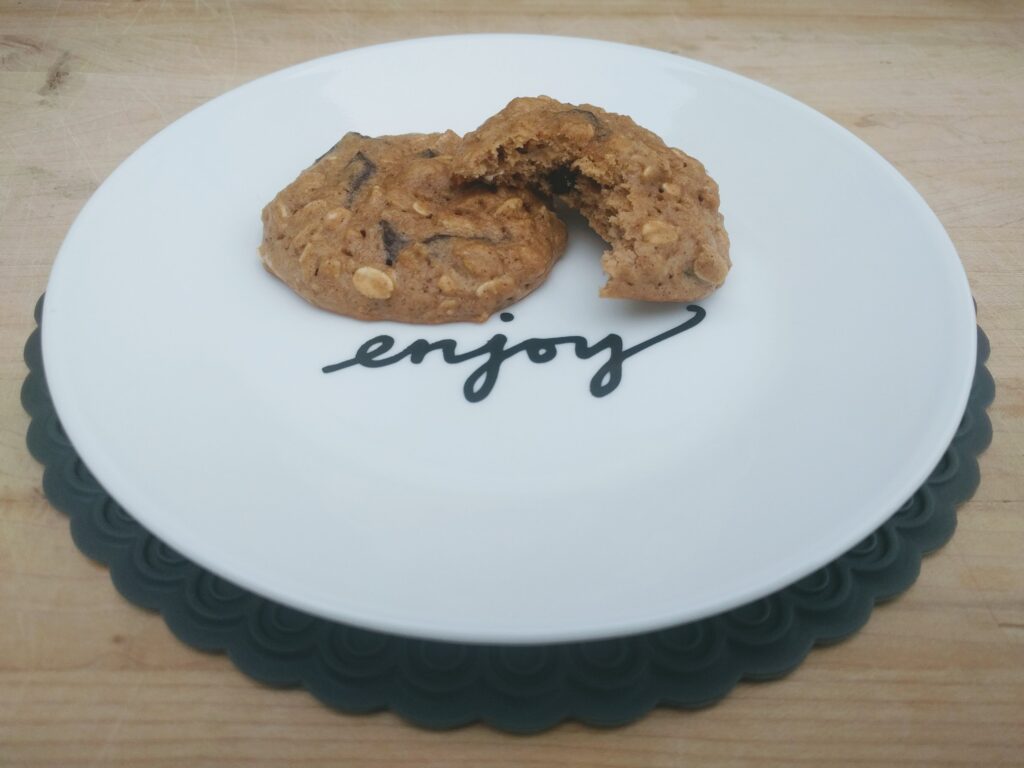 As an Amazon Associate, I earn from qualifying purchases. I am also an official THM Affiliate and am earning a percentage off of links used in the above content that may link directly to the THM online store. This is at no cost to you. Please see my Affiliate Disclosure for more information.
Jump to Recipe
Protein Pumpkin Chocolate Chip Cookies make the perfect high-protein fall snack, and are low-carb, low-fat, sugar-free and even THM-Fuel-Pull!
I've been a bit obsessed with cookies and everything pumpkin lately, lol. After all, it is fall, y'all! 🎃 I LOVE my Fuel-Pull Chocolate Chip Cookies so much and was snacking on some the other day and thought, "What would make these cookies even better?" Well, pumpkin, of course! These Protein Pumpkin Chocolate Chip Cookies are seriously good, y'all!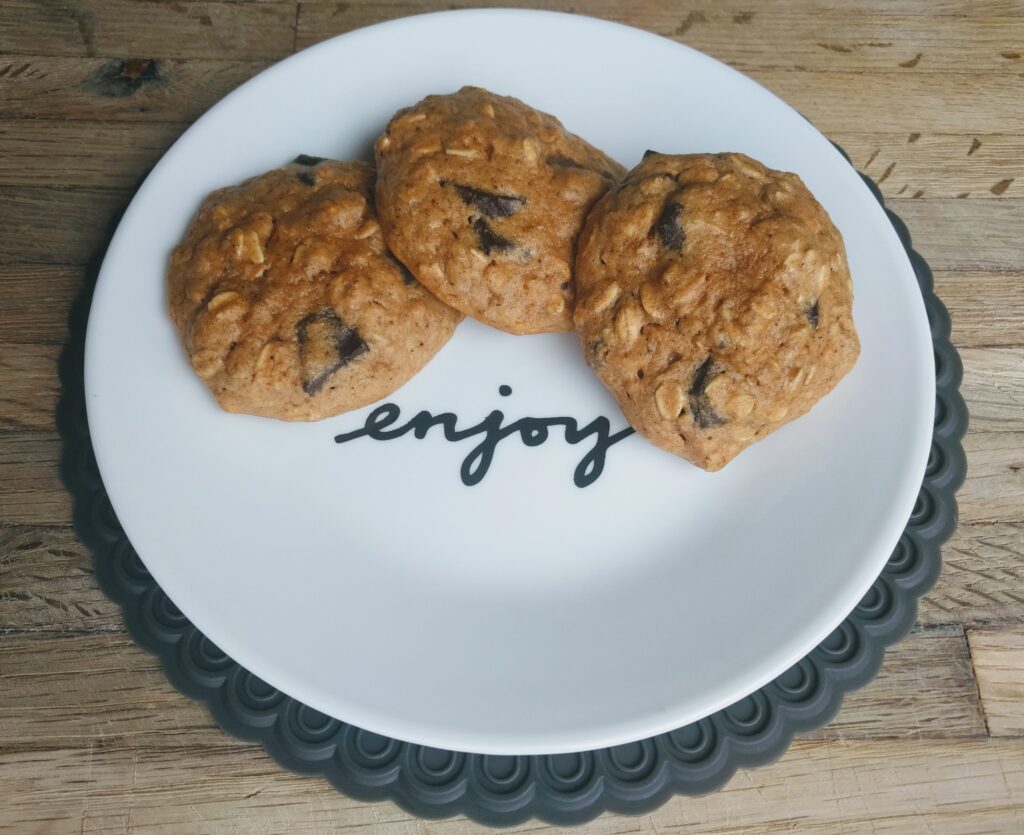 Protein Pumpkin Chocolate Chip Cookies are so easy to make, and even use THM Baking Blend!
My other THM-FP Chocolate Chip Cookies use oat fiber but I wanted to try THM Baking Blend with these, and it works great! I'm pretty sure straight oat fiber could be subbed for THMBB, as well, since THMBB is mostly oat fiber anyway. And, I bet my original version would work with THMBB, too.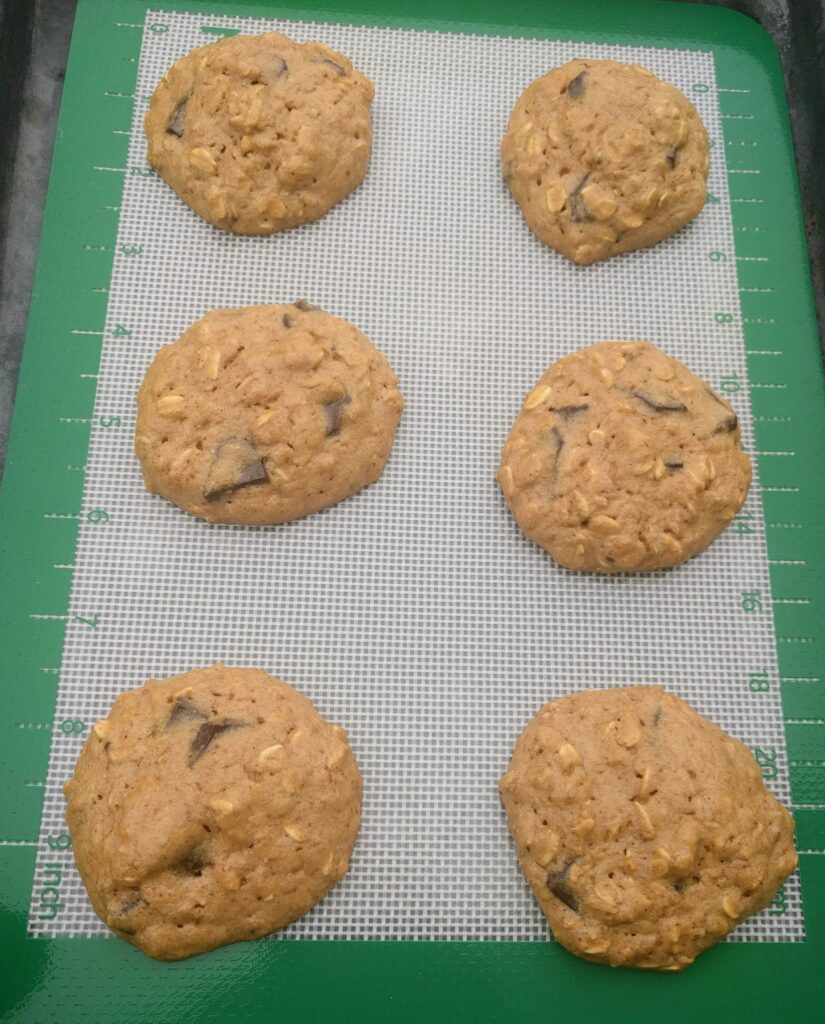 These cookies are a meal in themselves!
I add a little butter to my original recipe but, since these have added moisture and richness from the pumpkin puree, I left out the butter in these. Don't worry, they're still delicious and you won't miss that little bit of butter! And I add butter extract to these to give that yummy butter flavor, but without the fat and calories.
I designed the macros of this cookie to have low enough fat and carbs that you can enjoy up to 3 cookies in a THM-FP setting. Three cookies is exactly a total of 5g fat and 10g net carbs, which is right at the limit of THM-FP. Three cookies is also a total of 13.5g protein and only 153 calories! And you're getting veggies (pumpkin), to boot, so they make the perfect FP snack!
Protein Pumpkin Chocolate Chip Cookies THM-Fuel-Pull
Recipe by blissfullyprepared
Course: THM-Fuel-Pull, Snack, Dessert
Cuisine: American
Difficulty: Easy
Pumpkin Chocolate Chip Cookies make the perfect high-protein treat this fall, and are low-carb, low-fat, sugar-free, and even THM-Fuel-Pull!
Directions
Preheat oven to 350*. Grease or line cookie sheet with parchment paper.
Measure and mix all dry ingredients.
Then add wet ingredients and mix well.
Finally, add chocolate chips/chunks.
Allow to sit for about 5 minutes to allow ingredients to expand/absorb.
Scoop batter onto parchment-lined cookie sheet, dividing batter up into 12 cookies. Leave space between cookies as these do expand while baking.
Bake for about 9-12 minutes, just until the tops have become firm to the touch and bottoms become golden, but do not allow to overcook. Let cool and then store in the fridge.
Notes
If any ingredients appear to have a line through them, just click to side of ingredient (or on another ingredient) and the line should disappear. It's a feature of the recipe plugin that allows people to cross off ingredients as they add them to a recipe. Also, the print feature of this plugin is a little wonky so always check over recipe print-outs to make sure all ingredients are included and correct. Another option is to copy and paste the recipe text and print through a different program.
Each cookie is 51 calories, 3.3g net carbs, 1.6g fat, and 4.5g protein. In THM-FP, you can eat up to 3 cookies (assuming no other fat or carbs in rest of meal/snack).
These can be made dairy-free by substituting collagen peptides for the whey protein isolate.
It may seem a little silly to count chocolate chips but this is based on what I figured out to be the exact amount that can be added to these chocolate chip cookies to stay within the 5g fat limit for THM-FP (for 3 cookies/serving). If it's easier, you could add 7 chips per cookie. You could also weigh the chocolate. Lily's chocolate chips weigh about 50 grams for 85 chocolate chips. If using my homemade copycat Lily's chocolate chunks, 35 grams can be added to the recipe.
If using a different sweetener, check out this sweetener conversion chart.
Nutrition Facts
12 servings per container
---
Amount Per ServingCalories51
% Daily Value *
Total Fat 1.6g

3

%
Total Carbohydrate 5.9g

2

%
Protein 4.5g

9

%
---
* The % Daily Value tells you how much a nutrient in a serving of food contributes to a daily diet. 2,000 calories a day is used for general nutrition advice.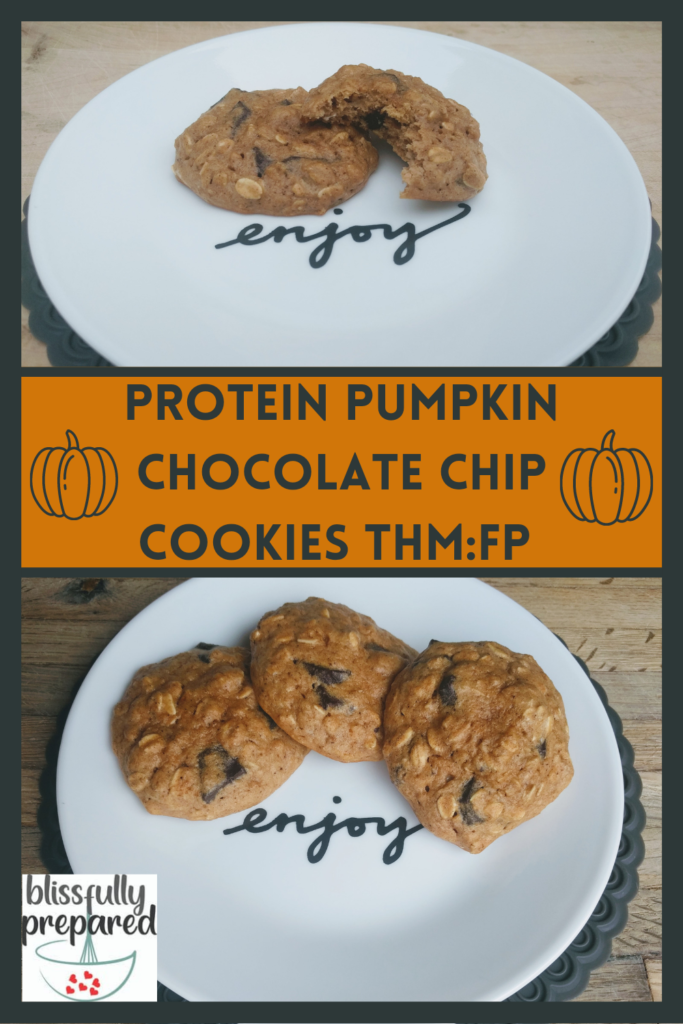 You might also like:
Amazon and the Amazon logo are trademarks of Amazon.com, Inc, or its affiliates.
---