Spicy Peanut Sauce THM-Fuel-Pull Keto Sugar-free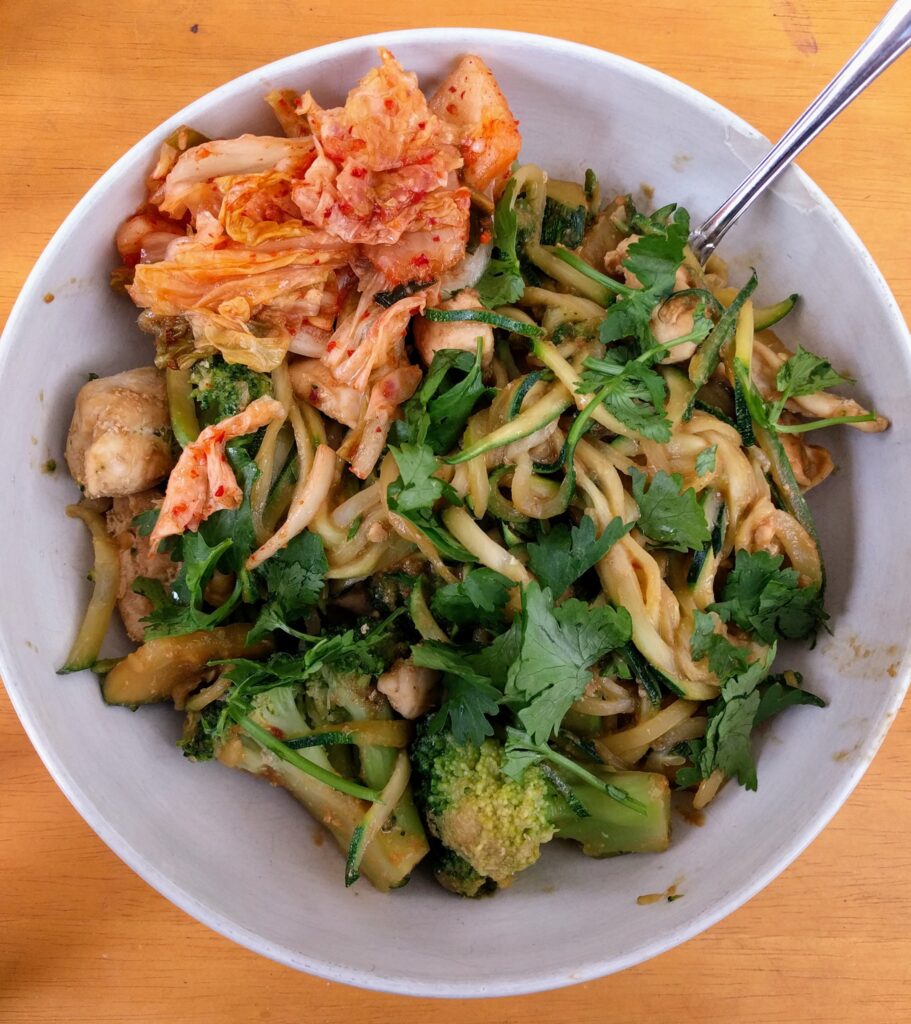 As an Amazon Associate, I earn from qualifying purchases. I am also an official THM Affiliate and am earning a percentage off of links used in the above content that may link directly to the THM online store. This is at no cost to you. Please see my Affiliate Disclosure for more information.
Jump to Recipe
Satisfy those Thai food cravings with this easy-to-make and healthy Spicy Peanut Sauce! Low-fat, low-carb, and sugar-free and even in THM-Fuel-Pull!
I LOVE Thai food, especially spicy peanut sauce. But I don't love all the sugar, carbs, and oils that are often in it. I also love eating stir-fries when in THM-Fuel-Pull mode because it allows me to load up on healthy veggies and lean proteins with minimal fats and carbs. So I wanted to come up with a simple sauce that I could keep in my fridge and use for all kinds of things: stir-fries – of course – but also on zoodles or other spiralized veggies, and as a salad dressing, veggie dip, or as a dip for lettuce wraps. I find I eat A LOT more veggies with this sauce on hand.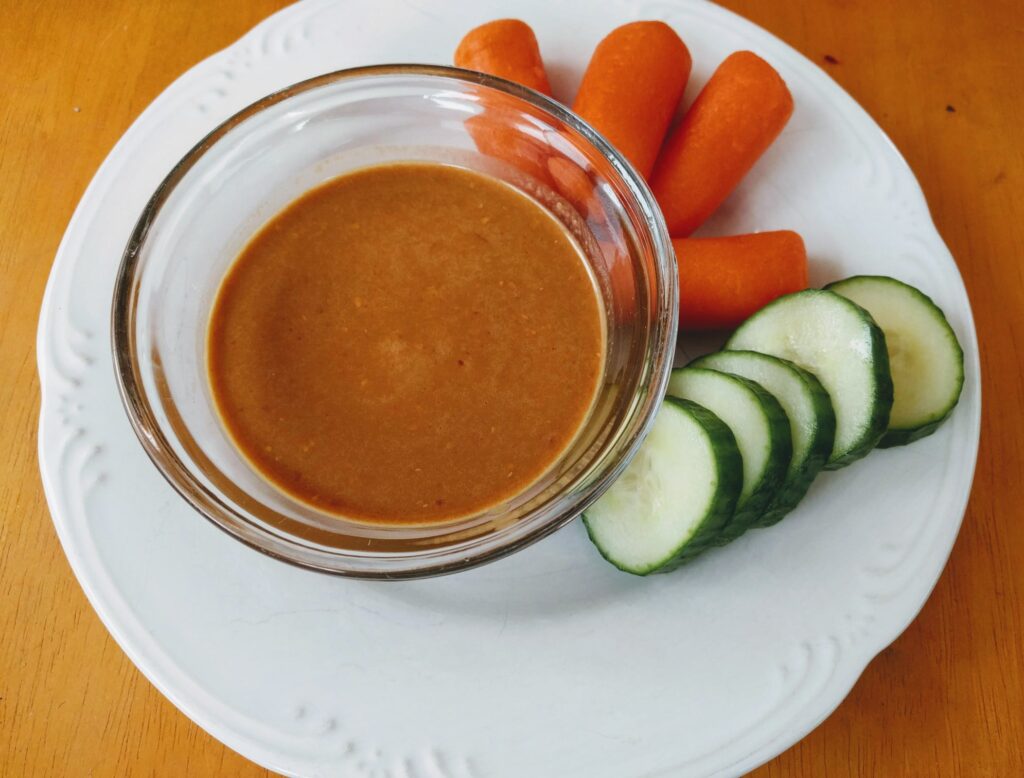 I like to add a variety of veggies to my stir-fries, spiralized veggie noodle bowls, lettuce wraps, and raw veggie platters – including carrots, sugar snap peas, etc – which do have a little <healthy> carb content. And, since Trim Healthy Mama usually keeps carb and fat ingredients separated to avoid weight gain, I needed a sauce that I could use with ALL veggies and proteins, one that tastes rich and yummy but without the fat. Usually peanut butter, which is high in fat, is one of the main ingredients in peanut sauce recipes. While peanut butter is on-plan in THM, it is usually kept to just THM-S meals, which are very low-carb and only include non-starchy veggies like zucchini, greens, etc. That's why, with this sauce, I replaced the peanut butter with defatted peanut flour/powder. I buy the organic Trader Joe's brand one, which is only 1g fat per tablespoon (but is rich in protein – 3.5g protein per tablespoon) and low in carbs (1.5g net carbs per tablespoon).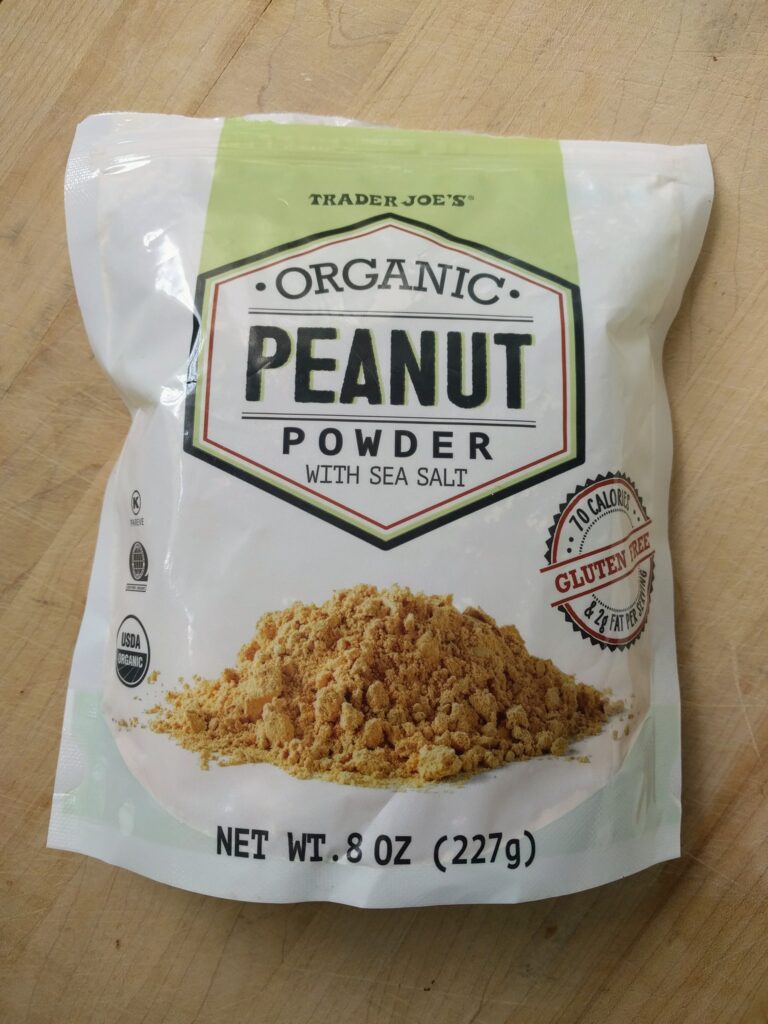 Another Trader Joe's item I use for this recipe – Organic Reduced Fat Coconut Milk.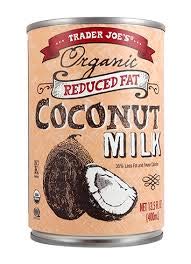 Usually coconut milk is more of a THM-S ingredient because of the naturally high fat content, but this one is low enough in fat that the small amount used in the recipe doesn't knock it out of THM-Fuel-Pull territory (as long as you don't use more than a quarter of the recipe in a serving). But water or unsweetened almond milk could be subbed instead, I just prefer that yummy coconut flavor in my peanut sauce. Also, since this recipe only uses 4 TBS of coconut milk, I usually freeze the rest of the can in tablespoon amounts in an ice cube tray and then, after frozen, pop out the cubes and store in a freezer bag. That way, when I want to make another recipe of this sauce, I can just take out 4 cubes and put them in a little saucer and microwave for about 30 seconds or until melted. You don't want them too warm, just melted.
And you can make this sauce either right into the blender or, like me, use a wide-mouth pint mason jar and an immersion/hand blender and blend it right in the jar that you'll store it in in the fridge. I like to keep my dirty dish load to a minimum around here and try to avoid getting my blender dirty.
I also like to keep my fresh ginger in the freezer; it grates so easily this way and I don't have to worry about it spoiling. You could also try just roughly chopping a 1-2″ knob of ginger and letting your blender do the grating. I haven't tried this recipe with powdered ginger but it could possibly be substituted; I just prefer that fresh ginger flavor in my stir-fries/sauces.
Just make sure to add your glucomannan ("gluccie") at the end, and while blending so it doesn't clump. At first, the sauce will still seem thin, but allow it to sit for a while in the fridge and it will thicken up. In fact, I usually have to add a little extra water to mine to thin it out enough to use as salad dressing. But luckily, this sauce is so flavorful that it still has a lot of kick, even with a little extra water added to it.
Spicy Peanut Sauce THM-Fuel-Pull Keto Sugar-free
Course: THM-Fuel-Pull, Lunch, Dinner, Sauce, Dressing, Dip
Cuisine: Thai
Difficulty: Easy
Satisfy those Thai food cravings with this easy-to-make and healthy spicy peanut sauce! Low-fat, low-carb, and sugar-free and even in THM-Fuel-Pull!
Ingredients
1 TBS grated fresh ginger (or roughly chop a 1-2″ knob if using blender)

2-3 cloves garlic (pressed, or roughly chopped if using blender)

6 TBS defatted peanut flour/powder (I use TJ's brand but this brand looks good, too)

4 TBS reduced fat coconut milk or almond milk or water

3 TBS Lakanto Golden or preferred sweetener* (or to taste)

2 TBS GF Tamari/soy sauce/coconut aminos/Bragg's Liquid Aminos (or to taste)

1 TBS fresh squeezed lime juice

2 tsp rice vinegar

1 tsp fish sauce (optional but gives more authentic flavor)

1/2 tsp red pepper flakes (or to taste)

1/2 tsp glucomannan powder

Coconut extract, optional for more coconut flavor

3 TBS water or almond milk (or more until reach desired consistency – thickens some after setting in fridge for a bit)
Directions
Grate ginger and press garlic into jar (or roughly chop and put in blender).
Then measure out and add rest of ingredients except for glucomannan and water/almond milk.
Blend until smooth.
While blending, add glucomannan (to keep from clumping).
Then add the water/almond milk and mix well. Taste and adjust to your liking.
Allow to sit in fridge for awhile to thicken and add more water if too thick.
Makes about 1 cup of sauce (possibly more if add more water). Will keep for 1-2 weeks (or more) stored in the fridge.
Notes
If any ingredients appear to have a line through them, just click to side of ingredient (or on another ingredient) and the line should disappear. It's a feature of the recipe plugin that allows people to cross off ingredients as they add them to a recipe. Also, the print feature of this plugin is a little wonky so always check over recipe print-outs to make sure all ingredients are included and correct. Another option is to copy and paste the recipe text and print through a different program.
While IMO this makes easily more than 4 servings, *if* you were to use 1/4 of the recipe of sauce (exact amount depends on how much water you add), it would be 74 calories, 4g net carbs, 3.3g fat, and 6.9g protein. (this is calculated using the reduced fat coconut milk – fat will be lower with unsweetened almond milk or water)
Whey protein isolate or collagen can be added for extra creaminess, thickness and protein.
If using a different sweetener, check out this sweetener conversion chart.
Nutrition Facts
4 servings per container
---
Amount Per ServingCalories74
% Daily Value *
Total Fat 3.3g

6

%
Total Carbohydrate 6.1g

3

%
Protein 6.9g

14

%
---
* The % Daily Value tells you how much a nutrient in a serving of food contributes to a daily diet. 2,000 calories a day is used for general nutrition advice.
---
Amazon and the Amazon logo are trademarks of Amazon.com, Inc, or its affiliates.
---