Sugar-free Maple Syrup THM Keto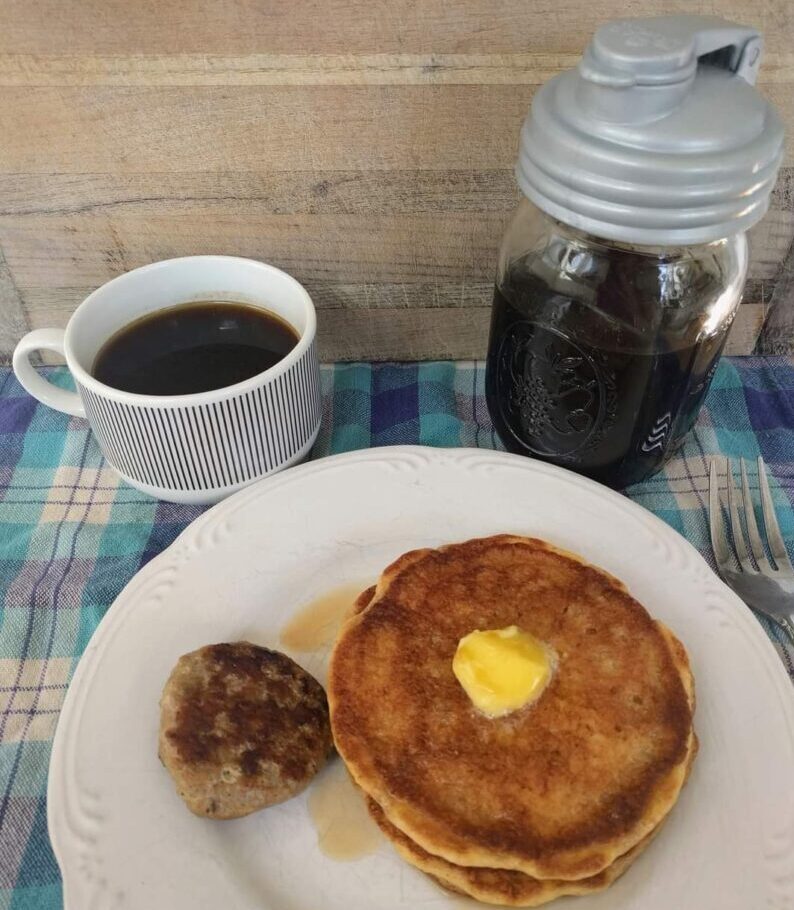 As an Amazon Associate, I earn from qualifying purchases. I am also an official THM Affiliate and am earning a percentage off of links used in the above content that may link directly to the THM online store. This is at no cost to you. Please see my Affiliate Disclosure for more information.
I use to buy/order my sugar-free maple syrup. There are several on the market these days but some have questionable ingredients (like Splenda, sucralose, etc). I felt pretty good about the ingredients in Lakanto and Birch Benders brands but they were just "ok" to me in taste and texture. And they're a tad pricey, too, at least at the rate that I use maple syrup in my house. I'm a bit of a pancake/waffle-junkie, lol. Also, these brands of sugar-free maple syrup have often been hard to find in stores or out-of-stock on-line, especially during the pandemic. But, now that I make my own, I never run out!
I buy good quality real maple syrup for my family but the sugar/carb content is too high for me personally. While it's not "off plan" with Trim Healthy Mama, it is a personal choice item that's generally not recommended for weight loss due to its high glycemic index.
Making my own Sugar-free Maple Syrup
I started experimenting with various THM/keto pancake/maple syrup recipes. There are several out there. A lot of them call for xanthan gum but I found it gave the syrup a weird gel-like texture. And the flavor just wasn't right to me. So I decided to create my own sugar-free maple syrup recipe.
I actually created my recipe to closely mimic the taste, color and texture of real maple syrup. I "taste-tested" it with real maple syrup until I finally got it just right.
Several people who love my THM keto low-carb pancake and waffle recipes have asked how I make my sugar-free maple syrup so I'm finally sharing my recipe!
What's in Sugar-free Maple Syrup?
The ingredients are pretty simple:
Sugar-free sweetener – I use Lakanto Golden. Brown Swerve works great, too.
Extracts of maple, vanilla, and butter
Optional blackstrap molasses – it's just a teaspoon dispersed into over 2 cups of finished syrup so it doesn't really affect the sugar/carb content much but does really help with color and taste.
Glucomannan – while xanthan gum can also be used, I find that glucomannan powder gives a preferable syrupy consistency.
Sea salt – this may seem like an unusual ingredient in maple syrup but it really helps the flavor/sweetness.
Liquid stevia – optional but helps give a little extra sweetness.
Homemade Sugar-free Maple Syrup THM Keto
Course: Staples, Breakfast
Cuisine: American
Difficulty: Easy
Sugar-free maple syrup that is cheap and easy to make yourself! And so yummy on all your THM, keto, low-carb breakfast foods.
Directions
Add all ingredients except glucomannan to sauce pan, mix well, and stir while heating.
Just before it starts to simmer, whisk in the glucomannan, making sure it fully dissolves and doesn't clump.
Let it just begin to simmer and then remove from heat.
Carefully pour into a pre-heated jar (so jar doesn't break from the shock in temperature change) and store in fridge. It thickens as it cools. Will keep for at least a couple weeks (but I've never had any sit around longer than that because I use it in sooo many things!)
Notes
If any ingredients appear to have a line through them, just click to side of ingredient (or on another ingredient) and the line should disappear. It's a feature of the recipe plugin that allows people to cross off ingredients as they add them to a recipe. Also, the print feature of this plugin is a little wonky so always check over recipe print-outs to make sure all ingredients are included and correct. Another option is to copy and paste the recipe text and print through a different program.
Makes a little over 2 cups of finished syrup. I estimated that this makes about 18 servings of 2 TBS per serving. Based on this serving size, each serving is only 1 calorie and 0.2g net carbs.
If using a different sweetener, check out this sweetener conversion chart.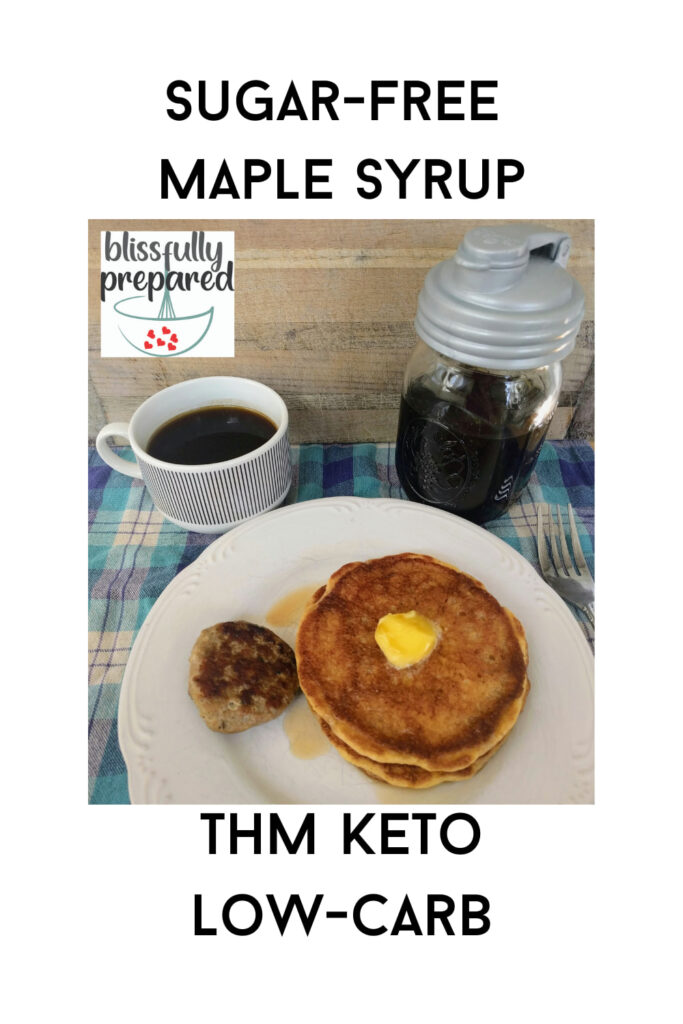 You might also like:
Amazon and the Amazon logo are trademarks of Amazon.com, Inc, or its affiliates.
---