Sugar-free Strawberry Jam Keto THM-Fuel-Pull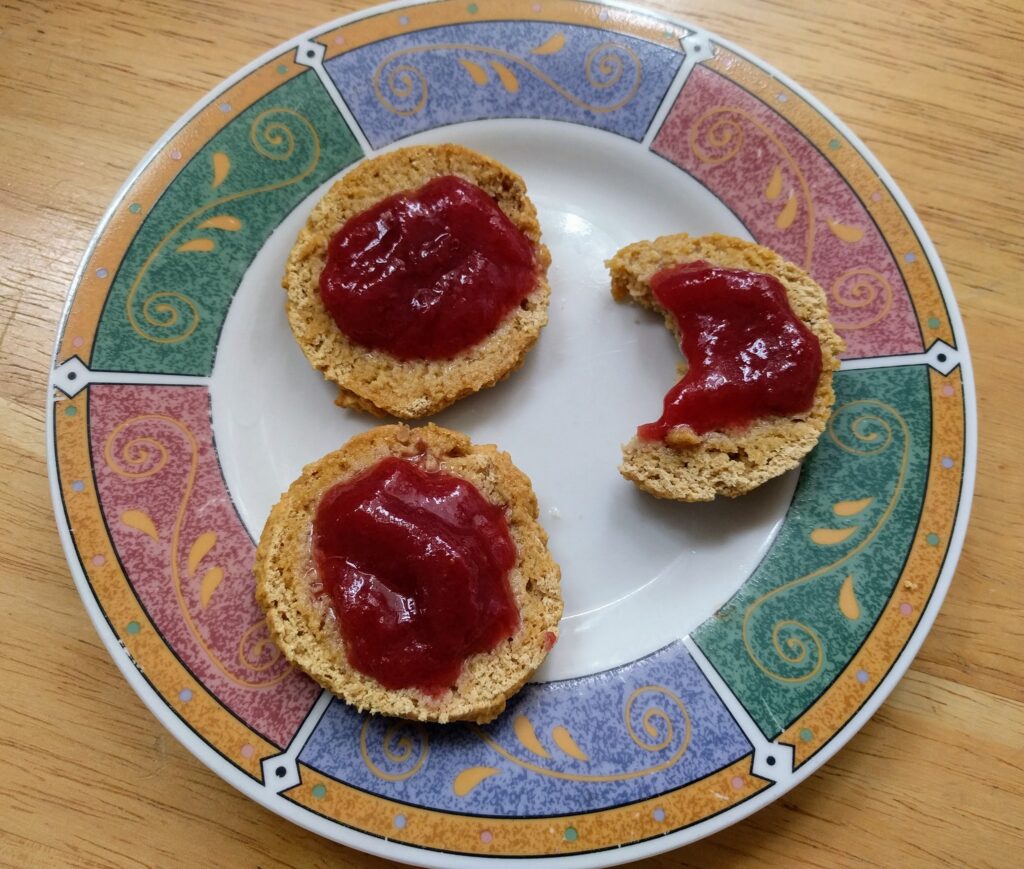 As an Amazon Associate, I earn from qualifying purchases. I am also an official THM Affiliate and am earning a percentage off of links used in the above content that may link directly to the THM online store. This is at no cost to you. Please see my Affiliate Disclosure for more information.
Jump to Recipe
It's hard to find affordable sugar-free strawberry jam with clean ingredients
It's hard to find sugar-free jams and jellies that don't contain scary ingredients like Splenda, sucralose, etc, or that aren't crazy expensive. But, with some fresh or frozen berries or fruit, it's actually really quick and easy to make your own. This basic recipe works for pretty much any fruit but my sugar-free strawberry jam is my personal favorite to make.
I use to buy the naturally fruit-sweetened jams and jellies for my family until I realized the sugar content was still quite high, even with just fruit (they use concentrated juices which is basically pure fructose).
Keto sugar-free jams
With becoming keto, I could no longer use fruit sweetened jams anymore. I started making my own strawberry chia jam instead. In it, chia seeds are used to thicken and gel the jam. This was fine, though it would turn my sugar-free strawberry jam a greyish purple color, which was a little unappetizing. And my family didn't like the chunkiness of the chia seeds so I always had to blend it until smooth.
But then I started following Trim Healthy Mama and realized that chia seeds are a THM-S ingredient because it's a seed with high fat content. So, even though strawberries are THM-Fuel-Pull, the chia seeds make it better suited to THM-S meals. But I wanted a sugar-free strawberry jam that I could enjoy in all fuel types (with the exception of THM-Deep-S of course).
Sugar-free Strawberry Jam thickened with Glucomannan
Then I discovered the wonderful powers of glucomannan powder (or "gluccie" as the THMers call it 😉) . Not familiar? Well, it's made from the konjac root that's grown in some Asian countries and has long been used for medicinal purposes in traditional Chinese medicine. It's basically pure dietary fiber and is zero net carb (so perfect for THM and keto/low-carb recipes). But it's also great for the digestive system as it both helps "clean you out" while also aiding in weight-loss by helping you to feel fuller for longer (which means you're less likely to snack between meals).
It's also a great thickener. I use it in everything that would normally require cornstarch, like gravies, puddings, etc. And even sugar-free strawberry jam! It actually works great! And, unlike cornstarch or xanthan gum, it's grain-free and can even be used in Paleo cooking/baking, too. I use it for a multitude of recipes for my family in our house, and my family LOVES my sugar-free strawberry jam!
How I make it
I start with about 1.5lbs of frozen organic strawberries (I buy 4lb bags of frozen organic strawberries at Costco) and put them in a sauce pan.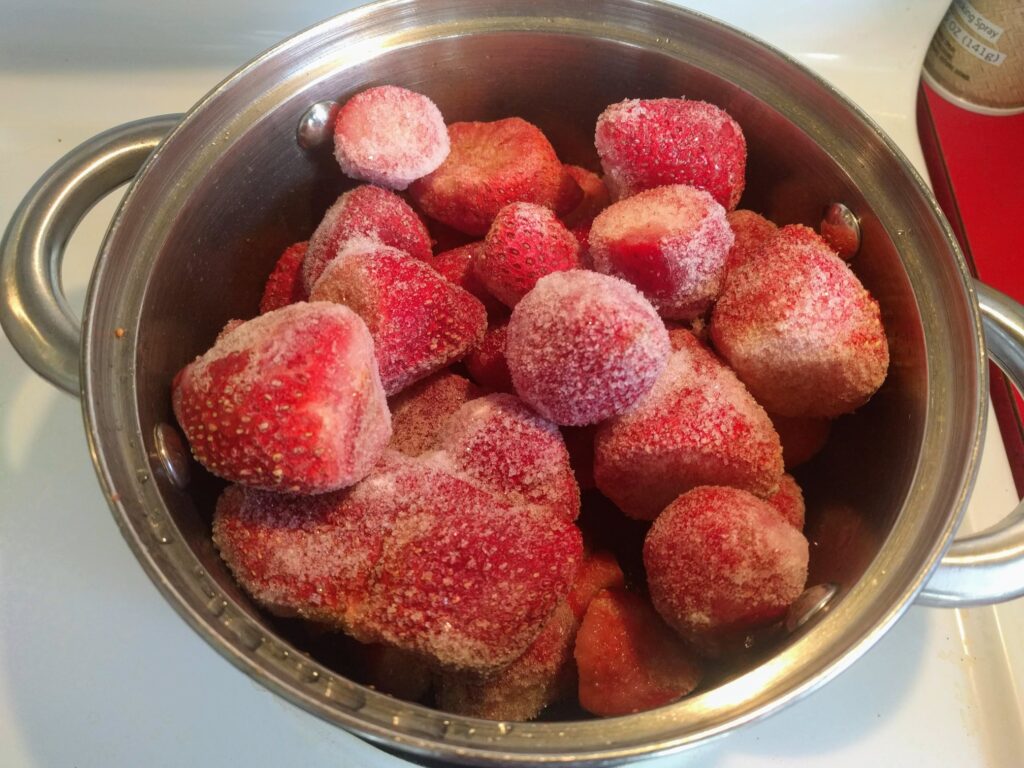 I put a little water (maybe 1/4 cup?) in the bottom of my pan to keep the strawberries from scorching. Stirring often, I let the strawberries start cooking down for a few minutes.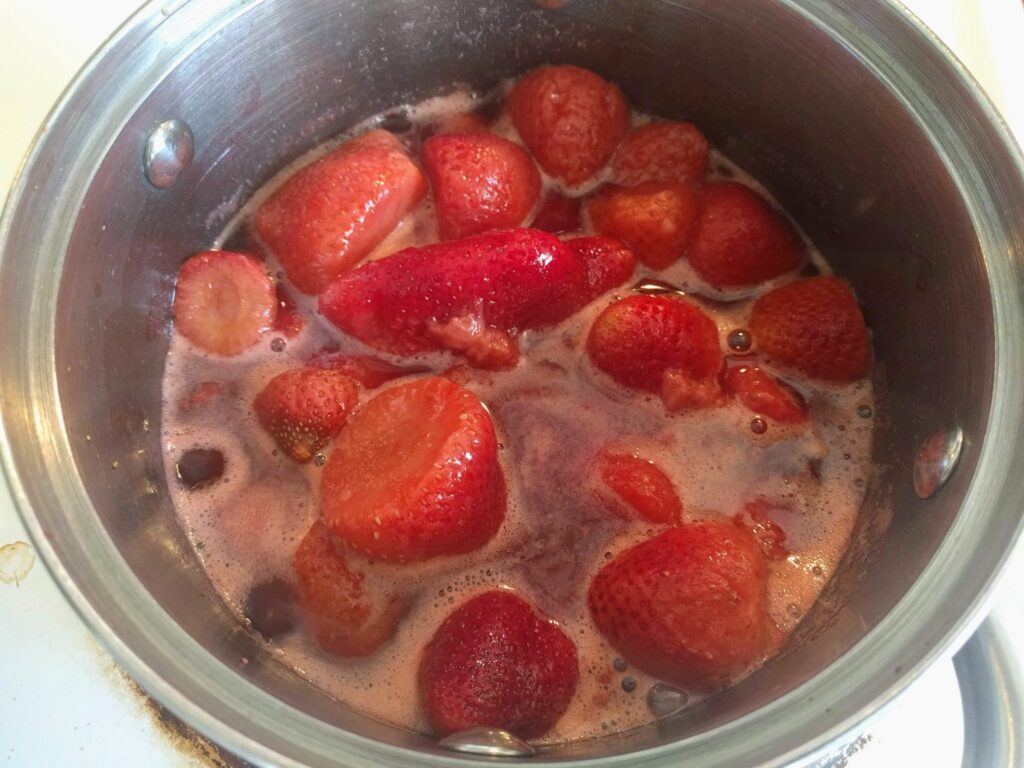 When the strawberries are thawed and tender, I take my immersion hand blender and blend my strawberries until smooth. If you don't have a hand blender, you could use a regular blender instead. But be very careful and slightly vent the top so hot jam doesn't splatter and burn you!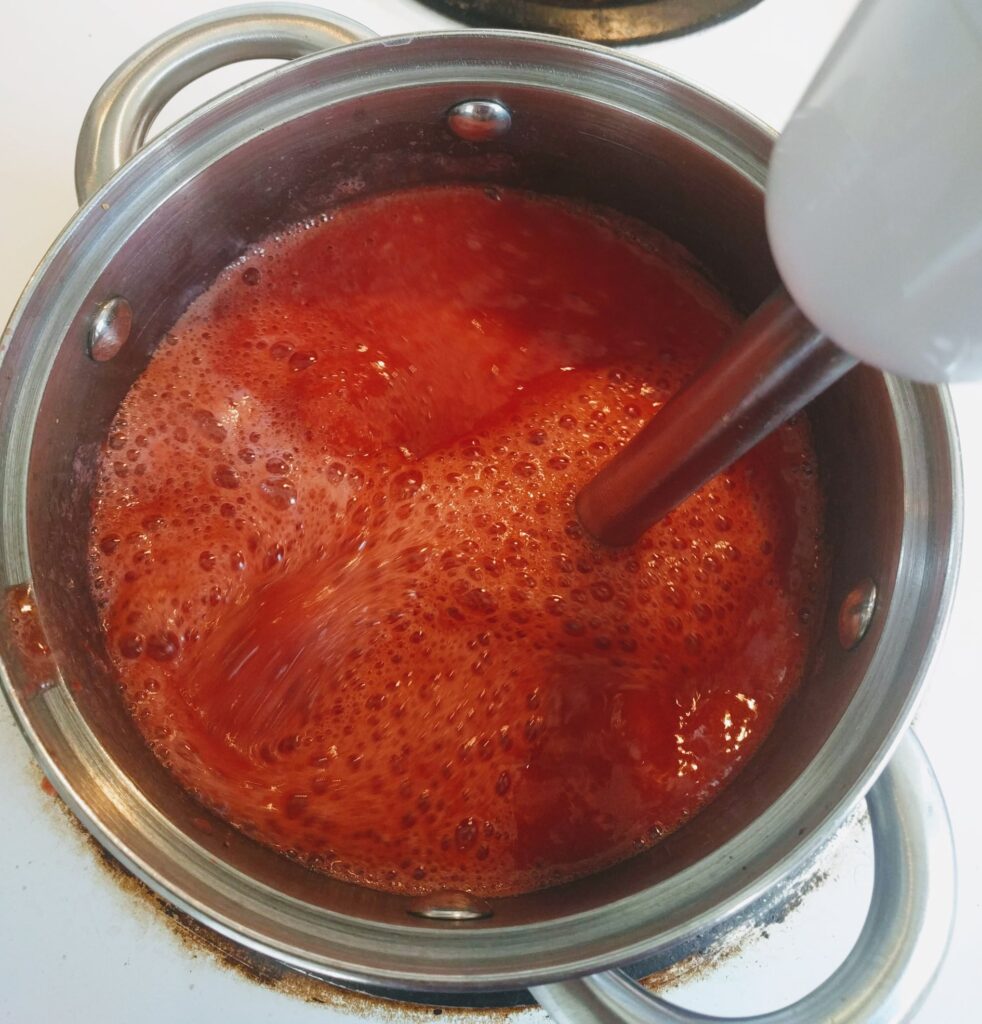 I then turn down the heat and let it simmer for a few more minutes to help intensify the strawberry flavor. Keep stirring occasionally and watch that it doesn't boil over (that's happened to me a couple times!).
I then add the juice of my fresh squeezed small lemon (if using a large lemon, maybe just add 1/2 to 3/4 or the juice). Next, I add my sweeteners. I use Lakanto Golden and liquid stevia. I also go ahead and mix in my sea salt, as well. Stir until everything is dissolved and well mixed.
Almost done…
Now start taste-testing and adjust sweetness if needed. The more the strawberries cook down, the more intense strawberry flavor the jam will have (and it will be thicker as more water content cooks off). So you'll just have to judge how long it should cook based on your taste/texture preferences.
Finally, start whisking in the glucomannan powder or use the immersion hand blender to thoroughly dissolve it into the strawberry jam. Sometimes I need to adjust my glucomannan amounts – sometimes a little more, sometimes a little less – so add 1/4 tsp at a time. The jam should start thickening quickly so go ahead and remove from heat so it doesn't burn.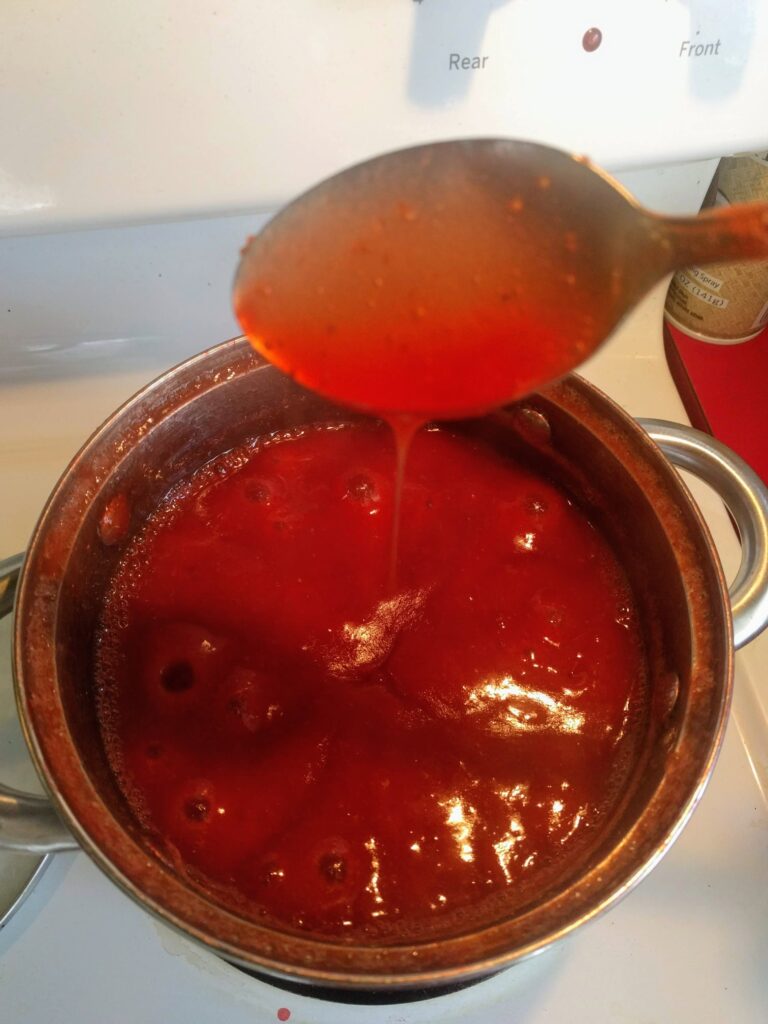 This is what your jam should look like when it's done. Now it's ready to pour into preheated jars (so the jars don't break from sudden temperature change).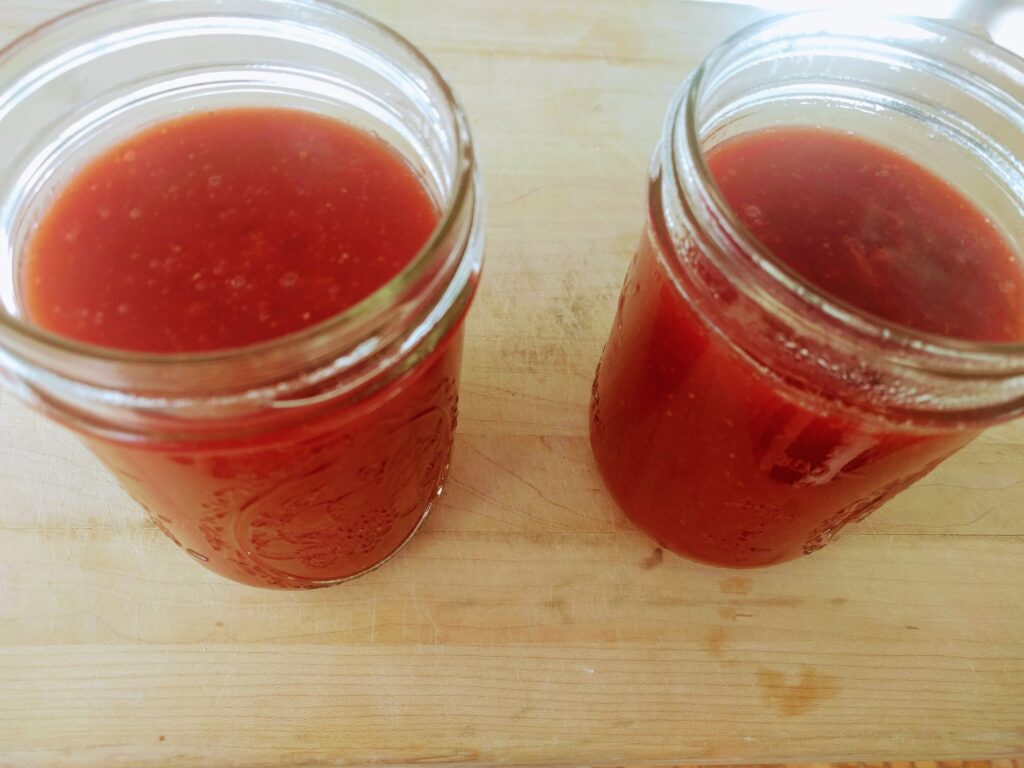 It makes a total of about 1 quart or 2 pint jars worth for me. This may vary, depending on how long you cook down your strawberries. I let both jars cool in the fridge and then put one of my jars into the freezer for later. Before freezing, make sure to not fill your pint jar too full to keep the jar from cracking (since it expands as it freezes). I have never canned this strawberry jam (I'm personally hate canning lol) but freezing it is easier and safer (since we're not using cane sugar to help preserve) overall.
Now it's ready to use on/with all your favorite things – from PB&J sandwiches to toast, biscuits, yogurt, topping for ice cream, on pancakes/waffles, in oatmeal/porridge, etc. I even use it in my Strawberry Cheesecake Blizzard recipe (which I'll be posting soon!).
I also use this basic recipe for cherry jam, as well, and it's DELISH. It should work with other fruits, too!
Sugar-free Strawberry Jam Keto THM-Fuel-Pull
Course: Staples, THM-Fuel-Pull, Spread
Cuisine: American
Difficulty: Easy
Sugar-free strawberry jam is quick and easy to make with clean, simple ingredients, and is so much cheaper than store/online-purchased sugar-free jams.
Ingredients
1.5lbs fresh or frozen strawberries

1/4 cup water (in bottom of pan with strawberries to prevent scorching)

1/2 cup sweetener* (I use Lakanto Golden)

2 TBS of fresh lemon juice (about 1/2 of a lemon, squeezed) – citric acid also works well (1/4 – 1/2 tsp by taste)

50 drops of liquid stevia (or other stevia to taste)

1/4 tsp sea salt

about 3/4 tsp glucomannan (mix in at end, 1/4 tsp at a time until reach desired thickness)
Directions
Put strawberries in sauce pan with water in bottom of pan and stir often while heating to prevent scorching.
When strawberries are thawed (if using frozen) and tender, use hand blender to make into a smooth strawberry sauce. You can also use a regular blender but be very careful that the hot sauce doesn't splatter on you.
Allow to cook for a few more minutes on low heat while stirring occasionally.
Mix in the sweeteners, lemon juice and sea salt.
Start taste-testing to see how much longer you want to cook down the strawberries (flavor intensifies the longer it cooks) and adjust sweetness if needed.
Finally, start mixing in the glucomannan 1/4 tsp at a time until reach desired thickness. It will thicken more as it cools.
Remove from heat and pour into preheated jars (so jars don't break from sudden temperature change). I use 2 pint jars for mine. Allow to cool in fridge. When cool, I usually keep one jar in fridge and put my other jar in the freezer (but don't fill jar too full, as it will expand as it freezes).
Will keep in fridge for at least a couple weeks (probably longer!) and will keep in freezer for at least several months.
Notes
If any ingredients appear to have a line through them, just click to side of ingredient (or on another ingredient) and the line should disappear. It's a feature of the recipe plugin that allows people to cross off ingredients as they add them to a recipe. Also, the print feature of this plugin is a little wonky so always check over recipe print-outs to make sure all ingredients are included and correct. Another option is to copy and paste the recipe text and print through a different program.
Based on making 2 pint jars full of jam, I estimated it makes about 32 (2 TBS) servings total. Each serving is roughly 8 calories, 1.4g net carbs, 0.1g fat, and 0.2g protein.
I have also used this basic recipe to make sugar-free preserves of blueberries, cherries, peaches, and raspberries. I'm sure it would work for others, too!
If using a different sweetener, check out this sweetener conversion chart.
Nutrition Facts
32 servings per container
---
Amount Per ServingCalories8
% Daily Value *
Total Fat 0.1g

1

%
Total Carbohydrate 1.9g

1

%
Protein 0.2g

1

%
---
* The % Daily Value tells you how much a nutrient in a serving of food contributes to a daily diet. 2,000 calories a day is used for general nutrition advice.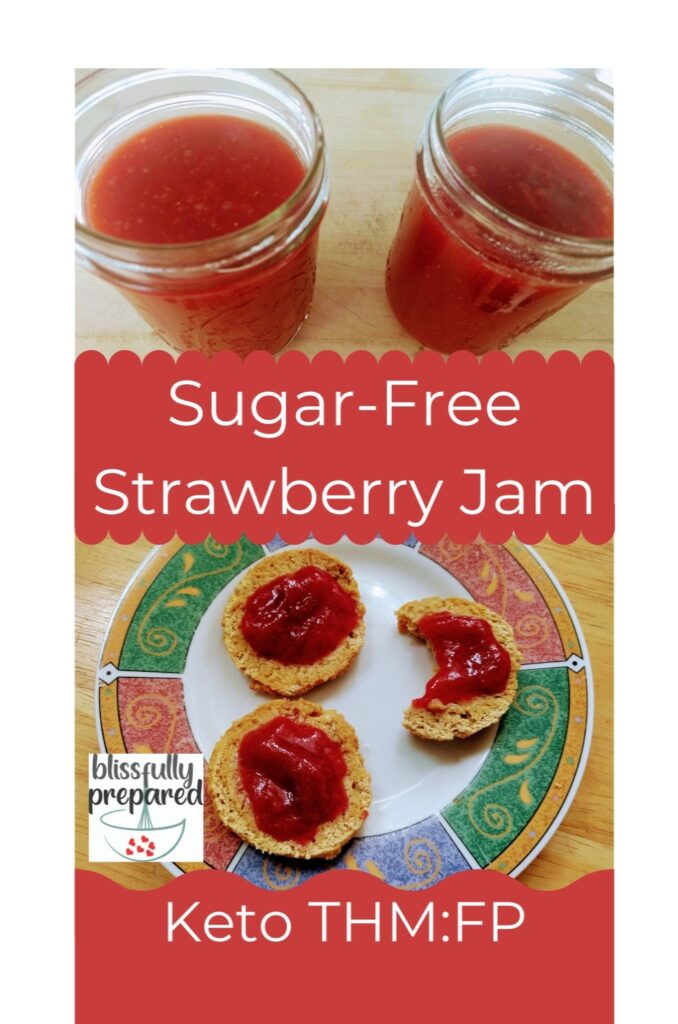 Amazon and the Amazon logo are trademarks of Amazon.com, Inc, or its affiliates.
---