Collagen Beet Brownies: THM Fuel-Pull Low-Fat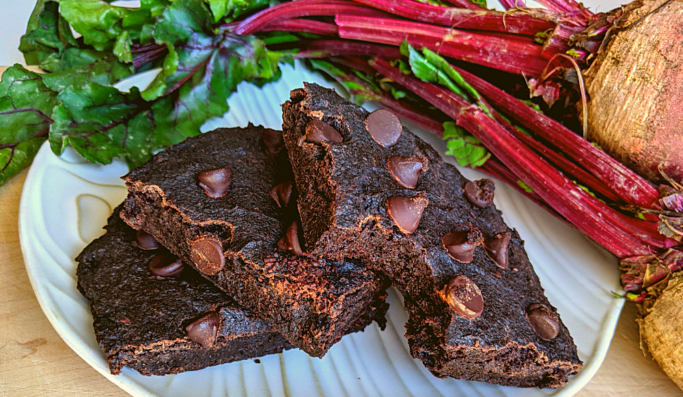 As an Amazon Associate, I earn from qualifying purchases. I am also an official THM Affiliate and am earning a percentage off of links used in the above content that may link directly to the THM online store. This is at no cost to you. Please see my Affiliate Disclosure for more information.
Jump to Recipe
Collagen Beet Brownies are the ultimate decadent – though healthy – treat! Gluten-free, dairy-free, nut-free, high-protein, low-carb, and low-fat (THM Fuel-Pull)!
Well, as usual, I'm attempting the seemingly impossible 😜: creating a rich, moist and decadent gluten-free baked good that's high-protein but also low-carb AND low-fat. Oh and with veggies in it! This time BEETS! Just in time for 💗Valentine's Day💗, an intensely chocolate brownie with a slight pink tint from naturally vibrant SUPERFOOD red beets! The collagen peptides and gelatin in them are also superfoods but I'll get to the "superfood" part more in a bit. Even more, these Collagen Beet Brownies are gluten-free, dairy-free and nut-free! That's right, no butter or nut butters in them! Not even almond or coconut flours! And no whole eggs either! (Making them THM Fuel-Pull! 🙌) They can even be made completely egg-free, too!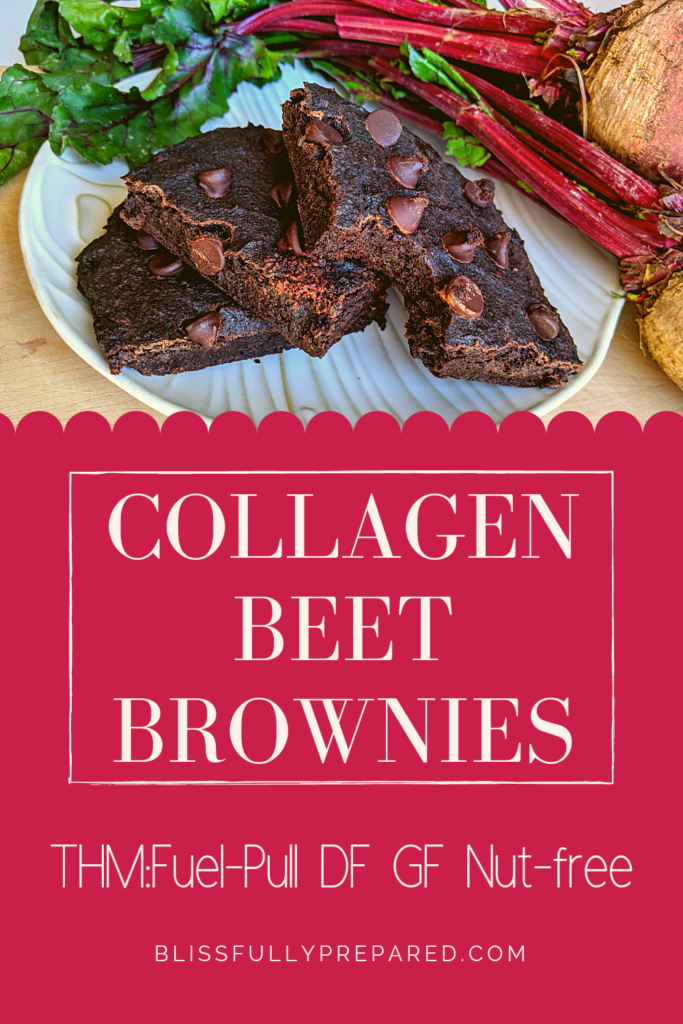 So what's in Collagen Beet Brownies?
The Main Players:
Beets (of course!): In lieu of fats like butter, nut butters, whole eggs, etc, beets are used to make these brownies rich and moist! And they add valuable nutrients and fiber, as well, while keeping these low-carb AND low-fat! Maybe you're not a fan of beets but, trust me, you won't taste them! Even my picky kids LOVE these! And, if your palate is super sensitive, you can always try subbing a different pureed veggie instead. Pumpkin is also amazing in these!
Oat Fiber: While this recipe also uses oat FLOUR, oat FIBER is a totally different ingredient. And it's not the same as oat bran. It usually needs to be purchased online. It's basically pure fiber (from the outer hulls of the oats) and has no fat/calories and is zero net carb. Coconut flour would likely work as a sub but would change the macros slightly. You could try using 3 TBS coconut flour in place of 4 TBS oat fiber.
Collagen: This ingredient adds protein while keeping these brownies soft and moist. Other protein powders such as whey protein isolate could possibly be subbed but I would try using 25% less, and they will likely be dryer and more "cakey" than with collagen.
Dark Cocoa: These are best when made with a good, dark, dutch-processed cocoa powder. I usually order mine online but a lot of grocery stores sell Hershey's Special Dark Cocoa, which works great, too.
Oat Flour: This also helps keep the brownies soft and moist without the fat. And, while this is normally a THM-E ingredient, so little is used that the carbs stay within Fuel-Pull limits.
Gelatin: While this is an optional ingredient, it really helps make these fudgy and chewy, and I highly recommend adding it if you have some!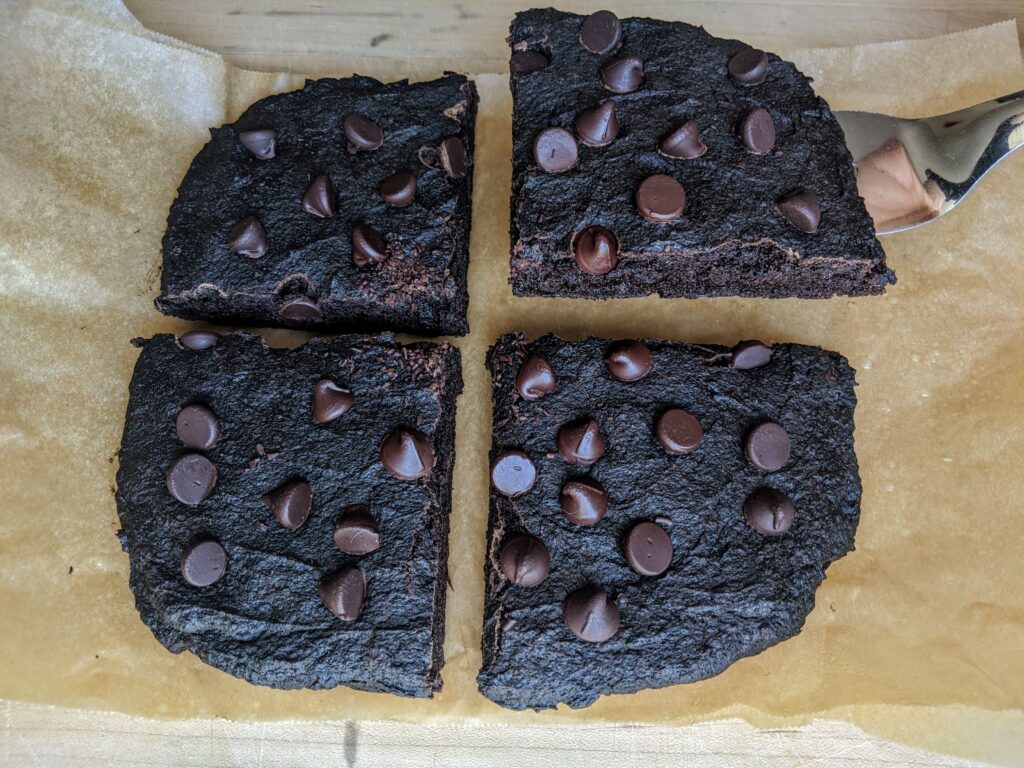 Collagen Beet Brownies are full of SUPERFOODS!
In case you didn't catch Pearl and Serene's Trim Healthy Podcast (ie "The Poddy" Ep 309 The Grunt is the Glory) last week, they were raving about the benefits of beets (around the 27 minute mark). Here are a few of the reasons why beets are AMAZING:
They are full of minerals and nutrients such as:
Folate (vitamin B9)
Manganese
Potassium
Iron
Vitamin C
Fiber
Just to name a few!
But they are also low in carbohydrates and calories and are THM Fuel-Pull (up to 1/2 cup)!
They also:
Help regulate blood sugar
Improve athletic performance
Reduce inflammation
Improve digestion
Support brain health
Reduce growth of cancer cells
Help with weight loss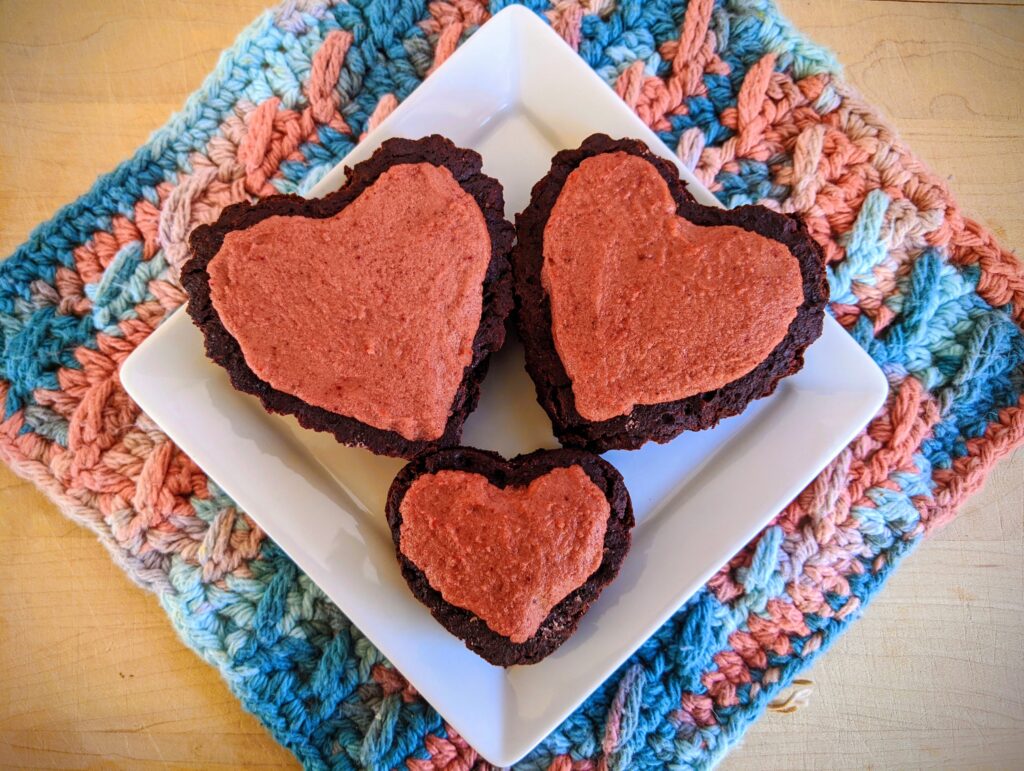 And these SUPERFOOD BEET brownies are SUPERCHARGED with high-protein and dairy-free SUPERFOOD Collagen and Gelatin! You know, that amazing stuff found in bone broth! But here you can get it in the form of a rich and fudgy brownie! 😋 Doesn't get much better (or easier or tastier) than that! To read more about the benefits of Collagen and Gelatin, check this out!
Maybe you're not a huge fan of beets or think collagen and gelatin made be "weird" but, really, give these a try! My kids are super picky and they both LOVE these brownies! My 7 year old daughter (who can be a tough critic lol) says this is her favorite of all my recipes so far! 💗
How can these be THM Fuel-Pull?
When I originally started experimenting with this recipe, I anticipated that it would be THM-E due to the oats and beets in it. While both can be used in small amounts in THM Fuel-Pull, I thought that together they would make the carb numbers too high for THM:FP. But I was wrong! These are actually only 6.6g net carbs per <big> serving. And that's even including the carbs from the cocoa, which wouldn't normally be counted in THM:FP.
Also, technically the naturally occurring fats in the oats and cocoa do not count towards the THM:FP 5g fat limit. But, even with counting them, one <big> serving is 4.4g fat. This also includes the melted Baker's Baking Chocolate pieces. However, since we don't technically have to count the fats from the oats and cocoa, each serving is more like 3.5g fat. And, since we're allowed to have up to 5g fat in FP, you can top your brownies with some sugar-free chocolate chips, if you like! (Though make sure to keep fat totals under 5g per serving!) Or a dusting of powdered sugar is yum, too! 😋
Of course you can also enjoy these brownies in THM-S and THM-E settings, as well! (Feel free to add more chocolate chips in THM-S 😊)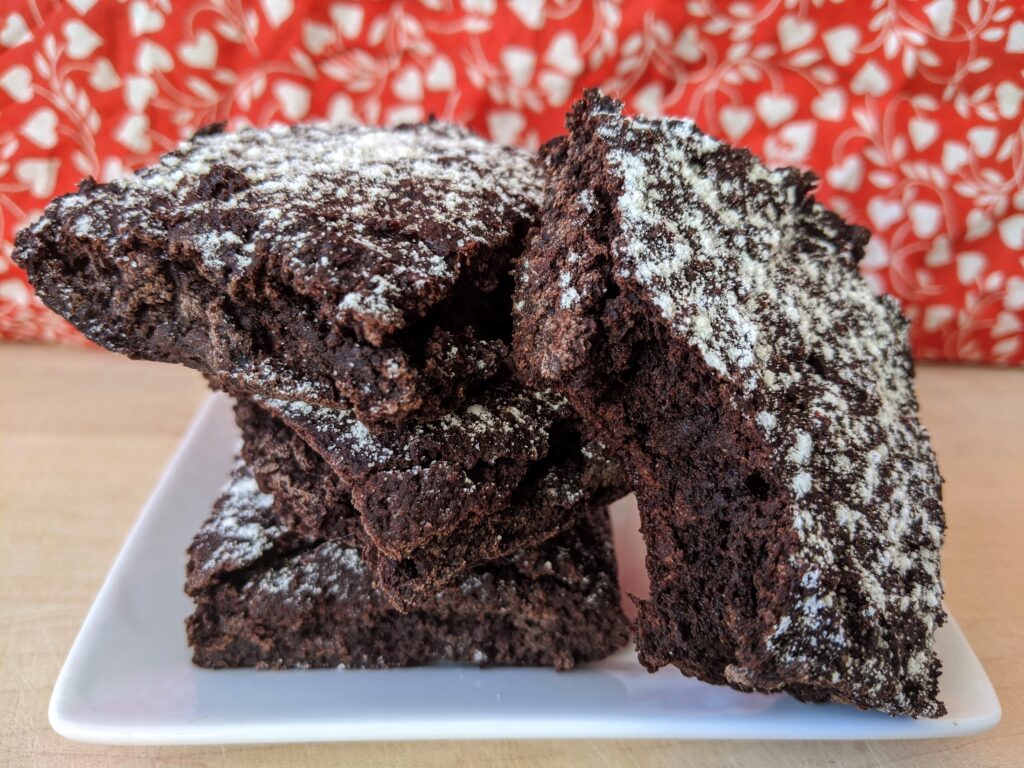 Or make a Fuel-Pull Brownie Sundae! 😋
For an extra special treat, make a brownie sundae, Fuel-Pull style! For the ice cream, I use Briana Thomas' Vanilla Soft-serve recipe (or Greek yogurt is yummy, too!) and drizzle my homemade sugar-free strawberry jam and sugar-free hot fudge on top. I don't have a recipe for the hot fudge sauce but just did equal parts cocoa and sweetener with some vanilla and sea salt and then added almond milk and glucomannan to make into a thickened sauce. But I see there's a FP chocolate sauce recipe (Handy Chocolate Syrup) on pg 479 in Trim Healthy Cookbook. 😊
But, of course, check your numbers if you make this to make sure you stay within the 5g fat and 10g net carb FP limits. 😊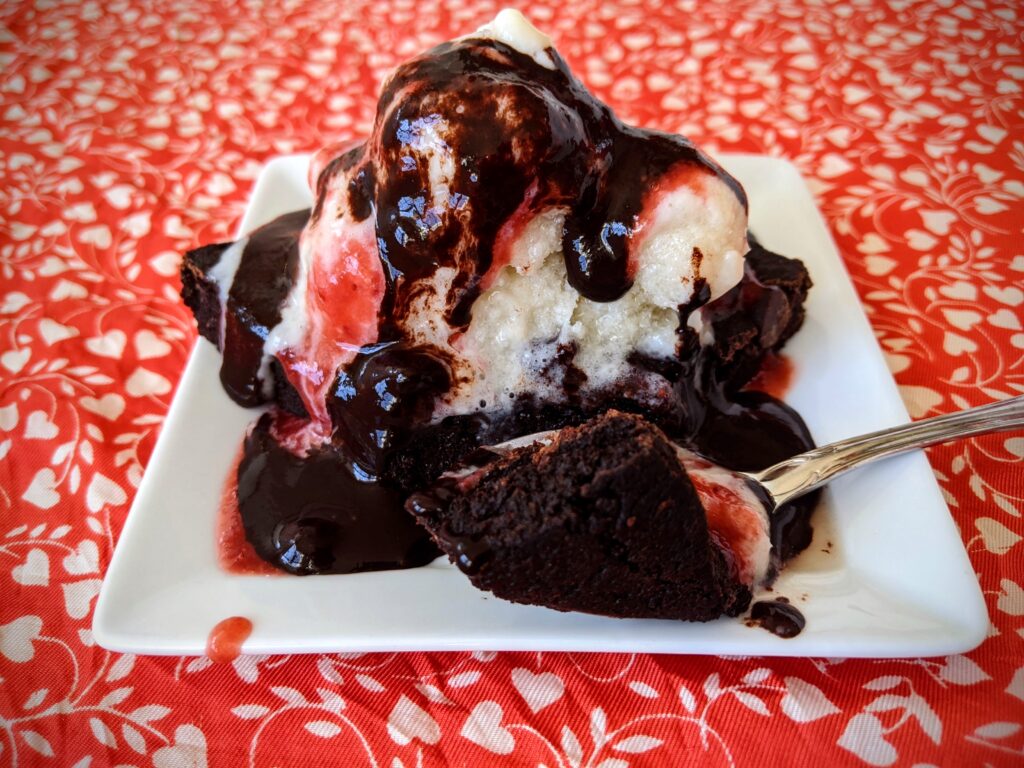 How to make Collagen Beet Brownies
To best incorporate those lovely and nutrient-dense beets, we must first make them into a puree. I use my food processor for this. But, before we start, we need cooked beets. It's possible that raw shredded beets would work, too, but I have not tested it yet. You have a few options:
Cook them yourself – This is what I usually do. I buy the 1lb bags of organic beets from Trader Joe's. I clean, trim and quarter them and then cook them with some salted water in my Instant Pot for 10 minutes and then quick release. Roasting would work great, too (but keep cooking oils to a minimum for THM:FP).
Buy pre-cooked beets like Love Beets: A lot of grocery stores now carry Love Beets (like the ones Pearl and Serene mention in the Poddy) which are already cooked and ready to eat. But make sure to get the plain cooked beets and not the pickled ones (for this recipe anyway)!
Canned beets: This recipe even works with cheap canned beets! I recommend using a 15oz can of "whole beets". Make sure to drain them well as they tend to make the batter more "wet" than the other options.
Other veggie purees work well, too: This recipe is also great with other purees like pumpkin! That's the only other one I've tested so far, but spinach, kale, shredded zucchini and others would likely work great, too! For a THM-E brownie, I bet sweet potato would be fabulous! And the chocolate helps hide the veggie colors for those picky little ones in your life. 😉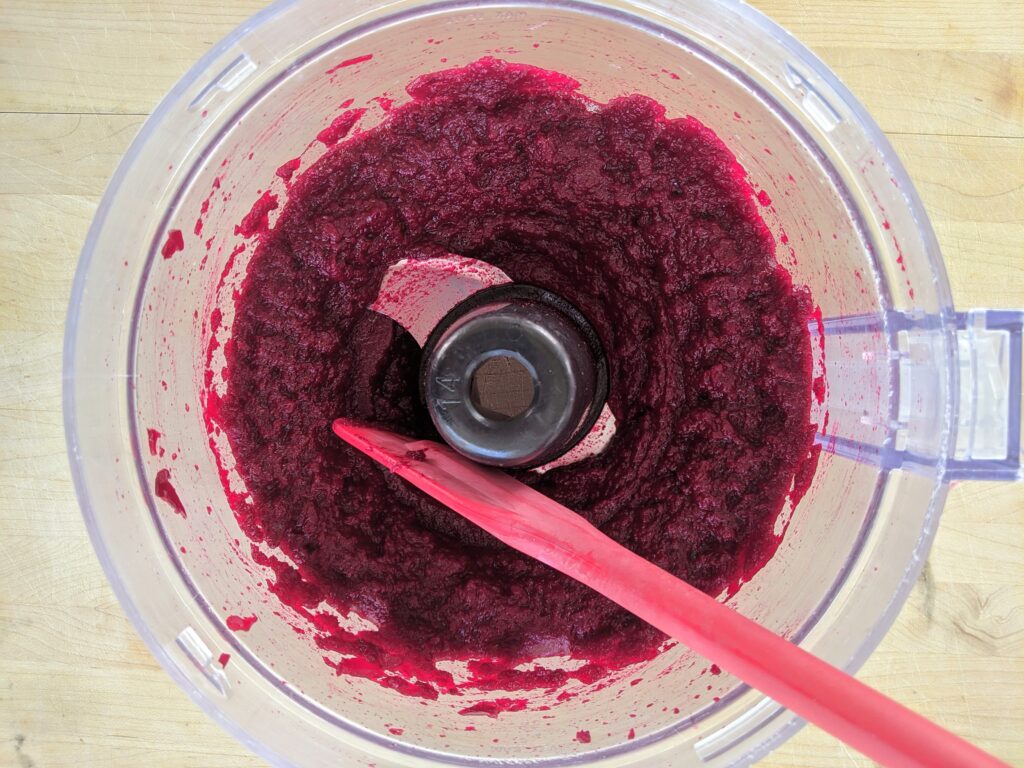 Whichever method you go with, you'll want to use about 3/4 cup of puree. For a firmer, "cakey" brownie, use a little less, and for a softer, fudgier brownie use the whole 3/4 cup. You can also use either 1/2 tsp or 1 tsp baking powder, depending on your preference for "cakey" vs "fudgy". People seem to be quite opinionated about how they like their brownies so own it and adjust the recipe to your liking. 😊
Putting it all together
Once you have your beet (or other veggie) puree, we need to beat (or shall I say "beet" – pun intended lol) in our room temperature egg whites, sweetener, vanilla and melted chocolate. I do this in my food processor (since I had already gotten it dirty making my puree). I stop it a couple times to scrape the sides. But you'll want to blend it for a couple minutes altogether. Brownies generally turn out better when the eggs and sweetener are well-beaten.
Oh, and the reason you want room temperature ingredients here is to keep the melted chocolate from "seizing" when it's added. To melt my chocolate, I do 30 second increments in the microwave until melted (but the double boiler method works, too). Once the chocolate is melted, I first start mixing my puree, sweetener, vanilla, and egg whites together and, with the processor on, drizzle in my melted chocolate. This helps it to incorporate it into my batter better (with less sticking to bottoms and sides of food processor).
If you don't have baking chocolate, you could also sub melted chocolate chips or coconut oil/butter instead (or you could likely omit it, too). Just make sure to keep within the 5g fat/serving FP limits.
I then add my dry ingredients. If you're a perfectionist like me, first mix them in a separate small mixing bowl before adding. But, you can also just pile them together in the food processor and lightly mix them together before turning the food processor back on. But, either way, run the food processor for a few seconds with the dry ingredients to mix your batter.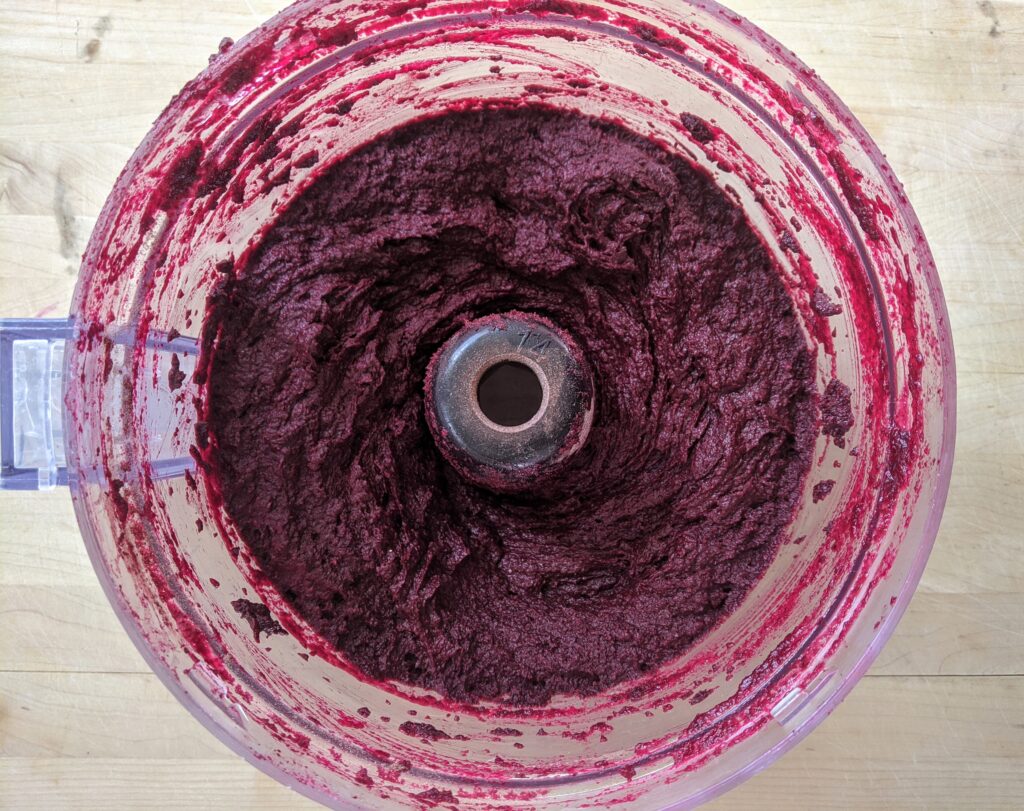 Ready to bake!
You'll then want to make sure your oven is preheated to 350*, line your brownie pan with parchment paper, and give a light coating of coconut oil spray. Some say that a metal pan works best, but I only have glass and ceramic so that's what I use. I measure two small pieces of parchment paper and cross them in the pan so there's less bunching in the corners.
The batter will be thick. I mostly spread it with my rubber spatula, but smooth out the edges with wet fingers (to keep batter from sticking). If you're topping with sugar-free chocolate chips, you'll need to figured out exactly how much can be added to keep with the 5g fat limit/serving. I think I used 19g in the picture below.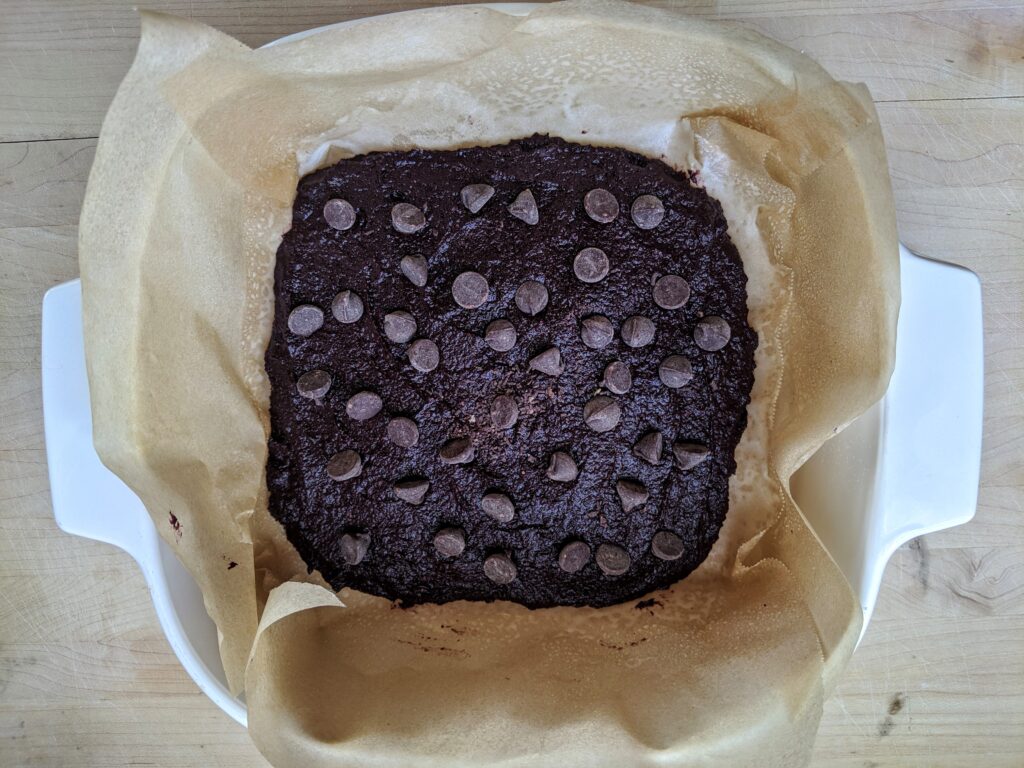 This pan took around 35 minutes to bake. But, of course, this will vary depending on oven and pan that are used. To check for doneness, I gently press the center top of the brownies with my finger. If it indents, I let it bake a few more minutes. If it springs back, then it's done and ready to take out and cool. But, this will also depend on if you're more a fan of a "cakey" or "fudgy" brownie. You may prefer them less cooked and more "fudgy" like my daughter. So, adjust according to your preference. 😊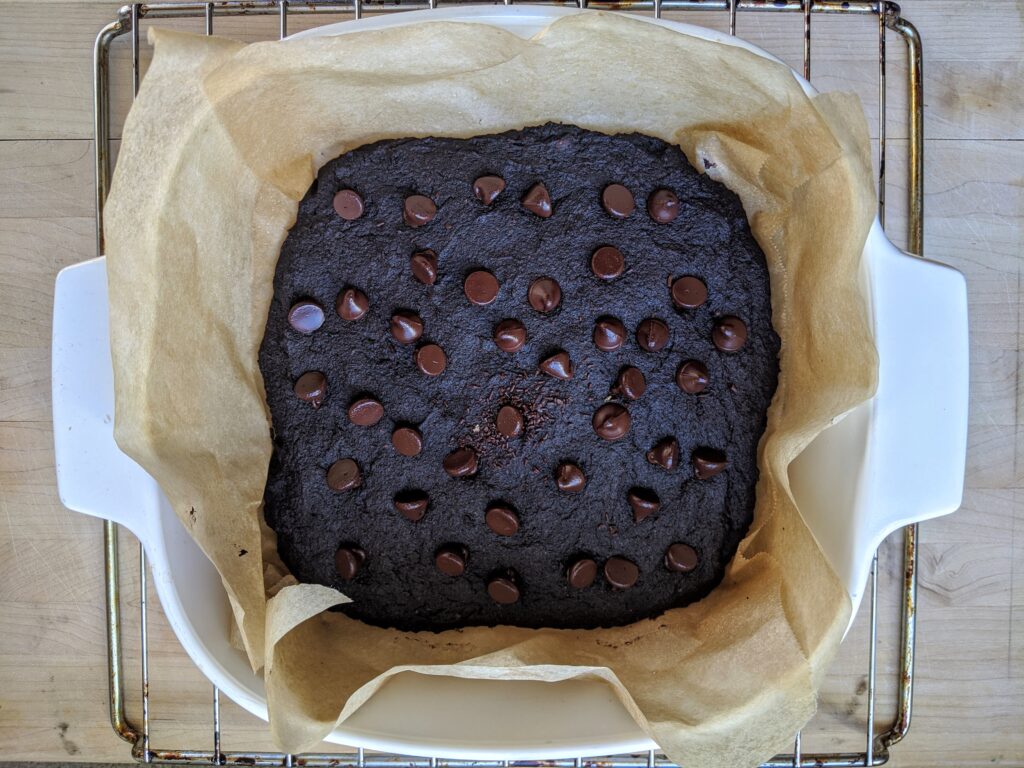 Now the hardest part – waiting for them to cool!
These continue to cook after they come out of the oven and will need to be almost fully cooled before slicing. To speed this up, I use the sides of the parchment paper to gingerly lift the brownie out of the hot pan and place it on a cooling rack for about 15 minutes and then transfer it to the freezer to finish cooling. I think mine was ready to slice after cooling for a total of 30 minutes using this method.
One recipe as written makes 4 large brownies, but you can of course slice them smaller, too, for more servings. And feel free to scale the recipe up or down. Just halve the recipe for 2 servings or double for 8 servings.
Reminders about gluten-free baking:
Like with all gluten-free recipes, results will vary with different ingredient brands. I have linked the specific brands (in the recipe card) that I used to make mine. If you use different brands, or are making any substitutions, first try these as a half recipe to see how they turn out with your specific ingredient brands before making a full/double/etc recipe.
I also like to measure most of my ingredients on a digital scale for accuracy. Gluten-free baked goods almost always turn out better when the ingredients are weighed in grams.
Helpful Tools for making Collagen Beet Brownies:
Collagen Beet Brownies: THM Fuel-Pull Low-Fat
Course: THM-Fuel-Pull, Dessert, Snack
Cuisine: American
Difficulty: Easy
Collagen Beet Brownies are the ultimate decadent, though healthy treat! Gluten-free, dairy-free, nut-free, low-carb, and low-fat (THM Fuel-Pull)!
Ingredients
Room Temperature Wet Ingredients and Sweetener:

About 3/4 cup beet puree* (a little less for "cakey" or full 3/4 cup for "fudgy") – I measured out 194g drained cooked beets made exactly 3/4 cup puree for me

6 TBS sweetener* (I use Lakanto Golden but any 1:1 sugar substitute should work fine)

2 TBS egg whites (or omit for egg-free)

4 squares (28g) Baker's Unsweetened Baking Chocolate (or about 3 TBS of sugar-free chocolate chips), melted

1 tsp vanilla extract

Dry Ingredients:

1/4 cup (24g) cocoa (I use Dutch-processed dark cocoa) – if want extra chocolate-y, you can add an extra couple TBS of cocoa

1/4 cup (28g) collagen

1/4 cup (19g) oat FIBER

2.5 TBS (19g) oat FLOUR (I grind up rolled oats into a fine powder in my coffee/spice mill BEFORE measuring)

1 tsp gelatin powder, optional but recommended to make more chewy/fudgy

1/2 tsp baking powder for fudgier brownies (1 tsp for more "cakey" brownies, or 3/4 tsp for something in between)

1/4 tsp xanthan gum (or glucomannan could likely be subbed)

1/4 tsp sea salt
Directions
Preheat oven to 350*, line pan with parchment paper, and give light spray of coconut oil (my pan is about 8.5″ x 8.5″ but other pan sizes should work, too).
Make the beet (or other veggie) puree in food processor. See notes below. Reserve about 3/4 cup puree for the brownies and put extras away.
Melt baking chocolate in microwave (I do 30 sec increments until melted) or double-boiler.
Make sure egg whites and beets/veggie puree is room temperature before putting ingredients together.
Put puree, egg whites, sweetener and vanilla in food processor and start mixing.
With food processor on, drizzle in melted chocolate. Stop and scrape down sides a couple times to make sure everything is fully mixing. Mix wet ingredients with sweetener for about 2 minutes total.
Measure and mix dry ingredients, either in a separate small mixing bowl or make pile of them in food processor (to where you could lightly mix them together before turning food processor back on).
Then turn food processor back on to finish mixing batter. It should be fairly thick and sticky. I usually stop and scrape and turn back on for few seconds.
Now put batter in prepared pan and spread to desired thickness. These brownies do not spread for me (but do puff up a little) so I go ahead and shape the batter to my liking. I use wet fingers to even out/smooth sides and edges. If adding chocolate chips, go ahead and top brownie batter with them.
Bake on lower rack of preheated oven for 25-35 minutes (this will vary depending on oven/pan and how "fudgy" or "cakey" you like your brownies). I take mine out when I can lightly press the top center on the brownies and it springs back rather than indenting.
Allow to almost fully cool before slicing. To speed this up, I use the sides of the parchment paper to lift the brownies out of the hot pan and set on cooling rack for about 15 minutes before transferring to freezer to finish cooling. It takes about 30 minutes altogether for me.
Eat and enjoy or store in covered container in fridge. They can probably be frozen, as well.
Notes
I buy 1lb bags of fresh beets at Trader Joe's and cook them in salted water in my Instant Pot on manual for 10min, then quick release. You can also use roasted beets. Well-drained 15oz canned sliced beets also work but I prefer using fresh beets. Love Beets pre-cooked beets should work great, too. May work with shredded beets, too, but I haven't tested it yet. You can also sub other veggie purees like pumpkin; just use equal amounts. It's hard to say exactly how many whole beets you will need because sizes vary greatly but 1/2lb of fresh beets should be sufficient.
One recipe makes 4 large brownies. Each brownie (counting the oats and cocoa but not optional chocolate chips) is approximately 142 calories, 6.6g net carbs, 4.4g fat, and 11.3g protein. But, technically, we don't have to count the fat and carbs in cocoa or the fat in oats. Leaving out the oats and cocoa, they are roughly 3.5g fat per large brownie.
If making egg-free, just use entire 3/4 cup amount of puree and bake a few extra minutes.
While I haven't tested it, you should be able to sub coconut flour for the oat fiber. I would use 3 TBS coconut flour instead of the 4 TBS oat fiber.
I haven't tried any subs for the oat flour but there's likely something that would work.
If any ingredients appear to have a line through them, just click to side of ingredient (or on another ingredient) and the line should disappear. It's a feature of the recipe plugin that allows people to cross off ingredients as they add them to a recipe. Also, the print feature of this plugin is a little wonky so always check over recipe print-outs to make sure all ingredients are included and correct. Another option is to copy and paste the recipe text and print through a different program.
If using a different sweetener, check out this sweetener conversion chart.
LifeSource Foods Oat Fiber 500
Nutrition Facts
4 servings per container
---
Amount Per ServingCalories142
% Daily Value *
Total Fat 4.4g

7

%
Total Carbohydrate 15.4g

6

%
Protein 11.3g

23

%
---
* The % Daily Value tells you how much a nutrient in a serving of food contributes to a daily diet. 2,000 calories a day is used for general nutrition advice.
You also might like:
Amazon and the Amazon logo are trademarks of Amazon.com, Inc, or its affiliates.
---