Chewy Gingerbread Collagen Cookies THM Fuel-Pull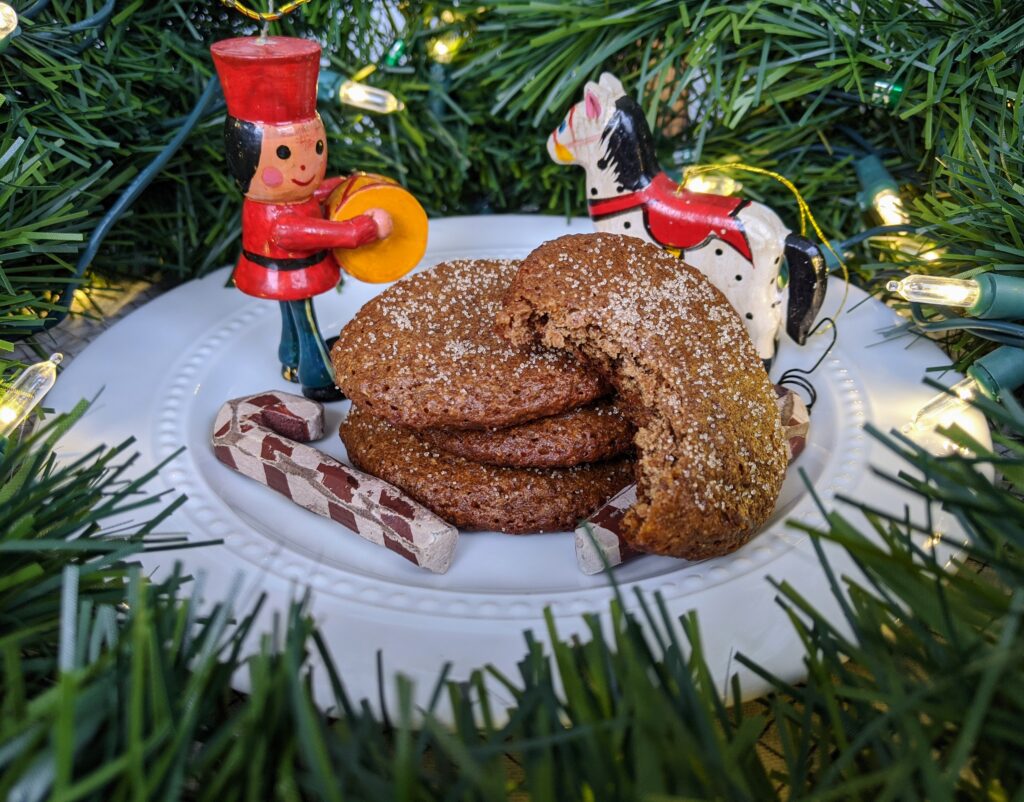 As an Amazon Associate, I earn from qualifying purchases. I am also an official THM Affiliate and am earning a percentage off of links used in the above content that may link directly to the THM online store. This is at no cost to you. Please see my Affiliate Disclosure for more information.
Jump to Recipe
Chewy Gingerbread Collagen Cookies are the perfect guilt-free holiday treat! They're gluten-free, dairy-free, nut-free, keto, high-protein, and even THM Fuel-Pull!
The holidays are full of irresistible, high-calorie treats, and it can be hard to keep things in balance. Personally, I try to make sure I'm still working-in enough THM Fuel-Pull meals into my THM free-style, since they are gentle on the macros (both low-carb AND low-fat). Make sure to check out all my other Fuel-Pull recipes, too – I have a TON! But, finally, there's an irresistible (and addictive – watch out!) holiday treat that you don't have to feel guilty about indulging in – the Chewy Gingerbread Collagen Cookies! They are THM Fuel-Pull and high-protein and can be enjoyed with in all your THM fuel-settings (with the exception of Deep-S)!
What's in Chewy Gingerbread Collagen Cookies?
While these cookies are easy to make, I'll admit that figuring out this recipe was a bit challenging. This is because they are both low-carb AND low-fat, while also being high-protein, nut-free, dairy-free (option), and gluten-free. I like to make sure that the majority of people, even those with allergies/food sensitivities, can enjoy my treats. 😊
So, instead of just using THM Baking Blend (though it could likely be substituted for the oat fiber) or almond/coconut flours, I use a combination of collagen peptides, oat FLOUR, and oat FIBER to give these cookies their addictively chewy texture.
While I had hoped this dough could be used for making gingerbread men and women, I think the dough is just too sticky. Perhaps it's due to them being so low-fat (not enough butter to harden the dough for rolling/cutting). But they make great gingersnap style cookies!
These cookies are at their best when fully chilled. That way the collagen in them can solidify, giving them more of a chewy and slightly crunchy texture. So, even though it's tempting to eat them right out of the oven, it's really worth the wait!
Now these do have a little blackstrap molasses in them, which does contain a little sugar/carbs. This ingredient could likely be left out but I prefer these cookies with the molasses. It gives them more richness and that distinctive "gingerbread" flavor and appearance. It also helps make them more chewy. And, so little is used that these cookies are still very low-carb (only 2.2g net carbs per cookie).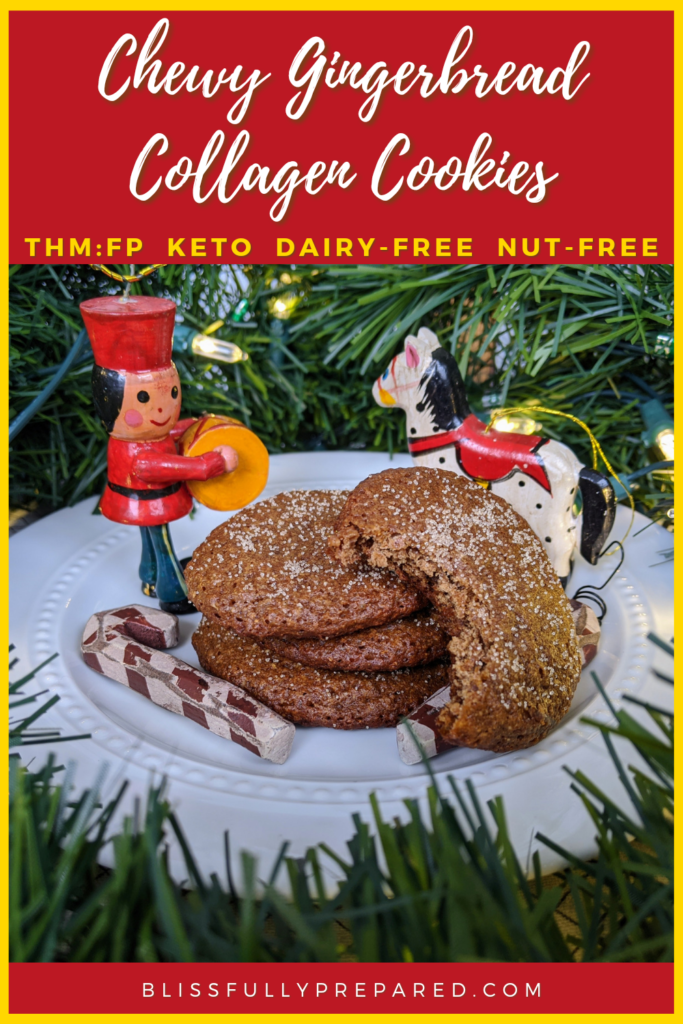 How to make them
You'll want to make sure your butter/fat softened/room temperature before starting. But, luckily, this recipe is so low-fat that such a small amount can warm up quickly. Personally, we always keep some butter out on our counter so it's always room temperature. 😁
You'll also want to warm up some egg whites in a little saucer or ramekin that's placed in some hot tap water for a few minutes while you gather your other ingredients.
Next, measure and mix your dry ingredients and set them aside.
Then, cream your sugar-free brown sugar and butter/fat together until fluffy. The egg whites should be room temperature by now, so go ahead and mix those in, too, along with the molasses and extracts.
Now stir in the dry ingredients until well mixed. The dough will be very sticky and will need to chill in the fridge or freezer for about 30 minutes before it can be handled (and this will reduce how much the cookies spread while baking).
In the meantime, pre-heat your oven to 350* and line a cookie sheet with parchment paper. Normally, it would be fine to just grease a cookie sheet but these cookies can be very sticky. Also they spread more on a greased surface. Therefore, I recommend using parchment paper with these cookies.
Ready to bake!
When you can form a ball of cookie dough in your hand without it sticking too much, the cookies are ready to bake!
Make 12 equal sized cookie balls and space them on your parchment-lined cookie sheet. These cookies spread to about 2.5 – 3″ wide so make sure there's some space between the dough balls.
Bake them on the lower rack for about 11 minutes, or until the bottom edges start to brown. This will vary from oven to oven and depending on type of pan used and differences in ingredient brands, so keep an eye on your first batch.
When they're done baking, sprinkle optional sugar-free brown sugar on the tops. Then place the pan on a rack to cool for a few minutes. DO NOT try to remove the cookies yet. They will still be very soft/delicate and quite sticky. When the pan is cool enough to touch, I like to put mine in the freezer for 10-15 minutes to help the cookies to firm up enough to remove from the pan. If they're still sticking, let them chill for a few more minutes and try again.
They can then be transferred to a container to store in the fridge, but it's best to wait to eat them when they are fully chilled all the way through (about 30 minutes or so). This way the collagen in them solidifies and gives these cookies their addictive chewiness!
Other ways to enjoy these cookies!
While I love these just the way they are (and with sugar-free brown sugar sprinkles on top 😋), you can also top them with Fuel-Pull Cream Cheese Frosting or a Fuel-Pull version of my Royal Icing (just omit the butter and use a little butter extract instead).
Chewy Gingerbread Collagen Cookies THM Fuel-Pull
Recipe by blissfullyprepared
Course: Snack, Dessert, THM Fuel Pull
Cuisine: American
Difficulty: Easy
Chewy Gingerbread Collagen Cookies are the perfect guilt-free holiday treat! They're gluten-free, dairy-free, nut-free, keto, and even THM Fuel-Pull! Only 38 calories per cookie!!!
Ingredients
Cream together:

1/4 cup sugar-free brown sugar* (I use Lakanto Golden)

1 TBS softened room temperature butter or dairy-free fat such as refined/butter-flavored coconut oil or lard (NOT melted)

Wet ingredients:

2 TBS egg whites (room temperature)

2 tsp blackstrap molasses

1 tsp vanilla extract

1/4 tsp butter extract

Dry ingredients:

6 TBS or 42g collagen peptides

4 TBS or 30g oat FLOUR (or grind rolled oats into fine powder before measuring)

2 TBS or 9g oat FIBER

1 tsp ground ginger

1 tsp ground cinnamon

1/4 tsp sea salt (I make mine heaping full)

1/4 tsp xanthan gum

1/8 tsp baking powder

1/8 tsp baking soda

1/8 tsp ground cloves

1/8 tsp ground nutmeg

1/8 tsp ground allspice

Just after baking, sprinkle with:

Sugar-free brown sugar, optional
Directions
Bring butter/fat and egg whites to room temperature before starting. I warm my egg whites by measuring them into a ramekin and submerging ramekin in hot tap water while I gather my other ingredients.
Measure and mix dry ingredients and set aside.
Cream together the sweetener and butter until fluffy.
Then whip in the extracts, molasses and egg whites.
Next, stir in the dry ingredients and mix well.
Cover mixing bowl and place in fridge for about 30 minutes (put in freezer if you want to shorten this time some).
While dough is chilling, pre-heat oven to 350* and line a cookie sheet with parchment paper. I really recommend parchment paper vs greased pan for this recipe because the grease makes these cookies spread more.
The dough is ready when you can scoop some into your hand and form into a ball. Make 12 equal sized dough balls and place on parchment paper. These do spread some so make sure to leave room between each ball. My cookies spread to be about 2.5″ – 3″ wide.
Bake for about 11 minutes or until the bottom edges are starting to brown (this will vary so keep an eye on them with your first batch!). Sprinkle with optional sugar-free brown sugar right after taking out of the oven.
Because of the high-collagen content of these cookies, they will be quite soft/delicate at first. DO NOT try to remove them from the parchment paper until they are fully cooled. I like to let the pan cool on a rack for a few minutes and then put the pan in the freezer for 10-15 minutes until the cookies harden enough to peel off of the parchment paper. Then they can be transferred to a container and stored in the fridge. But they are usually best (and become chewy/crunchy) if they are allowed to fully chill (at least 30 minutes or so in fridge/freezer).
Notes
If any ingredients appear to have a line through them, just click to side of ingredient (or on another ingredient) and the line should disappear. It's a feature of the recipe plugin that allows people to cross off ingredients as they add them to a recipe. Also, the print feature of this plugin is a little wonky so always check over recipe print-outs to make sure all ingredients are included and correct. Another option is to copy and paste the recipe text and print through a different program.
Based on making 12 cookies, each cookie is roughly 38 calories, 2.2g net carbs, 1.2g fat, and 3.7g protein. You can eat up to 4 cookies in a THM Fuel-Pull meal.
I have not yet tried substituting whey protein isolate for the collagen, but would recommend using about 4.5 TBS (instead of the 6 TBS in the recipe) if you try it. And the texture may be a little different. I have not tried any substitutions yet for the oat flour or oat fiber, either.
If using a different sweetener, check out this sweetener conversion chart.
Nutrition Facts
12 servings per container
---
Amount Per ServingCalories38
% Daily Value *
Total Fat 1.2g

2

%
Total Carbohydrate 3g

1

%
Protein 3.7g

8

%
---
* The % Daily Value tells you how much a nutrient in a serving of food contributes to a daily diet. 2,000 calories a day is used for general nutrition advice.
You might also like:
Amazon and the Amazon logo are trademarks of Amazon.com, Inc, or its affiliates.
Tags:
chewy
,
christmas
,
collagen
,
cookies
,
dairy free
,
diet friendly
,
fuel cycle
,
Fuel Pull
,
ginger
,
ginger snaps
,
gingerbread
,
gluten free
,
guilt free
,
high protein
,
holiday
,
keto
,
keto cookies
,
low calorie
,
low carb
,
low fat
,
macro friendly
,
molasses
,
no nut flours
,
nut free
,
oat
,
oat fiber
,
spice
,
sugar free
,
THM
,
thm cookies
,
thm fuel cycle
,
thm fuel pull
,
Trim Healthy Mama
---