Keto Cinnamon Rolls – NO CHEESE – THM Deep-S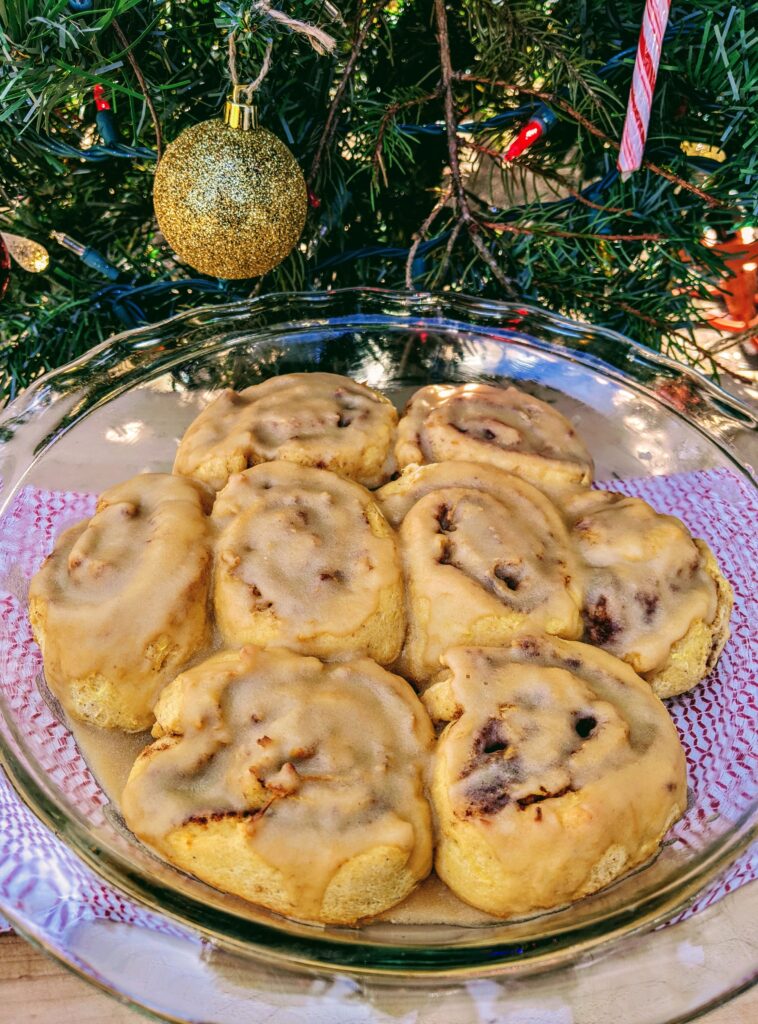 As an Amazon Associate, I earn from qualifying purchases. I am also an official THM Affiliate and am earning a percentage off of links used in the above content that may link directly to the THM online store. This is at no cost to you. Please see my Affiliate Disclosure for more information.
Jump to Recipe
These are seriously the BEST Keto Cinnamon Rolls! And they're made without cheese or nut-flours and are only 0.7g net carbs per big roll! They're even THM:Deep-S and have zucchini in them! 🥒
My mom always baked a big pan of cinnamon rolls for Christmas breakfast every year when I was growing up. Of course they were made with gluten flour and white sugar but, dang, they were good! I'll admit that I've been missing those cinnamon rolls since I've been gluten-free and THM/Keto. I know there are a ton of Keto Cinnamon Rolls recipes online but most are made with cheese and/or nut flours (making them very high-calorie). Finally a buttery, delicious Keto Cinnamon Roll recipe that's gluten-free, nut-free, cheese-free, and only 0.7g net carbs per roll! And it's even high-protein and has non-starchy/low-carb veggies in it (zucchini)!!!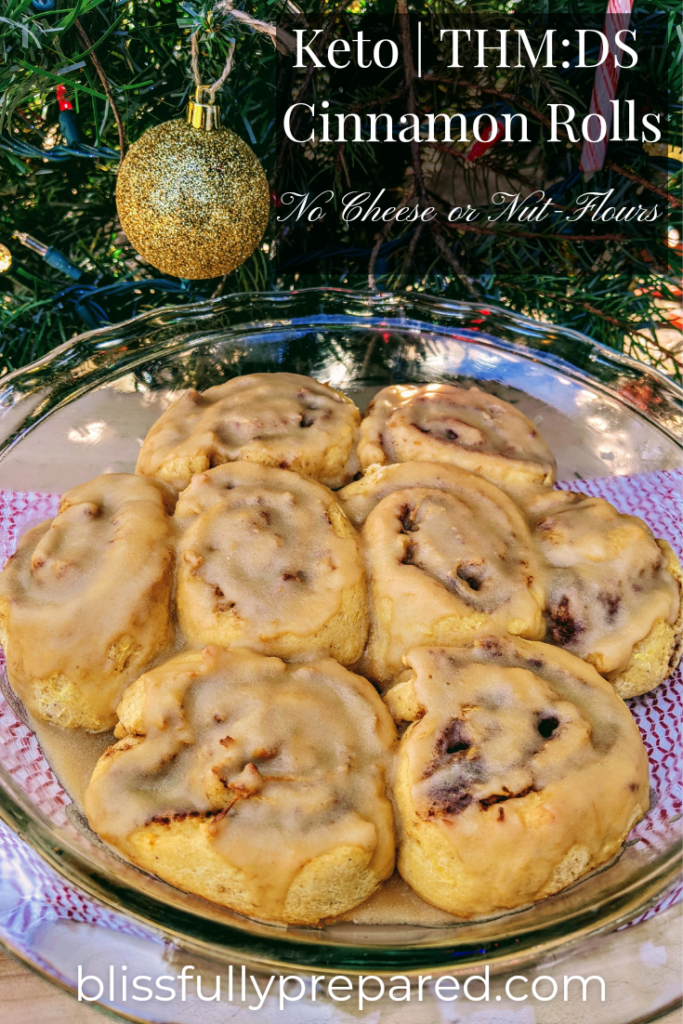 Based on my popular keto dinner rolls recipe
After publishing my popular Keto Dinner Rolls recipe last month, someone asked me if I had tried making them as cinnamon rolls yet. I hadn't but wanted to give it a try! And, after a few tries and tweaks, this recipe was born! And, like the original Keto Dinner Rolls recipe, it's nothing short of AMAZING!!!
The main difference in the doughs of these two recipes is that this one substitutes shredded zucchini for some of the liquid in the original Keto Rolls recipe. This is to make the cinnamon roll dough less "wet" and therefore easier to roll/handle. But the zucchini helps keep them moist and fluffy as they bake, and also adds valuable fiber and nutrients (while keeping them extremely low-carb and THM:Deep-S).
To add yeast or to not add yeast, that is the question
I originally included fast rising/instant yeast in my Keto Dinner Roll recipe, but then removed it after realizing that the yeast is likely killed by adding boiling water to the dough. Also, that dough only rests for about 5-10 minutes before baking, which isn't really enough time for yeast to do much.
But, with this recipe, I have tested them both ways and definitely prefer the ones made with instant yeast over no yeast at all. Perhaps some of the yeast is killed off by adding boiling almond milk/water but it at least enhances the flavor and may help them rise better, too. Also, this dough has a longer resting time, which gives the yeast more of a chance to do something.
I have not tested these with dry active yeast, however. This recipe would need to be made a little differently if using dry active yeast because the yeast must be proofed (and fed a little sugar) before adding to the dough. Also, dry active yeast is less tolerant of heat than instant yeast.
Another option is adding a little nutritional yeast to the dough to give it a bit of a "yeasty" flavor. Don't worry, it's not enough to make them taste savory or "cheesy".
How to make keto cinnamon rolls
We make the dough for these cinnamon rolls much like how we make the dough for the dinner rolls. First, make sure you're starting with room temperature eggs. Even though we will chill the dough before baking, this is important for properly mixing our ingredients so that they will produce lighter and fluffier cinnamon rolls! To quickly warm your eggs, just submerge them in some hot tap water for a few minutes while you prep your other ingredients.
In the meantime, gather your other ingredients. Mix your dry ingredients and set aside. Also, shred your zucchini and melt your butter and set them aside, as well. Then your eggs should be warm and ready to use. Beat them in with your other wet ingredients (except the almond milk/water). Then add your wet ingredients to your dry ingredients and mix well (it will be thick!).
Now we need to add our hot liquid to activate the psyllium husks (so they will become "bread-like"). In the dinner rolls, I just boil water. And, while water is fine in this recipe, too, I prefer using unsweetened almond milk for a richer flavor. I heated mine in the microwave for 90-120 seconds until it just started to boil and poured it into my dough mixture and stirred.
Now we put the dough in the fridge for a bit (30-60 minutes) to make it less sticky and easier to work with.
Now we're ready to roll!
When the dough is no longer warm and feels less sticky, you're ready to roll! First, make sure your oven is preheated and your pan is prepped. Then take 2 pieces of parchment paper and spray coconut oil cooking spray on one side of each piece. Alternatively, you could try dusting them with oat fiber instead. Then sandwich your dough between the sprayed/dusted sides of the pieces and flatten some with your hand and then start rolling.
You want a rectangular shape that's about 1/2″ thick. You can take chunks and move them around (just press back into the dough) to fill in gaps, make more even, or to give a cleaner shape.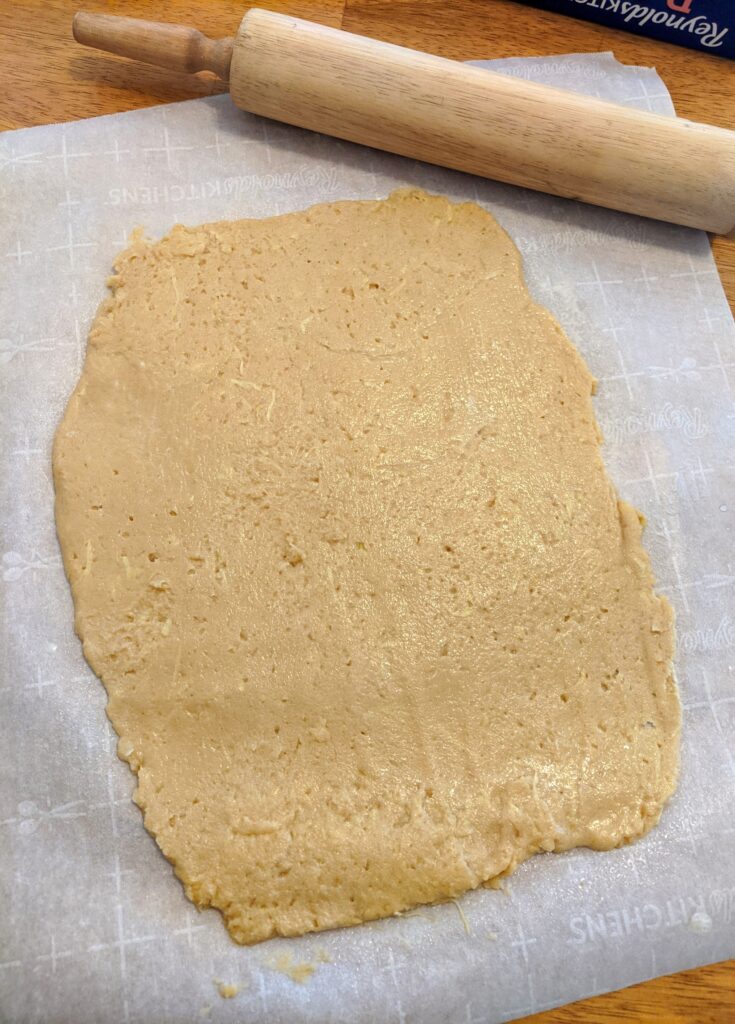 Then we brush on our melted butter and sprinkle on our cinnamon and sweetener.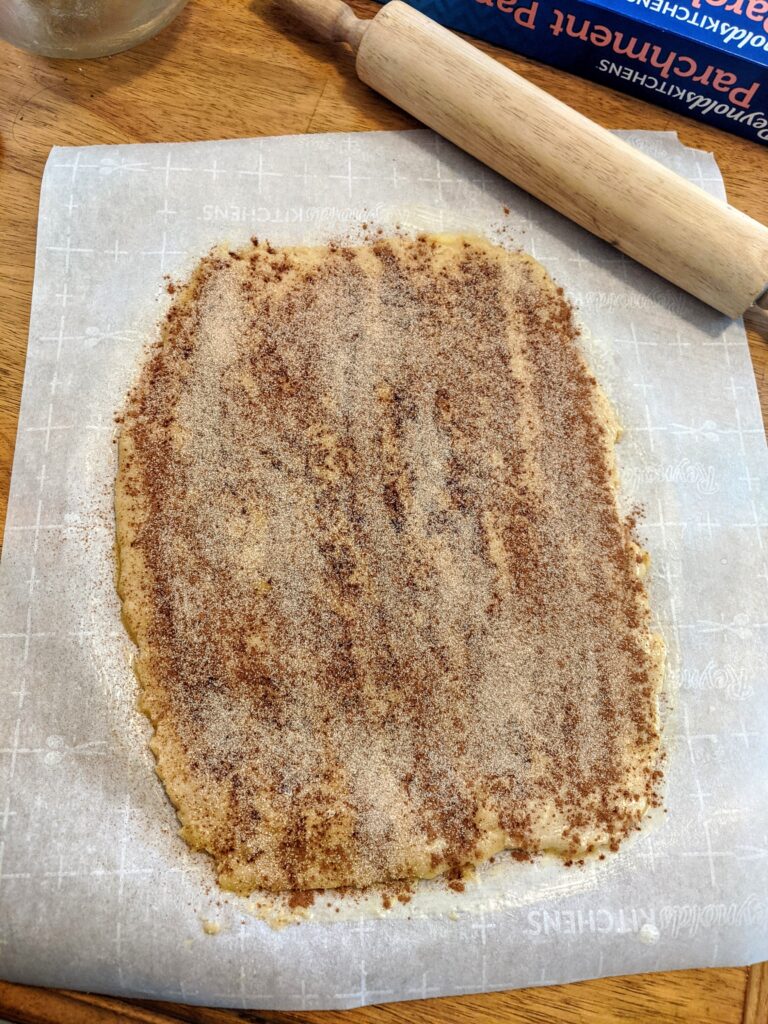 Now we start rolling our dough into a long cylinder shape. This part can be a little tricky because the dough is still a bit sticky. I fold my parchment paper over some to roll a segment onto itself.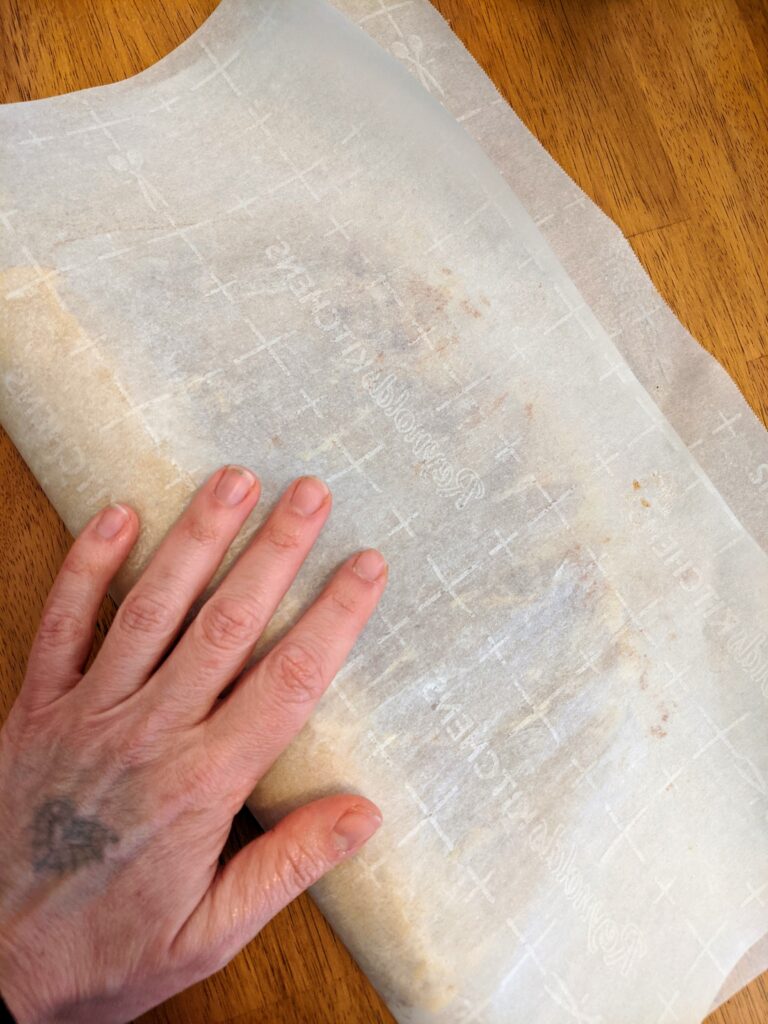 Then I peel back the folded over parchment paper and use a rubber spatula to help the dough detach from the parchment paper.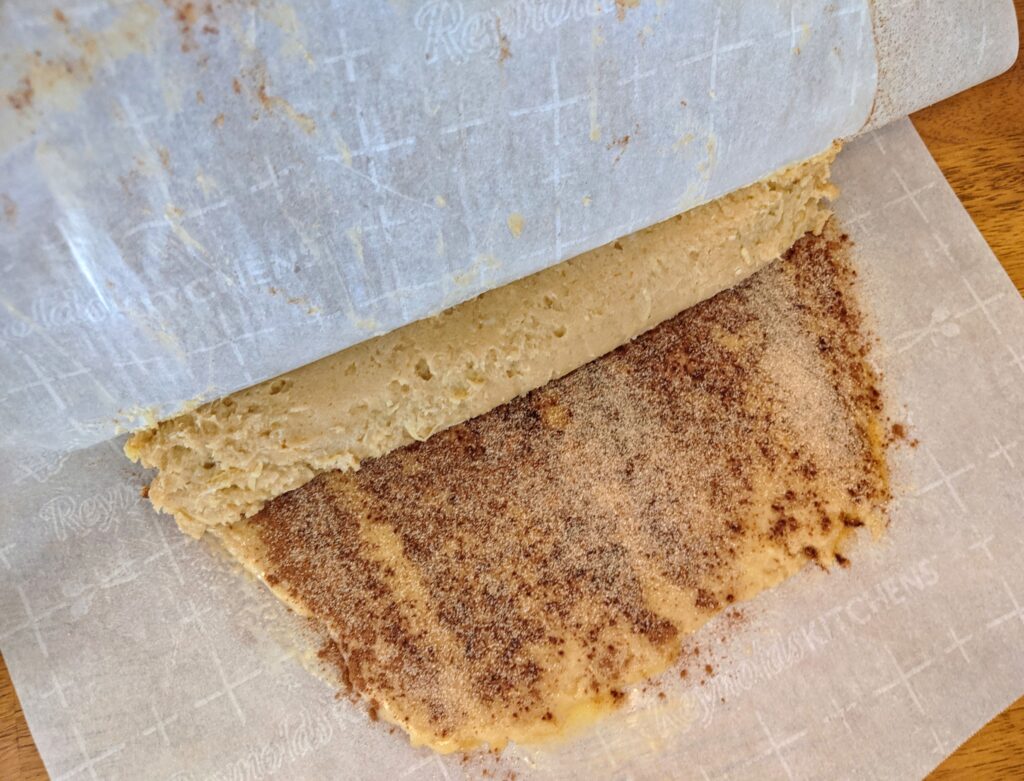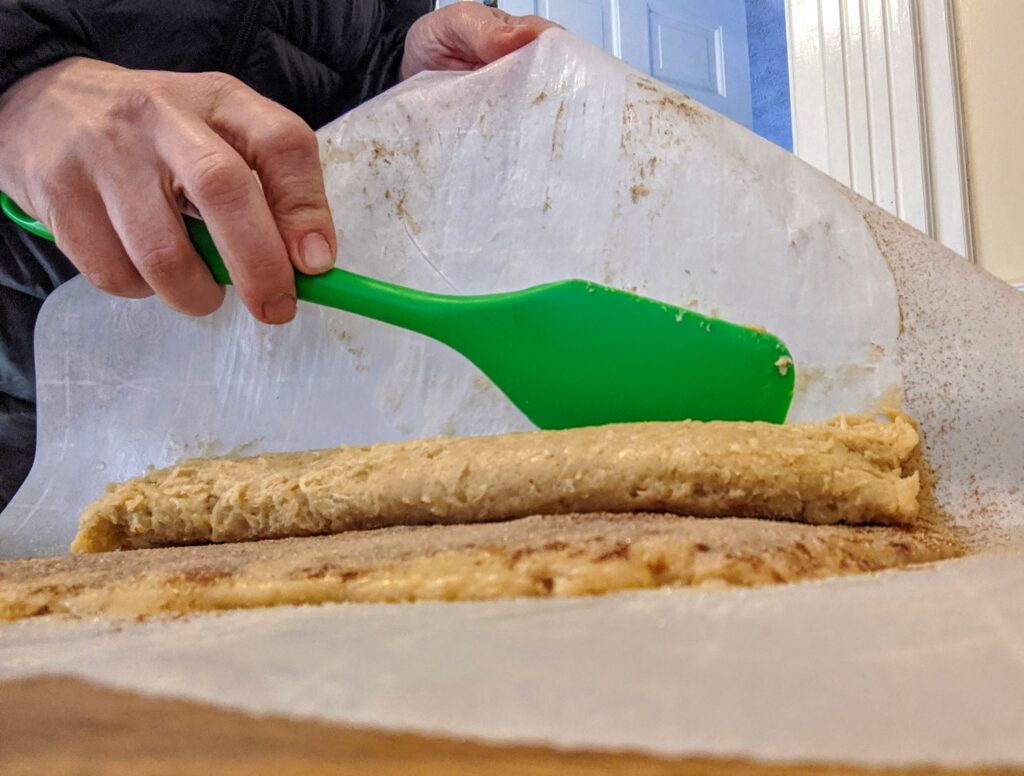 Now we even up the ends of our dough a little and slice 8 equally-sized slices (this will vary depending on your dough length). I was making large rolls here, but mini-rolls (if you're cylinder of dough is longer) are great, too!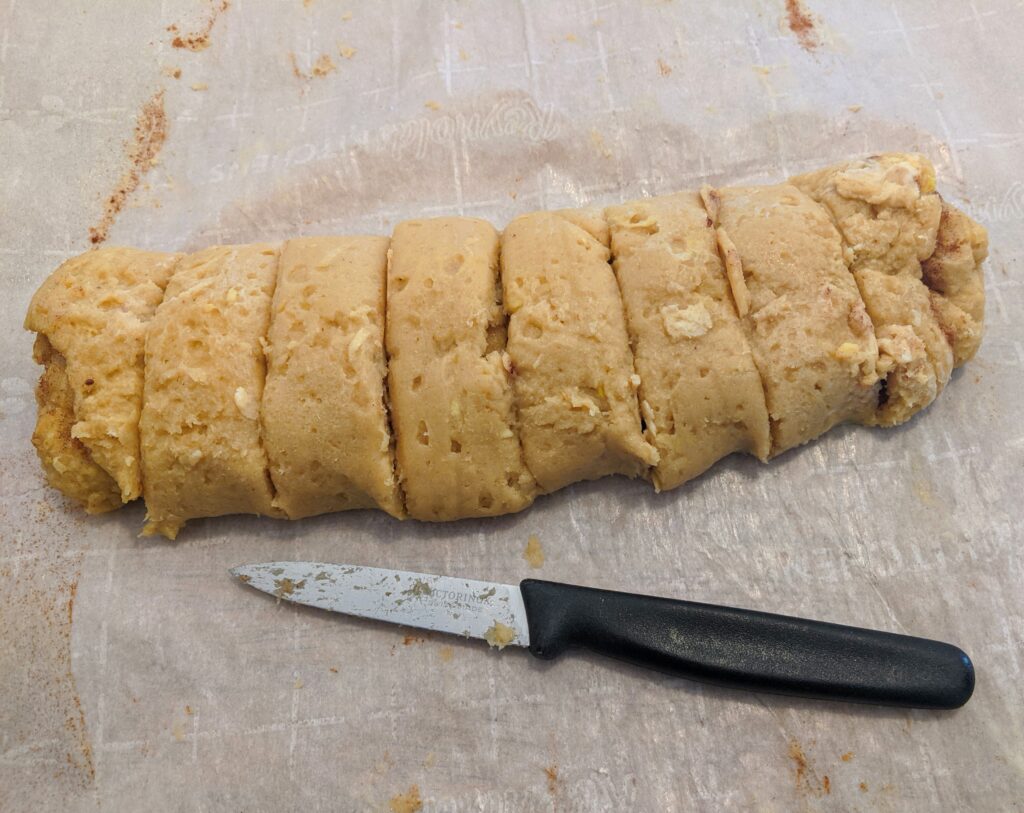 Now we gingerly place our rolls into our greased pan, like this: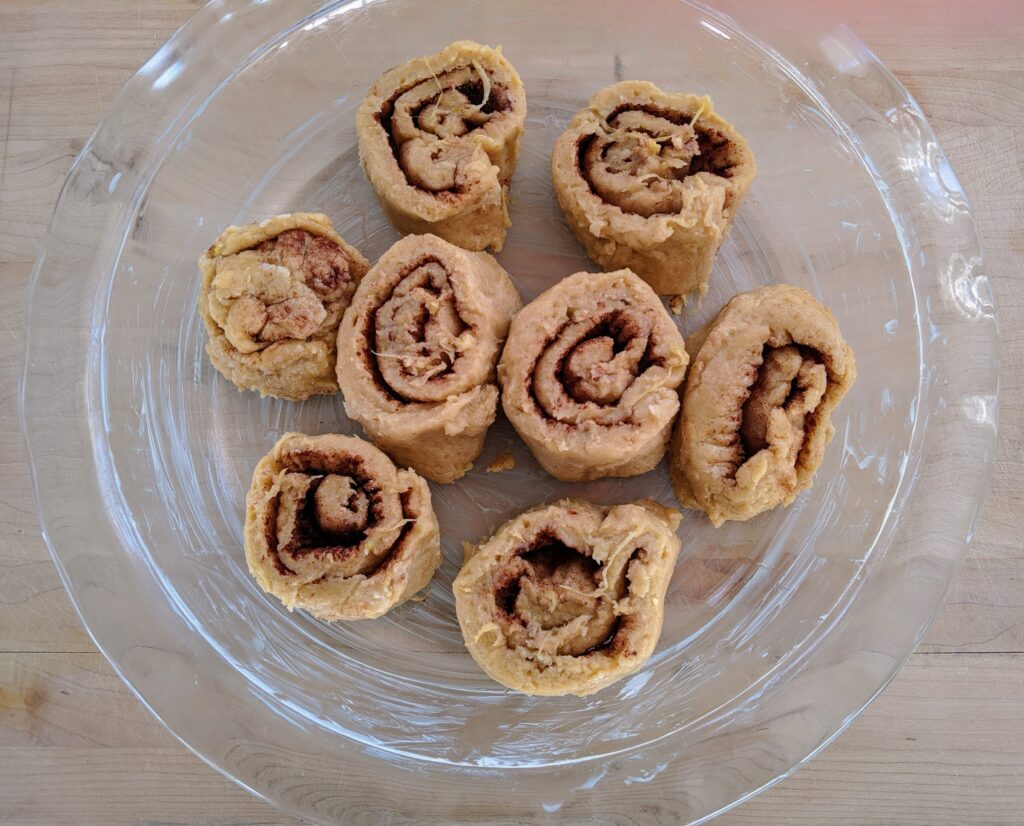 Now we're ready to bake!
Bake them on the lower rack, uncovered, at 350* for 30ish minutes (this will vary some, depending on roll size and individual ovens). They're ready when the middle ones feel firm when pressed slightly and the sides and bottoms are becoming golden.
Now let them cool for a few minutes while you prep the icing!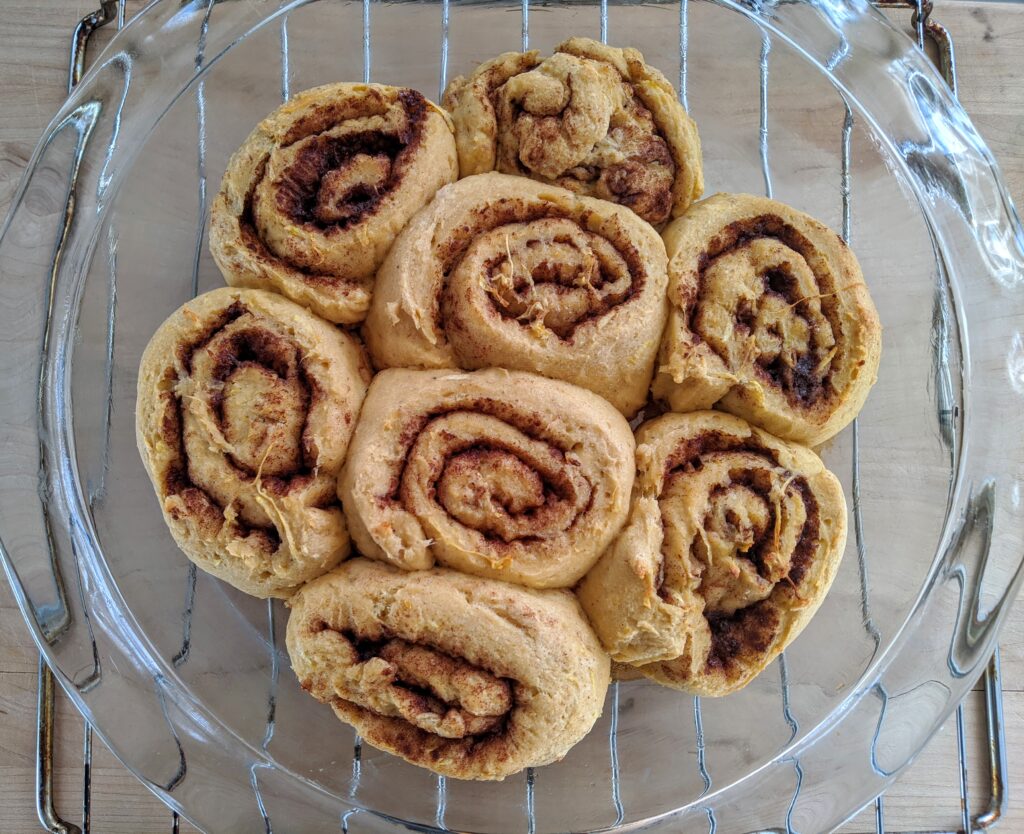 Making the icing
The icing is quick and easy to make. Just melt the butter and stir in the other ingredients, adding the optional glucomannan last. I like adding glucomannan to mine because it helps thicken the icing without adding extra sweetener (I don't like things that are too sweet).
A lot of cinnamon roll icing recipes are just powdered sweetener and water but my family is not a fan of those. This one does have a few more ingredients but it's really worth it!
It's best to add the icing after the cinnamon rolls have cooled for a few minutes so the icing doesn't just completely melt and run off the rolls. Also, you might want to reserve a bit of your icing to add to any leftover rolls.
Now they're ready to eat! Dig in! 😋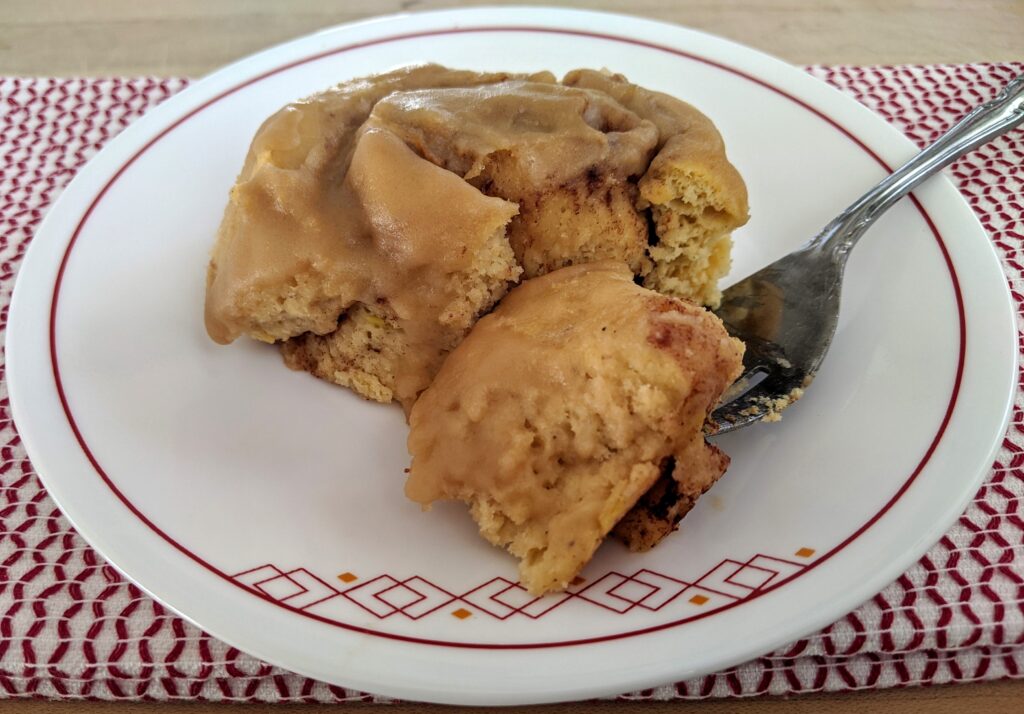 Dairy-Free version:
Since posting this recipe, a few people have inquired about making it completely dairy-free. And, after a little experimenting, I found a way to make these completely dairy-free!
Here's how!
Since collagen peptides are less absorbent than whey protein isolate, you will need to add about 25% more collagen than WPI. So that means, you will need to substitute 10 TBS (70g) collagen for the WPI.
Also, you will need to add more oat fiber. You will need 2.5 TBS more oat fiber than what the recipe calls for. So that means you will be adding 1 cup + 2.5 TBS of oat fiber if using collagen instead of WPI.
Of course coconut oil (or lard or other dairy-free fat) could be subbed for the butter. However, the flavor may be a little different (ie coconutty) unless you use a butter flavored coconut oil. You could also probably add a little butter extract (or almond or maple), if you like, to give the rolls a little more flavor.
Otherwise, the recipe is the same. The texture is a little more dense and "gooey" and they didn't rise as much as the butter/WPI version, but were still really delicious!
Egg-Free version:
Also, since posting this recipe, I had a few people ask me for a way to make these without eggs. So I did some experimenting and found a way!
Here's how!
I used psyllium husk eggs to substitute the 2 eggs in the recipe. This basically involves mixing water and ground psyllium husks together. However, directly mixing the psyllium husks with water made the "eggs" clumpy and harder to mix into the recipe.
Therefore, I think it would work better to just add extra ground psyllium husks to the dry ingredients and boil a little more almond milk to add to the dough. So that means, instead of just adding just 1 TBS of ground psyllium husks to the dry ingredients, you will need to add 2 TBS. And, instead of just boiling 1/2 cup of unsweetened almond milk, you will to boil 3/4 cup.
Otherwise, everything else in the recipe should be the same. These had more of a chewy, "whole wheat" kind-of taste to me (as opposed to a light and fluffy "all-purpose flour" kind-of taste that the egg version has). They did rise better than the dairy-free version, but not as much as the original recipe (with eggs, butter, and WPI) does. But, overall, still super delicious!
Oat-free version:
Coconut flour can be substituted for oat fiber to make this recipe grain-free, oat-free, and paleo (if also follow dairy-free instructions). However, it will no longer be a THM-Deep-S recipe; it will be THM-S, instead.
In place of the 1 cup oat fiber, substitute 3/4 cup coconut flour. But, keep in mind that coconut flour is more dense so the cinnamon rolls will also be more dense. However, they are still soft, taste delicious, and hold together well.
Ingredient brands can vary a lot
A few people have contacted me and said their dough was too wet/sticky to work with. It seems that ingredient brands can vary a lot and that some are less absorbent than others. I have linked the specific brands that I use in the recipe card. I prefer the 1/2 cup almond milk amount with my specific ingredients. If you use different brands, you may want to use a little less. It seems that THM brand Pristine Whey Protein may be less absorbent than the brand I use since a few people who use it have contacted me about wet/sticky dough. Also brands of oat fiber seem to vary a lot, too. I highly recommend Lifesource brand oat fiber.
Also, gluten-free baking is most successful when ingredients are weighed by grams.
If your dough ends up too wet/sticky, try chilling it for a little longer. In future attempts, you may need to either reduce the almond milk, squeeze out the moisture from the zucchini (or reduce amount), or add additional whey protein or oat fiber.
Helpful Tools for making Keto Cinnamon Rolls:
Other veggie options:
I wrote this recipe to use shredded zucchini but have since also had success with yellow summer squash (and it matches the yellow dough better!). Others have told me that they have had success with riced cauliflower and pumpkin (though the recipe would become THM-S), too. You can use the same amount as what's listed on the recipe card. 😊
Keto Cinnamon Rolls – NO CHEESE – THM Deep-S
Course: THM-Deep-S, Snack, Dessert, Breakfast
Cuisine: American
Difficulty: Easy
These are seriously the BEST Keto Cinnamon Rolls! And they're made without cheese or nut-flours! They're even THM Deep-S and have zucchini in them!
Ingredients
Wet Ingredients:

2 eggs, room temperature (or omit for egg-free and add extra ground psyllium husks instead)

1/2 cup shredded zucchini (peel if don't want green specks in rolls) or other non-starchy veggie – no need to squeeze out moisture!

1/4 cup (56g) melted butter (or dairy-free fat like coconut oil or lard)

1 tsp apple cider vinegar

1 tsp vanilla extract

Dry Ingredients:

1 cup (75g) oat fiber (add an extra 2.5 TBS – 86g total – if making dairy-free/collagen version) or 3/4 cup / 112g coconut flour (for oat-free)

1/2 cup (48g) whey protein isolate (or 10 TBS – 70g – of collagen for dairy-free version)

2 TBS sweetener* (I use Lakanto Golden)

1 TBS (10g) ground psyllium husks (I use NOW Whole Psyllium Husks and grind it into a fine powder in my coffee/spice mill before measuring) – if making egg-free, add a total of 2 TBS (20g)

1 TBS baking powder

2 tsp instant/fast-rising yeast, optional (mostly for flavor but may help rise better, too), or try adding 1 tsp of nutritional yeast

1/2 tsp xanthan gum or glucomannan (for paleo)

3/4 tsp sea salt

Stir into dough:

1/2 cup unsweetened almond milk (or preferred milk or water), just boiled (if making egg-free, boil 3/4 cup of milk/water instead)

Filling:

1 – 2 TBS (14-28g) melted butter (or dairy-free fat like coconut oil, lard, etc)

1 – 2 TBS sweetener

Cinnamon

Icing:

1/2 cup powdered sweetener (I just grind Lakanto Golden into a fine powder in my coffee/spice mill before measuring)

4 tsp (19g) melted butter (or dairy-free fat like coconut oil, lard, etc)

4 tsp unsweetened almond milk (or preferred milk or water) or enough to reach desired consistency

1/2 tsp glucomannan, optional for a thicker glaze

1/4 tsp vanilla extract (plus maybe butter, caramel, maple or almond extract if not using butter)

Sea salt to taste
Directions
Make sure eggs are room temperature. Since I keep my eggs in the fridge, I quickly do this by submerging them in hot tap water while I gather my other ingredients.
Measure dry ingredients into medium sized mixing bowl and stir until well mixed. Set aside.
Melt butter/fat and set aside.
Shred zucchini and set aside.
Eggs should be room temperature by now. Mix them with the other wet ingredients.
Add wet ingredients into dry ingredients and mix as well as you can. It will be rather thick!
Put the milk/water in the microwave (or in pan on stove) and bring to a boil (took 90-120 seconds – for 1/2 cup – in microwave for me).
Pour just boiled milk/water into the dough mixture and mix well.
Then place mixing bowl of dough in fridge/freezer for 30-60 minutes, or until dough no longer feels warm and is less sticky.
Preheat oven to 350* and grease a pie or cake pan while dough is resting.
When dough is ready to be worked, take 2 pieces of parchment paper and lay one piece down on work surface. Either dust with oat fiber or spray with cooking oil spray (like coconut oil) to keep the dough from sticking too much.
Set dough on top. Take other piece of parchment paper and spray one side with coconut oil spray and lay greased side on the dough to sandwich the dough between the parchment paper sheets.
Flatten dough a little with palm of you hand and then roll it evenly into a rectangle shape (about 1/2″ thick or so). See pictures above. Gently peel the top layer of parchment paper off and straighten up edges of dough.
Brush melted butter/fat on the dough. Then sprinkle sweetener and cinnamon onto the dough.
Now start rolling the dough into a cylinder shape. See pictures and explanation above.
Even up the ends of the cylinder of dough and cut into 8 even slices (each should be about 1-2″ tall). Place them in greased pan.
Bake on lower rack for about 30 minutes (this will vary) or until the middle rolls feel firm when pressed and the bottoms/sides/edges start to turn golden.
When they're ready, set pan on cooling rack to cool while you make the icing.
To make the icing, just stir together all the ingredients (stirring in optional glucomannan last, if you feel you need a thicker/less sweet icing).
Spread the icing over the cinnamon rolls after they've been cooling for about 5-10 minutes. Reserve some of the icing for leftovers. Then they're ready to eat!
Store leftovers in the fridge. These can also be made ahead and frozen but it's best to add the icing after thawing/warming the rolls.
Notes
If any ingredients appear to have a line through them, just click to side of ingredient (or on another ingredient) and the line should disappear. It's a feature of the recipe plugin that allows people to cross off ingredients as they add them to a recipe. Also, the print feature of this plugin is a little wonky so always check over recipe print-outs to make sure all ingredients are included and correct. Another option is to copy and paste the recipe text and print through a different program.
Based on making 8 rolls, each roll (just the dough, not counting filling or icing) is roughly 100 calories, 0.7g net carbs, 7.1g fat, and 7g protein.
It may work to substitute psyllium flakes or whole psyllium husks in place of ground psyllium but you may need to add more (and the texture may be a little more "fibrous"). Psyllium flakes only weigh about 3g per TBS while the ground psyllium weighs 10g per TBS. Therefore, if using psyllium flakes or whole psyllium, I would use 3 TBS instead of just 1 TBS.
If using a different sweetener, check out this sweetener conversion chart.
LifeSource Foods Oat Fiber 500
Nutrition Facts
8 servings per container
---
Amount Per ServingCalories100
% Daily Value *
Total Fat 7.1g

11

%
Total Carbohydrate 12.6g

5

%
Protein 7g

15

%
---
* The % Daily Value tells you how much a nutrient in a serving of food contributes to a daily diet. 2,000 calories a day is used for general nutrition advice.
You might also like:
Amazon and the Amazon logo are trademarks of Amazon.com, Inc, or its affiliates.
---