Protein Chocolate Chip Cookies THM-Fuel-Pull Keto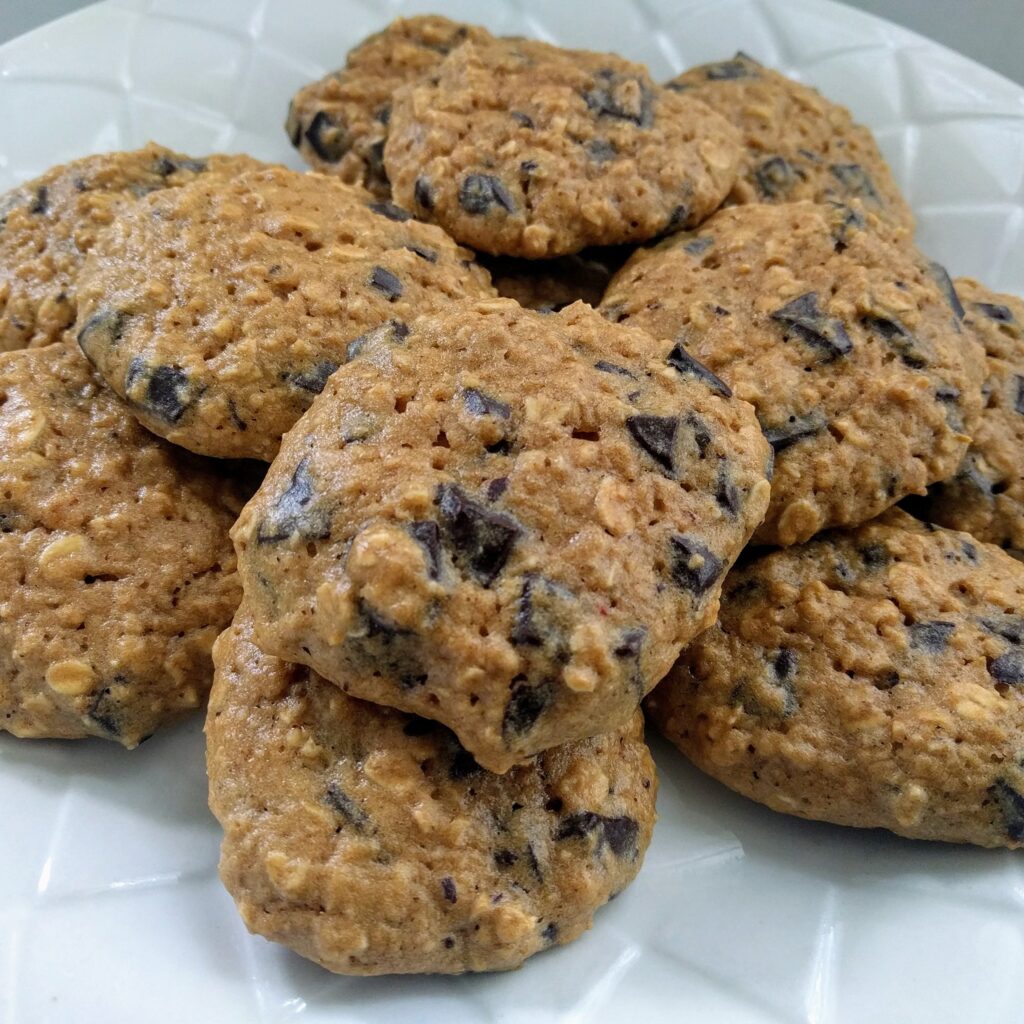 As an Amazon Associate, I earn from qualifying purchases. I am also an official THM Affiliate and am earning a percentage off of links used in the above content that may link directly to the THM online store. This is at no cost to you. Please see my Affiliate Disclosure for more information.
Jump to Recipe
WHAT?!?! Yummy chocolate chip cookies that are FUEL PULL?!?! Yep!
These bad boys really hit the spot, without hitting your daily macros hard. You can eat up to 2 cookies in THM-FP (assuming no other fats in meal) mode. And they're high protein, too (as far as cookies go that is). The oat fiber in them makes them high-fiber so they are filling, too!
I always keep a stash of these in my fridge for a quick and easy pick-me-up, like a healthy protein bar, especially for when I'm already starving and have to cook dinner for my family. They can be paired with any of the THM fuel settings (except for THM-Deep-S) so they're the perfect snack to keep around, and are so quick and easy to make, too!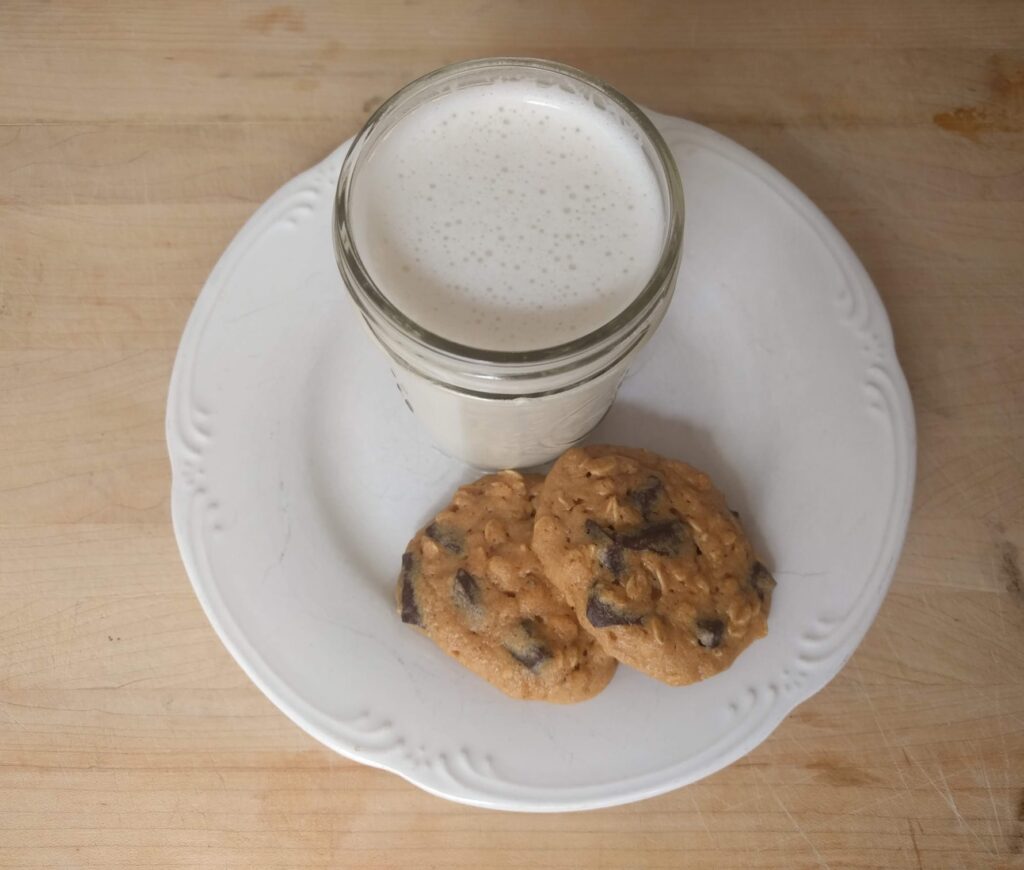 So what's in them?
Here are a few of the main players:
Oats – Even though this is usually a THM-E ingredient, a small enough amount is used to keep these in THM-FP zone, while still giving them that chewy/heartiness.
Whey protein isolate – acts as a flour and adds protein. Collagen peptides could probably be substituted.
Oat fiber – This is different than oat bran or oat flour. This is just the pure fiber and is essentially zero net carb but very absorbent and a perfect addition to keto cookies.
Defatted peanut flour/powder – This is a powder made from peanut butter but with the fat removed and it's dried into a flour. It adds protein and that irresistible peanut butter flavor.
Psyllium husks – This helps add structure and heartiness without carbs or fat. It's also very absorbent (while keeping the cookies moist and chewy) and is high-fiber.
Sugar-free maple syrup – I make my own (here's my recipe!) but there are a few that can be purchased/ordered such as Lakanto and Birch Benders brands)
Butter – I do add a little butter to these, even though butter is not usually a FP ingredient. But, it's just enough to give a little buttery-yumminess without knocking the cookies out of the FP zone.
Sugar-free chocolate chips/chunks – Usually THM chocolate chip cookie recipes are THM-S because chocolate is usually THM-S ingredient. But, in these, a specific amount of chocolate chips/chunks are used to keep them both satisfying and in FP zone.
New Optional ingredient – zucchini!
I experimented with adding shredded zucchini to the most recent batch I made of these cookies and they're EVEN.BETTER!!! The zucchini gives them just a little more moisture and flavor, and you get all the good fiber and nutrients of zucchini, too, without much change in the macros (since zucchini is so low-carb). And you can never get enough veggies! 😉
Protein Chocolate Chip Cookies THM-Fuel-Pull Keto Sugar-free
Course: Snack, Dessert, Cookies
Cuisine: American
Difficulty: Easy
Keto, low-carb, sugar-free, high-protein, gluten-free chocolate chips cookies that are 100% yummy and 100% THM-Fuel-Pull!
Directions
Preheat oven to 350*. Grease or line cookie sheet with parchment paper.
Shred optional zucchini and set aside (no need to squeeze out moisture).
Measure and mix all dry ingredients.
Then add wet ingredients and mix well.
Finally, fold in zucchini and chocolate chips/chunks.
Allow to sit for about 5 minutes to allow ingredients to expand/absorb.
Scoop batter onto parchment-lined cookie sheet, dividing batter up into 12 cookies. Leave space between cookies as these do expand while baking.
Bake for about 10 minutes, just until the tops have become firm to the touch, but do not allow to overcook. Let cool and then store in the fridge.
Notes
If any ingredients appear to have a line through them, just click to side of ingredient (or on another ingredient) and the line should disappear. It's a feature of the recipe plugin that allows people to cross off ingredients as they add them to a recipe. Also, the print feature of this plugin is a little wonky so always check over recipe print-outs to make sure all ingredients are included and correct. Another option is to copy and paste the recipe text and print through a different program.
Each cookie is 54 calories, 2.7g net carbs, 2.5g fat, and 3.9g protein. In THM-FP, you can eat up to 2 cookies (assuming no other fat in meal/snack).
These can be made dairy-free by substituting collagen peptides for the whey protein isolate and coconut oil for the butter (or omitting). You may need to add a little more collagen than the whey protein amounts listed because collagen isn't as "thirsty". I usually have to add about 25% more collagen (and sometimes a little more oat fiber or THMBB, as well) when subbing for whey protein in recipes.
Oat fiber is not the same as oat flour or oat bran.
For even lower fat cookies, you could leave out the butter and sub about 1/8 tsp butter extract instead, but I would recommend at least adding zucchini to them to keep them from tasting dry.
It may seem a little silly to count chocolate chips but this is based on what I figured out to be the exact amount that can be added to these chocolate chip cookies to stay within the 5g fat limit for THM-FP (for 2 cookies/serving). If it's easier, you could add 6 chips per cookie. You could also weigh the chocolate. Lily's chocolate chips weigh 42 grams for 72 chocolate chips. If using my homemade copycat Lily's chocolate chunks, 30 grams can be added to the recipe.
If using a different sweetener, check out this sweetener conversion chart.
Nutrition Facts
12 servings per container
---
Amount Per ServingCalories54
% Daily Value *
Total Fat 2.5g

4

%
Total Carbohydrate 5.3g

2

%
Protein 3.9g

8

%
---
* The % Daily Value tells you how much a nutrient in a serving of food contributes to a daily diet. 2,000 calories a day is used for general nutrition advice.
You may also like:
Amazon and the Amazon logo are trademarks of Amazon.com, Inc, or its affiliates.
---