Fudgy Protein Cookies Keto THM-Deep-S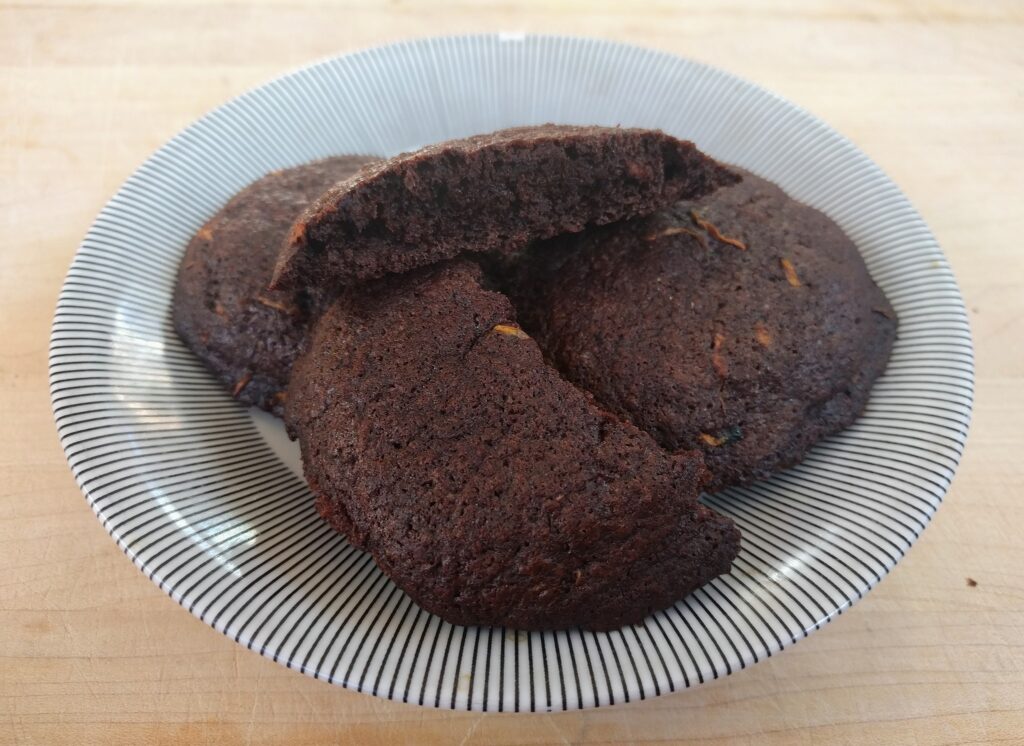 As an Amazon Associate, I earn from qualifying purchases. I am also an official THM Affiliate and am earning a percentage off of links used in the above content that may link directly to the THM online store. This is at no cost to you. Please see my Affiliate Disclosure for more information.
Jump to Recipe
These are perhaps one of the lowest net carb cookies EVER. They're just 0.5g net carbs per cookie. They are an ideal treat, not only for Keto/low-carb/sugar-free folks, but also for THM-Deep-S. These Fudgy Protein Cookies are high-protein, dairy-free, nut-free, gluten-free, rich in pure fats, and even have non-starchies (zucchini) in them! But they are also rich, chocolatey, chewy and fudgy and sure to satisfy those decadent cravings in THM-DS!
I now have a Peanut Chocolate version of this recipe, too. Check it out here!
The Cocoa Version of My Popular Deep-S Chocolate Chip Cookie Recipe
When I posted my popular Protein Chocolate Chip Keto THM-Deep-S Cookie recipe, there was some debate as to whether or not sugar-free chocolate chips like Lily's or even homemade (with Baker's 100% cacao unsweetened baking chocolate) chocolate chips/chunks are allowed in THM-DS. Typically, just Skinny Chocolate (made from coconut oil and cocoa) is allowed (and Skinny Chocolate is a big mess in chocolate chip cookies – ask me how I know – lol).
I assumed that, since cocoa is allowed, that sugar-free chocolate chips/chunks made from baking chocolate would be allowed, too. After all, they do have exactly the same net carbs per serving. They both contain cocoa solids, but baking chocolate also contains cocoa butter.
The Cocoa Butter Controversy
While pure fats are encouraged in THM-DS, there's been some debate over cocoa butter in THM-DS. Not that it is a "bad" fat, it just maybe isn't as weight-loss promoting as coconut oil is. But a THM Facebook group admin did some research for me and found this:
"Here is what we have talked about regarding Baker's Chocolate (Cocoa Butter), Pearl really doesn't want ladies to eat something store bought that's going to take them away from making something homemade. She'd like the people on to get into the practice of making Skinny Chocolate so that coconut oil is incorporated into their regular routine.-especially when thinking about and preparing Deep S meals. She let the cocoa butter be approved because it was adding to a recipe using coconut oil. The base of the recipe was still coconut oil and not primarily made up of coconut butter, like lily's or even the butterfly bars. The difference is that cocoa butter can be used *as an ingredient* in a Deep S recipe, but shouldn't be the base of the recipe (replacing coconut oil)."
While Cocoa Butter and Baking Chocolate are Technically Allowed in THM-DS, I Wanted to Offer Some Other Options
Therefore, cocoa butter and Baker's chocolate (and homemade chocolate chips/chunks made from it) are technically allowed in THM-DS in limited quantities, as long as pure fats (like coconut oil, butter, etc) are the main ingredient. And this is true for my THM-DS Protein Chocolate Chip Cookie recipe, as long as homemade sugar-free chocolate chips/chunks are used in it instead of store-bought sugar-free varieties.
But I wanted to come up with a few other options, too, for those who want yummy THM-DS cookies but who maybe don't want to make their own chocolate chips/chunks.
One option is dipping the cookies in Skinny Chocolate and freezing until the chocolate hardens. Or also, just enjoying them plain, without chocolate chips/chunks, like a buttery sugar cookie.
But I also wanted to come up with a cocoa version, too. And that's what inspired this recipe.
Coconut Oil and Collagen Peptides Are the Main Acts in the Fudgy Protein Cookies
While coconut oil and collagen peptides can be substituted in the chocolate chip cookie recipe, that recipe was designed to be made with butter and whey protein isolate. In contrast, while butter and WPI can be subbed, this recipe was designed to be made with coconut oil and collagen peptides.
The Fudgy Protein Cookies are a bit more soft/delicate than the chocolate chip cookies when they come out of the oven but firm up after chilling for a bit in the fridge or freezer. The coconut oil in them hardens up when the cookies are chilled and makes them chewy and fudgy and so rich! They're a little bit like a brownie. You can even make a batch and store them in the freezer and eat them frozen or slightly thawed whenever you need a quick and easy Deep-S treat!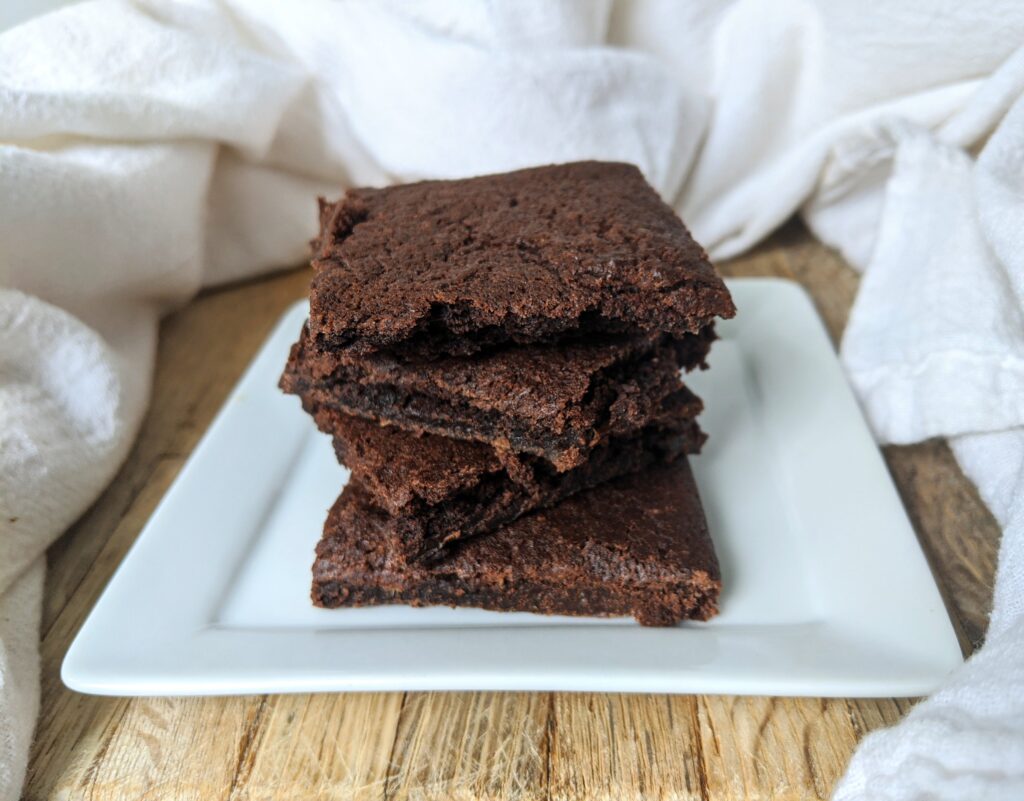 They also make great Deep-S Brownies!
This recipe can easily be converted into Deep-S brownies! 😋 Here are the recipe changes to make:
* Cream coconut oil, sweetener, zucchini, vanilla, egg.
*Then beat in mixed dry ingredients (but use baking POWDER instead of baking soda and ADD 1 tsp powdered gelatin).
* No need to chill batter before baking. Spread in parchment paper lined pan (mine was 10″ x 10″, roughly) and bake longer than you would bake the cookies (mine took about 25mins total).
* Let COMPLETELY COOL before slicing. I put mine in freezer to speed this up.
* Otherwise follow the original recipe (and I didn't bother with the butter extract in mine).
* These tweaks should also work for the Peanut Chocolate Protein Cookies, as well.
Fudgy Protein Cookies Keto THM-Deep-S
Recipe by blissfullyprepared
Course: THM-Deep-S, Snack, Dessert
Cuisine: American
Difficulty: Easy
Fudgy Protein Cookies are rich, chewy and chocolatey, and sure to satisfy your decadent cravings while being Keto, THM-Deep-S and Sugar-free.
Directions
Preheat oven at 350* and either grease or line a cookie sheet with parchment paper.
Mix all ingredients together until smooth.
Put cookie dough in freezer for 15-30 minutes until becomes almost too hard to scoop.
Use an ice cream scoop to scoop cookie dough balls and place them evenly spaced on prepared cookie sheet. These do spread some so do not flatten them out and make sure to give them enough room.
Bake for about 14 minutes or until tops are firm to the touch. Remove from oven and then allow to cool on pan for awhile until they firm up enough to be transferred to freezer or fridge for storage. They will become chewy and fudgy after the coconut oil in them hardens up in the fridge/freezer.
Notes
If any ingredients appear to have a line through them, just click to side of ingredient (or on another ingredient) and the line should disappear. It's a feature of the recipe plugin that allows people to cross off ingredients as they add them to a recipe. Also, the print feature of this plugin is a little wonky so always check over recipe print-outs to make sure all ingredients are included and correct. Another option is to copy and paste the recipe text and print through a different program.
Each cookie is roughly 91 calories, 0.5g net carbs, 7.4g fat, and 4.5g protein.
If subbing butter and whey protein isolate, the cookies will be a little more "bready" and "cakey" rather than "chewy" and "fudgy". But they're still really yummy!
If using a different sweetener, check out this sweetener conversion chart.
Nutrition Facts
16 servings per container
---
Amount Per ServingCalories91
% Daily Value *
Total Fat 12g

19

%
Total Carbohydrate 3.4g

2

%
Protein 4.5g

9

%
---
* The % Daily Value tells you how much a nutrient in a serving of food contributes to a daily diet. 2,000 calories a day is used for general nutrition advice.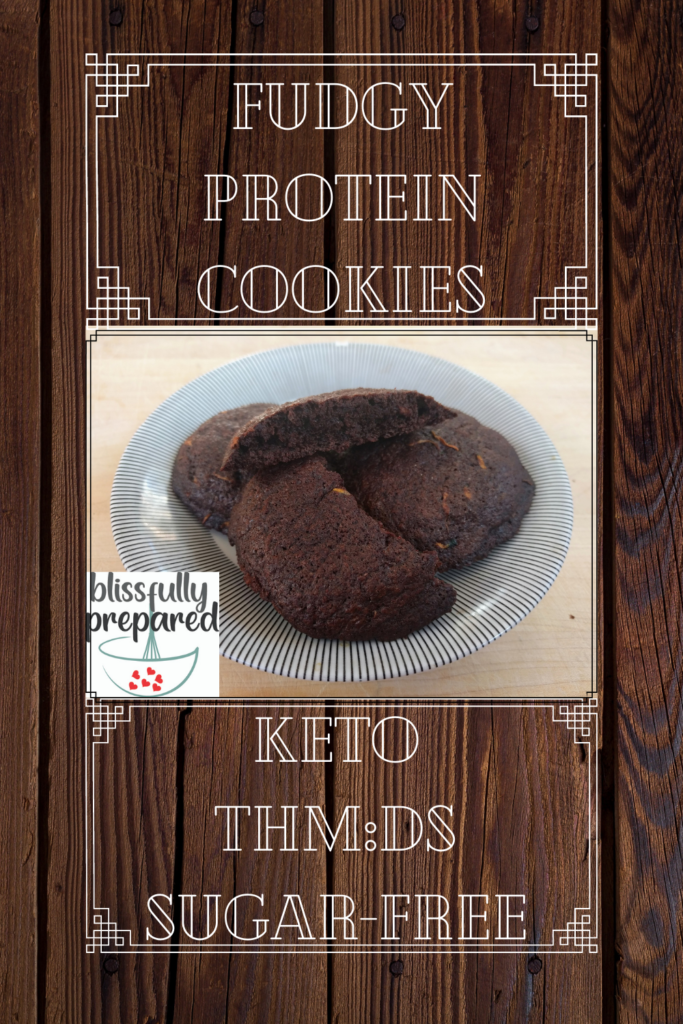 You might also like:
Amazon and the Amazon logo are trademarks of Amazon.com, Inc, or its affiliates.
---