Keto Biscuits and Gravy: THM Deep-S GF DF EF NF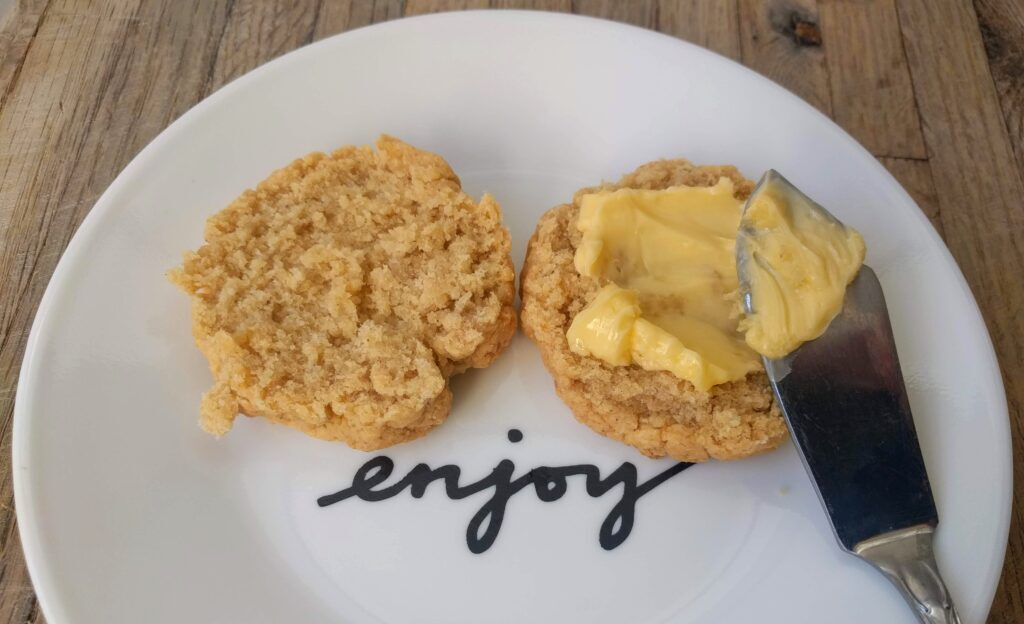 As an Amazon Associate, I earn from qualifying purchases. I am also an official THM Affiliate and am earning a percentage off of links used in the above content that may link directly to the THM online store. This is at no cost to you. Please see my Affiliate Disclosure for more information.
Jump to Recipe
Keto Biscuits and Gravy, THM Deep-S style! High-protein, gluten-free, egg-free and can be made completely nut-free and dairy-free! And the biscuits are ZERO net carb!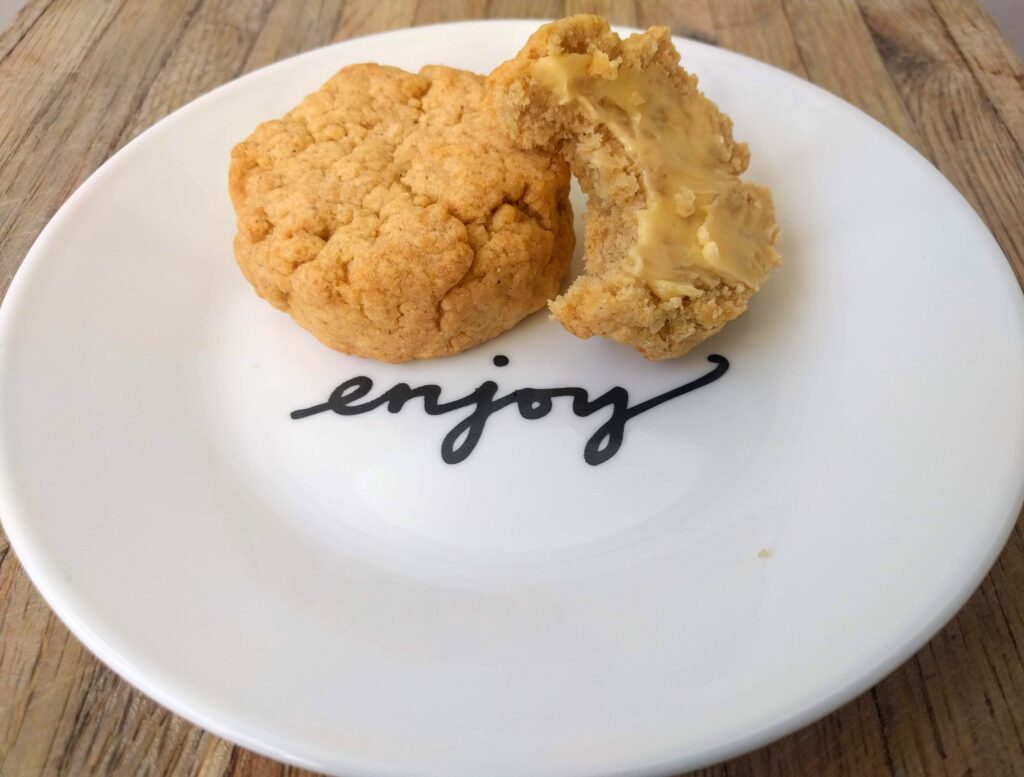 I'm a Southern girl and I love love love me some biscuits and gravy! 😋 Before we had to go gluten-free a few years ago (when my husband found out that he's Celiac), I used to make some of the BEST Southern buttermilk biscuits! I have since learned how to make some pretty amazing gluten-free biscuits for my family. But they are high-carb and include off-plan ingredients so I cannot enjoy them. Since I've been Keto/THM, I've really missed good biscuits. I've tried some other Keto Biscuits and Gravy recipes and have not been too impressed. Not to mention, most are very high-fat/high-calorie and are heavy on the nut-flours and dairy.
But now I can enjoy soft, flaky, buttery (I use butter in mine but can be made dairy-free) Keto Biscuits that are ZERO net carb! And they're not only gluten-free and on-plan (THM), but are also THM Deep-S, egg-free, and can be made completely nut-free and dairy-free! 🙌 And they have 6.2g protein per biscuit, and the gravy is over 21g protein per serving!!!
The Keto Turkey Sausage Gravy is amazing, too! It's creamy, without the cream! The secret? CAULIFLOWER!!! Don't worry, you can't taste it! The optional cauliflower gets blended with the "milk" and broth to make a rich, savory and "creamy" gravy. 😋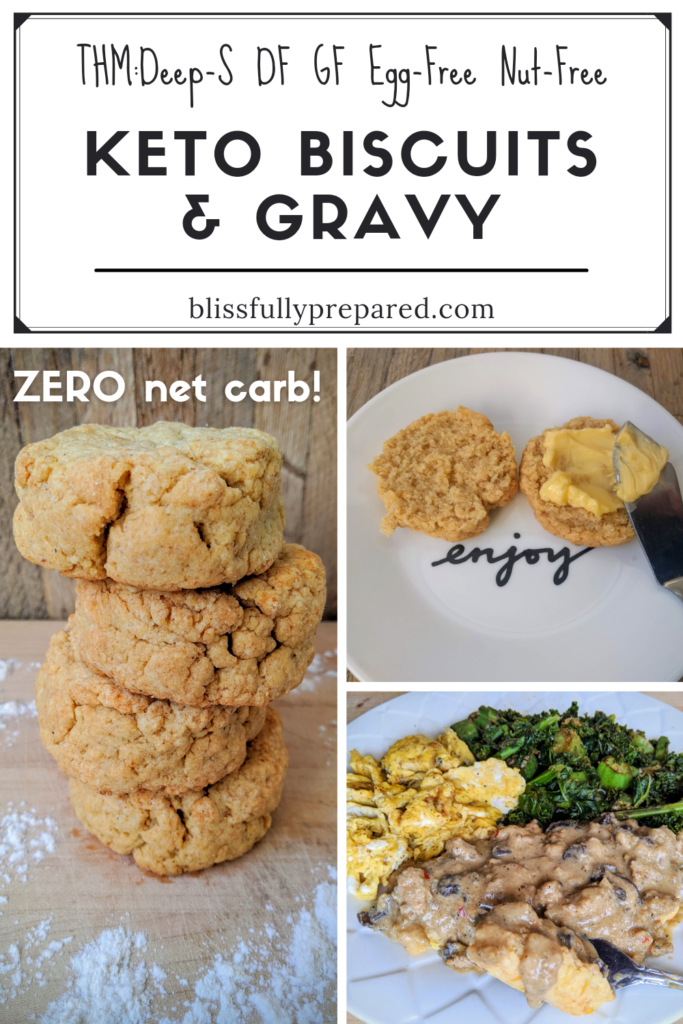 How to make Keto Biscuits and Gravy
One of the best parts about this recipe is how stupidly quick and easy it is to make! I'm use to having to freeze butter and cut it into the flour and yadayada. But, with these, you just use softened butter and mix with the dry ingredients and then add your wet ingredients. Wait 5 minutes and then just shape into biscuits, rub some optional butter/fat on the tops, and bake for about 20 minutes!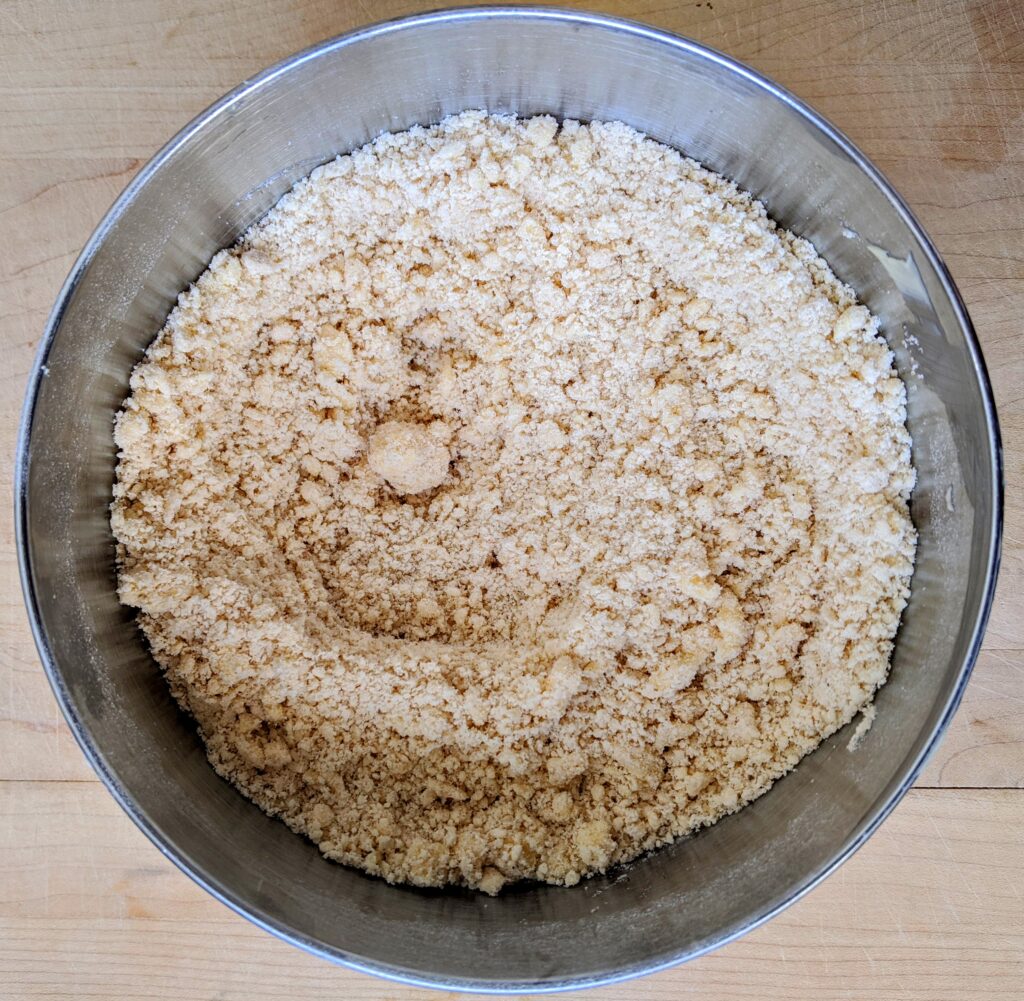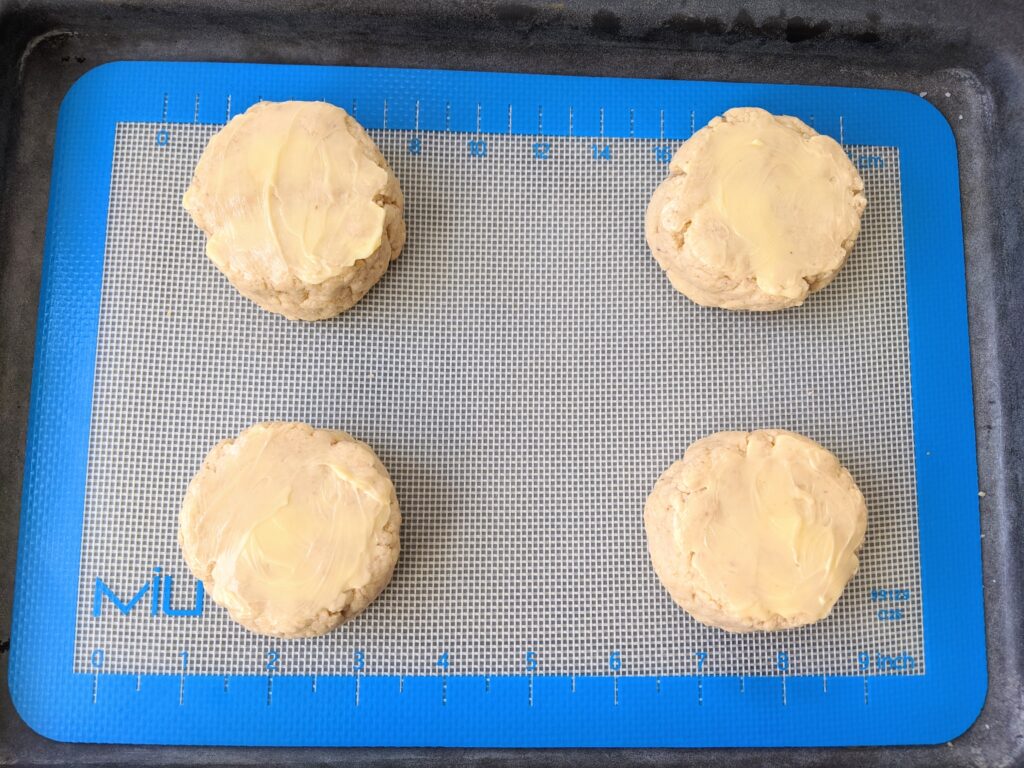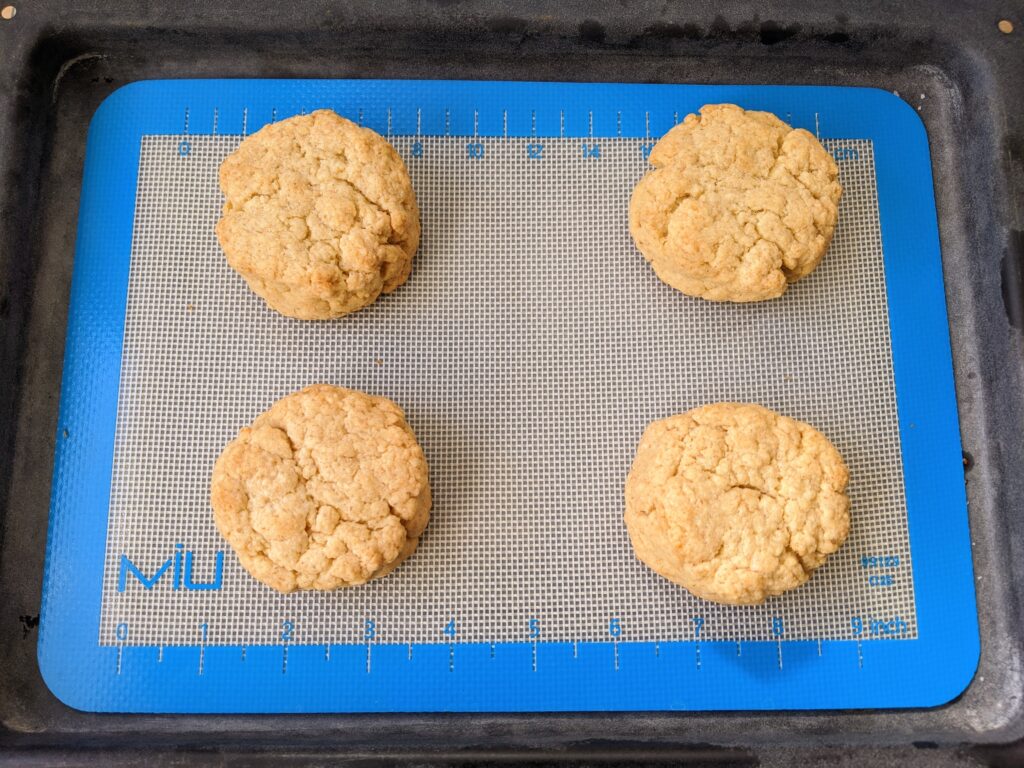 The hardest part is having to wait for them to mostly cool! They continue to cook as they cool. But, if you're having with gravy, make your gravy in the meantime. It's also easy!
Just sauté your sausage and mushrooms. Blend the cauliflower with your "milk" and broth and add to the sausage/mushrooms. Then add your seasonings. Lastly, thicken with glucomannan. And, voila!, it's biscuits and gravy time! 😋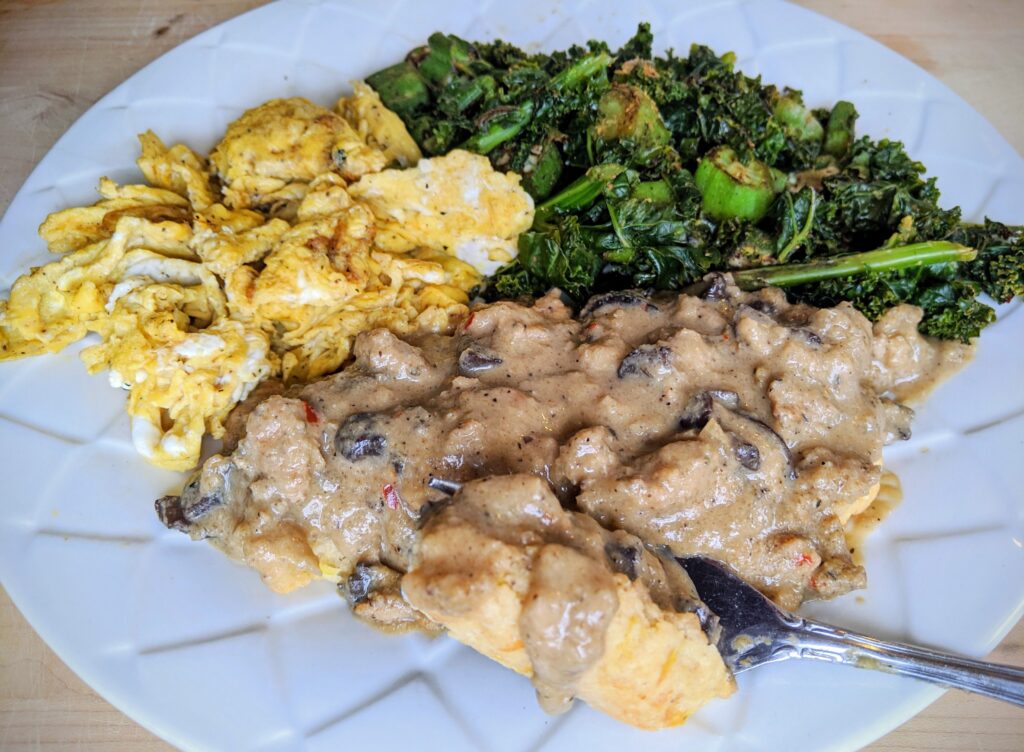 Other ways to enjoy Deep-S biscuits
While these biscuits are AHHHMAZING with gravy, they're also great on their own! Of course they're awesome with butter! Or make a breakfast sandwich with them! And, instead of honey, try sugar-free maple syrup on them! 😋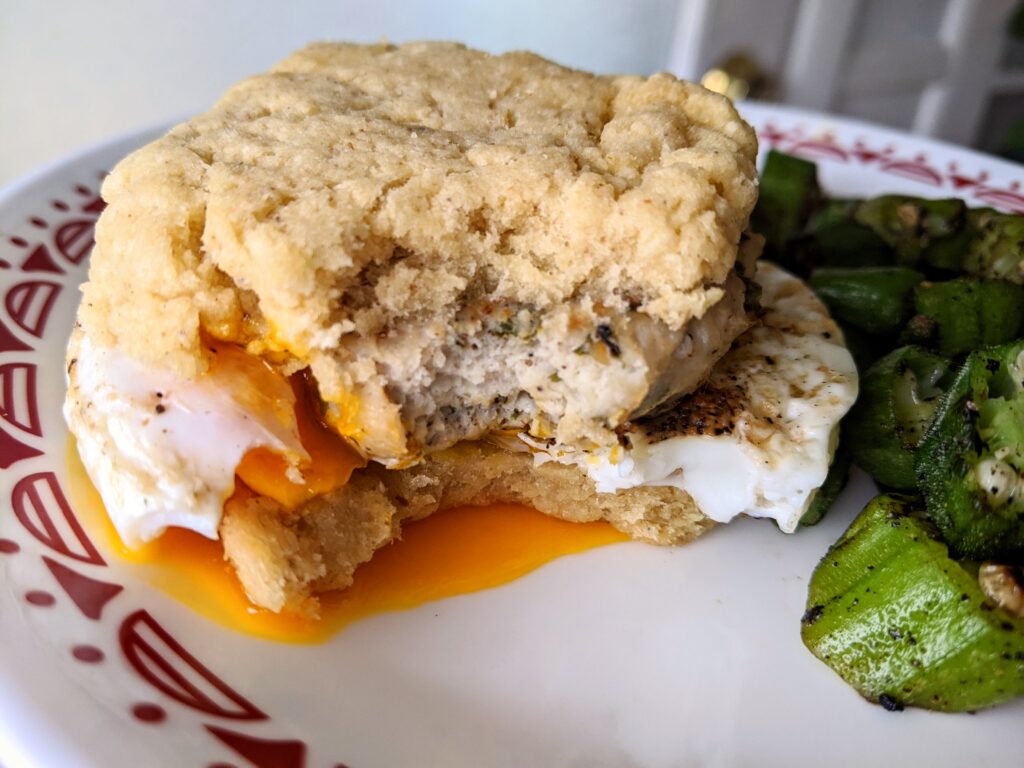 Of course you can also enjoy these biscuits in THM-S settings, as well, and can spread sugar-free jam or jelly on them! Here's how I make my sugar-free strawberry jam – it's SO easy!
Tools to help make Keto Biscuits and Gravy
Other important notes about this recipe:
As with most biscuits, these are best when eaten fresh. I haven't tried freezing them yet but it should work. However, I find their texture changes when reheated in a microwave. I prefer reheating these in a toaster or air-fryer instead. But slice in half first so they more evenly heat. Also, if you choose to freeze them, slice them in half first.
Also, these are more of a hearty "whole-grain" style biscuit instead of like the traditional all-purpose flour kind of biscuits. I love them, and I think you will, too, but didn't want anyone to be expecting a biscuit that's exactly like something from Cracker Barrel. 😉
Keto Biscuits and Gravy: THM Deep-S GF DF EF NF
Course: THM-Deep-S, Breakfast, Brunch
Cuisine: Southern
Difficulty: Easy
Keto Biscuits and Gravy, THM Deep-S style! High-protein, GF, and can be made completely nut-free and DF! And the biscuits are ZERO net carb!
Ingredients
In mixer, mix:

1/4 cup or 56g room temperature/softened butter (or 1/4 cup / 52g refined coconut oil, lard, or ghee)

1/4 cup or 28g collagen peptides

1/2 cup or 38g oat FIBER

4 tsp baking powder

1 TBS ground psyllium husks (I use NOW whole psyllium husks and grind into a fine powder in my coffee/spice mill BEFORE measuring)

2 tsp sweetener* (I use Lakanto Golden)

1.5 tsp xanthan gum

1/4 tsp sea salt

Then add:

5 TBS unsweetened almond milk (or preferred "milk")

1 tsp apple cider vinegar

Rub on tops:

Softened butter or dairy-free fat, optional

Gravy for one: (scale up for more servings)

Butter or fat of choice for sautéing

2 Turkey Breakfast Sausage patties, or about 2-3oz of sausage

2 chopped mushrooms, optional for more "umami"

1/2 cup (or 43g) riced cauliflower, optional for more veggies and "creaminess"

6 TBS bone broth (I make my own) or broth of choice (no sugar added),

6 TBS unsweetened almond milk (or preferred "milk")

1 tsp nutritional yeast

1 tsp (or to taste) tamari or soy sauce (I use GF tamari), or sea salt to taste

1/8 tsp onion powder

1/8 tsp garlic powder

1/4 + 1/8 tsp glucomannan (add in 1/8 tsp amounts until reach desired consistency)

Black pepper to taste

Any spices/herbs you like – parsley, sage, fennel, red pepper flakes, etc.
Directions
Preheat oven to 400* and grease/line sheet pan with parchment paper or silicone mat.
Put first 8 ingredients in mixer and mix until fat is well incorporated and mixture is course and crumbly.
Pour in the "milk" and apple cider vinegar.
Turn on mixer again for few seconds until dough ball forms.
Let dough rest (so ingredients can expand/absorb) for 5 minutes.
Divide dough into 4 equal pieces (I use my kitchen scale) and shape into 1-2″ tall round disks ("biscuit" shape) and space on prepared sheet pan.
Rub optional butter or dairy-free fat on tops of biscuits.
Put in oven and bake for about 20 minutes total (this will vary so watch your first batch). When they start to brown on tops and bottoms (around 12 min mark for me), loosely cover with aluminum foil for the remainder of the baking time.
Allow to almost fully cool before slicing and eating. They continue to cook as they cool. In meantime, make gravy if having as "biscuits and gravy".
To make the gravy:
* Sauté sausage on medium heat while cutting into smaller chunks (I do this with a fork) as it cooks.
* When the sausage is mostly cooked, add chopped mushrooms and sauté for a couple more minutes.
* If adding riced cauliflower, put the cauliflower in blender with the "milk" and broth and blend until smooth.
* Pour cauliflower mixture into pan with sautéed sausage and mushrooms.
* Add spices/herbs/seasonings while continuing to heat and stir.
* Taste test and adjust seasonings, if needed.
* Then whisk-in the glucomannan, 1/8 tsp at a time until reach desired consistency (1/4 + 1/8 tsp works for me).
* Serve over an open biscuit. Enjoy!
Notes
If any ingredients appear to have a line through them, just click to side of ingredient (or on another ingredient) and the line should disappear. It's a feature of the recipe plugin that allows people to cross off ingredients as they add them to a recipe. Also, the print feature of this plugin is a little wonky so always check over recipe print-outs to make sure all ingredients are included and correct. Another option is to copy and paste the recipe text and print through a different program.
Based on making 4 biscuits, each biscuit (not counting optional butter on tops or gravy) is approximately 138 calories, ZERO net carbs, 11.7g fat, and 6.2g protein.
One serving of gravy (based on using 2oz of sausage and not including fat for sautéing) is approximately 125 calories, 2g net carbs, 1.6g fat, and 21g protein.
I have not tested these with whey protein isolate in place of the collagen. If you want to try it, I would only using 2 TBS of WPI for the 1/4 cup collagen, and I would only use about 6 TBS oat fiber instead of 1/2 cup. They will likely be quite fluffy but may be a little dryer tasting.
If using a different sweetener, check out this sweetener conversion chart.
LifeSource Foods Oat Fiber 500
Nutrition Facts
4 servings per container
---
Amount Per ServingCalories138
% Daily Value *
Total Fat 11.7g

18

%
Total Carbohydrate 7.8g

3

%
Protein 6.2g

13

%
---
* The % Daily Value tells you how much a nutrient in a serving of food contributes to a daily diet. 2,000 calories a day is used for general nutrition advice.
You might also like:
Amazon and the Amazon logo are trademarks of Amazon.com, Inc, or its affiliates.
---