Perfect Keto Bagels: NO CHEESE THM All Fuels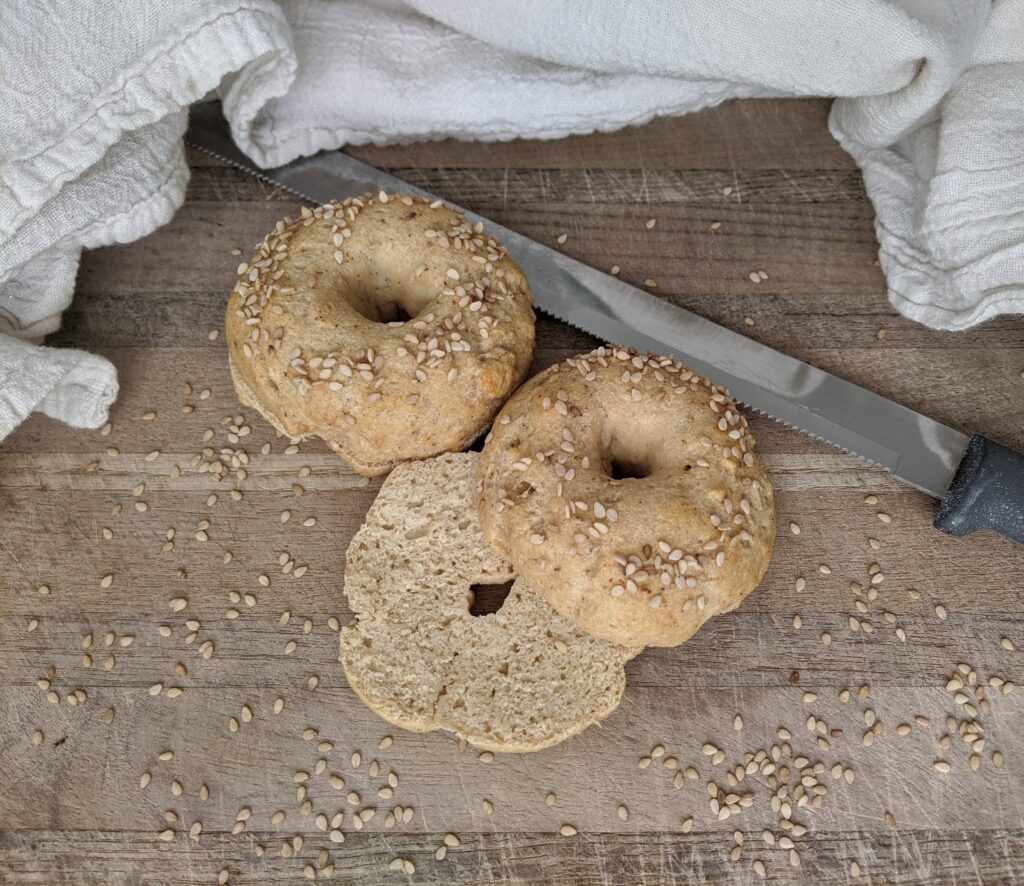 As an Amazon Associate, I earn from qualifying purchases. I am also an official THM Affiliate and am earning a percentage off of links used in the above content that may link directly to the THM online store. This is at no cost to you. Please see my Affiliate Disclosure for more information.
Jump to Recipe
These really are the Perfect Keto Bagels! They have it all but without the cheese, nut flours, or excess fat/calories! Only 56 calories and essentially ZERO net carbs! And they can accompany any THM fuel setting! 🙌
I've personally been missing having a good bagel in my life. I buy gluten-free bagels for my family but they're off-limits for me, due to their high carbs and off-plan ingredients. And I've tried several Keto bagel recipes, most of which are heavy on the nut flours and cheese (aka "Fathead dough"). Even before adding any cream cheese or other fixings, my bagels were already nearly 400 calories! Yikes! Now, I'm not opposed to fat but there's only so many calories a person can burn in a day! But these Perfect Keto Bagels are only 56 calories and essentially ZERO net carbs (though are nearly 8g protein)! And they're nut-free, lactose-free, gluten-free and can be enjoyed in any THM fuel setting! And they're easy to make and have that perfect chewiness and classic bagel flavor! 🥯😋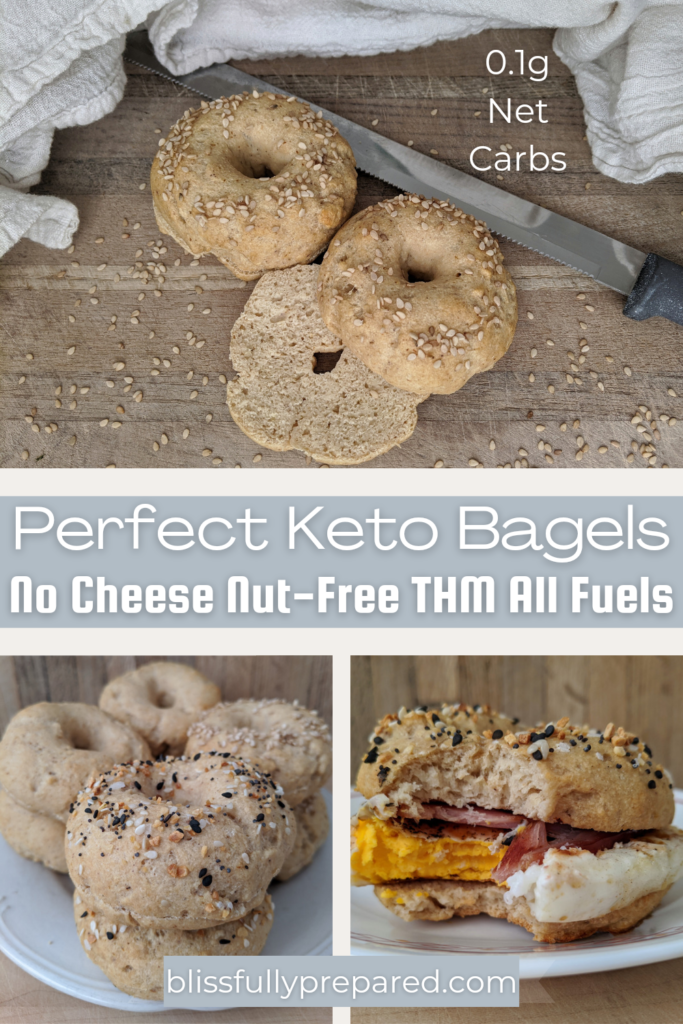 So what's in the Perfect Keto Bagels?
Instead of using cheeses and nut flours, these Keto bagels use a combination of zero net carb, fat-free, nut-free "flours":
Oat Fiber – Not the same as oat flour or oat bran and usually has to be purchased online. Oat fiber is made from the hulls of the oats and is essentially pure fiber and zero net carb. It gives a "bready" structure/texture to the bagels. Coconut flour could likely be substituted (though the macros will change for the bagels) at 25% less than what the recipe dictates.
Whey Protein Isolate – This is lactose-free, fat-free and high-protein while being zero carb. It also provides structure and texture to the bagels. It's possible that collagen peptides could be substituted but I think the texture of the bagels would be quite different. If you want to try substituting collagen, I would try using 10 TBS instead of the 1/2 cup. Also add an extra 1-2 TBS of oat fiber. They may need longer to bake, as well.
Ground Psyllium Husks – Like the oat fiber, psyllium husks are essentially pure fiber and zero net carb. They also give structure/texture to the bagels, while also making them "chewy". Unfortunately, I don't think anything else could be substituted for this ingredient.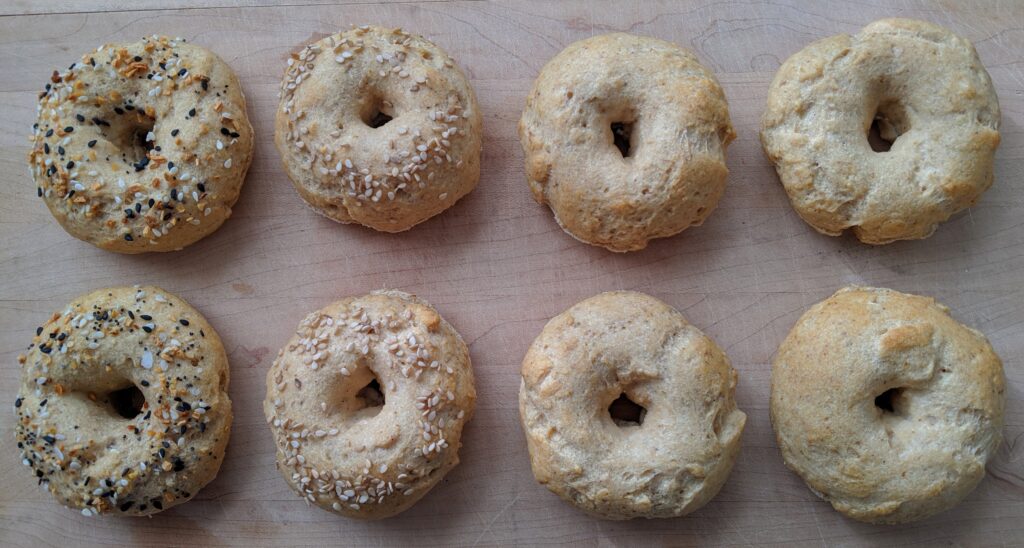 Other ingredients:
Instant/Fast-Rising Yeast – This ingredient is optional but is highly recommended. It gives the bagels better rise and flavor. Dry active yeast cannot be subbed in the way this recipe is written. Nutritional yeast, though, could be subbed to at least add a little "yeasty" flavor.
Egg Whites – Egg whites are used in place of whole eggs to make this recipe compatible with all THM fuel settings. Whole eggs could likely be substituted as long as the same volume is used (and obviously the macros will change). And it may be possible to sub psyllium eggs for the egg whites but, so far, I have not had success with this.
Butter – Any fat could be subbed for the butter. But I don't recommend omitting the 4 tsp fat altogether or they will be very dry tasting. It adds a very small amount of fat to the recipe and each bagel is only 1.9g fat. You could still spread on a whole wedge of Laughing Cow Light cheese and be within THM Fuel Pull limits.
Xanthan Gum – This is an important ingredient for giving the bagels their chewiness. While I haven't tried it yet, glucomannan could possibly be substituted.
Apple Cider Vinegar – This is a natural dough enhancer for gluten-free baking and helps in many ways. I haven't tried substituting other vinegars but they may work.
Sugar-Free Sweetener – I use Lakanto Golden as my sugar-free sweetener but really any sweetener should work fine. This ingredient is optional (and doesn't make the bagels taste "sweet") but helps balance the overall flavor of the bagels.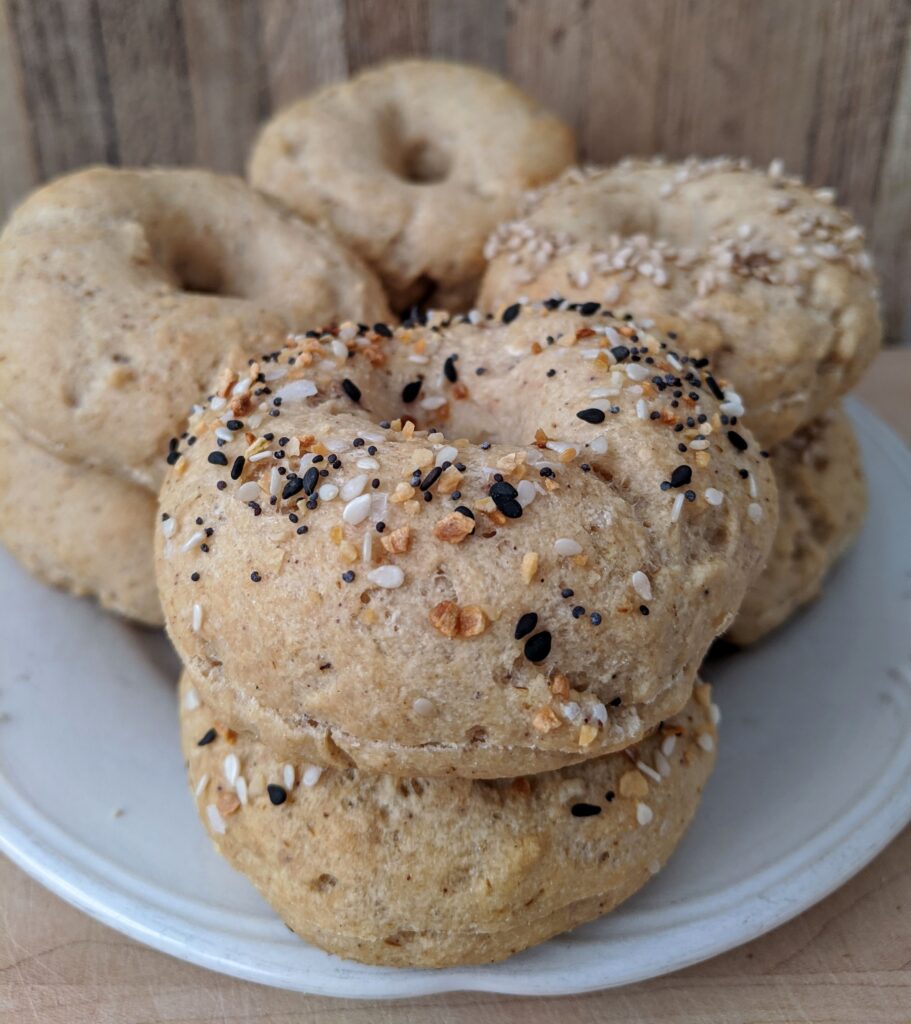 How to make Perfect Keto Bagels
These are easy to make, and so much easier than cheese-based Keto bagel recipes!
First, we need to bring our egg whites to room temperature. To quickly do this, measure them into a jar or measuring cup and submerge the jar/cup in hot tap water for a few minutes while you gather your other ingredients. If you think about it, give it a stir/swirl every couple of minutes to speed things along.
Next, measure and mix your dry ingredients into a medium sized mixing bowl. I highly recommend weighing your ingredients if you have a scale. Gluten-free baked goods always turn out better with precise measurements.
Your egg whites should now be room temperature. If using butter or some other solid fat, heat it until just melted and stir into egg whites, along with the apple cider vinegar.
Now pour your wet ingredients into your dry ingredients and mix until a thick dough forms.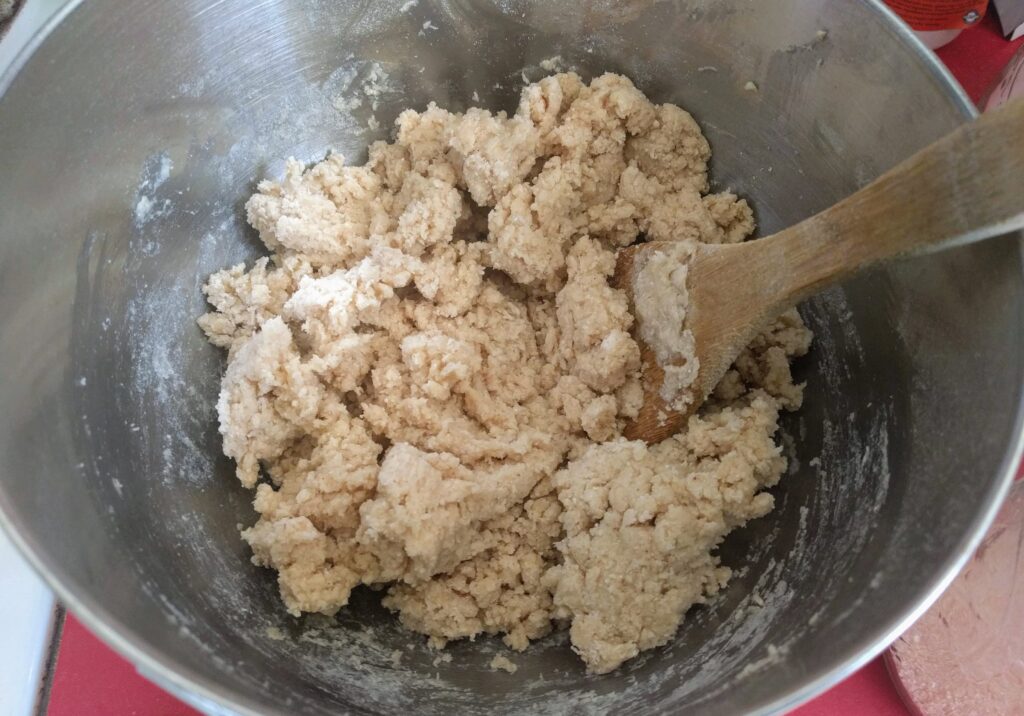 Next, boil 3/4 cups of water and pour into the dough and stir until just mixed and smooth. The boiled water activates the psyllium husks and gives the bagels a chewy "bread-like" texture.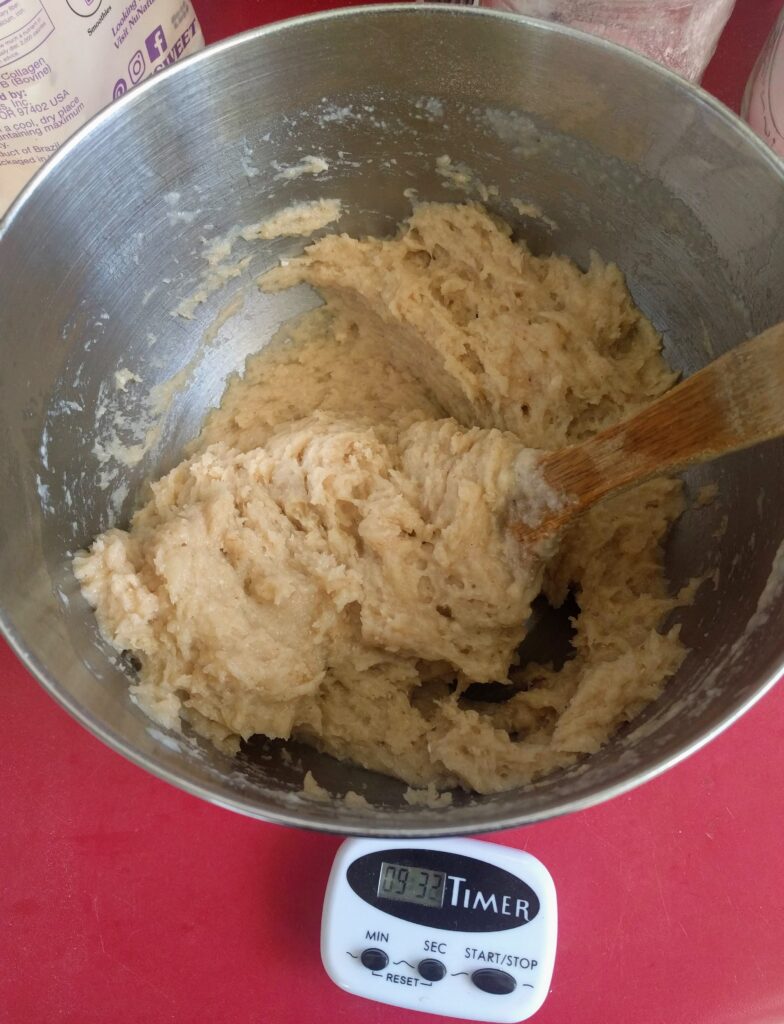 Then set a timer for 10 minutes to let the dough rest. This is important for thickening the dough and activating the yeast.
In the meantime, pre-heat your oven to 350* and grease/line a cookie sheet/pan with parchment paper or a silicone mat.
Ready to bake!
When the dough is ready, divide it into 8 equally-sized dough balls. I like to use my scale for this. I weigh the big dough ball and divide that number by 8 and then weigh each smaller dough ball to that number.
Round out the dough balls and space them on the cookie sheet/pan. Now take your finger and pierce the centers of the dough balls and form them into a "bagel" shape.
If you prefer a smoother/neater looking bagel, you can also roll the dough balls into long cylinders and then bring the ends together to form the bagels instead. I just prefer the lazy method. 😉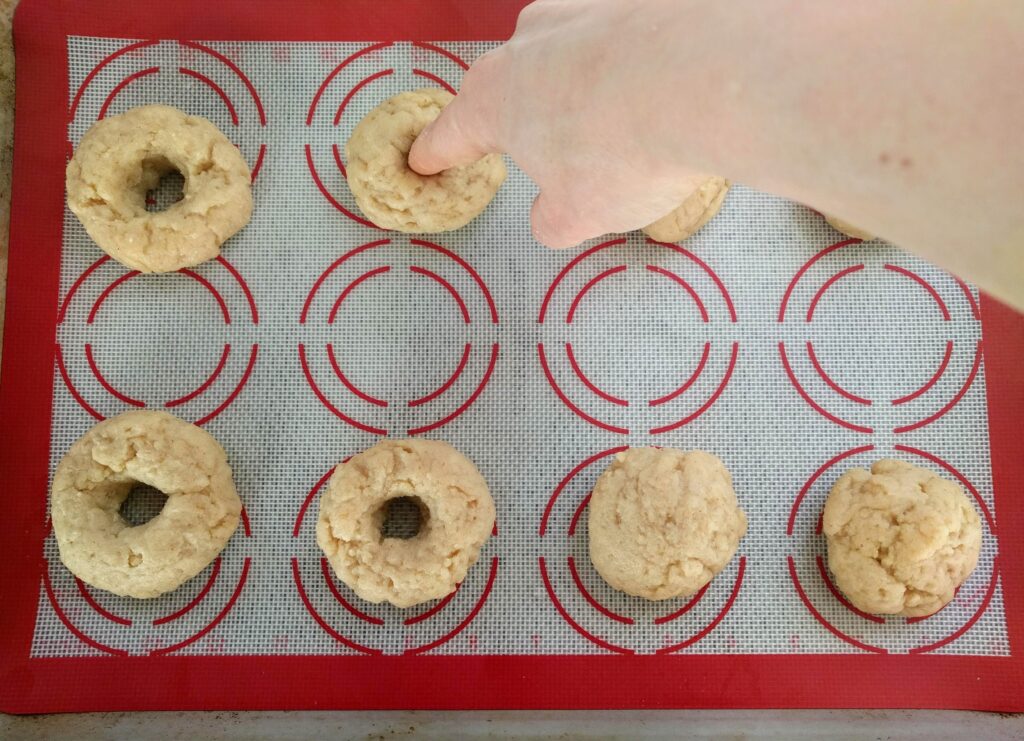 It's now time for the egg wash. This helps toppings/seasonings to stick better onto the bagels, but also helps with browning and gives a better crust. I make mine by mixing 2 TBS of egg whites with 1 tsp of water. Just brush this mixture onto each bagel.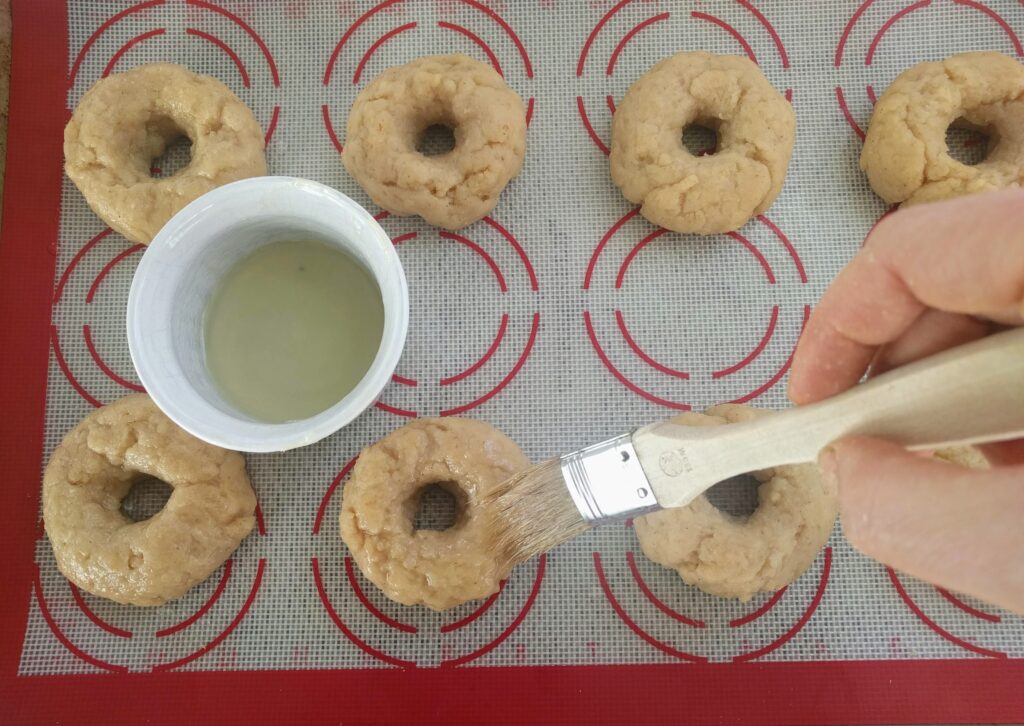 Now add whatever toppings you like. I love Trader Joe's Everything But the Bagel Sesame Seasoning Blend. However, if you are planning to eat these bagels in THM Deep-S mode, it is best to skip the Everything Bagel Seasoning or to use very little since nuts and seeds are typically not allowed in Deep-S. But these bagels are seriously amazing no matter which way you have them!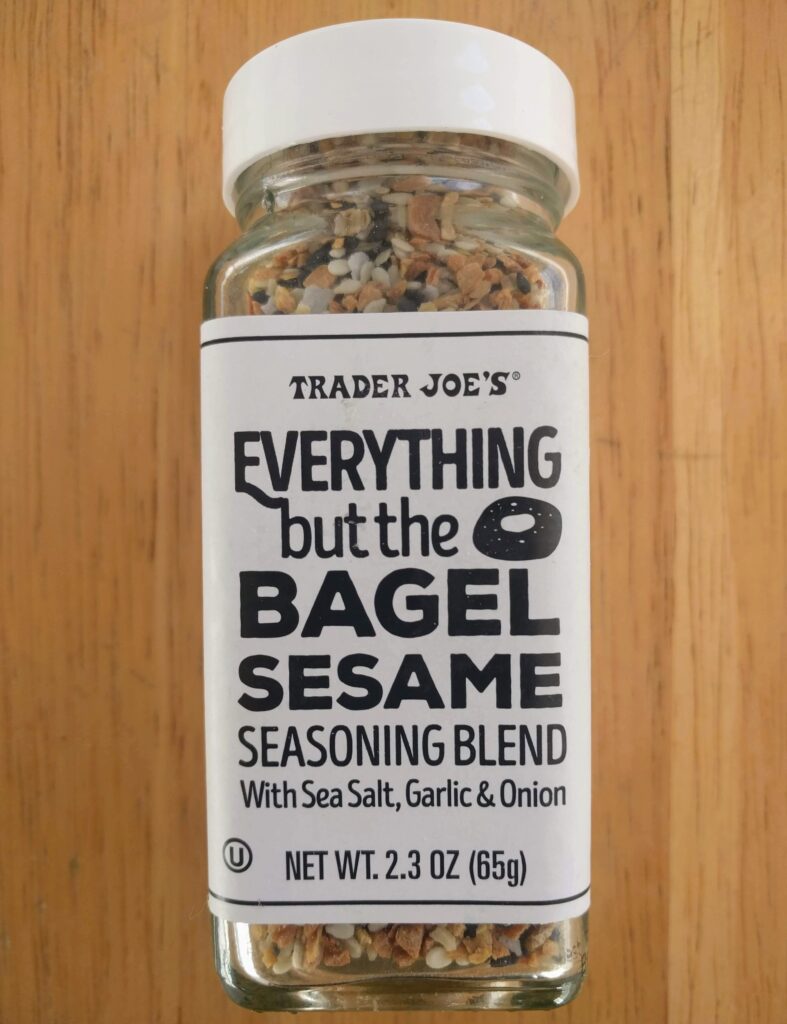 When you've topped/seasoned them to your liking, place them in the oven and bake for 20-25 minutes. This of course will vary from oven to oven/pan to pan so keep an eye on your first batch.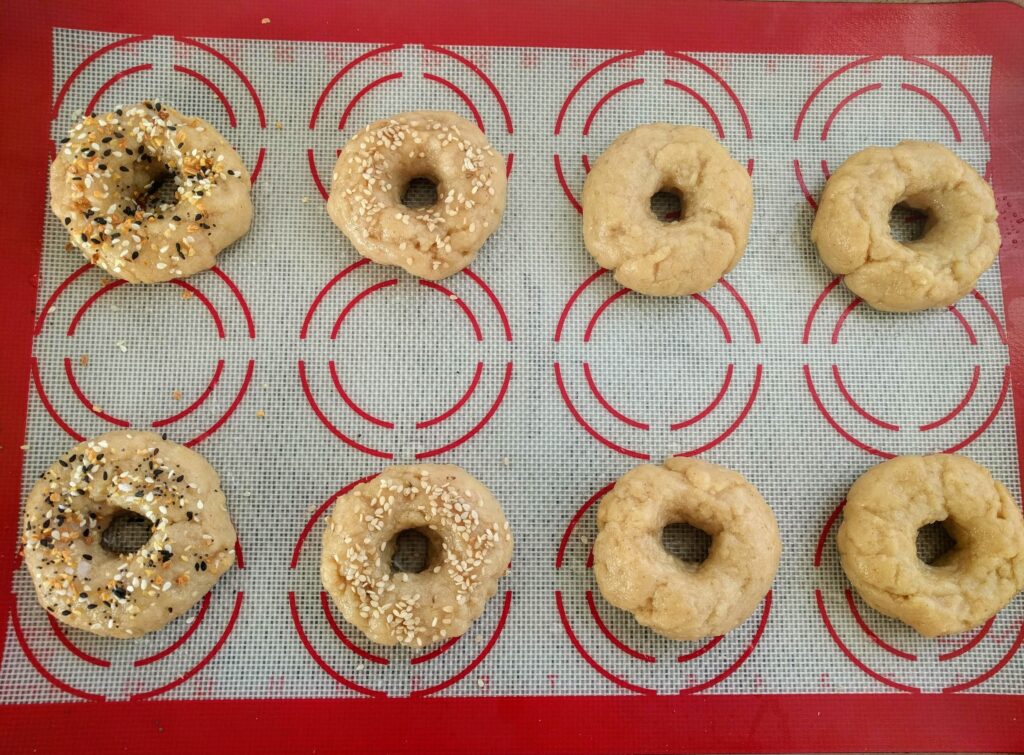 They are ready when they are golden brown. Check out these beauties! 😍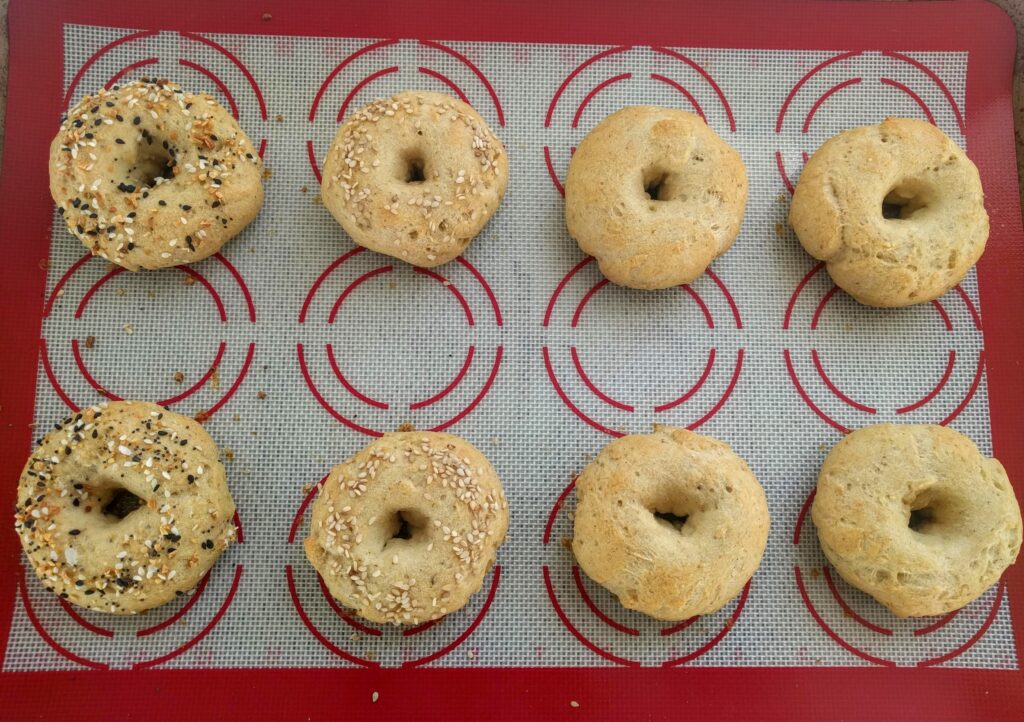 Now the hardest part – having to wait for them to cool! It really is best if you can wait until they fully cool (about 20 minutes) before slicing. They continue to cook as they cool. But, if you're really in a hurry, 10-15 minutes would likely be fine, too.
Ready to eat! 🥯
Enjoy these babies any way that want! They are great with any meal and with any THM fuel setting. In fact, they may be the only "bread" in existence (that I know of anyway!) that can be enjoyed in any fuel setting! So make a batch to keep in the freezer (though make sure to slice them before freezing!) and just pop in the toaster whenever you need a "bread" to go with a meal!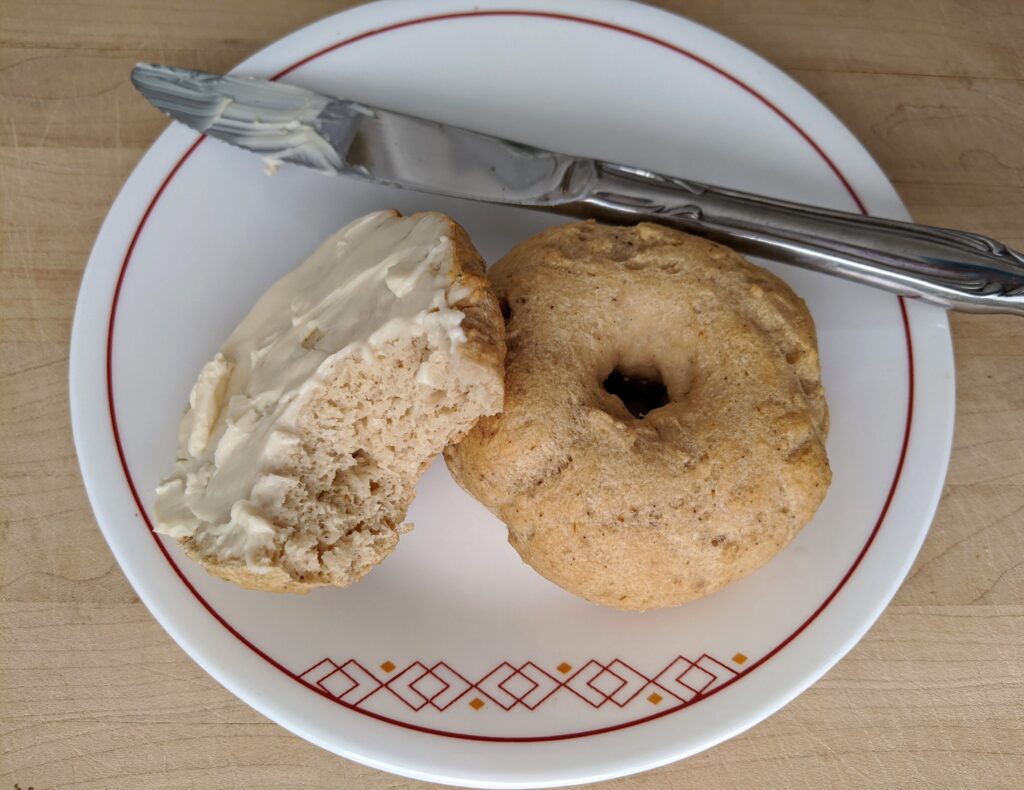 In the Fuel-Pull or THM-E settings, I love to spread them with Laughing Cow Light cheese and/or sugar-free strawberry jam. 😋 These bagels are so low fat that you can spread on a whole wedge and still be within FP limits!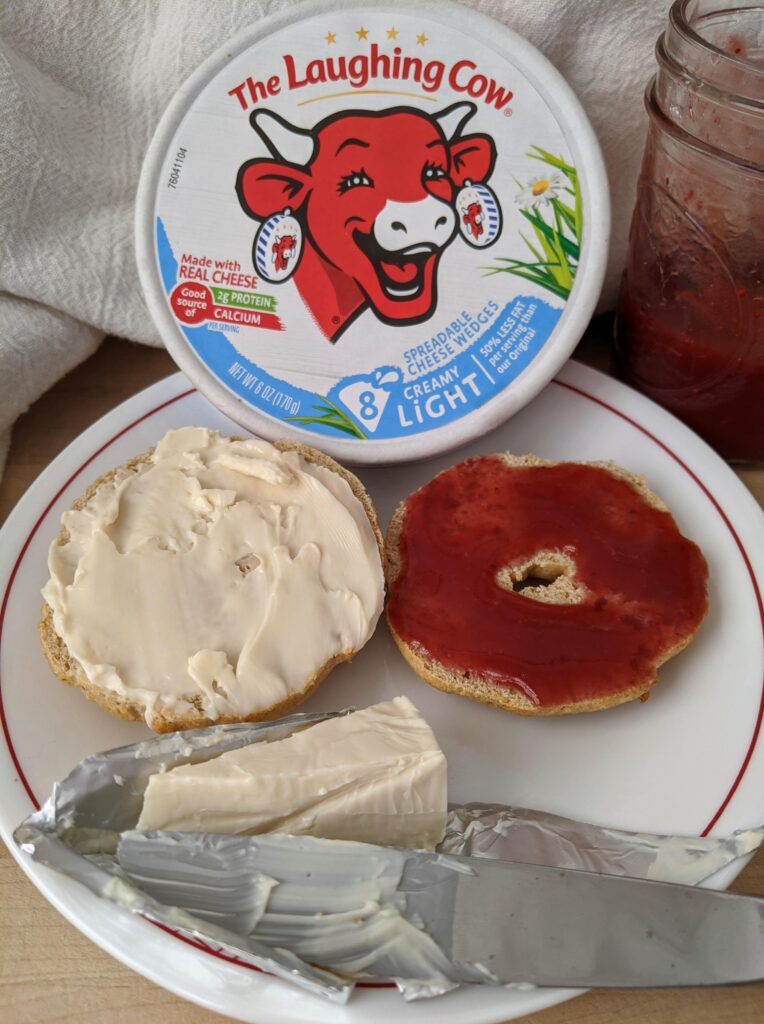 Of course, these can also be enjoyed in THM-S or Deep-S settings, as well. In THM-S, you can spread on all the cream cheese that you want! 😋 After all, these are so low-fat/low-calorie that you really don't have to worry about "over-doing" it. 😉 However, you'll need to omit the cream cheese in Deep-S but these are also great just toasted and topped with butter and a little nutritional yeast and sea salt. 😋 You're allowed up to 1 TBS of nutritional yeast per meal in Deep-S.
And don't forget the breakfast bagel sandwiches! 😋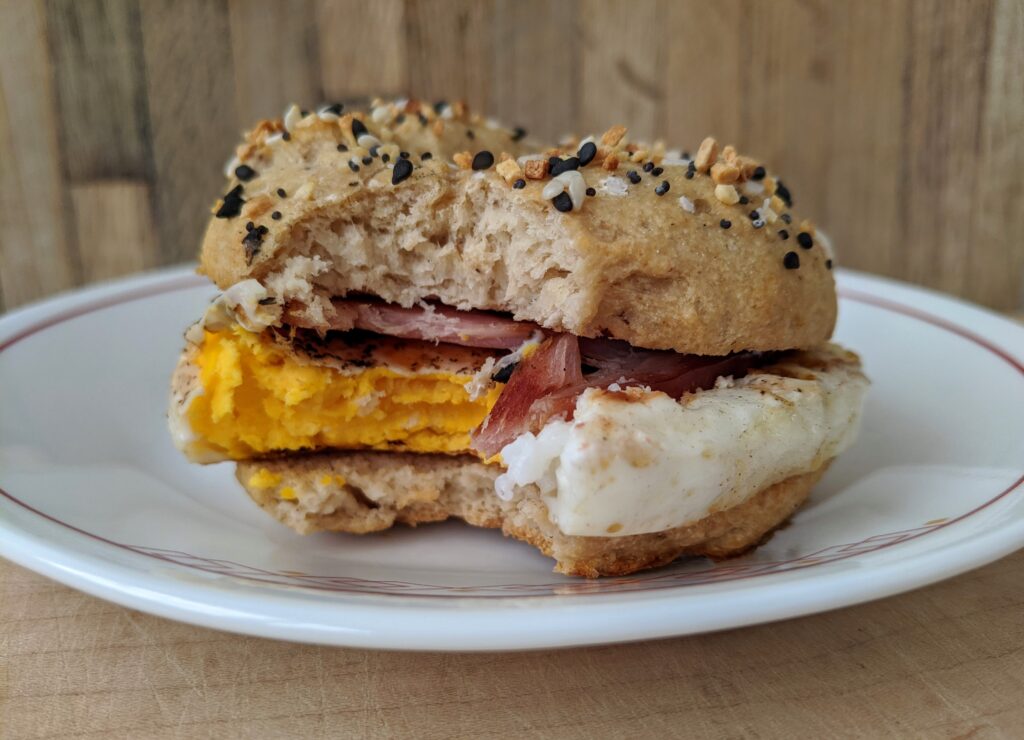 Ingredient brands can vary a lot
A few people have contacted me and said their dough was too wet/sticky to work with. I have made a note in the recipe to give an option of decreasing the water to hopefully remedy this issue. It seems that ingredient brands can vary a lot and that some are less absorbent than others. I have linked the specific brands that I use in the recipe card. I prefer the 3/4 cup water amount with my specific ingredients. If you use different brands, you may want to use a little less. It seems that THM brand Pristine Whey Protein may be less absorbent than the brand I use since several people who use it have contacted me about wet/sticky dough. Also brands of oat fiber seem to vary a lot, too. I highly recommend Lifesource brand oat fiber.
Also, gluten-free baking is most successful when ingredients are weighed by grams.
If your dough ends up too wet/sticky, try putting it in the freezer for a bit. Also, work near the sink and wet your hands often when handling the dough.
Perfect Keto Bagels dough makes a perfect Pizza crust!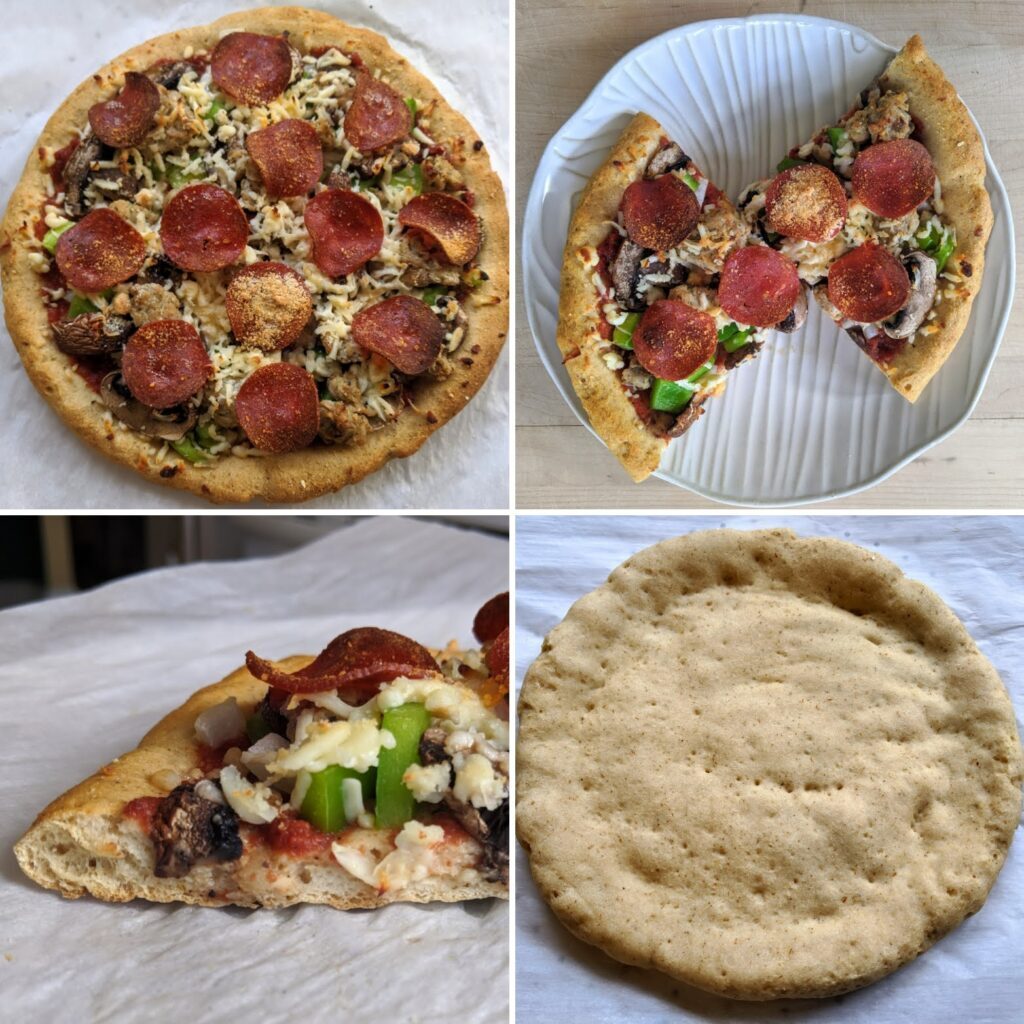 You can even use this dough to make All-Fuels pizza crust! Here I made a Fuel-Pull personal pan pizza! The two slices on the plate (1 serving) come to only 4.2g fat (counting the toppings) but is 32g protein! See what toppings I use to keep it within the Fuel-Pull parameters in my Keto Pizza recipe. And here's how I turned the bagel dough into FP pizza crust dough:
I left out the fat (so I could top my pizza with low-fat string cheese, turkey pepperoni, etc, and stay within the FP macros). This did make it a little dry so, if having as an S pizza, you can leave in the fat.
I subbed gelatin powder for half of the xanthan gum (so 1/2 tsp xanthan gum and 1/2 tsp gelatin powder for full recipe).
I used the optional quick rise yeast.
I added a little more water – so 14 TBS total for a whole recipe.
Everything else was the same. You could also add nutritional yeast, garlic powder, Italian seasoning, etc, if you like.
So after letting the dough rest for 10 min, I wet my hands and pressed the dough into pizza shape (with thicker dough around outside for the crust). Then I parbaked at 350* for about 12min (would probably take longer for full recipe – I was making a half recipe). Then I put on my sauce and toppings and baked for about another 10 or so minutes at 450*.
Helpful tools for making Perfect Keto bagels:
Perfect Keto Bagels: NO CHEESE THM All Fuels
Course: THM-Deep-S, THM-E, THM-Fuel-Pull, Breakfast, Bread
Cuisine: American
Difficulty: Easy
These really are the Perfect Keto Bagels, and without the cheese, nut flours, or excess fat/calories! And they can accompany any THM fuel setting! 🙌
Ingredients
Wet Ingredients:

3/4 cup (184g) egg whites, room temperature

4 tsp (19g) melted butter or dairy-free fat

2 tsp apple cider vinegar (ACV)

Dry Ingredients:

1 cup (75g) oat FIBER

1/2 cup (48g) whey protein isolate

2 TBS (20g) ground psyllium husks (I use NOW Whole Psyllium Husks and grind it into a fine powder in my coffee/spice mill BEFORE measuring)

2 tsp sweetener* (I use Lakanto Golden), optional

2 tsp (about 1 packet) instant/fast-rising yeast, optional (but does give better rise and flavor)

2 tsp baking powder

1 tsp baking soda

1 tsp xanthan gum

1/2 tsp (heaping) sea salt (if not adding Everything Bagel Seasoning, you may want to use 3/4 tsp salt instead)

Stir-in:

3/4 cup boiling water (or slightly less if using different ingredient brands than what I have linked on this recipe card)

Optional Egg-wash:

2 TBS egg whites

1 tsp water

Optional Toppings:

Sesame seeds

Poppy seeds

Get creative!
Directions
First, measure your egg whites into a container that you can set in hot tap water to quickly bring to room temperature.
Next, measure and mix your dry ingredients into a medium sized mixing bowl.
Melt butter. Egg whites should now be room temperature and ready to mix with the butter and ACV.
Now pour the wet ingredients into the dry ingredients and mix as well as you can (it will be thick!).
Boil the 3/4 cups of water and pour it into the dough mixture and mix just until their are no dry clumps left.
Let the dough rest for 10 minutes.
In the meantime, preheat the oven to 350* and prepare a cookie sheet/pan by either greasing or lining with parchment paper.
When dough and oven are ready, form 8 equally-sized dough balls and space on your pan/cookie sheet (or donut pan). Take your finger and pierce the dough balls in the center, shaping them like bagels. Alternatively (for smoother tops), roll dough balls into long cylinder shapes and bring ends together to make your bagel shape.
If adding optional egg-wash, mix together the egg whites and water and brush onto the formed bagels. Sprinkle on any desired toppings such as Everything Bagel Seasoning.
Bake for about 20-25 minutes (this will vary depending on oven/pan so keep an eye on first batch) or until golden.
Allow to cool for at least 15 minutes before slicing.
Notes
If any ingredients appear to have a line through them, just click to side of ingredient (or on another ingredient) and the line should disappear. It's a feature of the recipe plugin that allows people to cross off ingredients as they add them to a recipe. Also, the print feature of this plugin is a little wonky so always check over recipe print-outs to make sure all ingredients are included and correct. Another option is to copy and paste the recipe text and print through a different program.
Based on making 8 bagels, each bagel is approximately 56 calories, 0.1g net carbs, 1.9g fat, and 7.7g protein.
If using a different sweetener, check out this sweetener conversion chart.
LifeSource Foods Oat Fiber 500
Nutrition Facts
8 servings per container
---
Amount Per ServingCalories56
% Daily Value *
Total Fat 1.9g

3

%
Total Carbohydrate 7.3g

3

%
Protein 7.7g

16

%
---
* The % Daily Value tells you how much a nutrient in a serving of food contributes to a daily diet. 2,000 calories a day is used for general nutrition advice.
You might also like:
Amazon and the Amazon logo are trademarks of Amazon.com, Inc, or its affiliates.
---