Keto Chocolate Pudding with a Secret – THM-Deep-S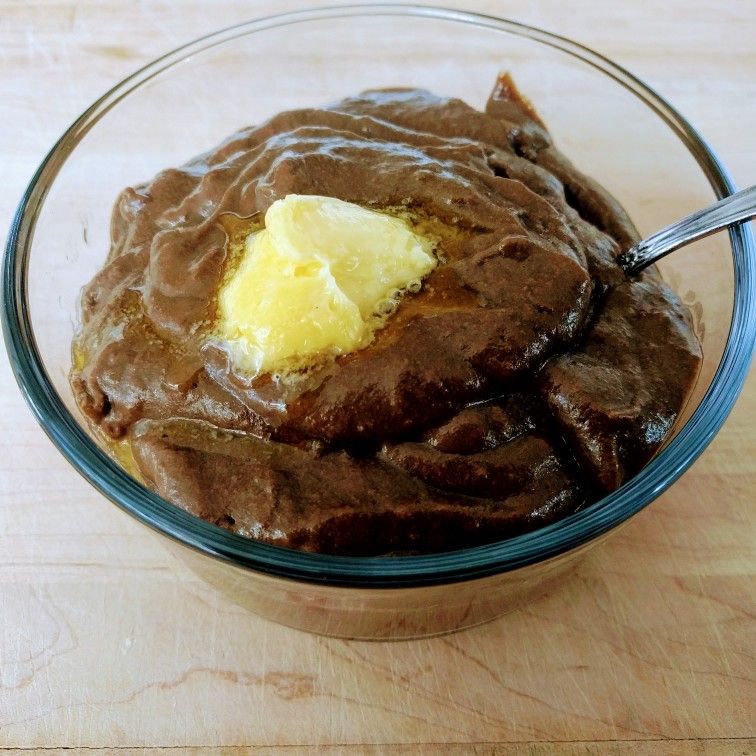 As an Amazon Associate, I earn from qualifying purchases. I am also an official THM Affiliate and am earning a percentage off of links used in the above content that may link directly to the THM online store. This is at no cost to you. Please see my Affiliate Disclosure for more information.
Jump to Recipe
Mmm, warm velvety chocolate pudding! There's just something so comforting about it. And this rich and yummy chocolate pudding has a little secret…KALE! That's right – there's kale (okra works great, too) blended into it and you can't tell it's in there! It's also high-protein, keto, low-carb, sugar-free, gluten-free, dairy-free, and even THM-Deep-S!
Dessert that's actually a complete meal!
Even though it tastes and feels more like a dessert, it's actually a complete meal in itself. It's over 20g of protein and has a serving of veggies blended into it. This pudding always supercharges me, especially with the added MCT oil (though coconut oil can be substituted) with the chocolate.
It's also really quick and easy to make. Just takes a blender and a sauce pan. While frozen okra can be substituted, I usually make mine with cooked kale. Why cooked? For one, you can pack a lot more cooked kale into 1/4 cup than you can raw kale but I also only used cooked kale in all my kale recipes. I do this because raw kale (along with a few other greens like spinach, chard, etc) contains oxalic acid (which can cause a variety of health issues) and lightly cooking it helps neutralize that acid. This also helps it to taste sweeter and to blend up better into the pudding.
How do I cook my kale?
I make mine in the Instant Pot. I buy those big bags of cleaned/chopped kale (organic is best) from the store and just dump it into my IP (into a steaming basket and with 1 cup of water). Then I set it to manual for 3 minutes, then do quick-release. I then store in my fridge and use throughout the week for various meals/recipes. It's always perfectly tender (and a little sweet). This really helps make "eating my greens" so much easier. Not only do I add kale to this recipe, I also add it to shakes, scrambles, stir-fries/sautés, etc.
Enjoy warm or cold
While I love eating this warm with melted butter on top, alongside a cup of hot black coffee, it's also yummy made ahead and eaten cold. This is a great option for those THM-Deep-S days in the Trim Healthy Mama Fuel Cycle when you need to be able to eat on-the-go.
Keto Chocolate Pudding with a Secret – THM-Deep-S
Course: THM-Deep-S, Snack, Dessert
Cuisine: American
Difficulty: Easy
Mmm! Yummy and comforting warm chocolate pudding, but this one's actually healthy and has a little secret – KALE! Also it's keto, low-carb, sugar-free, high-protein, gluten-free, dairy-free, and even THM-Deep-S!
Ingredients
3/4 cup unsweetened almond milk

2 eggs

1/4 cup egg whites

1/4 cup tender steamed kale, packed (or 1/3 cup frozen okra) – see above on how I cook my kale

5 tsp preferred sweetener*, or to taste (I use Lakanto Golden)

1 TBS cocoa, or to taste/preferenc (I use 1.5 TBS Rodelle dutch-processed baking cocoa)

2 tsp MCT oil, coconut oil, or butter (added at end after cooking)

1/2 tsp vanilla extract (I also like to add 1/4 tsp caramel extract)

1/4 tsp glucomannan* (see notes)

1/4 tsp sea salt or to taste
Directions
Put everything but the MCT oil and the glucomannan in the blender and blend until you can no longer see any pieces of kale. This may take a couple minutes, depending on your blender.
With the blender on high, add the glucomannan (to prevent clumping).
Pour into sauce pan and stir with wire whisk on med-high heat until starts to thicken, then turn down heat and continue stirring.
As it thickens, it will become a little "clumpy". When it's reached your preferred thickness, pour back into blender (though be careful and vent lid) or use a hand/immersion blender and blend until smooth.
Add MCT oil (or other preferred fat) and blend a few more seconds until well mixed and pudding is velvety. Then pour into bowl and top with optional butter and enjoy! Or chill and eat later cold.
Notes
If any ingredients appear to have a line through them, just click to side of ingredient (or on another ingredient) and the line should disappear. It's a feature of the recipe plugin that allows people to cross off ingredients as they add them to a recipe. Also, the print feature of this plugin is a little wonky so always check over recipe print-outs to make sure all ingredients are included and correct. Another option is to copy and paste the recipe text and print through a different program.
Xanthan gum could possibly be substituted for glucomannan or this ingredient could also probably be completely omitted, too. Maybe reduce amount of almond milk since may not be as thick without glucomannan/xanthan gum.
Calculated with kale and MCT oil, one recipe of pudding is 308 calories, 2.8g net carbs, 20.6g fat, and 21.7g protein.
If using a different sweetener, check out this sweetener conversion chart.
Nutrition Facts
1 servings per container
---
Amount Per ServingCalories308
% Daily Value *
Total Fat 20.6g

32

%
Total Carbohydrate 7g

3

%
Protein 21.7g

44

%
---
* The % Daily Value tells you how much a nutrient in a serving of food contributes to a daily diet. 2,000 calories a day is used for general nutrition advice.
You might also like:
Amazon and the Amazon logo are trademarks of Amazon.com, Inc, or its affiliates.
---