Superfood Chocolate Blizzard THM-Deep-S Keto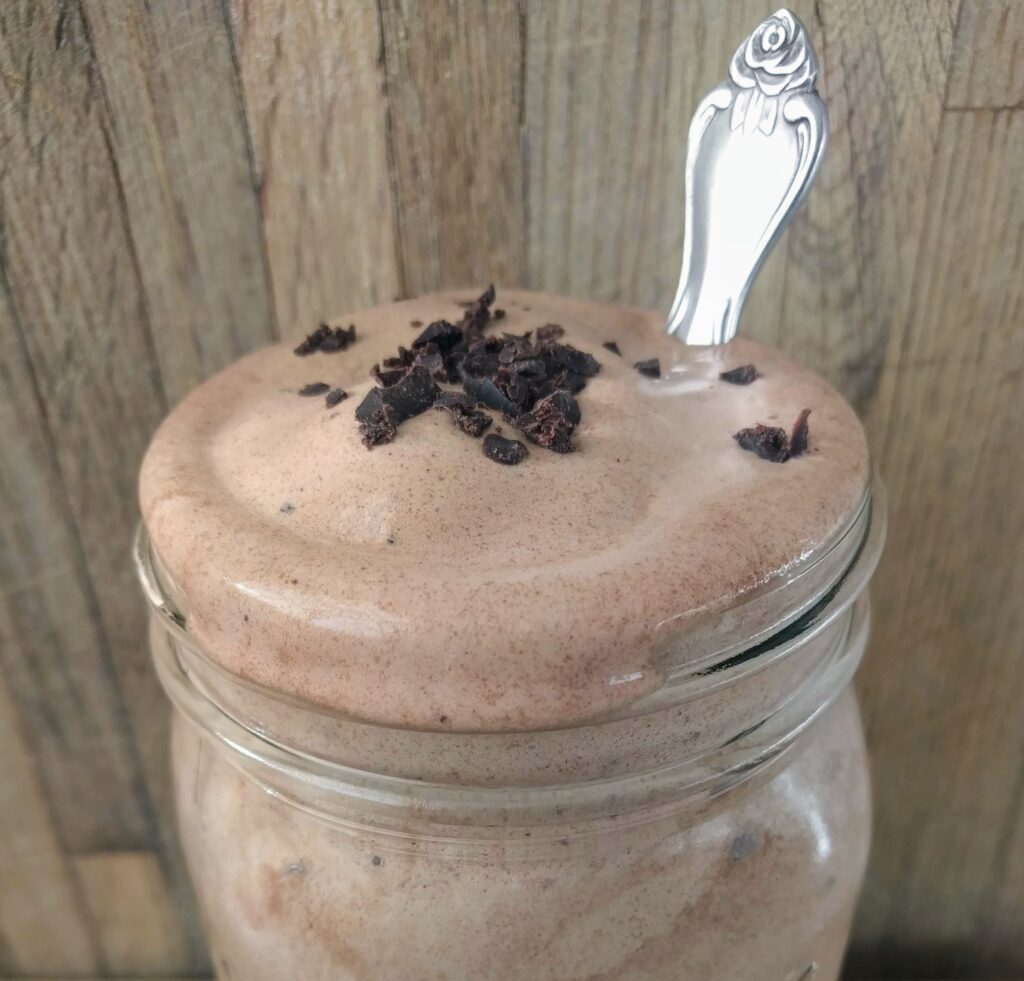 As an Amazon Associate, I earn from qualifying purchases. I am also an official THM Affiliate and am earning a percentage off of links used in the above content that may link directly to the THM online store. This is at no cost to you. Please see my Affiliate Disclosure for more information.
Jump to Recipe
Finally a way to enjoy rich and creamy dairy-free ice cream in THM-DS! The Superfood Chocolate Blizzard is made instantly in your blender and is keto, sugar-free, and high-protein (over 22g)! It even has a serving of veggies (but you'd never know it's in there)!
It never fails that, whenever I do a THM Fuel Cycle and have my Deep-S days, I always crave ice cream! 🍦 But, even though DS is all about the pure fats, it doesn't include dairy or nuts. So no ice cream made with heavy whipping cream or even coconut cream. BUT, I found a way to make a rich and creamy dairy-free DS Superfood Chocolate Blizzard that tastes just like the not-so-good-for-you chocolate ice cream that I crave! It's a real game-changer, y'all!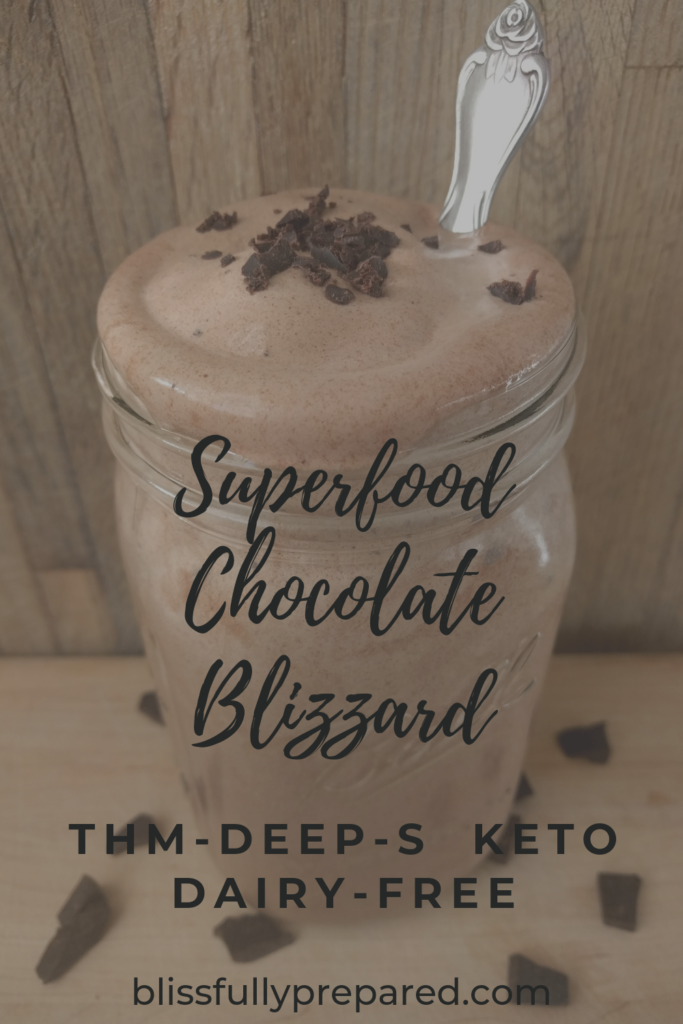 Like my popular fuel-pull blizzards, the deep-s superfood chocolate blizzard is like instant ice cream that's actually good for you!
My FP Blizzards have been such a hit that I wanted to find a way to make a rich and creamy DS Blizzard, too! However, DS is dairy-free, so I couldn't add cottage cheese like I do in the FP Blizzards.
Instead, I add coconut oil and gelatin! The coconut oil gives the blizzard its richness (along with the cocoa and collagen) and the gelatin gives it that creamy thickness of ice cream. Not to mention, both coconut oil and gelatin (as well as collagen and cocoa) are superfoods, too! So it's a win-win!
Gotta get your veggies! 😉
And, just like most of the FP Blizzards, the DS Blizzard is also high-protein and has veggies blended into it! And you can't tell they're in there!
I like to add frozen okra to mine (okra is another superfood – read this), but spinach (preferably cooked to neutralize oxalic acid – read this for more info), kale (also cooked) or zucchini would probably work just as well!
A new way to enjoy glycine glory pudding, in the form of deep-s ice cream!
Glycine Glory Pudding is a popular Trim Healthy Mama recipe that features the superfoods collagen and gelatin but is also dairy-free. However, some people have strong opinions about GGP, mostly about the texture since it's a lot like jello. I'll admit that I'm personally not a huge fan of it myself.
But this DS Superfood Chocolate Blizzard has a lot of the same ingredients, though tastes just like ice cream! So it's a new way to enjoy and reap the benefits of GGP!
Add some crunch with Superfood Skinny Chocolate Chips!
A lot of my FP Blizzards add sugar-free chocolate chips to give a little crunch, just like the not-so-good-for-you DQ Blizzards. But, since this Blizzard is DS, we can add Skinny Chocolate Chips (SCC) instead!
What is Skinny Chocolate? It's basically a homemade sugar-free chocolate made with superfood, fat-burning coconut oil and antioxidant-rich cocoa. I like to make mine 1:1 melted coconut oil and cocoa and then I sweeten to taste (with combination of powdered Swerve and liquid stevia) and add a little sea salt and vanilla extract. Then I pour into an ice cube tray/silicon molds (keep shallow) and freeze. It hardens pretty quickly. Mine usually hardens up in the time it takes for me to make my Blizzard.
To add to a DS Blizzard, I just break up my Skinny Chocolate cubes into chips and throw them in the blender with my Blizzard at the very end. I just blend for a few seconds, just to break them up a little but still have some crunchy bits left, too. 😋
SCC are quick and easy to make but, if you don't have time, you could also use my homemade sugar-free chocolate chunks (allowed in DS in small quantities), if you have some around. Unfortunately, store-bought chocolate chips (even the sugar-free ones like Lily's) are NOT DS approved (but could be used for a THM-S Blizzard).
Yet another option – you can blend up a mini frozen chocolate DS muffin/cake into your Blizzard for "cookie bits" instead of chocolate chips. I make muffins with this recipe and always keep mini and regular sized ones in my freezer for a quick snack.
The flavor possibilities
I've made and enjoyed the DS Blizzard in several different flavor combinations. While I made separate posts for all the different FP Blizzard flavors, I'm just making one post for the DS Blizzards.
I give instructions and nutritional information for the basic Chocolate Blizzard below, but there are several yummy variations that I've discovered.
Almond Joy Blizzard:
Since I use unrefined coconut oil in my DS Blizzard and SCC, I like to celebrate that delicious coconut flavor (instead of trying to hide it) by adding almond extract. The combination of cocoa, coconut oil, and almond extract reminds me of Almond Joy chocolates. 😋
And, since this is a Chocolate Blizzard, the slight green color of the okra, spinach, etc, is well hidden (and so is the veggie flavor!). 😉
I use 1/4 tsp vanilla extract in this Blizzard and also add 1/4 tsp of almond extract, along with SCC.
Peppermint Chocolate Blizzard:
I'm a sucker for anything mint chocolate. And this Peppermint Chocolate Blizzard never lets me down. It's super easy to make, too. Just add a little peppermint extract and SCC! You can even add peppermint extract to your SCC, too, if you like. This makes a great holiday flavor, as well! 🎄
Again, since this Blizzard is chocolate, you can't tell there's any green veggies blended up into it! 😉
To make this Blizzard, I use 1/4 tsp vanilla extract and add 1/4 tsp peppermint extract, along with SCC.
Mint Chip Blizzard:
You can also leave out the cocoa and celebrate the naturally green hint of the blended veggies with a DS Mint Chip Blizzard.
To make this Blizzard, I omit the cocoa and use 1/4 – 1/2 tsp vanilla and 1/4 – 1/2 tsp peppermint extract (depending on how strong you like it). I also like to add a little fresh squeezed lemon juice, too (it doesn't take much!). And, of course, SCC!
Mocha Chip Blizzard:
If you're a coffee lover like I am, then you'll love the Mocha Chip Blizzard! I like to add Trader Joe's Instant Cold Brew Coffee powder to mine but coffee/cold brew frozen into ice cubes works well, too!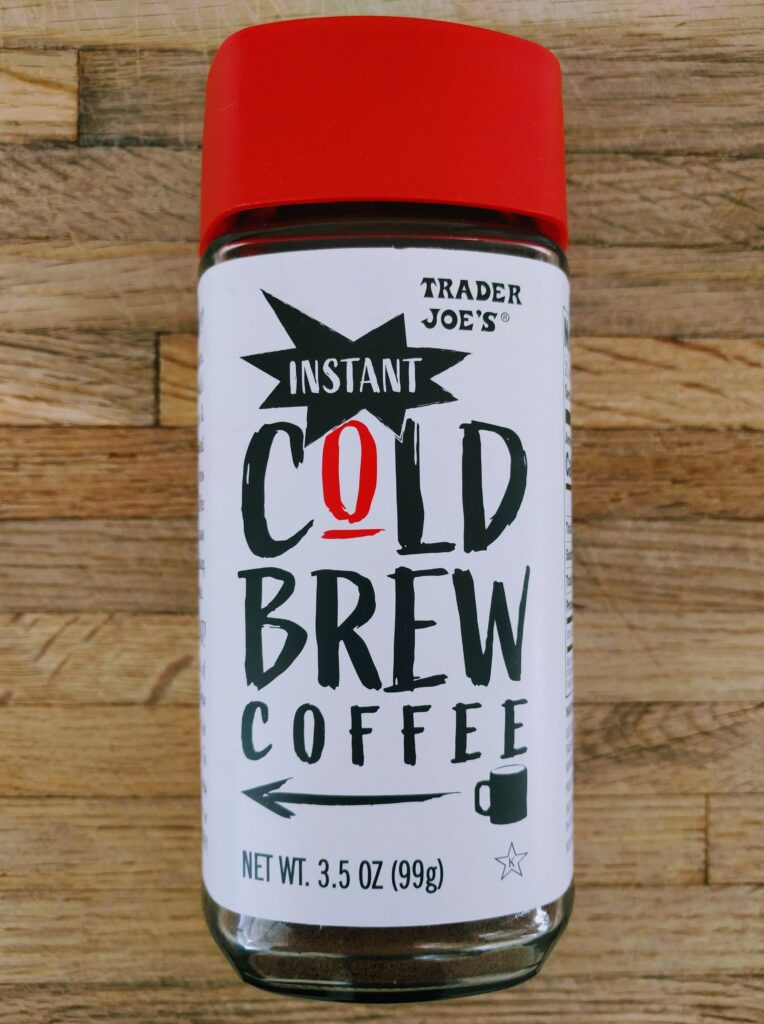 And, with the rich brown color of the cocoa and coffee, this is a great way to hide the green color of the blended veggies! 😉
To make mine, I use the 1/4 tsp vanilla extract but also add 2 tsp of TJ's Instant Cold Brew Coffee powder to mine. If using coffee/cold brew, I'd recommend using about 6oz, frozen into ice cubes. Just add them when you add your ice cubes (and obviously you won't need as much water ice cubes this way). And don't forget the SCC! You can even throw in a few whole coffee beans, too, for extra caffeine and crunch, if you like (for "espresso chip" style)!
How to make a DS Superfood Chocolate Blizzard
The DS Blizzard is just as easy to make as the FP ones, but there is one extra step. Since we add gelatin to this recipe, we first need to "bloom" the gelatin.
In order to activate gelatin's thickening powers, it must first be "bloomed". This is where we initially mix the gelatin powder with a liquid and let it "bloom" for a few minutes (about 5 minutes) before adding it to our Blizzard (which is exactly the amount of time it takes me to get my other ingredients together anyway, so it really doesn't add additional time).
To do this, I take two ramekins and pour 2 TBS of unsweetened almond milk into each ramekin. Then I measure out a heaping teaspoon of gelatin powder and whisk it into one of the ramekins of almond milk. It's OK if there are a few clumps.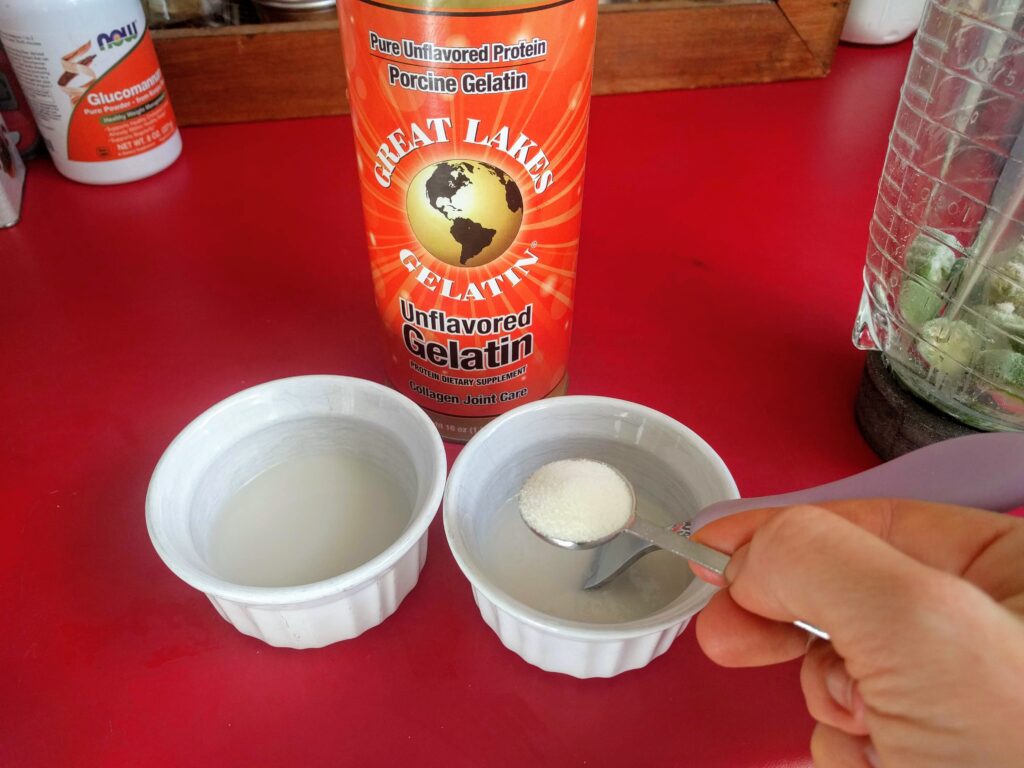 In the meantime, I like to put my other ingredients in my blender. But don't add the glucomannan, ice, or SCC just yet!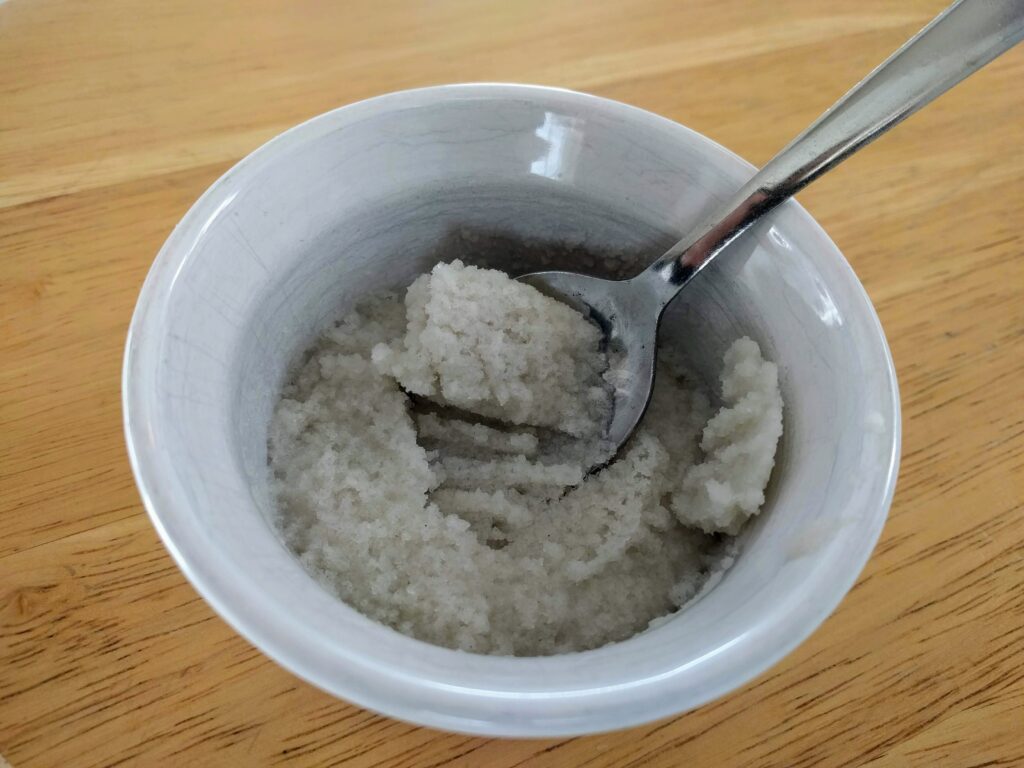 Then I take the other ramekin and add my 1 TBS of coconut oil (or fat of choice, if needs melting) and put it in the microwave for about 30 seconds. This is to both melt the coconut oil (so it will emulsify into the Blizzard) and to heat some of our almond milk (for dissolving the gelatin). This heated almond milk and coconut oil are then added to the "bloomed" gelatin mixture. Just give it a stir and the gelatin should melt and become fully liquid.
Now we're ready to blend!
Go ahead and blend up what you have in the blender already. With the blender running, pour in your gelatin/almond milk/coconut oil mixture. Then add the glucomannan.
We're now ready for the ice. I usually add about 1 – 1.5 cups ice to mine (less if adding coffee ice cubes, too). It will be very thick (which you want!) so carefully help stir things around (but not low enough to hit the blades!) while it's blending. You don't need a fancy high-powered blender for this; I just use an old "normal" blender. I always know the ice is fully broken down when the sound of my blender changes (pitch becomes lower).
This is the point where you'll want to taste test and adjust any flavors or add more ice if you like it thicker. Now we're ready for the SCC! And, unlike with the FP Blizzards, we're not as concerned about fat with the DS Blizzards, so add as much as you like! 🍫😋 I then just blend for a few seconds (stirring a little since it's so thick) to break the chocolate chips up a little, while leaving them a little chunky, too.
And that's it! Just pour/scoop and enjoy!
Superfood Chocolate Blizzard THM-Deep-S Keto
Course: THM-Deep-S, Snack, Dessert
Cuisine: American
Difficulty: Easy
Finally a way to enjoy rich and creamy dairy-free ice cream in THM-Deep-S! The Superfood Chocolate Blizzard is also keto and high-protein!
Ingredients
Gelatin Mix:

1 tsp heaping gelatin powder

1/4 cup unsweetened almond milk, divided

1 TBS coconut oil (or fat of choice*), melted

Blender Ingredients:

1/4 – 1/2 cup frozen okra, spinach, or other nonstarchy veggie (I use about 1/2 cup frozen okra), optional

1/4 cup liquid pasteurized egg whites* (I use Costco or Sam's brands)

2 TBS collagen (or whey protein isolate)

1.5 TBS cocoa

1.5 TBS sweetener*, or to taste

1/4 – 1/2 tsp vanilla extract (if I'm adding other extracts, I generally just use 1/4 tsp)

Other extracts or flavors – 1/4 tsp almond or mint extracts (or your other favorites – get creative!), 2 tsp Trader Joe's Instant Cold Brew Coffee powder, etc.

Liquid stevia to taste, optional (I use 6 drops)

Sea salt to taste

1/2 tsp glucomannan

Ice (1 – 1.5 cups to preferred thickness)

Skinny Chocolate Chips (SCC)

2 TBS melted coconut oil (use refined or butter-flavored to avoid coconut flavor, if that's an issue for you). Just get warm enough to melt, not hot.

2 TBS cocoa

1 tsp powdered sweetener, or to taste

1/8 tsp vanilla extract

5 drops liquid stevia or to taste, optional

Pinch of sea salt
Directions
First prep your SCC, if you plan to add them to your Blizzard. Mix the ingredients and pour into ice cube tray/silicone molds and freeze. It hardens quickly, in about the time it takes to make the Blizzard. Break up into chunks (fork seems to work best for me) before adding to blender.
"Bloom" the gelatin. I take two ramekins and pour 2 TBS of almond milk into each one.
Stir 1 heaping teaspoon of gelatin powder into one of the ramekins of almond milk. It's OK if there are a few clumps. Let the gelatin mixture "bloom" for about 5 minutes.
In the meantime, add your other ingredients to the blender (except glucomannan, ice and SCC).
Then take the other ramekin of just almond milk and add your coconut oil (or other fat, if needs melting) to it. Put in microwave for about 30 seconds.
Now pour the hot almond milk/coconut oil into the gelatin mixture to dissolve/melt it and give it a stir.
Start running the blender. With the blender on, pour in the gelatin/almond milk/coconut oil mixture, followed by the glucomannan.
Add ice and/or coffee ice cubes. The Blizzard will get quite thick (which we want!). Carefully help stir things around a little (just on top, don't touch the blades!) to help the ice break down. I always know mine is ready when my blender changes to a lower pitch.
Taste test and adjust flavors/add more ice if desired.
Now add the SCC! Just blend for few seconds so to leave some crunchy bits!
Pour/scoop and enjoy! Since this is mostly made of ice, it's best enjoyed right away, but the gelatin does seem to help hold the thickness longer than in non-gelatin Blizzards. So you might be able to put leftovers in fridge or freezer to enjoy later.
Notes
If any ingredients appear to have a line through them, just click to side of ingredient (or on another ingredient) and the line should disappear. It's a feature of the recipe plugin that allows people to cross off ingredients as they add them to a recipe. Also, the print feature of this plugin is a little wonky so always check over recipe print-outs to make sure all ingredients are included and correct. Another option is to copy and paste the recipe text and print through a different program.
As a single serving, this Blizzard (not counting the okra or other veggies or the SCC) is roughly 264 calories, 1.8g net carbs, 15.6g fat, and 22.4g protein.
MCT oil or other liquid fats could be substituted for coconut oil but the Blizzard may not be as thick since these fats don't thicken when chilled like coconut oil does.
If using a different sweetener, check out this sweetener conversion chart.
I do not recommend using raw egg whites; only use pasteurized liquid egg whites. Most liquid egg whites sold in stores is pasteurized (but check the label). Raw egg whites can contain pathogens and also contain something called Avidin (which can lead to biotin deficiency). But pasteurized egg whites are safe to use right out of the carton and help make this Blizzard thick and creamy (and high protein). For more info, read this.
Nutrition Facts
1 servings per container
---
Amount Per ServingCalories264
% Daily Value *
Total Fat 15.6g

24

%
Total Carbohydrate 7g

3

%
Protein 22.4g

45

%
---
* The % Daily Value tells you how much a nutrient in a serving of food contributes to a daily diet. 2,000 calories a day is used for general nutrition advice.
You might also like:
Amazon and the Amazon logo are trademarks of Amazon.com, Inc, or its affiliates.
---