Lemon Protein Cookies Keto THM-Deep-S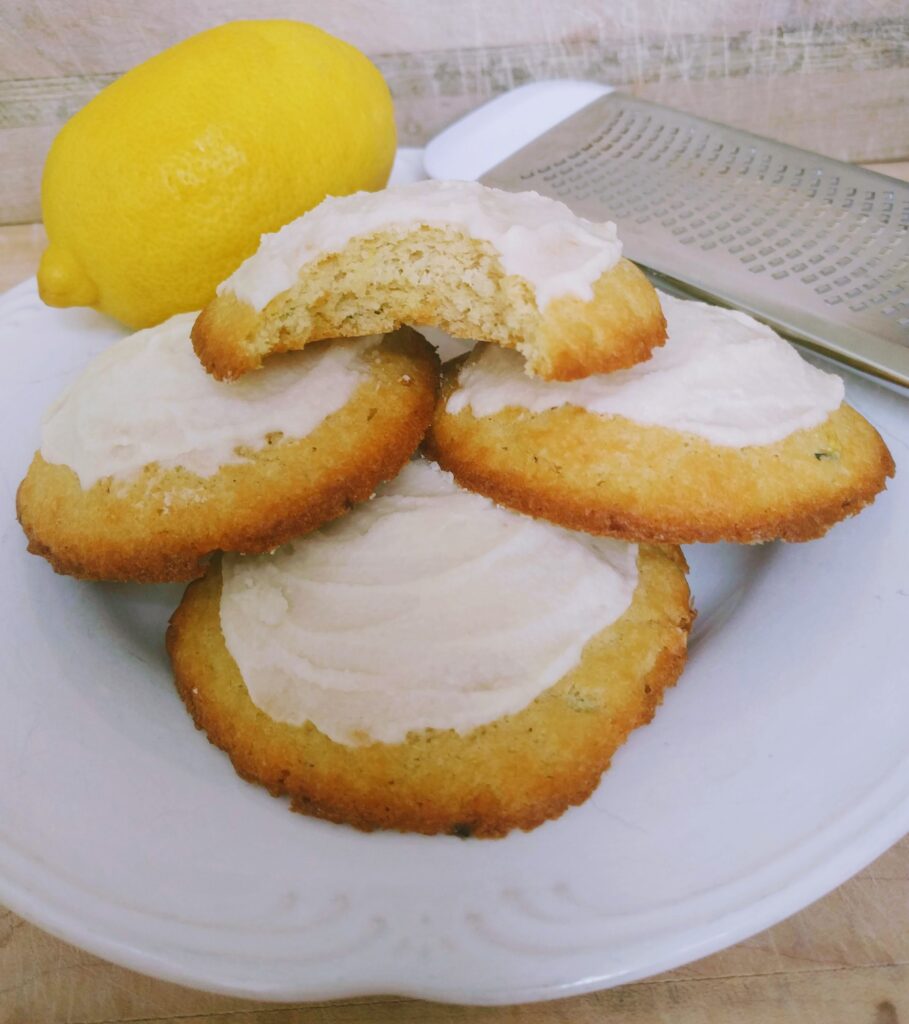 As an Amazon Associate, I earn from qualifying purchases. I am also an official THM Affiliate and am earning a percentage off of links used in the above content that may link directly to the THM online store. This is at no cost to you. Please see my Affiliate Disclosure for more information.
Buttery, sweet and tangy, these Lemon Protein Cookies will certainly brighten your day!
I'll admit that I'm usually a chocolate/chocolate chip cookie kinda girl when it comes to cookies (or really about anything lol) but these little cookies have been stealing my heart lately. Even my family has been raving about them (and they're often tough critics lol)! These Lemon Protein Cookies are so satisfying and addictive that you won't believe that they're keto/low-carb, sugar-free, nut-free, gluten-free, high-protein, and even THM-Deep-S approved! Oh and they even have veggies (zucchini) in them! Gotta get your veggies! 😉
Possibly the lowest net carbs of any cookie EVER!
Not only are these cookies sugar-free and gluten-free, they are also nut-free, which means no almond or coconut flour, which is hard to find in keto/low-carb cookie recipes. Instead, they mostly use a combination of oat fiber and whey protein isolate to give them that irresistible cookie taste and texture. But these "flours" essentially are just fiber and protein and almost zero grams net carbs. Each cookie is only 0.1 grams net carbs!
Lemon Protein Cookies are THM-Deep-S Approved!
The Lemon Protein Cookies are one of the only cookie recipes out there (see my other Deep-S cookie recipes like Fudgy Protein Cookies, Peanut Chocolate and Protein Chocolate Chip Cookies) that are suitable for THM-Deep-S. THM-DS is quite restrictive in that it focuses on just pure fats, proteins, and non-starchy veggies like greens, zucchini, etc. Nuts, dairy, coconut, avocados, etc – which are often the darlings of keto cuisine – are not allowed in THM-DS due to the small amounts of net carbs they contain.
Understandably, fruits aren't allowed either, with exception of some citrus like lemons and limes. And, since these cookies just use a small amount of fresh lemon juice, they make the perfect fruity treat for THM-DS!
Lemon Protein Cookies Keto THM-Deep-S
Recipe by blissfullyprepared
Course: THM-Deep-S, Dessert, Snack
Cuisine: American
Difficulty: Easy
Lemon Protein Cookies are not only keto, low-carb, sugar-free, nut-free and gluten-free but are also THM-Deep-S and only 0.1g net carbs!
Ingredients
Lemon Protein Cookies

1/2 cup (one stick) room temperature softened butter

1/2 cup sweetener* (I use Lakanto Golden)

1 egg (room temperature)

1/2 cup oat fiber

1/2 cup / 48g whey protein isolate

1/4 cup shredded zucchini

1 TBS fresh lemon juice

1 tsp lemon zest

1 tsp vanilla extract

1/2 tsp baking soda

1/4 tsp xanthan gum

1/4 tsp lemon extract (optional but recommended for bold lemon flavor)

1/4 tsp cream of tartar (optional for fluffier cookies)

1/4 tsp sea salt

Lemon Icing

1/2 cup powdered sweetener (I use Swerve)

1 TBS softened or melted butter (optional but helps icing to harden better and gives richer flavor)

1 TBS fresh lemon juice

Few drops of lemon extract to taste

Few drops of liquid stevia to taste (optional)

Dash of sea salt to taste

Unsweetened almond milk or water to desired consistency
Directions
Preheat oven to 350* and grease or line cookie sheet with parchment paper.
Make sure your egg and butter are room temperature before you start. You can quickly warm up the egg by placing it in hot tap water for a few minutes. The butter can be slightly melted and then allowed to cool.
Mix dry ingredients together in small mixing bowl and set aside.
Grate zucchini and set aside. No need to squeeze out excess liquid.
Cream the softened butter and sweetener together by hand or with mixer.
Add the room temperature egg and extracts to the creamed butter and sweetener and mix until well-incorporated.
Then add the dry ingredient mixture and mix until smooth.
Finally fold in the zucchini, lemon juice and lemon zest.
Bake on prepared cookie sheet for 12 – 14 minutes or until tops are firm and edges start to brown. These cookies will spread some so make sure to space accordingly.
Make icing while cookies cool. Start by mixing the powdered sweetener and lemon juice, then add optional butter and other ingredients, finishing with the almond milk/water until desired consistency. Adjust sweetness/flavors. Top the cooled cookies with the icing and put cookies in fridge/freezer to harden the icing before transferring to a container to store in the fridge.
Notes
If any ingredients appear to have a line through them, just click to side of ingredient (or on another ingredient) and the line should disappear. It's a feature of the recipe plugin that allows people to cross off ingredients as they add them to a recipe. Also, the print feature of this plugin is a little wonky so always check over recipe print-outs to make sure all ingredients are included and correct. Another option is to copy and paste the recipe text and print through a different program.
The macro breakdown (not including the icing) of each cookie is: 69 calories, 0.1g net carbs, 5.8g fat, and 3.6g protein.
To make completely dairy-free, coconut oil can be subbed for butter (use refined or butter flavored to reduce coconut flavor; butter extract might be good addition, too) and collagen peptides can be subbed for whey protein isolate. But, since collagen isn't as "thirsty" as WPI, you may need to add 2 TBS extra of collagen (so 10 TBS total) and it may help to chill the cookie dough in the freezer for 15 mins before baking to reduce spreading.
If using a different sweetener, check out this sweetener conversion chart.
Nutrition Facts
16 servings per container
---
Amount Per ServingCalories69
% Daily Value *
Total Fat 5.8g

9

%
Total Carbohydrate 3g

1

%
Protein 3.6g

8

%
---
* The % Daily Value tells you how much a nutrient in a serving of food contributes to a daily diet. 2,000 calories a day is used for general nutrition advice.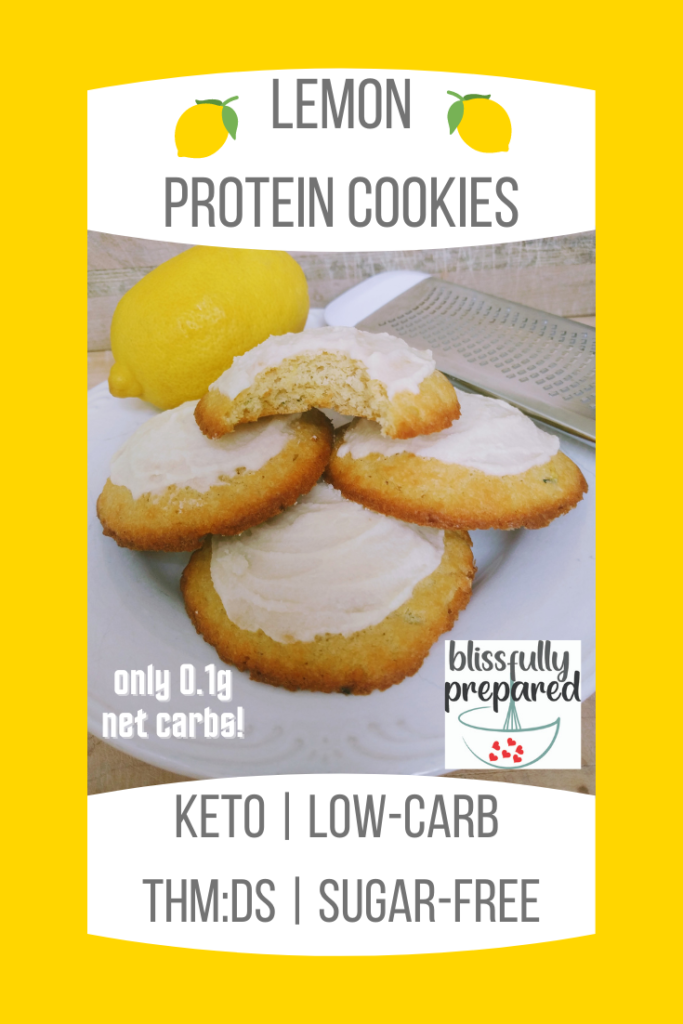 You might also like:
Amazon and the Amazon logo are trademarks of Amazon.com, Inc, or its affiliates.
---