Peanut Chocolate Protein Cookies THM-Deep-S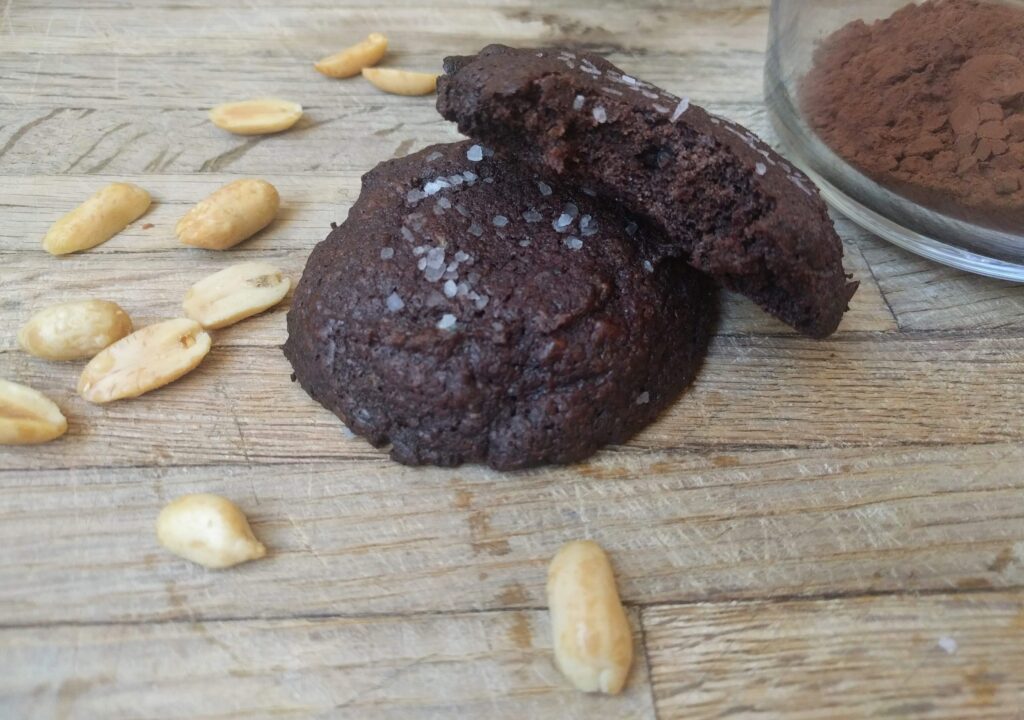 As an Amazon Associate, I earn from qualifying purchases. I am also an official THM Affiliate and am earning a percentage off of links used in the above content that may link directly to the THM online store. This is at no cost to you. Please see my Affiliate Disclosure for more information.
Jump to Recipe
Decadent Peanut Chocolate Protein Cookies are keto, sugar-free, low-carb, dairy-free, gluten-free and even THM-Deep-S!
What goes better together than peanut and chocolate?! Personally, I know I can't resist this combo. 😋 But these Peanut Chocolate Protein Cookies have no peanuts or peanut butter in them. Instead, they use defatted peanut powder, which has all the protein and peanut-nuttiness but without the fat.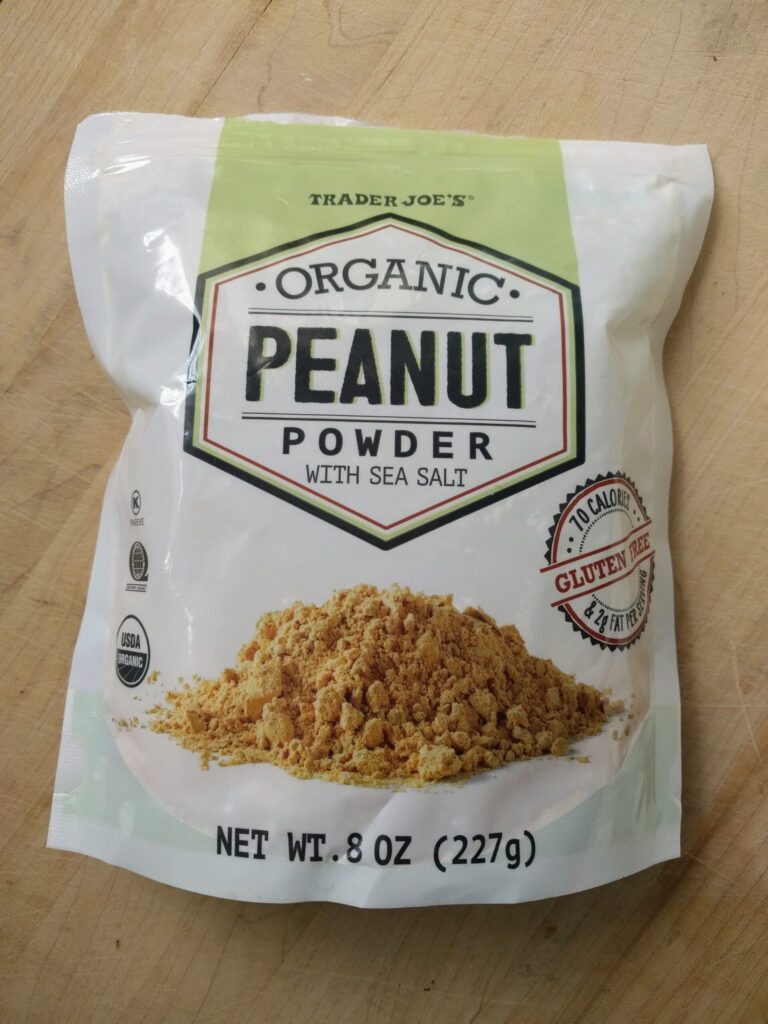 Why no peanuts or peanut butter?
These cookies can be enjoyed, not only in keto/low-carb, but also in THM-Deep-S. And I believe there should be cookies for every fuel setting, including THM-DS! Check out my other THM-DS cookie recipes, too: Lemon Protein, Fudgy Protein, and Protein Chocolate Chip.
Peanut butter is on-plan with Trim Healthy Mama, but only in the THM-S setting. THM-DS is a much more restrictive yet very powerful THM fuel setting that focuses on pure fats, proteins, and non-starchy veggies such as greens, zucchini, etc. With being extremely low-carb, even most nuts are not allowed.
So if nuts aren't allowed in Thm-ds, how can Peanut Chocolate Protein Cookies have defatted peanut powder and still be THM-DS?
The exception to the nut rule is defatted peanut powder because, with the fat removed, it is more of a protein powder. THM-DS allows up to 1 TBS of defatted peanut powder in a meal. You would have to eat FOUR Peanut Chocolate Protein Cookies in one sitting to reach that limit. And, with how rich and satisfying these cookies are, it would not be easy to exceed that limit.
These cookies use oat fiber and collagen instead of almond or coconut flour
In addition, almond and coconut flours are also not allowed in THM-DS. Most keto/low-carb baked goods require almond or coconut flour. But, for these cookies, oat fiber and collagen peptides are used instead. They are basically just fiber and protein and are essentially zero net carbs. Of course, the cocoa and defatted peanut powder also act as flours and provide protein, too. Altogether, these cookies are both high-protein, yet low-carb. Each cookie is 5.5g protein while only having 0.7g net carbs!
Collagen and coconut oil are superfoods
Collagen and coconut oil are the superstars of this recipe, and they're both superfoods, as well! Read more on collagen's health benefits here. And here's info on the many health benefits of coconut oil. They are also both completely dairy-free and it's encouraged to incorporate them into meals as much as possible in THM-DS.
Don't forget your veggies!
Another superfood ingredient in these cookies – ZUCCHINI! The zucchini helps keep these cookies moist and fudgy while also providing all the wonderful fiber and nutrients of zucchini! Gotta get those non-starchy veggies in! 😉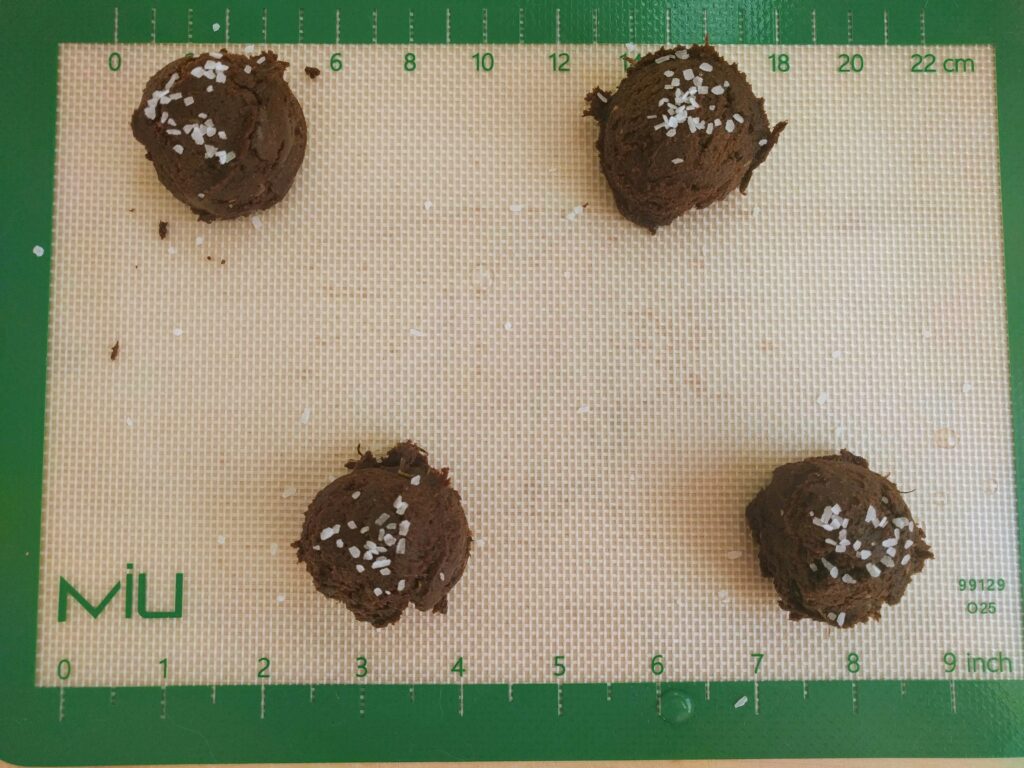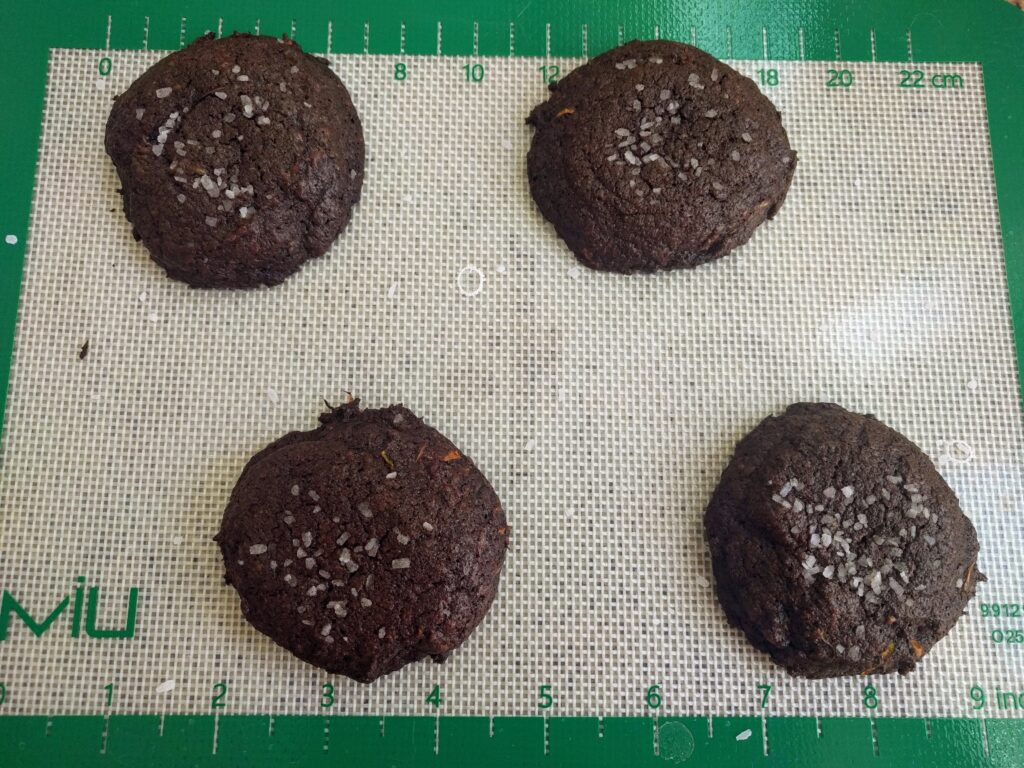 Peanut Chocolate Protein Cookies THM-Deep-S
Course: THM-Deep-S, dessert, snack
Cuisine: American
Difficulty: Easy
Peanut Chocolate Protein Cookies are rich and satisfying yet are keto, low-carb, sugar-free, dairy-free, and even THM-Deep-S.
Ingredients
Dry Ingredients:

1/2 cup + 2 TBS collagen peptides (or just 1/2 cup whey protein isolate)

1/2 cup sweetener* (I used Lakanto Golden)

5 TBS oat FIBER (or just 3 TBS of oat fiber if also using whey protein isolate)

5 TBS cocoa (I use dark dutch-processed cocoa)

1/4 cup defatted peanut powder

1/2 tsp baking soda

1/4 tsp glucomannan or xanthan gum

1/4 tsp sea salt

Wet Ingredients:

1/2 cup soft or melted/cooled coconut oil (refined or butter-flavored can be used to reduce coconut flavor) or butter

1 egg (room temperature)

1 tsp vanilla extract

1/4 tsp butter extract (optional if using plain coconut oil)

Other:

1/4 cup shredded zucchini (don't need to squeeze out moisture)

Sea salt flakes sprinkled on tops of cookies, optional
Directions
Preheat oven at 350* and either grease or line a cookie sheet with parchment paper.
Before starting, make sure egg and coconut oil are at room temperature. You can quickly bring an egg to room temp by placing it in saucer of hot tap water for a few minutes.
Mix dry ingredients together and set aside.
Shred zucchini and set aside.
Cream coconut oil and sweetener by hand or with mixer.
Stir egg and extracts in with creamed mixture until smooth.
Then add the dry ingredients and mix thoroughly.
Finally, fold in the shredded zucchini.
Use an ice cream scoop to put balls of cookie dough on prepared cookie sheet. Top with optional sea salt flakes. Don't flatten them, and give them space, as these cookies will spread some on their own.
Bake for about 14 minutes or until tops are almost firm (cook for less time if prefer more fudgy) – they will continue to cook as they cool. They will also firm up as they cool (and become chewy and even a little crunchy when coconut oil in them hardens in fridge/freezer). Enjoy right away or store in fridge/freezer for later.
Notes
If any ingredients appear to have a line through them, just click to side of ingredient (or on another ingredient) and the line should disappear. It's a feature of the recipe plugin that allows people to cross off ingredients as they add them to a recipe. Also, the print feature of this plugin is a little wonky so always check over recipe print-outs to make sure all ingredients are included and correct. Another option is to copy and paste the recipe text and print through a different program.
Each cookie is roughly 96 calories, 0.7g net carbs, 7.6g fat, and 5.5g protein.
If subbing butter and whey protein isolate, the cookies will be a little more "bready" and "cakey" rather than "chewy" and "fudgy". But they're still really yummy!
If using a different sweetener, check out this sweetener conversion chart.
Nutrition Facts
16 servings per container
---
Amount Per ServingCalories96
% Daily Value *
Total Fat 7.6g

12

%
Total Carbohydrate 3.4g

2

%
Protein 5.5g

11

%
---
* The % Daily Value tells you how much a nutrient in a serving of food contributes to a daily diet. 2,000 calories a day is used for general nutrition advice.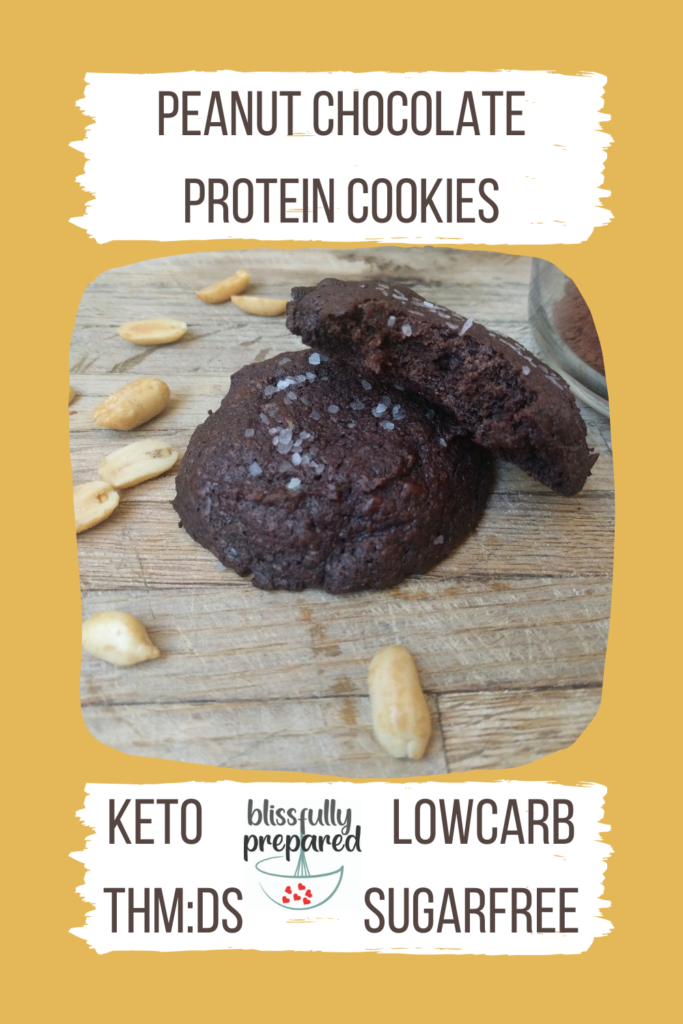 You might also like:
Amazon and the Amazon logo are trademarks of Amazon.com, Inc, or its affiliates.
---