Peanut Powder Hummus Low-Fat THM-E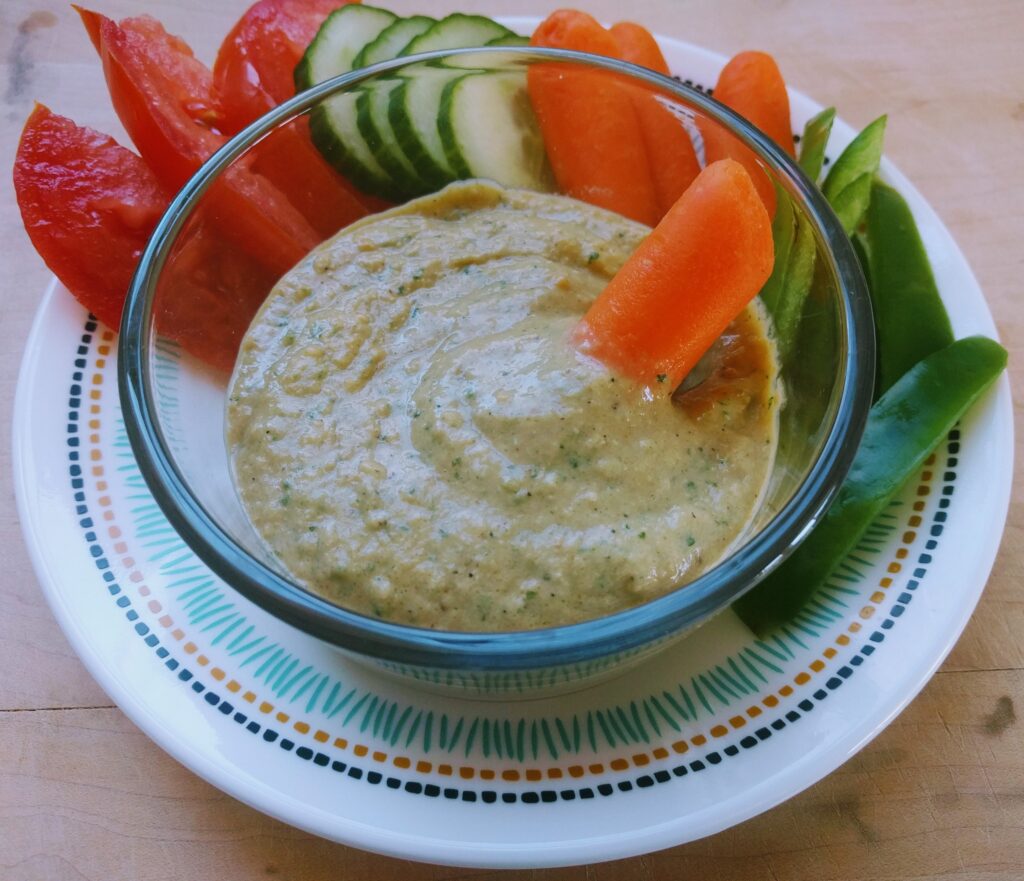 As an Amazon Associate, I earn from qualifying purchases. I am also an official THM Affiliate and am earning a percentage off of links used in the above content that may link directly to the THM online store. This is at no cost to you. Please see my Affiliate Disclosure for more information.
Jump to Recipe
Peanut Powder Hummus is made with low-fat peanut powder instead of high-fat tahini and is the perfect high-protein THM-E veggie dip!
Hummus is the ultimate veggie dip! There's just something addictive about its savory creaminess. 😋 I always eat way more veggies when I have good hummus around. Traditionally, hummus is made with chickpeas/garbanzo beans (carbs) and tahini (fat). But, since it contains both carbs and fats, that makes it a "cross-over" food in Trim Healthy Mama. While "cross-overs" (also called "XO") are allowed in THM, they are not as conducive to weight-loss. But I discovered that you can replace the high-fat tahini with low-fat, protein-rich defatted peanut powder and it makes a yummy THM-E veggie dip! Peanut Powder Hummus is also super quick and easy to make!
Don't worry, it DOESN'T taste "peanutty"
Only a couple TBS of peanut powder are used in this hummus and, with all the other flavors, you honestly can't tell it's in there. It does not taste "peanutty". The peanut powder just helps give body and richness (and protein, of course). But make sure to use a peanut powder with NO sugar added. I either use Trader Joe's brand or this one:
Whether you call them "chickpeas" or "garbanzo beans", either way, they have lots of health benefits
Chickpeas, garbanzo beans – whatever you want to call them – they're quite the superfood. While they are moderately rich in carbohydrates, it's the slow-carb/complex-carb form that's actually good for you. And they have been found to help regulate/stabilize blood sugar levels. They have also been found to aid in weight-loss since they are high in both protein and fiber. Therefore, they keep you satiated for longer, which means less snacking between meals.
To read more about all the amazing benefits of chickpeas/garbanzo beans, check this out.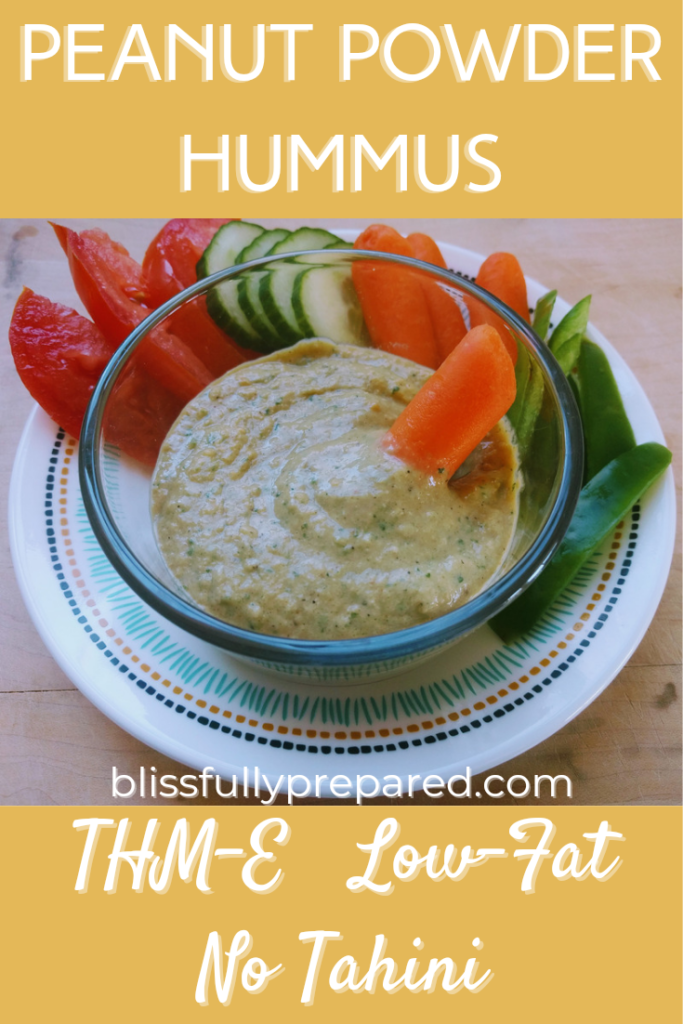 If you want more yummy recipes to make with peanut powder, check these out!
SPICY PEANUT SAUCE THM-FUEL-PULL KETO SUGAR-FREE
PROTEIN CHOCOLATE CHIP COOKIES THM-FUEL-PULL KETO SUGAR-FREE
PEANUT CHOCOLATE PROTEIN COOKIES THM-DEEP-S
NO-BAKE COOKIES THM-FUEL-PULL LOW-CARB SUGAR-FREE
Peanut Powder Hummus Low-Fat THM-E
Course: THM-E, Dip, Snack, Lunch
Cuisine: Middle Eastern
Difficulty: Easy
Peanut Powder Hummus is made with low-fat peanut powder instead of high-fat tahini and is the perfect high-protein THM-E veggie dip!
Ingredients
1 cup cooked chickpeas (double recipe if want to use whole 15oz can of chickpeas – drain, but save liquid)

3 TBS low-fat cottage cheese (I use Daisy 2%) – Greek yogurt can be substituted but I prefer mine with cottage cheese

2 TBS defatted peanut powder

1-2 cloves of garlic (I like mine garlicy so I add 2 cloves to mine), roughly chopped – it'll get chopped up more in food processor

About 1 TBS fresh lemon juice (1/4 – 1/2 of a lemon, squeezed), to taste

Parsley – fresh (handful) or dried (about 1 TBS)

1 tsp nutritional yeast, optional

3/4 tsp GF tamari (or preferred salt), to taste

1/4 tsp black pepper

1/4 tsp ground cumin

1/4 tsp glucomannan, optional for thicker/creamier mouthfeel, and helps keep you fuller for longer

Dash or two of ground cayenne, optional or to taste

2 TBS reserved chickpea liquid – plus more until reach desired consistency (I prefer 3 TBS with the glucomannan)
Directions
Measure ingredients (including 2 TBS of chickpea liquid, but hold off on adding glucomannan just yet) into food processor.
Process until smooth. May take a couple minutes to get completely smooth. It helps to scrape down sides occasionally.
If adding glucomannan, sprinkle on top of pureed ingredients and process again.
Check consistency and taste. Adjust flavors and/or add more chickpea liquid, if desired.
Enjoy! Eat right away and store leftovers in fridge.
Notes
If any ingredients appear to have a line through them, just click to side of ingredient (or on another ingredient) and the line should disappear. It's a feature of the recipe plugin that allows people to cross off ingredients as they add them to a recipe. Also, the print feature of this plugin is a little wonky so always check over recipe print-outs to make sure all ingredients are included and correct. Another option is to copy and paste the recipe text and print through a different program.
Should make about 1 cup of hummus. Makes about 4 servings of 1/4 cup. One serving is roughly 104 calories, 9.9g net carbs, 2.3g fat, and 8.9g protein.
Nutrition Facts
4 servings per container
---
Amount Per ServingCalories104
% Daily Value *
Total Fat 2.3g

4

%
Total Carbohydrate 13.5g

5

%
Protein 8.9g

18

%
---
* The % Daily Value tells you how much a nutrient in a serving of food contributes to a daily diet. 2,000 calories a day is used for general nutrition advice.
You might also like:
Amazon and the Amazon logo are trademarks of Amazon.com, Inc, or its affiliates.
---