Pumpkin Protein Pancakes THM-Fuel-Pull Low-carb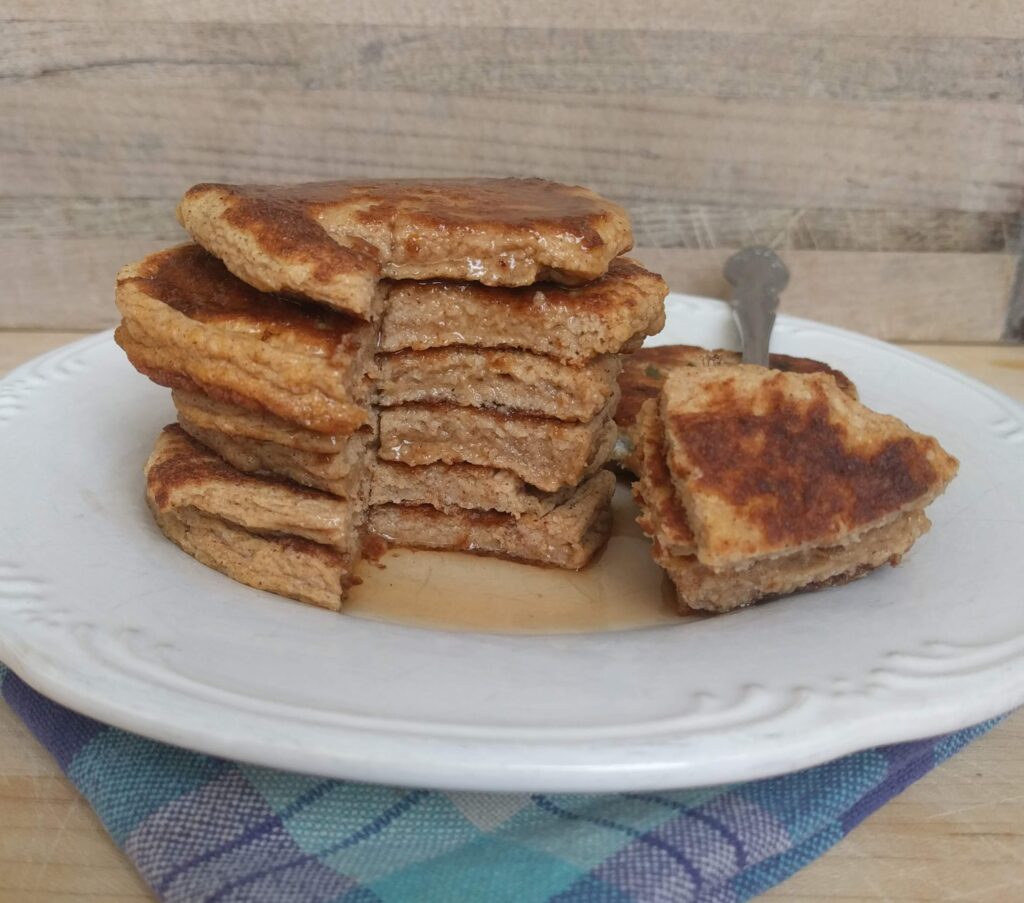 As an Amazon Associate, I earn from qualifying purchases. I am also an official THM Affiliate and am earning a percentage off of links used in the above content that may link directly to the THM online store. This is at no cost to you. Please see my Affiliate Disclosure for more information.
Pumpkin Protein Pancakes are a new take on my popular Fluffy Keto Protein Pancakes THM-Fuel-Pull recipe, just in time for fall weekend breakfasts! 🎃🥞
I woke up on this gorgeous fall morning craving some pumpkin pancakes, but realized the Paleo pumpkin pancake recipe that I've used in the past would be a cross-over (meaning it's both high fat and high carb, which is generally not recommended in Trim Healthy Mama). But then it hit me – I could convert my Fuel-Pull Protein Pancakes into Pumpkin Protein Pancakes, and it worked! And they're sooo good, y'all!!!
They're keto, low-carb, sugar-free, high-protein, gluten-free, high-fiber, and low-fat enough to be THM-Fuel-Pull! 🙌
Pumpkin Protein Pancakes are quick and easy to make!
Usually I make the original (non-THM Baking Blend) version of my Fluffy Keto Protein Pancakes THM-Fuel-Pull but this morning I was feeling lazy (and have so much I want to get done on the blog today!) so I went with the THM Baking Blend version this time.
They're soft, fluffy, moist, flavorful, filling and really hit the spot, without hitting your macros hard!!!
What's different about this version
This recipe basically just subs pumpkin puree for some of the water in the original FP pancake recipe and adds some pumpkin pie spice. That's really all it took to make some really amazing and satisfying THM-FP pumpkin pancakes. Makes me wonder why I never thought to try this before!!!
Don't forget the syrup!
The best way to top these scrumptious Pumpkin Protein Pancakes is with sugar-free maple syrup! Check out my super easy recipe for making your own yummy sugar-free maple syrup here!
Even though these pancakes are THM-FP, they can also be enjoyed in THM-E and THM-S breakfasts, as well (and can be topped with melted butter in THM-S 😋)
Please refer to the original recipe for the deets about ingredients and process. Now let's get to the recipe already!!!
Pumpkin Protein Pancakes THM-Fuel-Pull Low-carb
Course: Breakfast, THM Fuel Pull
Cuisine: American
Difficulty: Easy
Pumpkin Protein Pancakes are perfect for fall weekend breakfasts, or really anytime! And they're keto, low-carb, and even THM-Fuel-Pull!
Ingredients
Dry Ingredients:

6 TBS THM Baking Blend (or make your own with this)

3 TBS whey protein isolate (or collagen peptides)

1 TBS ground psyllium husks (I use NOW brand)

1 TBS sweetener* (I use Lakanto Golden)

1 tsp pumpkin pie spice

1 tsp baking powder

½ tsp baking soda

¼ tsp xanthan gum or glucomannan

¼ tsp sea salt

Wet Ingredients:

¼ cup water

6 TBS egg whites (room temperature)

¼ cup nonfat Greek yogurt (room temperature)

¼ cup unsweetened almond milk (room temperature, I use Kirkland brand)

¼ cup pumpkin puree (not pumpkin pie filling!)

1 tsp apple cider vinegar

½ tsp vanilla extract

Splash of butter extract and/or maple extract, optional
Directions
Mix dry ingredients and set aside.
Mix wet ingredients in Pyrex glass measuring cup and set in basin of hot tap water to quickly bring to room temperature.
When wet ingredients are room temperature, add to dry ingredients and mix until smooth. Set timer for 5 minutes to let ingredients expand and absorb.
Cook at med-low setting in greased (I use Trader Joe's coconut oil cooking spray) skillet or griddle. Batter will be thick so spread just a little with back of spoon (they'll expand more as they cook). I usually cover my cast iron skillet with a lid while they cook. Flip over as soon as they start holding together on bottoms (about 1-2 minutes) – waiting too long to flip can cause deflated/flat pancakes. They will then rise and expand once flipped. Just when the sides/edges start feeling dry to the touch, gently remove from pan with spatula, careful to not deflate them. It's best to not let these over-cook or they won't be as fluffy. It can take a little practice but you'll get the hang of it. They may seem a little undercooked when first removed from the pan but they continue to cook as they cool.
Enjoy or freeze and reheat later!
Notes
If any ingredients appear to have a line through them, just click to side of ingredient (or on another ingredient) and the line should disappear. It's a feature of the recipe plugin that allows people to cross off ingredients as they add them to a recipe. Also, the print feature of this plugin is a little wonky so always check over recipe print-outs to make sure all ingredients are included and correct. Another option is to copy and paste the recipe text and print through a different program.
These make about 12 small pancakes (1/8 cup scoop of batter) or 6 medium-sized ones (1/4 cup scoops of batter), which is 2 servings of 3 – 6 pancakes each. Each serving of pancakes is roughly 158 calories, 4.3g net carbs, 2.9g fat, and 21.3g protein.
I remove my pancakes before they are fully cooked so they'll be extra soft and fluffy. While they usually finish cooking as they cool, if you have a couple that are still a little squishy in the center, just pop them in the microwave for about 30 seconds to finish cooking them.
If using a different sweetener, check out this sweetener conversion chart.
Nutrition Facts
2 servings per container
---
Amount Per ServingCalories158
% Daily Value *
Total Fat 2.9g

5

%
Total Carbohydrate 16.6g

6

%
Protein 21.3g

43

%
---
* The % Daily Value tells you how much a nutrient in a serving of food contributes to a daily diet. 2,000 calories a day is used for general nutrition advice.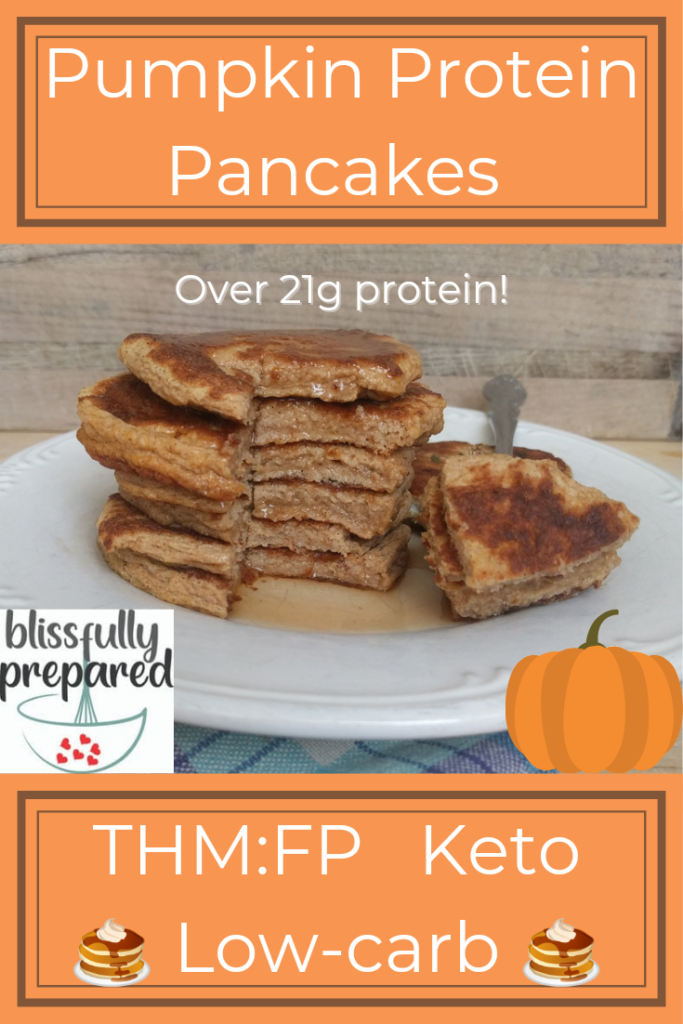 You might also like:
Amazon and the Amazon logo are trademarks of Amazon.com, Inc, or its affiliates.
---