Eggy Porridge THM-Deep-S Keto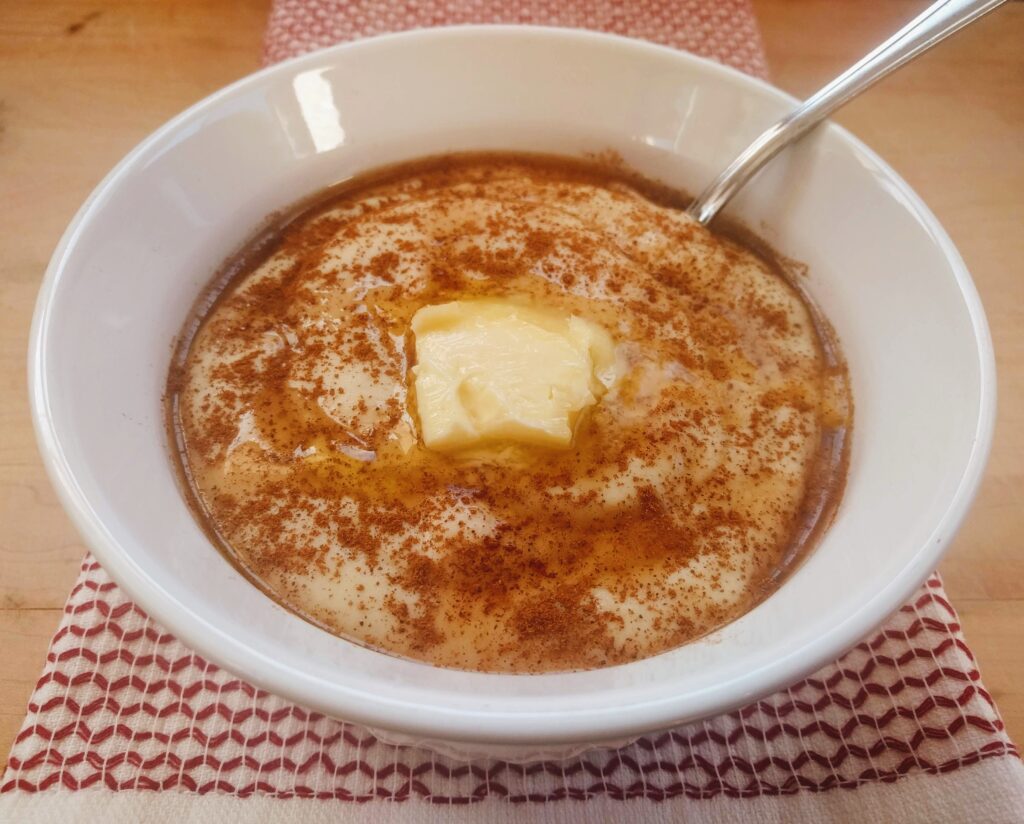 As an Amazon Associate, I earn from qualifying purchases. I am also an official THM Affiliate and am earning a percentage off of links used in the above content that may link directly to the THM online store. This is at no cost to you. Please see my Affiliate Disclosure for more information.
Jump to Recipe
Not a fan of eggs for breakfast? Then try this! Eggy Porridge is a Keto/THM-Deep-S hot "cereal" or "n'oatmeal" that tastes like creamy oatmeal or hot custard/pudding but is high-protein and essentially zero net carbs!
As I've stated in some of my other breakfast recipe posts, I'm an oatmeal/hot cereal kind of girl. I love how warm and comforting a bowl of hot porridge is first thing in the morning. I occasionally try to eat eggs for breakfast but I've just never been a fan. I'm also not a fan of cooking anything fancy or complicated first thing in the morning. One morning, while doing a THM Fuel Cycle, I needed to eat eggs for breakfast but really just wanted a bowl of hot oatmeal. I had some hardboiled eggs in the fridge and threw them in the blender with some egg whites, unsweetened almond milk, and a little glucomannan, blended, and then heated on the stove until thick and creamy and made my first yummy bowl of Eggy Porridge. 🥣
Eggy Porridge options
When I first published this recipe, I was making it with hardboiled eggs (which works great!) but I have since discovered that it can also be made with fresh eggs. You don't even have to use a blender! This is seriously the easiest Keto hot "cereal" recipe EVER.
The easiest way to make Eggy Porridge is to crack 2 eggs into a sauce pan and beat with 1/4 cup egg whites, 1/2 cup unsweetened almond milk, and 1/4 tsp glucomannan. Then just whisk while heating (add additional almond milk if you like) and remove from heat when it reaches your desired thickness. Then sweeten/season/top as you wish. That's really it!
Since this is basically a lazy version of making custard, the porridge may not be completely smooth (but I like it that way since it's more like oatmeal). If you would like a smoother version that's more like pudding/custard, then just put in the blender for a few seconds (but be careful and make sure to vent lid a little since it's hot) or use a hand blender.
I also have a decadent chocolate variation of this recipe (with kale blended into it – but you'd never know it's there!) called Keto Chocolate Pudding With A Secret. 😋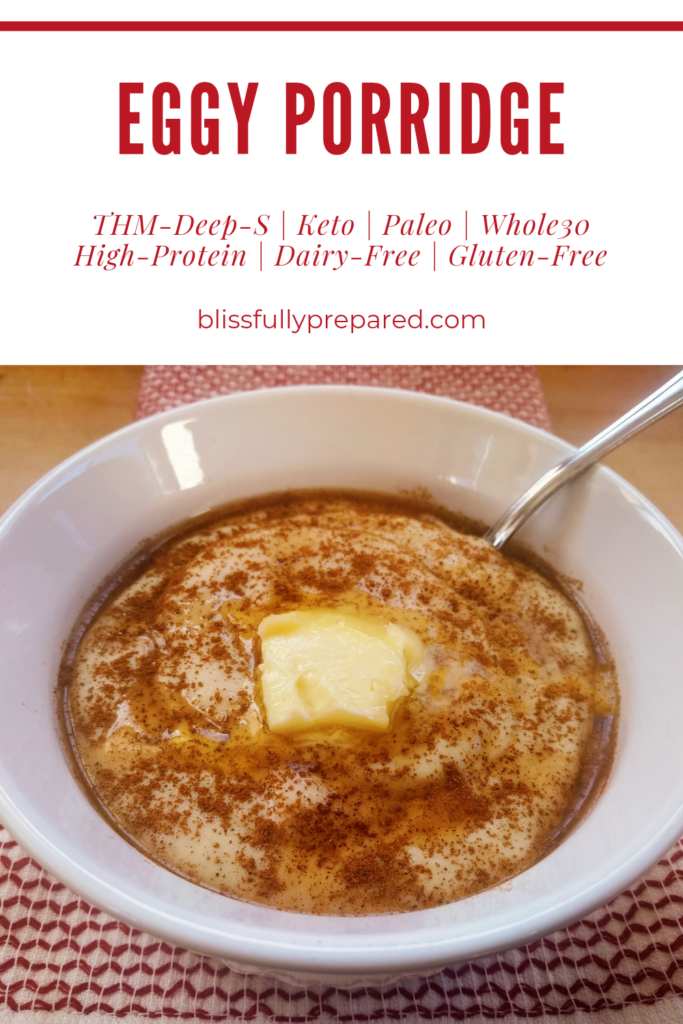 Eggy Porridge THM-Deep-S Keto
Course: THM-Deep-S, breakfast, snack
Cuisine: American
Difficulty: Easy
Eggy Porridge is possibly the easiest Keto / THM-Deep-S / low-carb hot "cereal" or "n'oatmeal" EVER. And it's essentially zero net carbs!
Ingredients
2 fresh or hardboiled eggs

1/4 cup egg whites

1/2 cup unsweetened almond milk (plus more until reach desired thickness)

1/4 tsp glucomannan (add while stirring or with blender on to prevent clumping)

Sea salt to taste (I prefer 1/4 tsp)

Sweeten to taste* (I like 1 TBS of Lakanto with sugar-free maple syrup on top)

Optional extracts like vanilla or maple (I like 1/4 tsp vanilla extract) and/or spices (I love cinnamon on mine)

Optional fats (I like to stir/blend in 2 tsp of MCT oil and top with butter)

Other toppings if eating as Keto or THM-S – chopped nuts, nut butters, cream, etc.
Directions
Beat eggs, egg whites, and almond milk, either by hand with a whisk (if using fresh eggs) or in blender (if using hardboiled eggs) until smooth.
While whisking or with blender on, add the glucomannan (so that it doesn't clump).
Whisk while heating in a sauce pan. Add optional additional almond milk until reach desired thickness and then remove from heat.
If you like a smoother texture and/or want easier way to incorporate the optional MCT oil, either put (back) in blender or use hand blender and blend for few seconds until smooth. Be careful since it's very hot!
Pour into bowl and stir in sea salt, sweetener, extracts and add favorite toppings. Enjoy!
This can also be made ahead and eaten cold like pudding!
Notes
If any ingredients appear to have a line through them, just click to side of ingredient (or on another ingredient) and the line should disappear. It's a feature of the recipe plugin that allows people to cross off ingredients as they add them to a recipe. Also, the print feature of this plugin is a little wonky so always check over recipe print-outs to make sure all ingredients are included and correct. Another option is to copy and paste the recipe text and print through a different program.
The macro breakdown is: 191 calories, essentially ZERO grams net carbs, 11.5g fat, and 19.2g protein.
It may be possible to omit the extra egg whites or the glucomannan. Or a different thickener could possibly be substituted for glucomannan. I haven't tried, but you may not need as much almond milk without those ingredients, so adjust accordingly. Also, the macro amounts will be different if ingredients are omitted or others are substituted.
If using a different sweetener, check out this sweetener conversion chart.
Nutrition Facts
1 servings per container
---
Amount Per ServingCalories191
% Daily Value *
Total Fat 11.5g

18

%
Total Carbohydrate 0.5g

1

%
Protein 19.2g

39

%
---
* The % Daily Value tells you how much a nutrient in a serving of food contributes to a daily diet. 2,000 calories a day is used for general nutrition advice.
You might also like:
Amazon and the Amazon logo are trademarks of Amazon.com, Inc, or its affiliates.
---